LETTER | Based on data from the recent delineation exercise by the Election Commission, the recent voter demographics, the addition of new voters, various analytics by both mainstream and non-mainstream sources including both Merdeka Centre and Invoke, I have calculated the outcome of Malaysia's 14th general elections (GE14).
The first focus is on Peninsular Malaysia. The racial demographics of Peninsular Malaysia is categorised into four categories:
Malay-majority seats in Kelantan and Terengganu, which consist of 22 seats. To simplify the analysis, Chinese and Indians populations are deemed negligible, hence their population is keyed in as zero.
Malay-majority seats with an average of 90% Malay population for all states in Peninsular Malaysia (except Kelantan and Terengganu), which consist of 28 seats.
Malay-medium majority seats (with an average of 70 to 80% Malay population), which consist of 65 seats.
Mixed and Chinese seats which consists of 50 seats, where Malay population is 65% (as per national average) or lower. The reason mixed and Chinese seats are lumped together is because based on the simulation, Pakatan Harapan is expected to win 99% of those seats regardless of whether the ratio has 65% Malays or less. This point may seem controversial but it'll be explained later.

For all peninsular states except Kelantan and Terengganu, BN's Malay support is predicted to drop from GE13's 65% to 45%, in line with forecasts from several non-mainstream findings. Chinese and Indian support to remain the same as GE13.
The latest report from Merdeka Centre states that BN's drop in Malay support in the peninsula is only 8% as of mid-April 2018. However, Merdeka Centre did state that the drop in Johor is 20.9%. In reality, this author argues that the fall is more drastic. Bear in mind that survey respondents are usually cautious (especially in a BN-governed state) when answering surveys in fear of reprisal from the ruling government, hence resulting in a response bias towards BN.
Furthermore, the survey by Merdeka Centre is flawed because it has zero fence-sitters and undecided voters, where it is highly probable that the majority of them will ultimately swing to Harapan. Hence, the survey result is BN biased.
In spite of the result bias, Johor is estimated to fall 20.9%, Selangor 17.2% and Perak 8.9%. So we can safely add more percentage points to these figures. This writer predicts an additional 5 to 10 percentage points in line with Invoke's data. In fact, Invoke's latest data has BN's Malay support languishing in the high 30s to low 40s.
Merdeka Centre's data on Kedah's shows a 1.1% drop in Malay support for BN. This has to be the most controversial and outrageous take on GE14 as data from other findings is pointing to a similar if not larger drop as that suffered in Johor.
In fact, the writer posits that if anything, Kedah has the biggest fall in Malay support for BN, possibly even in the 30s. Harapan is widely expected to smash BN in this state due to the Mahathir and Mukhriz one-two punch.
Pakatan Rakyat's Malay support in GE13 was 35% and it is assumed 15% of that belongs to PAS in all states except for Kelantan and Terengganu, which is in line with Invoke's survey result which states PAS' support level has dropped from 18% to 13% in the past month.

Hence, Harapan will lose 15% of Malay support to PAS, but gain 20% of Malay support from BN, for a total of 40% Malay support. Merdeka Centre's result however differs widely, stating that PAS has 27% Malay support as opposed to Harapan's 20%.
This writer posits that Merdeka Centre's result is flawed as it lumps PAS' support together for the whole of the peninsula when in reality the result skews heavily to PAS in Kelantan and Terengganu but is almost negligible in the west coast states. Hence, the opinion here is that BN's loss will be Harapan's gain in all states par Kelantan and Terengganu.
For Kelantan and Terengganu, BN and PAS are predicted to be evenly matched, with Harapan not making much of a dent. To simplify this analysis, Chinese and Indian votes are considered as negligible in this category.

The mixed and Chinese seats are lumped together instead of separately because they yield the same result regardless of whether the ratio has 65% Malays or 50% Malays or lesser. To simplify this analysis, the race composition for this category is considered the same as our national ratio of 65% Malays, 25% Chinese and 10% Indians, even though in reality it differs according to areas.
But it won't influence the result as Harapan is expected to win 99% of these seats due to the aforesaid 20% Malay swing and the overwhelming Chinese support.
There's no doubt that BN's 65% Malay support in GE13 will be reduced, mainly due to resentment towards caretaker prime minister Najib Abdul Razak and the BN government he leads, and the addition of onr million new Malay voters. The question is by how many percentage points the Malay swing will be.
There were about 8.7 million eligible Malay voters in GE13. The addition of 1 million new Malay voters translates into an 11.4% increase. If 70% of new Malay voters support Harapan (based on non-mainstream findings), that's already a swing of about 5%.
So a total swing of 20 percentage points is not that far-fetched. In fact, it's quite conservative as Merdeka Centre already puts the swing as 8% in spite of the survey weakness highlighter earlier while Invoke's one is in the high 20s.
The results are shown below.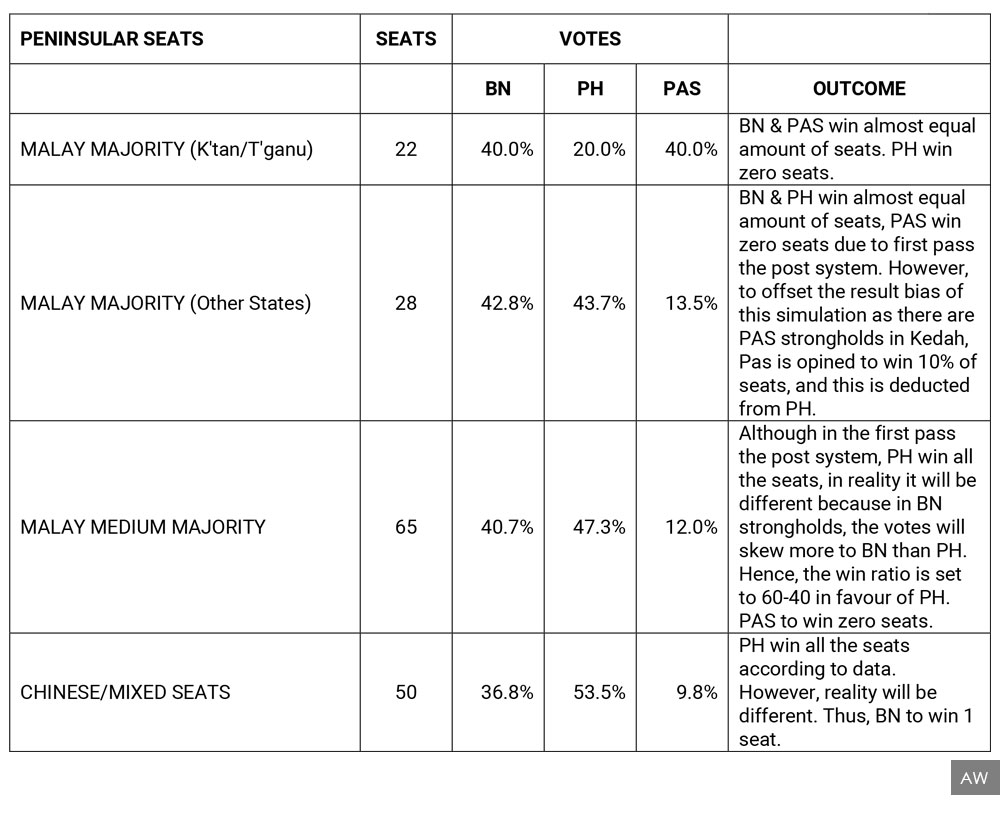 So based on a "conservative" 20% Malay swing, and assuming that the Chinese turn out in droves to vote like in GE13, this simulation shows that Harapan can win about 100 seats in Peninsular alone.
With that in hand, Harapan only need another 12 seats from East Malaysia to form the federal government, but in all likelihood, they'll need about 18-20 to form a stable government. In the last election, Pakatan Rakyat won nine seats in east Malaysia.
Assuming the status quo is maintained in Sarawak with Harapan winning six seats, the remaining bulk of seats is expected to come from Sabah, especially now that is has a united opposition front and with Warisan having taken the mantle of state autonomy call.
If the current groundswell momentum in east Sabah is anything to go by, Warisan is expected to clinch it for Harapan. The writer predicts a total of 12 seats to be won by Warisan and PKR in Sabah, hence Harapan to form the next federal government with a total of 118 seats. Pakatan Harapan to win GE14.
---
The views expressed here are those of the author/contributor and do not necessarily represent the views of Malaysiakini.