LAST DAY What's happening in the state election campaigns around Sarawak today? Quotable quotes, planned events and unplanned incidents as they take place.
---
9.39am: Kuching It is understood that former Bar Council president and chairperson for the Coalition for Fair and Free Elections Bersih 2.0 Ambiga Sreenevasan has been stopped from entering Sarawak this morning.
She is the fourth activist to be barred during the course of the 10-day campaign after activists Steven Ng, Wong Chin Huat and Haris Ibrahim were similarly stopped at the Kuching Airport and sent on the next flight back to Kuala Lumpur.
10.30am: Sibu Bukit Assek Independent candidate Hii Tiong Huat is spotted standing on his car to fix a loudspeaker, near Jalan Huo Ping.
Unlike his rival SUPP candidate Wong Soon Koh and DAP candidate Wong Ho Leng who favour meeting voters on the ground and sending out politic message through ceramahs, Hii chooses to drive his over-two- decades-old white Toyota car around town, and delivering his messages through a loudspeaker.
He attracts people in a few cars to stop and chat with him.
" Dong-Suan ," shouted a car driver, with his thumb up. " Dong-Suan " in Foochew dialect means get elected, and been a popular word during the entire election campaign.
Another car stops and the driver asks Hii why he marked a '?' instead of 'X' at beside his name on on his campaign poster.
He starts to give the driver a lecture.
Later, he tells Malaysiakini about the second thing he is going to do if he were elected as a state assemblyperson.
"I know my first request of having the assembly provide me an interpreter would be turned down," he says, adding that he would then hold up a poster in protest.
"I will write: Do not look down at legally-elected candidate, don't challenge me," he says.
Hii, 60, is a local social activist.
Yesterday, he had said the first thing he would do is to request for an interpreter for him at the state assembly.
He admits having problems speaking in both Malay and English.
"This is 1Malaysia, if this cannot be arranged, don't talk about 1Malaysia," he says.
11am: Bintulu DAP leader Teng Chang Khim claims that the party raised an estimated RM25,000 at its rally of about 3,000 people yesterday.
11.45am: Sibu DAP Sibu campaign director Ngieng Ping Sing says the total donations collected at DAP's ceramah yesterday is RM23,408, a new record since April 4's rougly RM17,000.
12.10pm: Anwar has reportedly responded to the banning of Bersih chairperson Ambiga Sreenevasan saying, "They should not deny any individual and civil society effort, unless they have something to hide.
"People in Sarawak are treated like fools. Do they expect anything to be reported (by Bersih)?"
12.30pm: Sibu DAP holds it's last daily press conference for the campaign.
DAP Sarawak chief and incumbent Wong Ho Leng is delighted by the lunar corona phenomenon observed in Sibu's skies earlier this morning.
He reads out an SMS he's received, calling it an auspicious sign that there will be a "changing sky" (a change of government) in Sarawak.
Also attending is Penang chief minister and DAP secretary general Lim Guan Eng.
Lim talks briefly on DAP's obstacles in the Sarawak battle: money politics, government media control, the fear factor and cheating.
When asked, however, Lim declines comment on blogger Raja Petra's statement on the murder of Mongolian interpreter Altantuya Shaariibuu and the authenticity of the Carcosa sex video.
"I have not read the newspapers," he says, refusing to be drawn into the issues.
The media later approach Lim to autograph their Ubah soft toys.
12.47pm: An SMS from a PKR member in Kapit reports, "BN is buying votes like crazy. They approved project kilat worth millions."
1pm: Miri With less than 24 hour to go, SUPP president George Tan Hong Nam ( below ) claims that at least half of the nine 'black areas' has turned into 'grey areas'.
"Hopefully they will work very hard and have a chance," he says in a press conference in Miri, without naming the seats.
He claims that this is due to the people realising that the opposition will never be able to form the government.
"People woke up and (questioned) whether, if they vote for the opposition whether they can form the government or not."
He repeats BN leaders' calls for voters not be "emotional" and do something that they will regret later.
"I appeal voters to vote for BN, it will ensure a better government and this is for our future."
He also warns that Malaysia cannot afford to have violent change, because it will only scare away investors, businessmen and people.
"I fully believe in the prime minister, I believe he is a visionary PM," says Chan.
4pm: Kuching Kuching South City Council (MBKS) personnel are trying to dismantle a stage meant for DAP's 'grand finale' rally near the Stutong wet market.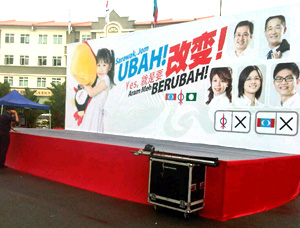 DAP officials claim that the council is trying to dismantle their stage based on a technicality. A stand-off continues.
The 'grand finale' tonight will be joined by PKR top officials including party vice-president Nurul Izzah Anwar.
4.30pm: According to Sarawak DAP secretary Chong Chieng Jen, the MBKS enforcement officers came at about 3pm to dismantle the stage on the grounds that it was placed on a carpark.
After a short standoff, the MBKS officers leave the scene after issuing the event organisers a RM200 fine, which they paid immediately.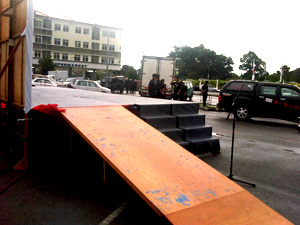 Chong stresses that the event had already received a police permit and MBKS should not have harassed the organisers.
He said also questioned the RM200 fine because the carpark boxes had yet to be numbered and thus should not be subject to MBKS enforcement.
"There appears to be double standards as no action is taken on BN or SUPP events in similar circumstances," he says.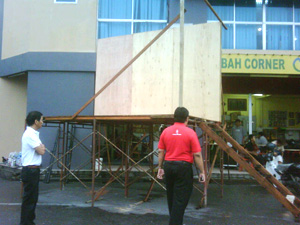 4.45pm: Sibu Reports are surfacing that SUPP is building a huge stage near Paramount Hotel, just across the road from where DAP is planning their 'grand finale' to their campaign.
Lim Guan Eng and party veteran Lim Kit Siang are scheduled to speak.
4.55pm: Kuching Kuching OCPD ACP Mun Kok Keong is at the DAP 'grand finale' rally location. A dozen police personnel in riot gear hover nearby with dozens more in plainclothes and uniform.
It appears that the authorities are unhappy with the massive stage erected by DAP for the event.
The event organisers seem unperturbed and are continuing with the erection of giant projector screens and the sound system after a lull in the rain.
Another stand-off appears imminent.
5pm: Bau In the quiet town southwest of Kuching, PKR is raring to hold what locals say is their first ever political rally in recent history.
The old gold mining town of about 30,000 people is where the constituencies of Tasik Biru and Opar are located. PKR is contesting BN and Snap for both seats.
Speaking tonight are PKR vice president Nurul Izzah Anwar, Selangor MB Khalid Ibrahim, Selangor exco Ronnie Liu and PKR Tasik Biru candidate John Tenewi.
Tenewi is expecting several hundred to show up but seats of about 100 lined up are still empty although the event is due to start at 5.30pm.
Dark rain clouds looming is not helping the event.
Tenewi, a former ambassador but raised in the area where his well-connected family still resides, appears confident of winning the seat from BN heavyweight Peter Nansian.
Snap strongman Patau Rubis who was an assemblyperson there for several terms and is still popular, has been spotted going door to door to campaign.
He claims that the fight is actually between PKR and Snap, with BN currently only garnering about 30 percent support at most.
"I don't think PKR will get a few hundred people as Patau never had rallies so Bau people are not used to it," said a local.
Najib's recent visit only managed to attract under 500 people.
5.05pm: Kuching The police are now recording the IC numbers of all stage hands.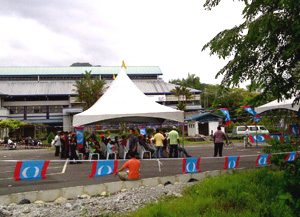 5.48pm: Bau About 100 people are listening to PKR candidate Tenewi.
More are lingering in the periphery because they are " malu " (shy) to sit under the tent.
A man who hails from a village where Tenewi was born says that at least half of the village will vote for Tenewi because of family ties.
5.56pm: The growing crowd at PKR's Bau rally enthusiastically applauds Selangor MB Khalid Ibrahim when he tells them that BN in Selangor is the opposition.
They also cheer when he says that Sarawak was once colonised by the whites, but is now colonised by people with white hair, referring to Pek Moh, the opposition's nickname for Taib Mahmud.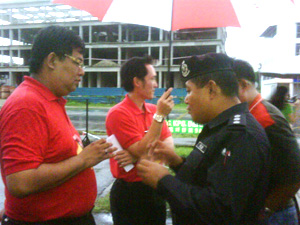 6pm: Sibu OCPD Shafie Ismail is called in to settle the dispute between SUPP and DAP over their ceramah tonight.
He says SUPP had applied to organise a karaoke there a month ago, and a permit was granted on April 4.
However when asked if the police granted the permit, Shafie refused to answer. He also refused to comment on the legality of karaoke activities.
"This is just a mere misunderstanding," he says, leaving the scene.
Later a quick check with the construction crew reveals that they have only received orders to build the stage 2 hours ago.
SUPP's wooden stage is set up some 100 metres away from DAP's with at least two big speakers.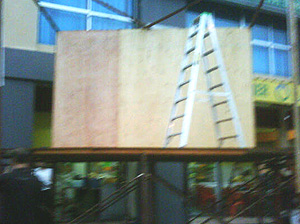 After Shafie has left, the stage construction continues.
This means DAP's ceramah tonight will be surrounded by SUPP's meet the candidate function 500 metre away and the karaoke.
Local popular singer Nicholas Teo is invited by SUPP tonight, to perform at the meet the candidate function.
6.29pm: Clare Rewcastle reports that Radio Free Sarawak has been jammed. In a statement this evening, she says, "We can confirm that the first jamming transmission happened yesterday with a test the day before, all on 15425kHz which is right up next to our station's 15420 kHz and against all international protocols."
Rewcastle ( left in photo, with DJ Peter Jaban ), who is behind the whistleblower website Sarawak Report that was hit by cyber attacks last week, says they have traced the culprit to an individual in Belgium who has admitted to being hired to broadcast at the same time and in the same frequency as the underground shortwave station that has been providing independent radio broadcasts to Sarawakians.
According to Rewcastle, the Belgian is an established broker of transmission times, and has been paid an estimate USD108,000 to jam Sarawak's only independent radio broadcast in the run up to polling day tomorrow.
"This activity is against all international broadcasting agreements and a violation by a respectable operator.
"However, he has admitted that the contract is worth a considerable amount of money to him, as he has been hired until December, although it is clearly only the next two days before the elections that are important," said Rewcastle, sister-in-law to former British prime minister Gordon Brown.
Rewcastle alleges that the broker also conducted a jamming operation against an anti-Gaddafi station in the past.
She says RFS is being jammed via transmissions made through Russia.
She describes how the broker had asked the Russians to jam the station's bandwith but the latter had refused, mindful of international protocols.
They were eventually "pressured" to jam a frequency close enough to Radio Free Sarawak at a very powerful signal to disrupt the station.
Apart from disruptions to the station and attacks on a number of independent websites including PAS' party organ Harakah Daily , Rewcastle reports that mobile networks are facing disruptions all over Sarawak as it braces for a hotly-contested state election.
6.48pm: Bau The rain gets heavier as Penang exco Malik Kassim takes to the stage. He is losing his voice and squeaks through his speech. The crowd sympathises and cheers him on.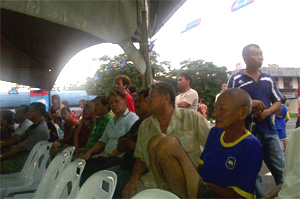 The tent is packed, so those who have just arrived stand in the rain under umbrellas.
PKR vice president Nurul Izzah Anwar arrives wearing a cowboy hat, to cheers.
A man whispers to his neighbour, "She's a member of parliament, beat Sharizat Jalil in 2008."
The Bidayuh-majority Bau, encompassing Tasik Biru and Opar seats, is semi-rural with a largely educated population where English is widely spoken.
7pm: Sibu A pro-BN Chinese advertisement is spotted around town written, "Yes, White Hair has to go, but Sarawak Chinese needs to be in politics, to protect Chinese right."
The advertisement has drawn much attention and is seen as SUPP trying to distance themselves from long-running CM Taib Mahmud. The ad, however, does not carry or any logo.
7pm: Kuching From Manchester United sports jerseys to flaming red tank tops, a sea of red shirts are forming at a carpark near the Stutong wet market.
Hundreds of flags with DAP and PKR logos are waving in the air as the DAP campaign theme song is blared through the speakers.
7.05pm: Bau
Nurul Izzah says that PKR's candidates are endorsed by the Bidayuh council of elders.
More people are filing in to the event. One man yells out to his friend in the tent, points to the PKR flag and then to himself, and makes the sign of a cross. His friend reciprocates with a thumbs up.
Nurul Izzah says that in Belaga, government agencies are showing the sex video allegedly of her father Anwar Ibrahim.
"We don't want ministers who just ' auk auk auk ' (yes, yes, yes) to Taib. We want a government who says ' auk ' to the people," she said to rousing applause and cheers.
She also gets rousing applause from the majority Christian crowd when she tells them that Christians have the right to use the word ' Allah '.
7pm: Miri Local Chinese organisations are organising a mega dinner with the theme of '1Malaysia, 1Heart' at Eastwood Village golf resort to support SUPP president and Piasau candidate George Chan Hong Nam and two other candidates in Miri.
There are a total of 500 tables, so it is estimated that around 5,000 Chinese voters will attend the dinner, by showing coupons which were distributed free.
According to a local newspaper report, the dinner is sponsored by a few local businessmen to support BN.
In his speech, the organising chairman Choo Seong Nam calls on the Chinese community to support Chan and two other SUPP candidate Andy Chia (Pujut) and Lee Kim Shin (Senadin).
The trio are currently facing a tough battle in defending their seats, due to the strong "anti-Taib" sentiments.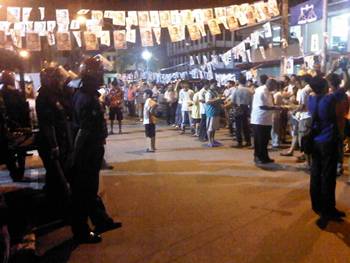 7.20pm: Sri Aman A seven-member light strike force unit and around 20 police officers are guarding the open space in front of the Sri Aman DAP operation centre, preparing to stop the 'illegal' rally by the party tonight.
Police has denied the party a permit to hold their grand finale rally tonight on the grounds that open-air ceramahs are not allowed in Sri Aman.
But DAP is all set to proceed with the ceramah-rally.
The crowd is also building up at the open space. Currently the figure stands at 400.
"This is double standards, why are rallies in Kuching and other cities allowed? Now is election time," says DAP Klang MP Charles Santiago who is at the scene.
Sri Aman DAP has been denied permits to hold open-air ceramah during the campaigning period. Its first open-air ceramah two nights ago also faced police interruption but it was allowed to proceed after rounds of negotiations.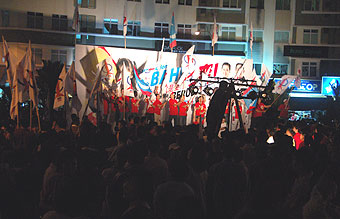 7.30pm: Kuching The DAP-organised 'grand finale' kicks off on time with the singing of the Sarawak state anthem.
7.40pm: Kuching The crowd is massive. The car park is filled to the brim. It is very difficult to give a decent estimate.
DAP publicity secretary Tony Pua is asked to give an estimate of the crowd. As he climbs up the stage for a look, he appears a bit overwhelmed and remarks: "This has to be more than ten (thousand)."
7.40pm: Sri Aman DAP's Klang MP Charles Santiago (in photo, right) pleads with a police officer to allow the ceramah to proceed for only one hour.
An officer from the Election Commission is also attempting to persuade Santiago to call off the ceramah because a permit was not granted.
Tension is brewing, voices from the impatient crowd shout, "We want ceramah" and "Vote rocket for change".
Negotiations are still going on.
7.30pm: Kuching A crowd of about 10,000 people gather near Stutong Market, although the DAP-PKR joint grand finale night has not yet started.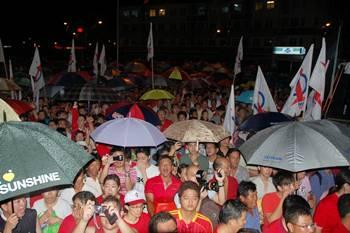 Most of the people wear red coloured shirts as requested by DAP.
The atmosphere is very hot and many supporters wave the DAP and PKR flags while waiting for the ceramah to start.
Some supporters bring plastic chairs themselves and walk from about 5km away to avoid the heavy traffic jam.
The star speakers tonight included DAP national chairperson Karpal Singh, Taiping MP Nga Kor Ming, PKR veep Nurul Izzah and all five candidates from DAP and PKR in the Kuching area.
7.50pm: Kuching Absolute chaos as cops try to break up Kuching ceramah under the rain. The light strike force is moving in.
7.50pm: Sri Aman After negotiations, DAP gives in and agrees to shift the ceramah to a restaurant nearby.
"We regret to announce that we are forced to shift our ceramah to Alisan Restaurant. DAP is a peace loving party..." DAP Simanggang candidate Leon Donald tells the crowd before being interrupted by the police.
The police action prompts the angry crowd to jeer at them, "Booo!!"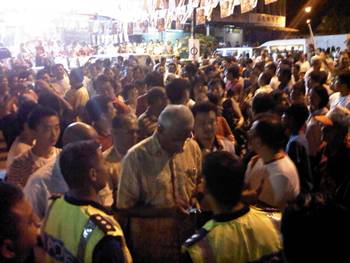 They starts to shout the slogan "Vote rocket for change" in Mandarin.
The police then announce via a loudhailer that this is an illegal assembly.
"Anyone who participates will commit an offence... We give you five minutes to disperse!" a police officer who is not in uniform announces, to the jeer of the crowd.
"If they are so kiasu (scared to lose), we let them lose tomorrow!" says a middle-age man while walking to the restaurant.
7.50pm: Kuching As Sarawak DAP founding member Chong Siew Chiang (left) is speaking, a group of police rush on stage and intervene in the ceramah.
This causes anger among the crowd, and they shout "Ubah, ubah, ubah" in response to the police action.
While Chong questions why the police are practicing double standards against them, the emcee asks the crowd to remain calm.
8pm: Sibu DAP holds its grand finale ceramah at Kg Datu, attracting a crowd of over 2,000.
It has been drizzling in Sibu since 4pm, but the crowd is still pouring in, carrying their umbrellas and their own chairs.
8.05pm: Kuching The chaos continues when one of the DAP leaders asks the 10,000 crowd, "Police want us to stop, do you want to stop?"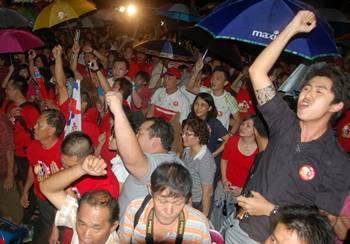 Soon after, DAP national publicity secretary Tony Pua announces that they will carry on the ceramah despite told by the police not to do so.
However, he asks the supporters to remain calm and not to insult the police.
"Let them leave peacefully, don't insult them, they are only taking orders from their superior BN."
8.10pm: Kuching According to Pua, about 50 police personnel in plainclothes rushed on stage and a group of Light Strike Force stand by at the side when the incident happened.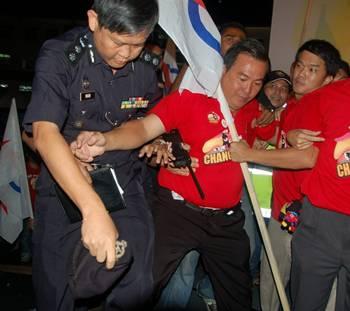 "The police left the stage after we refused to listen to them," Pua tells Malaysiakini .
The ceramah resumes later when Pua goes on stage and gives his last political speech before polling day.
Wasting no time, he blames the police for always intimidating the opposition but thanks the supporters who always stand behind them.
8.15pm: Sibu Bukit Assek Independent candidate Hii Tiong Huat causes a stir when he braves the rain and stands on a plastic stool on the divider of Jalan Pedada, one of the busiest streets of Sibu.
Wearing a T-shirt with his bank account number, he also holds up a poster with the picture of a fish - his permitted candidate symbol - and waves at motorists.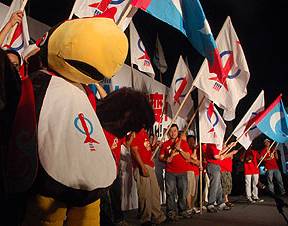 8.20pm: Sibu The Ubah mascot shows up on stage, the crowd enthusiastically shouts, "Ubah, Ubah", in strong support.
DAP shows the video clip of postal vote buying which was taken a few days ago, at the staircase between 21st floor and 22nd flr in the Sanyan Building.
8.20pm Sibu SUPP holds a meet-the-candidate ceramah, which so far only attracts 200 people.
Meanwhile, DAP already claims a 6,000-strong crowd.
8.30pm: Kuching The crowd in Kuching has grown to about 20,000 and many more are still streaming in, making the people near the stage packed like sardines.
The atmosphere become hotter when DAP candidate for Pending Violet Yong leads the crowd to shout, "Violet Dong Suan , Chieng Jen Dong Suan , Christina Dong Suan , King Wei Dong Suan ."
" Dong Suan " is the Hokkien word for "elected".
8.30pm: Sri Aman Although DAP agrees to shift their open-air ceramah to a restaurant, it still not free from police intervention.
The restaurant at the second floor of a building is packed with an audience of about 500, with 200 more outside the building. Those who can't squeeze into are forced to follow the ceramah outside the building through a big screen set up outside.
But police immediately move in and instruct the organiser to put away the projector and big screen.
Furthermore, police demand that the organiser direct the speaker at the second floor inward so those outside the building cannot hear it.
However the determined crowd are still standing outside.
The speakers tonight include Jelutong MP Jeff Ooi, Klang MP Charles Santiago, Senator from Selangor P Ramakrishnan and Selangor exco member Teresa Kok.
8.40pm: Kuching Many supporters at Pakatan's grand finale ceramah wave placards and give loud applause to Violet Yong when the latter sings some songs with revised lyrics making fun of Sarawak Chief Minister Abdul Taib Mahmud.
8.50pm: Kuching DAP chairperson Karpal Singh and Chong Siew Chiang are in a 'VIP holding dock' at a coffee shop near the stage.
People are streaming in to take pictures of Karpal.
8.50pm: Sibu SUPP's meet-the- candidate function held at Sibu Square attracts only 300 people.
BN-SUPP Bukit Assek candiate Chieng Buong Toon (right) says because of incumbent DAP Bukit Assek candidate Wong Ho Leng, now the locals are too ashamed to claim they are from Bukit Assek, as the area's infrastructure is still comparatively poor.
8.52pm: Kuching Not far from the DAP mammoth rally, a motorcycle convoy carrying BN flags whizzes by.
8.55pm:
Kuching
The drizzle has stopped in Kuching. One of the emcees for the Pakatan ceramah says, "This is a sign of the sky helping us."
Later, another emcee leads the crowd to shout, "Wanna change? Vote rocket! Wanna change? Vote blue eye (PKR logo)! Wanna change? Vote Pakatan!"
9pm: Krian About 300 people gather in a temple compound at Saratok for PKR's last ceramah
Krian is an Iban-majority area. PKR has expressed confidence of victory in the four-cornered contest which also features candidates from BN, Snap and an Independent.
9pm: Miri Despite SUPP organising a mega 5,000-people dinner, DAP's ceramah at Miri maintains its momentum and attracts around 8,000 people to the scene to hear the speech of the leaders.
The crowd's response is overwheming, with the supporters waving the "Yes!" And rocket balloons (the type they use in concerts) when the leaders' talk reaches its climax.
The key speakers tonight are Selangor Menteri Besar Khalid Ibrahim, Selangor speaker Teng Chang Khim and Hew Kuan Yau who has become famous in this Sarawak election because of calling SUPP "orang utan".
DAP Piasau candidate Fong Pau Teck urges the voters not to believe SUPP's rhetoric that BN will definitely form the government and the Chinese may endanger their representation if SUPP loses.
"BN's situation in many rural area is dangerous, so let us sweep them off in urban area."
He also leads the crowd to shout the slogan "Vote DAP for change".
He says when Pakatan takes over the government, they will take action against Taib Mahmud who faces corruption allegations.
"Catch him, seize his wealth and return it to the people."
DAP Piasau candidate Ling Sie Kong also turns the ceramah into a concert when he and his fiancee sing a Chinese song titled " Courage ".
9.08pm: Kuching Traffic is inching to a crawl at least two kilometres away from the DAP rally.
9.10pm: Kuching Three-term former Bandar Kuching MP Sim Kwang Yang is in attendance. The crowd breaks into loud applause as this is announced.
9.15pm: Sibu DAP Dudong candidate Yap Hoi Liong comdemns the serious vote buying situation in Dudong area.
500 metres away, BN-SUPP Dudong candidate Tiong Thai King responds to Yap.
"To say that, what proof you have?" questions Tiong, and brushes off such allegations.
However, he blames illegal betting on the election as the cause of such allegations.
"You know, some Chinese just love to gamble," he adds.
Meanwhile, when responding to the postal vote buying video clip that a DAP polling agent took in Wisma Sanyan, Tiong says, "I am not sure," when asked if he believes such mischief took place.
Tiong is Sibu Municipal Council president, and Wisma Sanyan is the local government office.
He says he had watched the video clip on YouTube , but the alleged postal ballot appears to him to be merely a piece of paper, as he couldn't determine if it was a ballot paper.
When asked if he knew the man who was alleged to be a health officer of SMC, he says the man had retired.
Tiong is spotted sitting on a chair at Sibu Square, carrying an umbrella.
9.20pm: Kuching DAP's candidate for Padungan Wong Kim Wei is lost for words when asked to describe his emotions.
"This is the first time in my life that we are being treated like superstars," he says.
9.30pm: Sibu Bersih 2.0 committee member Wong Chin Huat who was earlier barred from entering Sarawak, surprises the audience by appearing on stage to deliver a speech, and the crowd cheer him.
He urges Sarawakians working in the peninsula to seek their right to vote as postal voters, as the airfare to return to vote was expensive.
He says the election turnout rate back in the 2008 general election was 58%.
Later, when approached by Malaysiakini , Wong (left) said he successfully passed through the immigration at Sibu, as the system is not computerised, and he believes his name has yet to be updated into Sibu's list.
"I believe I am still blacklisted, somehow I managed to enter today," he says.
9.35pm: Kuching Sources say PKR's ceramah in Siburan was stopped by the police for not having a ceramah permit.
It is learnt that there are some 500 people at the ceramah.
9.35pm: Kuching Several hundred meters away from where Karpal Singh is speaking, a few hundred line the streets to listen and watch the projection screen.
Meanwhile, thunderbolts streak the sky.
Expecting this, many are sporting umbrellas.
9.40pm: Sibu The stage set up by SUPP just across DAP's near Paramount Hotel on Jln Kampung Datu has been abandoned, with workers dismantling the stage.
The stage had a big poster with the words "Revelation of PKR's Secret".
A clash happened earlier when SUPP played their karaoke so loud that the DAP workers and supporters lashed out at the organisers.
Sibu OCPD Shafie Ismail appeared and decided the karaoke should be stopped.
9.40pm: Miri Selangor Menteri Besar Khalid Ibrahim explains the changes done by the Selangor government, among others giving free water and a Freedom of Information Act, to convince Sarawakians to make the change.
"In Selangor, Kedah, Penang and Kelantan, we have showed our ability to bring change. So don't be scared of change."
"The tsunami of Sarawak will happen. Tomorrow let us celebrate the change of government."
9.45pm: Krian Speakers during PKR's ceramah at Saratok try to convince voters that after the election tomorrow, Pakatan will form the new government.
They also promise to throw Chief Minister Abdul Taib Mahmud in jail.
This last ceramah is given by Selangor exco member Dr Xavier Jayakumar.
9.55pm: Kuching Three-term Bandar Kuching MP Sim Kwang Yang says he is envious of the current crop of DAP leaders for having such an incredible turnout today.
"Back then, people were scared of showing up at an opposition rally. When people see me on the street, they turn away," said Sim.
Sim says he is here to support his disciple and former political secretary See Chee How, who is contesting as a PKR candidate for Batu Lintang.
"He has become Sarawak's foremost human rights lawyer. He has fought numerous land cases because the Sarawakian shark's favourite food is land," he says.
He says See and Chong Chieng Jen have his full endorsement.
10pm: Miri There are at least 10,000 people at the DAP ceramah, while the emcee announces they have achieved 15,000.
10pm: Krian PKR's ceramah turns 'cold' when several not-so-well-known speakers take their turn, including a Selangor councillor and activists from the peninsula.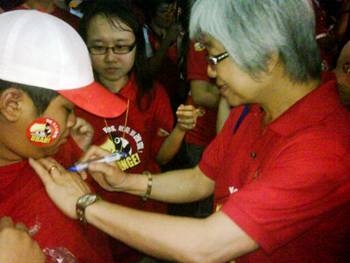 10pm: Sibu The crowd continues to pour into Sibu Square, where SUPP has invited local Chinese singer Nicholas Teo to perform at SUPP's grand finale function.
Padang Serai Gerakan Youth organising bureau chief Rich Too describes the Penang chief minister as a big wolf that shouldn't be allowed to come in.
The outspoken youth leader had said before he thought Sarawakians still live on trees.
10.15pm: Sibu While the SUPP function nearby has popular singer Nicholas Teo drawing crowds, the attendees at the DAP one just 500 metres away still remain at 6,000.
The party leaders also brought their own entertainment by leading a singalong to a popular Emil Chau song.
10.15pm:
Sibu
In the DAP ceramah, Bukit Assek candidate Wong Ho Leng takes the stage.
Midway, someone passes him a note, and he says, "QER 5332, please move your car".
He continues later, "But I want you all to give me a 5,332-vote majority for Bukit Assek!"
10.16pm: Kuching DAP state secretary Chong Chieng Jen takes the stage and announces they have created another milestone with a crowd of more than 30,000 turning up for Pakatan's grand finale ceramah.
"You all did not leave us when the police came, this is people power!" says Chong, who is also the DAP candidate for Kota Sentosa.
10.20pm:
Krian
Dr Xavier says it is necessary to change because the state is run by Taib Mahmud alone.
"Who is the chief minister? Taib Mahmud. Who is the finance minister? Taib Mahmud. Land minister? Taib Mahmud," he says.
10.20pm: Miri Although the sky starts drizzling, the 10,000 crowd at the DAP ceramah still remain at the scene, with or without umbrellas.
10.30pm Krian Xavier in his speech alleges "BN people" are involved in the cyber attack on Internet portals such as Malaysiakini and Harakahdaily so that the people would not have alternative news.
"When we read the (mainstream) media, it is as if the BN is contesting alone. From page one till the end, that's all," he says.
Xavier also replies to the "peninsular party" sentiment towards PKR played up by BN.
"It's true we are from the peninsula, but I am a Malaysian. We've come to help," he says.
He also gives a reminder that if any money is given tonight, voters should take it but still vote with "honour".
10.30pm: Women's rights activist Ivy Josiah has tweeted: "Just bumped into Syed Ibrahim (Syed Noh) of JIM and Bersih 2.0 at Kuching airport, also barred from entering Sarawak!"
He is the fifth activist to be barred from entering the state in recent weeks.
10.30pm: Kuching Cars are still stuck in the traffic jam leading up to DAP's rally in Stutong.
Those who manage to pass through traffic and find parking by the roadside will find a nasty surprise as traffic police are now busy booking the vehicles for blocking traffic.
10.30pm: Sibu BN-SUPP Bawang Assan candidate Wong Soon Koh and Dudong candidate Tiong Thai King deliver a speech together.
"I came from the other side (DAP ceramah), it's totally different from here, so much of hatred and anger, while here is so warm," Wong said.
SUPP later plays a short video showing a broken hand to signify what they claim represents the horrors of an Islamic state, and PAS spiritual and Kelantan Menteri Besar Nik Aziz Nik Mat's comment that females who wore skimpy clothes deserved to be raped.
The video draws attention from the crowd, which had increased to over 2,000.
Nibong Tebal MCA division chairman Tan Cheng Liang comdemns PAS in a very bold manner.
"He said if females showed off their bodies, males would respond... lower body reacted... what kind of party is this... discriminating to women," Tan says.
"It treats females as sex machines, childbirth machines and second class citizens," she says.
Popular local singer Nicholas Teo arrives at this juncture.
Later, when the next speaker asks the crowd, "Tomorrow, you know who to support?"
"Nicholas Teo," shouts the crowd.
10.40pm: Krian The PKR ceramah ends with a video clip of a blues song titled " Taib Jangan bebankan rakyat Sarawak " (Taib, don't burden the people of Sarawak).
Among others, the song touches on native customary rights land and forests in Sarawak that have allegedly been grabbed by Taib.
Meanwhile, while the PKR staffers who were mostly from Selangor are leaving, a man is seen asking them to pay for his liquor drinks at the shop where the ceramah is being held.
11pm: Sibu The atmosphere at the DAP ceramah has turned rock concert-like with DAP leaders leading the massed in singing a popular song " I Do Believe ".
The crowd goes wild after it is announced that Lim Guan Eng and Lim Kit Siang have arrived.
11.05pm: Sibu At the DAP ceramah, Penang Chief Minister Lim Guan Eng takes the mike.
"A reporter asked me, what if Pakatan accidentally wins the state government.
"If PR wins the state government tomorrow, it will be the best state in Malaysia. It will be even better than Penang.
"Our Pakatan CM may not have experience but we definitely don't have experience in corruption and stealing people's money."
11.05pm: Kuching The last speaker for the Pakatan ceramah in Kuching, Nga Kor Ming, takes the stage and receives an overwhelming welcome from the 30,000 crowd.
He makes fun of Malaysian popular artist Michael Wong who is widely criticised by Netizens for performing in a concert organised by SUPP.
"Before I come to speak at the Pakatan ceramah in Sibu, I took the opportunity to go to SUPP's concert to watch Michael's performance.
"He sang his famous song ' Palm ' but the lyric was 'Open your palm and see whether you have stolen any money'," he says, drawing laughter from the crowd.
11.10pm: Miri Speaking to the 10,000-strong crowd at the DAP ceramah, the last speaker and Selangor state assembly speaker Teng Chang Khim urges the voters to create a magnitude 9 earthquake tomorrow to overthrow the BN state government.
He says Sarawakians had created a magnitude 7.4 earthquake in 2006 state election, which led to a political tsunami in peninsular Malaysia during the 2008 general election.
"We want a magnitude 9 earthquake tomorrow, make Pek Moh and George Chan fall and make Najib and Muhyiddin scramble back to the peninsula.
"We want to win the state government and then the federal."
At the end, DAP leaders also turned the ceramah into a mini-concert, singing motivational songs like "We are the world" and "Tomorrow will be better".
There are also fireworks at the DAP ceramah, which marks the end of the event.
11.21pm: Sibu In a nod to Malaysiakini 's recent DOS attack, Penang Chief Minister and DAP secretary- general Lim Guan Eng tips his hat at the online news portal in the DAP ceramah.
"They can shut down Malaysiakini , but never mind. In one or two days, they rose again!
"They can shut down the Internet, but tomorrow, we shut down Taib Mahmud."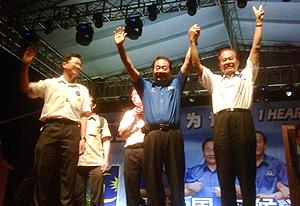 11.30pm: Sibu After Nicholas Teo finishes his performance, the three SUPP candidates appear on stage to wave at the youth and young voters, but most of the crowd are not paying them any attention.
11.50pm: Sibu With only minutes before the "cooling-off" period starts, DAP veteran Lim Kit Siang takes to the stage, telling people to "Ubah".
However, many among the crowd have started leaving the venue in droves.
VIDEO: Ambiga Srenevaasan barred entry | 1.59 min