The right of voters to make informed choices in Sarawak' s elections is being thwarted by the lack of accurate and timely information,  civil society groups charged in a statement today.
The statement acknowledged by Centre for Independent Journalism (CIJ), Charter2000-Aliran and Writers' Alliance for Media Independence (WAMI) cited recent events as evidence.
The group cited cyber attacks on online whistleblowers Sarawak Report and news site Malaysiakini following a Distributed Denial of Service (DDoS) attack overloading both the active web portals with reports in the last few days.
The people of Sarawak are being "shortchanged information that can help them to vote wisely", said the statement.
"With all media in the state under the ownership and control of both federal and Sarawak governments, critical issues regarding native customary land, poverty, the alleged rape of Penan women by logging company employees, and governance issues during Taib's 30-year governance are under-reported or even censored," it added.
Meanwhile Sarawak Report owner Clare Rewcastle has also reported today that their Radio Free Sarawak has been jammed by a hired agent in Belgium.
The bandwith broker has admitted to being paid "a considerable amount of money" to jam the station until December, said Rewcastle in a statement.
Mainstream media maintains grip
It is understood that government-linked broadcasting stations under Media Prima have been ordered not to show footage of the opposition's nightly talks in various towns that have been drawing large attendance.
The civil society group expressed regret over the Election Commission (EC) inaction to compel state-owned radio and television network (RTM) to provide fair and non-partisan election coverage.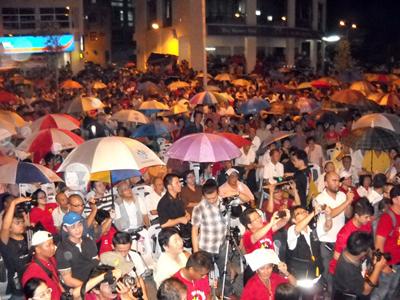 "Most rural Sarawakians depend on radio and television for information, so the state broadcaster is duty-bound to provide free airtime for all candidates to deliver their message to the voters. Televised debates are a common feature of election campaigns in many democracies," they said.
The group added that the state agency has the constitutional duty under Article 115(2) to assist the EC in the running of elections.
Among other concerns raised were the arrest of indigenous rights activists for possession of CDs and leaflets containing reports from Radio Free Sarawak and TV Sarawak Bebas on Chief Minister Abdul Taib Mahmud's alleged corruption.
The group also criticised the Sarawak government's move in barring political activists like Jannie Lasimbang, Steven Ng and Wong Chin Huat as well as Haris Ibrahim from entering the state.
"These incidents and factors point to a pattern of political control of information regarding the incumbent state government in an environment that already heavily favours them.
"While urban residents have access to the messages of opposition and independent candidates via the nightly talks being held in towns and cities, much of the population in remote areas is reachable only by boats, a communications option that is further limited by the 10-day campaign period set by the EC.
"The poor infrastructure and physical difficulties posed by the mountainous terrain meant that the media with the biggest reach is radio, which is under the government's licensing control, although there is now the whistleblower Radio Free Sarawak, " said the group.
Reiterating their protest against the clampdown and cyber attacks, the group urged for amendments to electoral laws to require state-run television and radio stations to provide for free airtime for all candidates and political parties.
"Unless the above vital issues are addressed seriously by the powers-that-be, democracy in Malaysia remains an illusion while its people are shackled by draconian laws," they said.