A retiree arrested the attention of opposition members at the public hearing by the parliamentary select committee (PSC) on electoral reform, when he told them to forget about marching to Putrajaya under the current electoral system.
Armed with printouts of his presentation slides, Ng Chak Ngoon ( right ) who described himself as a retiree, presented the panel with a graph that showed 222 lines with every one being taller than the other as it progressed.
The graph, said Ng at the hearing in Kota Kinabalu yesterday, which saw several others testifying, was plotted against the population size of all the constituencies in ascending order for the 2008 general election.
"All on the left (in blue) are won by BN, on the right (in red) are all won by the opposition. The BN constituencies are very small and the opposition constituencies are very big. So what is happening here?
"It's not by chance that all the people in big constituencies like the opposition and all those people in the small constituencies like BN. I would think there is a design here for the Election Commission (EC) to sub-divide all the BN areas into smaller areas to increase their number of MPs," he said.
Ng added that the smallest constituency, BN-held Putrajaya only had 6,008 voters but Opposition-held Kapar had a staggering 112,224 voters, 17 times more than Putrajaya.
'Kapar can have 17 MPs'
"If we break down Kapar to the size of Putrajaya, you would have 17 MPs from Kapar instead of just one."
If all the seats are made into equal size, Ng added, the last general election would yield a result where BN and Pakatan Rakyat would only have a difference of seven seats in Parliament as opposed to the actual results of 140 to 82 seats.
He further estimated that if a party relied on all the small seats to win power, it would only require 15.4 percent of the total votes to form a majority in Parliament.
"If the opposition thinks they can march to Putrajaya, forget about it."
At this point, PSC member Anthony Loke who is DAP's Rasah MP quipped: "Very demoralising."
Explaining further, Ng said the smallest constituency in Malaysia was 13 percent of the national average while the largest was 288 percent, in contrast to the UK's which smallest and largest constituency are 77 percent and 153 percent of the national average respectively.
"If the EC is sincere, it should redraw all the constituencies, this is not gerrymandering, this is outright cheating."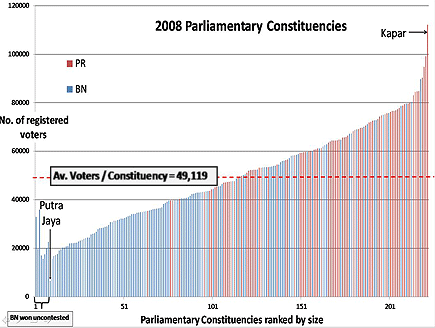 PSC member Dr Hatta Ramli later concurred, pointing out that the Baling parliamentary constituency, supposedly a rural seat, had an unusually large number of constituents at around 70,000.
"This was because PAS has won the seat before," said Hatta, who then asked if Ng thought this was ethical.
"Unethical is a mild word, Can I answer outside?" replied Ng in reference to parliamentary rules that require members in the hearing to abide by appropriate language.
State by state breakdown
Ng later proceeded to present similar graphs with a state by state breakdown at which PSC member Mohd Radzi Sheikh Ahmad said: "Can you rate Kangar?", in reference to his own constituency.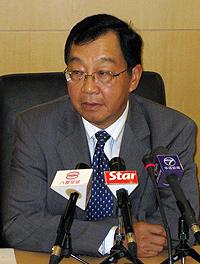 "If you have Negeri Sembilan's, I would like to see my chances of winning," added Loke.
At this, Ng quipped: "I'll have to charge you for consultancy."
When asked by PSC member Fong Chan Onn ( right ) on how the panel can accommodate the increase of seats for Sabah and Sarawak to meet the Malaysian Federation agreement of 34 percent into his recommendations, Eng replied: "What is your objective?
"To win the election or to have an equitable dispersion of votes? If these are conflicting desires, obviously we cannot come to a compromise. BN has to answer that question, not me, I'm a retired man."