Earlier this year, Parliament passed an amendment to the Evidence Act 1950, radically changing how Internet users or service providers can be subject to legal or criminal action.
In a nutshell, legal experts believe that the amendment to Section 114A will mean that anyone, including the government, can initiate legal or criminal action against social network users, website owners, mobile device owners or WiFi network service providers over content posted by other individuals.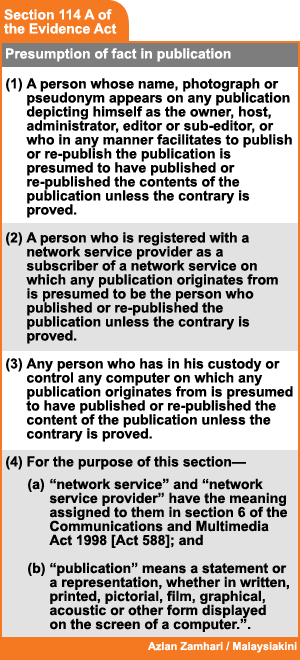 In other words, if defamatory comments are posted on a blog, the blog owner is likely to be sued or charged with criminal defamation.
Malaysiakini believes that this provision is unjust and easily subject to abuse.
"The change is a mockery to the principle of 'innocent until proven guilty'. We believe that the government is using this subtle change to erode freedom of speech online.
" Malaysiakini calls on all Internet users to stand against the amendment," said chief executive officer Premesh Chandran.
Malaysiakini is participating in Centre of Independent Journalism's Internet Blackout Day browser pop-up campaign to highlight this unjust law to its readers and the public.
On Saturday, Deputy Higher Education Minister Saifuddin Abdullah has vowed to rally BN parliamentarians against the amendment to send a "loud and clear" message to their leaders.
For further details, visit the official campaign website .
FAQ on the 114A
Is this a new law?
No, it's an amendment made earlier this year to the Evidence Act. Previously, when someone was charged with sedition for a blog post, the public prosecutor had to prove that Mr/Ms X actually wrote the offending post on his/her blog. Now, if Mr/Ms X claims that he/she did not upload the post, he/she has to prove it.
It's unclear how one would prove that one did not put up the offending posting. Even if we say that someone has hacked the site and put up the errant posting, there is no way to prove it.
The same applies for WiFi networks. If someone in your house uses your WiFi which is registered under your name to make a post, you will be charged unless you can prove that someone else in your house did it.
Does it affect website owners and blogs, too?
Yes, website owners now become responsible for all comments made on the site.
But isn't it good? We shouldn't be condoning defamation and slander online.
Malaysiakini does not condone defamation and slander online. Take our public forum as an analogy. If someone said something defamatory during Debatkini, should Malaysiakini be held accountable, or should the person who makes such a statement be held to account?
It should be the person who makes the comment who should be held liable, not the site owner.
What will be the impact of the amendment?
All websites, WiFi hotspots and homes and offices will have to stop people from using the Internet to post comments. People will be more afraid of speaking up. If the number of people speaking up online reduces, it's easier to charge and jail the rest.
Those supporting the blackout campaign
At the time of posting this message, 57 websites in Malaysia - including the news portals, commercial sites, NGO sites and prominent blogs - are participating in the campaign.
News sites
Free Malaysia Today
Malaysiakini
Digital News Asia
The Nut Graph
Harakah Daily
Keadilan Daily
BFM Radio
Mobile World
Tranungkite
MalaysianWireless
NegaraKita
Bloggers and public figures
Marina Mahathir
Lim Kit Siang
Tukar Tiub
Uppercaise
Nat Tan
Niki Cheong
myAsylum
Anil Netto
juanajaafar
NTGravity Zone
Sarawak Bloggers
Sivin Kit
Fahmi Fadzil
Cyril Dason
2dayblogger
Kaki Sakat
Lucia Lai
Commercial and entrepreneurship sites
lelong.com.my
entrepreneurs.my
nexusmediaworks
MOL
MudahAlih.my
Online resources and community sites
cari.com.my
anixekai.com
LoyarBurok
mobile88
jbtalks
edu.joshuatly.com
Xela City
Civil societies/NGO/associations sites
Malaysian Bar Council
Kajian Politik untuk Perubahan (KPRU)
Aliran
Research for Social Advancement, Relevant Facts, Sparkling Analysis (REFSA)
Sinar Project
Suara Rakyat Malaysia (Suaram)
SEACeM
Tindak Malaysia
Islamic Renaissance Front (IRF)
Lawyers for Liberty
Perak Women for Women
Empower
Women's Centre For Change
All Women's Action Society (Awam)
Sisters in Islam (SIS)
Women's Aid Organisation (WAO)
Voice of the Children
Related stories
PM bows to pressure, wants to 'discuss' Section 114A
Gerakan leader mocks Internet Blackout Day