EXCLUSIVE Former premier Dr Mahathir Mohamad, who had played an instrumental role in the sacking of his then deputy, Anwar Ibrahim, could be investigated for abetting present attorney-general (AG) Abdul Gani Patail and former inspector-general of police (IGP) Musa Hassan in fabricating or concealing material facts.
This is unless Mahathir can show proof that he had taken necessary action to prevent the two from doing so, said former Kuala Lumpur Criminal Investigation Department chief Mat Zain Ibrahim, who was the man in charge in the investigation into Anwar's black-eye incident.
This, Mat Zain said, follows the admission by Musa in an interview with Malaysiakini last May that he took Anwar's blood sample from Mat Zain's black-eye probe to conduct DNA test for another case - the one involving allegations of sodomy - in which Musa was the investigator.
The former prime minister had written in his memoirs, A Doctor in the House , that he was convinced Anwar was involved in homosexual activities, based on information he had gathered from both Musa and then IGP Abdul Rahim Noor (chapter 53, page 684).
That, and his interrogation of the alleged victims, had led to Anwar's sacking and later arrest. Anwar was subsequently charged with committing sodomy, dubbed as Sodomy I, involving his family's driver, Azizan Abu Bakar.
Mat Zain also questioned the need for Musa "to steal" Anwar's blood sample from Hospital Kuala Lumpur (HKL) to conduct DNA tests, when Musa - who was the investigator in the sodomy and abuse of power allegations - had allegedly already completed his probe into the two cases.
He further said Musa's admission to Malaysiakini also confirmed evidence given by HKL's Dr Zahari Noor during Anwar's trial in December 1998, that Musa and then ASP Mohd Rodwan Mohd Yusof had on Oct 15, 1998, forcibly taken Anwar's blood sample kept at HKL - which was meant to be used for HIV tests but was illegally used by Musa for the DNA testing.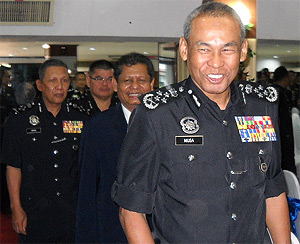 "These raise questions as to whether Musa ( far right ) had truly completed investigations into the sodomy allegation and had solid evidence to prove Anwar's guilt, or whether there were hidden hands instigating or forcing him to fabricate DNA evidence on the mattress, which led Musa to take it (Anwar's blood sample) from HKL. Otherwise, what was the purpose?
"Or did Musa do it on his own initiative, merely to support the evidence that he presented to convince Mahathir that Anwar was involved in homosexual activities? This is something that Musa has to answer," he said.
As for Gani, Mat Zain said there was no doubt the present AG was instrumental in instigating or forcing Dr Abdul Rahman Yussof of HKL to fabricate a total of three medical reports in connection with Anwar's black-eye investigation.
'Mat Zain: I briefed Mahathir'
Anwar was arrested at his residence on Sept 20, 1998, and taken to Bukit Aman police headquarters. Later that night, he was assaulted in his cell by then police chief Abdul Rahim Noor.
Anwar lodged a police report over the assault seven days later, and on that same day Mat Zain, who was Malacca CID chief, was called in to investigate.
Eleven days later, on Oct 8, 1998, Mahathir called Mat Zain to his office where the investigating officer briefed the prime minister on what he had uncovered in his probe thus far.
"I told the PM that although the investigation was not fully completed, there was evidence that Rahim was involved (in the assault)," said Mat Zain.
"I told him that I can complete the investigations within two weeks and would be submitting my report and recommendation to the AG directly."
"The PM nodded in agreement and in fact warned me that should he discover any cover-up in the investigation, he would form a RCI (royal commission of inquiry) to investigate the police, and especially me.
"I had that recorded officially in my investigation diary, including the part where the PM nodded his head in agreement. I can vouch that Mahathir knew officially that it was Rahim who assaulted Anwar on Oct 8, 1998 itself."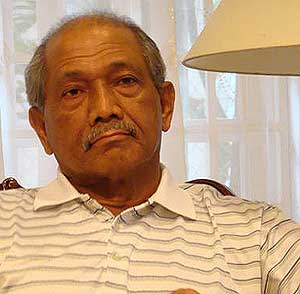 Mat Zain said Rahim ( left ), also went to see Mahathir after he (Mat Zain) had briefed the then IGP on what transpired at his meeting with the PM.
"After Rahim returned from the PM's office, he told his deputy Norian Mai and I that he would resign in two days' time and relinquish his post to Norian.
"We then prepared for Rahim to leave the force. I suppose Rahim must have discussed his resignation with the PM before telling us.
"However, later that day, Rahim had a change of heart after meeting then attorney-general Mohtar Abdullah and Abdul Gani (who was then chief prosecutor in the AG's Chambers), and he remained as IGP until Jan 7, 1999 (when he was forced to resign).
"Personally, I do not think Rahim would have wanted to stay as IGP a day longer, had he not been coaxed to do so by Mohtar and Gani.
"It is also not possible for Mahathir to not know what was going on or to be helpless and powerless to do anything about it," he said.
Mahathir's omission
Mat Zain said, Mahathir's failure - intentional or otherwise - to have Rahim leave the force immediately after knowing the latter was responsible for the assault, had given time and opportunity for Musa and Gani to fabricate evidence in the bid to protect the then police chief.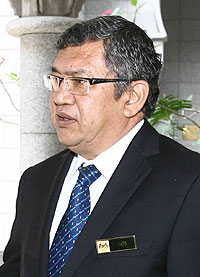 Musa forcibly took the blood sample on Oct 15, 1998, while the role of Gani ( right ) in the fabrication of the medical report was done on Oct 26, 1998, just before Anwar's trial started on Nov 1, 1998.
"These would not have been possible or necessary, had Rahim left the week before."
Mat Zain said he first sent his investigation papers on the black-eye case to the Attorney-General's Chambers on Oct 16, 1998, before the two weeks was up. There was an acknowledgment receipt issued.
Among its contents were the medical reports by all eight doctors who had examined Anwar, and also a copy of his investigation diary that described in detail his approach and position in the case.
Also included were details of what had transpired during his 20-minute meeting with the PM and what had been discussed among Rahim, Norian and himself, including Rahim's statement on his decision to resign.
Instead of taking immediate actions on his proposal, Mat Zain alleged that the AG's Chambers lied to the public by declaring on Nov 6, 1998, that it had yet to receive his investigation papers, despite the official receipt that had been issued to him.
"That only shows how desperate the AG's Chambers was and how far it was prepared to go in fabricating and falsifying evidence."
Mat Zain argued that Musa's admission during the Malaysiakini exclusive interview should not be taken lightly.
"I do not think Musa made any mistake there. He would have contacted Malaysiakini immediately to correct his statement if there had been a mistake. He must have his reasons for making the admission.
"Just look at the admission by former Singapore chief prosecutor Glenn Knight in connection with the Tan Koon Swan case, which came after almost 25 years.
"Musa made his after 14 years and I am not the least surprised if Gani does a 'Glenn Knight' in a not-too-distant future. After all, he has no defence.
"Let us wait to hear what Gani has to say about Musa's admission."
Was Mahathir deceived?
Mahathir himself, said Mat Zain, had admitted in his memoirs that he was initially deceived into believing that Anwar's black eye was self-inflicted, but later conceded that it was Rahim who assaulted Anwar.
Like any other human, Mat Zain said, Mahathir too was not susceptible to deception and indeed he could have been deceived several times, even by his senior cabinet ministers, for example, im the Dr Ling Liong Sik case involving Port Klang Free Zone scandal.
"Similarly in Anwar's case, Musa's admission showed that he did not have the solid evidence he said he had when he briefed and convinced Mahathir about Anwar's alleged homosexual activities.
"What we have before us now are - that Mahathir himself has admitted he had been deceived about Anwar's injuries and Musa's public admission that he had indeed taken Anwar's blood sample to test it on the infamous mattress ( above ).
This, Mat Zain said, led him to conclude that Mahathir was deceived by Musa.
However, he questioned why Mahathir kept quiet when Rahim had initially agreed to quit after meeting him but made a dramatic about-turn hours later. Was Mahathir, too, involved in abetting the fabrication of evidence?
"Irrespective of Anwar's or anyone else's alleged wrongdoings, nobody - not Gani, not Musa and not even prime ministers past or present - have the right to imprison anyone on trumped-up charges," said Mat Zain.
---
Chronology of events in Mat Zain's allegations
Sept 20, 1998: Anwar is arrested at his house by a Special Action Unit force. That night, he is assaulted by then IGP Abdul Rahim in Bukit Aman.
Sept 27, 1998: While under detention, Anwar lodges a report on the assault. Following the police report by Anwar, Mat Zain Ibrahim, then the Malacca CID chief, is called in to investigate the incident.
Sept 29, 1998: Anwar is charged with sodomy and abuse of power.
Oct 8, 1998: Mat Zain is called to brief then PM Dr Mahathir Mohamad. He tells the prime minister that the injury was not self-inflicted and that Rahim was responsible for the injury.
Mahathir warned Mat Zain that there should not be no cover-up in the investigations or else he would call for an RCI. The former KL CID chief said he would complete his investigations within two weeks.
After the meeting with the PM, Mat Zain briefs Rahim and then deputy IGP Norian Mai. Rahim subsequently makes an appointment and meets Mahathir for 45 minutes the same day.
Later, Rahim meet Norian and Mat Zain and informs them he will resign in two days and Norian was to take over.
But in a dramatic reversal, Rahim changes his decision to resign after meeting then AG, the late Mohtar Abdullah, and the present AG, Abdul Gani Patail.
Oct 15, 1998: Former IGP Musa Hassan 'steals' Anwar's blood sample.
Oct 16, 1998: Mat Zain submits his investigation papers to the AG's Chambers. However the chambers suppresses this fact.
Jan 7, 1999: Rahim resigns as IGP.
Jan 27, 1999: Following public pressure, Mahathir sets up an RCI on the black eye incident.
April 7, 1999: The RCI announces its findings that action should be taken against Rahim for the black eye incident. Rahim is later charged and found guilty on March 15, 2000. He serves a two-month jail sentence.
March 8, 2011: Mahathir launches his biography, A Doctor in the House .
May 31, 2012: Musa admits in an interview with Malaysiakini that he had taken Anwar's blood sample for DNA testing.