EXCLUSIVE One would expect the Attorney-General's Chambers to uphold justice and set the record straight by preventing cover-ups.
However, exactly the opposite happened in the infamous black-eye investigations with former Kuala Lumpur CID (Criminal Investigation Department) chief Mat Zain Ibrahim saying that despite the focus being on their then boss, inspector-general of police Abdul Rahim Noor, the police can hold their heads up high as the probe had cleared them.
Mat Zain Ibrahim (left) revealed in an exclusive interview with Malaysiakini that there was never any attempt by the police to cover up the incidenton the night of Sept 20, 1999.
The Royal Commission of Inquiry (RCI) on the Black Eye in its 1999 report states "The manner in which all our police witnesses discharged their duty to the oath they took to tell us the truth, was very creditable.
"We hope that these observations will go some way to vindicate the reputation of the Royal Malaysian Police Force."
Mat Zain, the investigating officer (IO) in the black-eye case said the RCI and the incident and the allegations of fabrication had in fact brought the Attorney-General's Chambers' integrity into disrepute.
He added although former IGP Musa Hassan, the IO in the sodomy I case, was alleged to have been involved in the underhand move willingly or otherwise, it was done in his own personal capacity.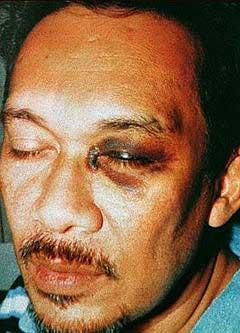 The former top cop stressed that no orders had come from the higher-ups even from then premier Dr Mahathir Mohamad to cover up the matter as the PM had warned him personally on Oct 8, 1998, that the government would not hesitate in calling for a RCI if need be.
Mat Zain said Musa cannot claim ignorance of what incumbent attorney-general Abdul Gani Patail, then a senior prosecutor, was doing as he had acted as an intermediary for the late and present AGs and Bukit Aman as well as himself (Mat Zain).
Musa had in an exclusive interview with Malaysiakini last month admitted he took Anwar Ibrahim's blood sample from the Hospital Kuala Lumpur doctors to test for HIV and also DNA samples.
'I warned Gani'
Mat Zain said the origin of the black-eye probe problem lay in Abdul Gani's decision to appoint Dr Abdul Rahman Yusof on Oct 26, 1998, to prepare "the fabricated medical report" on Anwar when already a total of eight other doctors had examined the former deputy prime minister and completed their respective reports.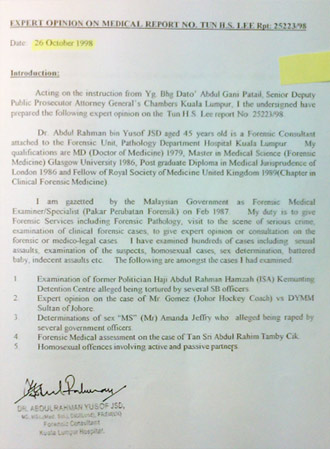 Mat Zain produced a copy of Dr Abdul Rahman's expert report dated Oct 26, 1998, in which he states that he was appointed and was under the instruction of Abdul Gani.
"I told Gani that appointing Dr Abdul Rahman would give rise to complications.
"Besides Dr Abdul Rahman does not have legal standing and had also been under investigation for 'criminal intimidation' based on a report lodged by a senior pathologist who had examined and prepared Anwar's official medical report."
Dr Abdul Rahman's first report said Anwar's injury could have been self-inflicted, in total contradiction to the other medical reports.
Mohtar grudge against Anwar?
Mat Zain said Mahathir had suspected something amiss and the cabinet decided to call for an RCI.
"On Jan 27, 1998, when the RCI was announced, I met up with a then full minister whom I personally know for several years before to inquire on the need to have the RCI when my investigation were complete and the assailant identified, and the PM was briefed by me on Oct 8.
During the conversation, the late minister told him that the then AG - the late Mohtar Abdullah - was quite angry with Anwar for exposing the photo of him and his wife taken together with tycoon Vincent Tan and senior lawyer VK Lingam and their spouses during their group vacation in Spain and Italy.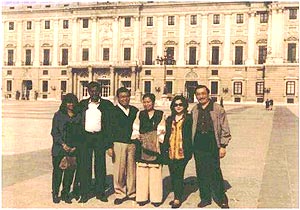 "The late minister did not say whether the photo ( right ) expose had anything to do with what happened in the black-eye investigation or any other investigations on Anwar, but it was a fact Mohtar's relationship with Anwar was affected," he said.
The photo which made the rounds in the public domain was also brought up during the Lingam RCI in 2007.
Nevertheless, Mat Zain said Dr Abdul Rahman was appointed again on Dec 1, 1998 by Mohtar.
He maintains that he did not know whether Abdul Gani had informed Mohtar that he (Abdul Gani) had already appointed Dr Abdul Rahman or that the Oct 26 medical report's existence, and whether Mohtar was also in the loop to object to the appointment.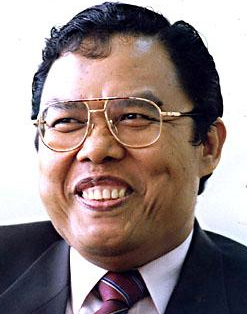 "That is for Abdul Gani to clarify. However, had Mohtar (right) been told about Dr Abdul Rahman's background and yet appointed him again on Dec 1, I would say it was silly of him to have done so since the fabrication trail can easily be backtracked."
"But had Gani not told Mohtar about Dr Abdul Rahman, then Gani must have intended to put Mohtar in that sticky situation in order to exculpate himself (Abdul Gani).
"After the December appointment, Dr Abdul Rahman went on to prepare two more reports taking the total to three, including the one instructed by Abdul Gani two months earlier. The doctor went on to give false testimony during the RCI.
"Whether such testimony had the blessings from AGC (Attorney-General's Chambers) or otherwise is also for Abdul Gani to clarify," the former top cop said.
Why no IPs to AG
Mat Zain also alleged that Gani had given some classified and restricted documents from the investigation papers to Dr Abdul Rahman - who was not an authorised person - to help him fabricate the reports.
This, he said, can be proved when the doctor himself had recorded them in the Oct 26 report.
He said although the AG had demanded his investigation papers on the black eye on Feb 13, 1999, he did not comply as the RCI was about to commence on Feb 22, 1999 and all preparations had to be in place.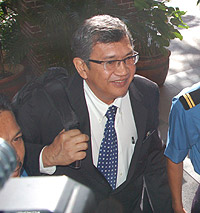 "I did not want the AG to stifle the RCI. I know what they are capable of, especially Abdul Gani (left) .
"Moreover, the AGC had no power to force me to surrender the IP (investigation papers) at that point of time.
"Most importantly, I had discussed the matter with the then acting IGP Norian Mai, that the police can be exonerated through the RCI after the adverse press statement by Mohtar sometime in January 1999, touching on police capabilities and professionalism.
"This became the basis for the cabinet to form the RCI. True enough the police were officially exonerated after that."
Instead, he said the documents and evidence recorded in the RCI are all unfavourable to the Attorney-General's Chambers, in particular Abdul Gani.
Doc's report mysteriously withdrawn
He also pointed out that while two of Dr Abdul Rahman's three reports were submitted to the RCI, the first dated Oct 26, was mysteriously withdrawn before the RCI's final report was presented to the Agong.
"Hence, people do not know that Dr Abdul Rahman was appointed earlier by Abdul Gani himself.
"I have all the three copies of Dr Abdul Rahman's report to prove what I have been saying all along.
"I have written to the Health Department director-general, the Malaysian Anti-Corruption Commission Advisory Board, the solicitor-general over the three reports, but they did not reply."
Mat Zain added that he even gave Prime Minister Najib Abdul Razak, a copy of each of all three reports accompanied by a detailed explanation of how it all came about.
He said Anwar did lodge a report against Abdul Gani, Musa, Dr Abdul Rahman and himself sometime in 2008 for fabricating medical reports during the black-eye investigation.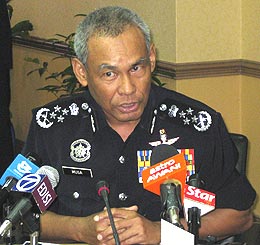 However, he said a three -member panel appointed by the solicitor-general, in a majority decision exonerated Abdul Gani and Musa (right), but not Dr Abdul Rahman and himself.
Mat Zain also confirmed that he has issued a legal letter and served on the solicitor-general in July 2009 and is slowly building up his case to be filed at an appropriate time.
He said that he was aware of Musa's suit against Anwar has been fixed for October for a full trial and that Abdul Gani has put on hold his statement of claim against Anwar although he has issued his letter of demand together with Musa.
"If Abdul Gani is really sincere, all he needs to do is to account in detail, why, with the three expert reports already prepared by the doctor, he needed that many reports of different versions for just a simple and straight-forward assault case?"
THE MAT ZAIN INTERVIEW
Part 1: AG robs police of authority with CPC amendments
Part 2: 'Abdul Gani leaked confidential papers to Anwar'
Part 3: Gani move landed late Mohtar in sticky situation
Part 4: Ex-top cop Mat Zain not keen to be a politician
Related reports
Ex-top cop: Police should probe naval document leak