Netizens have claimed that a photograph published by the New Straits Times had been doctored to make the crowd at Prime Minister Najib Abdul Razak's gathering in Pekan last Saturday to appear bigger in numbers.
The alleged doctored photograph, which had exact duplicates of part of the crowd in the background, had began circulating on Facebook since it appeared in the newspaper's Sunday edition.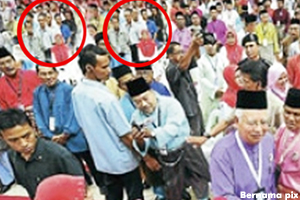 The photograph had also caught the attention of prominent bloggers including top pro-Pakatan Rakyat blogger Milosuam , who mockingly explained that the picture was a case of a supernatural occurrence.
"Open your eyes and try to pay attention, there are at least 10 ghosts that appeared behind Najib," he jibed, in reference to the alleged duplicated crowd.
Meanwhile, a prominent graphic designer who goes by the online moniker Kukubesi encouraged the graphic artist behind the allegedly doctored photograph to take lessons from him.
"They can join my editing classes so they can edit better," he quipped on Facebook .
Kukubesi had previously criticised the initial Merdeka day logo produced by the Information Ministry which was deemed too mediocre.
A Bernama photo?
The photograph, which was published alongside a Sept 16 news story entitled 'Najib: United front crucial for Umno's success in polls' on the New Straits Times ' website, had since been removed.
The story claimed a total of 15,000 people were present at Najib's Pekan event last Sunday.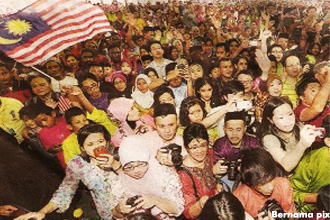 Another blogger who goes by the name uppercaise claimed that the photograph was from national news agency Bernama . This could not be verified at the time of writing.
Attempts to contact New Straits Times Press (NSTP) group managing editor Abdul Jalil Hamid were unsuccessful and a text message has gone unanswered.
This is the second time in as many weeks that the authenticity of a photograph featuring Najib mingling with crowds has been disputed.
The last incident involved a Bernama photograph of Najib's open house function in Putrajaya ( photo above ). Bernama has denied the allegation.