Perkasa president Ibrahim Ali expressed disappointment he was not given a seat by BN, unlike Perkasa vice-president Zulkifli Noordin.
However, it did not mean that Ibrahim was upset with Zulkifli and was in fact glad that the latter will be fielded.
According to a report by Astro Awani , Ibrahim said what made him upset that he was not given any reason for being turned down.
"Not being shortlisted means I was not given a chance. I don't know why. Maybe I don't look handsome enough or other reasons," said Ibrahim in jest, when met at the airport in Pengkala Chepa.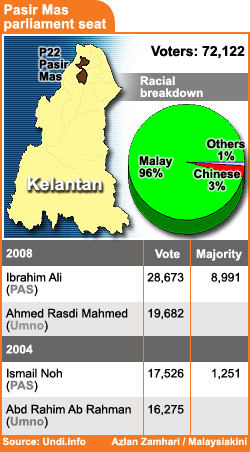 However, Ibrahim said would be contesting as an Independent in Pasir Mas, a seat which he had won a few times with different parties.
"I want to state here that although I'm standing in Pasir Mas, it doesn't mean I'm against BN. I consider (my candidacy in) Pasir Mas as an isolated case," he said.
He said that he was not out for revenge against BN or Umno by standing as an Independent and urged all Perkasa members to back the BN candidate.
He added that his decision to stand as an Independent was based on requests from Pasir Mas electorate who want him to articulate on several issues, particularly on Malay rights and Islam.
Seventh outing
Ibrahim had stood as a candidate for Pasir Mas in every election since 1986. He scored his maiden victory that year and he retained the seat as a Semangat 46 member in 1990.
After re-joining Umno, he lost the seat to PAS in the subsequent election in 1995, which marked the start of his three contest losing streak.
In 2004, he contested as an Independent candidate and secured only 15 percent of the total votes cast.
He finally won the seat on a PAS ticket in 2008. He was not a member of PAS at the time and thus he later declared himself as a BN-friendly Independent member of Parliament.
This time round, BN is fielding Pasir Mas Umno division deputy chief Che Johan Che Pa for Pasir Mas. He is likely to face Ramli Yusof, a former police commissioner and local boy, from PAS.
Previously, former prime minister Dr Mahathir Mohamad had mooted that BN field Ibrahim, to repay him for his good deeds towards BN.
Related stories
Mohd Zin: Zul Noordin a 'transformation' candidate
Perkasa veep Zulkifli Noordin takes on Khalid Samad