As evening approached, Jonker Street in Malacca appeared visibly empty except for the occasional passing car and other vehicles parked over the faded stall lots on both side of the road.
The fate of the popular Jonker Walk night market there appeared uncertain as the state government had ordered the road to be opened to traffic, making it impossible for traders to conduct their business.
By 5pm, at the far end of the street, a small group of DAP state representatives, clad in black 'Save Jonker Walk' T-shirts had assembled and were preparing to cordon off the road in defiance of a state government directive.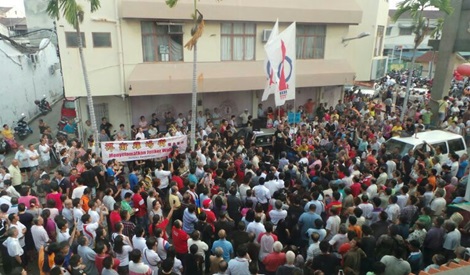 However, a group of over 100 MCA supporters a stone's throw away beat DAP to it as they moved to close off one end of road, chanting "Cordon off Jonker Street" and holding up banners such as 'Traffic jam is a joke' - mocking the state government's justification of its directive.
Malacca MCA chief Gan Tian Loo, who is also the Jonker Walk committe deputy chairperson, was among the crowd.
"The traders are asking for the road to be closed as before and we are here to hear their wishes and bring their voice to the state government," he said as sound of honks in support filled the background.
However, Gan ( right ) took a guarded approach, denying that he was leading the protest, adding that he was merely there to "survey" the site after receiving several requests from the traders.
As traders begin to push their carts pass the protest to set up their stalls on Jonker street, the protesters applauded them like heroes.
However, after just 15 minutes, the spotlight shifted to DAP as the party's supremo Lim Kit Siang ( right ) made a surprise visit, flanked by the party's top leaders including Seremban MP Anthony Loke and Petaling Jaya Utara MP Tony Pua, as well as representatives from north Johor and Negri Sembilan.
Visible animosity
Despite the common cause, some MCA and DAP members threw insults at each other with shouts of "MCA go home" and "Where was DAP 13 years ago?"
DAP had opposed the setting-up of Jonker Walk 13 years ago, citing poor initial planning but is now in favour of preserving the tourist destination.
Pakatan's high-powered delegation, including Malacca PKR chief Shamsul Iskandar Akin and Malacca PAS commissioner Adly Zahari, proceeded past the MCA protesters for a ceramah from behind a four-wheel-drive vehicle as the enthusiastic crowd quickly swelled to close to 500.
"Previously the state government wanted to level Bukit Cina but the people of Malacca were successful in defending it, likewise we will prevail with Jonker Walk," declared Lim.
Bukit Cina is Malacca's largest Chinese cemetery situated in the heart of state.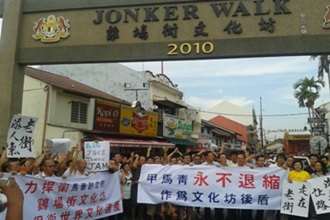 He further accused the BN government of embarking on "national retaliation" over the last general election results rather than "national reconciliation".
Later, PKR's Shamsul, who thwarted former Malacca chief minister Ali Rustam's ambition for federal politics by defeating him in Bukit Katil, said his constituency had similarly faced retaliation from the state government.
"We have a Chempaka Ramadhan market where the tender had been issued and permits issued but they were suddenly frozen because it is in Bukit Katil and BN lost there.
"The Chempaka Ramadhan market is mostly run by Malays while Jonker Walk is mostly Chinese, and the state government is taking revenge regardless of race," he said.
'Motion against CM'
Meanwhile, Malacca DAP chief Goh Leong San said his party will move an emergency motion in the state assembly on Monday to remove Malacca Chief Minister Idris Haron for the decision.
Kota Melaka MP Sim Tong Him questioned the 'Malaccan-ness' of Idris for wanting to remove an important attraction in the state.
He also praised MCA for also protesting against the state government decision, but created an awkward moment when he repeatedly invited Malacca MCA chief Gan on stage.
Gan, who had earlier criticised the DAP for turning Jonker Street into a political ceramah, was nowhere to be seen.
Unable to locate Gan, the hour-long ceramah was ended as Pakatan's leaders went around to greet traders who were able to go about their business, thanks to the cordon by MCA and DAP.
Despite the animosity, Malacca MCA Wanita Chief Kian Sit Har, who was present and had previously broken ranks to openly support electoral reform group Bersih, viewed the double protest by her party and DAP positively.
"It is good, the more people there is, the more strength we have.
"I hope the chief minister will heed the people's urging," she said.