Chin Peng - the man who was once dubbed Public Enemy No 1 - was cremated today amidst fierce debate in Malaysia over the final resting place of his ashes and his role in history.
The former Communist Party of Malaya (CPM) secretary-general funeral was a low-key affair with about 250 people in attendance at the Wat That Thong temple in downtown Bangkok.
Although no Malaysian officials were present, former Thai prime minister Chawalit Yongjaiyuth ( left ) along with retired Thai generals Kitti Rattchaya, Pisarn Wattanawongkiri and Akanit Muansawad were in attendance, as was Thai Communist Party secretary-general Thong Chamsri.
Chawalit told reporters that he had attended the funeral as a mark of respect for a "friend", but refused further comment as it was not "appropriate" for the occasion.
Chawalit was the premier of Thailand between 1996 and 1997.
He arrived soon after Chin Peng's family and friends concluded a procession where they followed the casket three times around a small temple where the remains will be cremated.
Led by a man with white hair and glasses, who appeared to be in his mid-60s, the procession left family and friends sobbing as grey clouds shrouded what was earlier a brief moment of blue skies.
The man, who was accompanied by a woman around his age, is believed to be Chin Peng's son, whose identity is fiercely guarded by Chin Peng's family for privacy reasons. Chin Peng has a daughter and a son.
After the procession, the man was greeted by Chawalit and the two former Thai generals.
Tears for a patriot
Earlier, Chin Peng's comrades bowed to their leader stoicly in silence in the main hall. But soft weeping was heard as his farewell letter was read out in Bahasa Malaysia and Mandarin by his friends, Lee Tuck Hee and Anas @ Indrajaya Abdullah.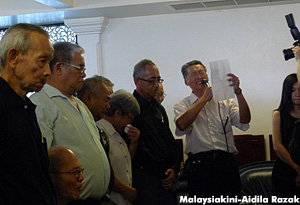 With the socialist anthem L'Internationale playing softly in the background, Lee ( right in photo ) struggled to fight back his tears during his speech, which was punctuated by numerous pauses because he had to cry.
In their speeches, the retired generals described Chin Peng as "Malaysia's version of Myanmar's Aung San, Indonesia's Soekarno and Vietnam's Ho Chi Minh", all Independence fighters.
Unlike their counterparts in Malaysia, the generals, who all led troops against the CPM guerrillas in southern Thailand, said they saw Chin Peng as a "father figure" and "model of honesty and bravery".
"He will live deep in our hearts," Pisarn said.
While the speeches were delivered, a man wearing a jacket with the Malaysian crest and the words 'Embassy of Malaysia, Bangkok', was spotted taking photographs of mourners.
Asked by reporters, the man, who could only understand Thai, admitted to be from the embassy and that he was taking photos as "information".
He also claimed that Malaysian intelligence had been attending the three-day wake and funeral since Friday.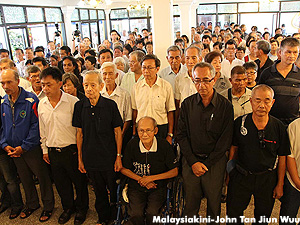 Next to the hall in which the speeches were made, an entreprenuerial man was spotted setting up a stall to sell books on the history of fascism, as well as Thai translation of Mao Tze Tung's red book.
The generals later solemnly placed saffron robes next to the casket, as a mark of respect in the Buddhist ceremony.
A long line of mourners, mostly in their 60s and some wiping away tears, then paid their final respects by placing a flower, crafted out of coconut fronds, next to the casket.
At 5.40pm, Chawalit set a bouquet of flowers made out of coconut fronds on fire and placed it onto the coffin.
Black smoke billowed above the ornate red roofs of the Thai temple as the man believed to be Chin Peng's son prayed over his father's remains.
Ashen-faced, the man and some family members were led away by funeral organisers by the end of the ceremony at 6pm.
Related stories
Zahid fears Chin Peng's ashes would lead to memorial
Family mum on arrangement for ashes
Gov't will not compromise on 'false idol' Chin Peng
Bangkok respects M'sian decision on Chin Peng's ashes
A hero or villain is one thing, forgiveness another