Prime Minister Najib Abdul Razak took two and a half hours to unveil the details of Budget 2014 today.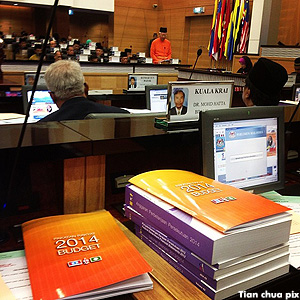 Clad in a bright orange 'baju Melayu', Najib - to the delight of Pakatan Rakyat MPs as they waved their orange alternative budget booklet - started to address Parliament at 4pm.
Malaysiakini brings you the salient points of the budget speech here as it unfolds.
You can also check out the updates on Twitter @malaysiakini and Facebook.com/malaysiakini.
In his speech, Najib takes potshots at Pakatan over allegations there were 40,000 Bangladeshis voting in the 13th general election.
"According to the 2010 Population and Housing Census, estimates for 2013 indicate that there are 18.6 million Malays and bumiputera (67.9% of total population) including Muslims and non-Muslims, Chinese, 6.6 million (24%) Indians, 2 million (7.2%), while there are 259,000 (0.9%) people of other ethnic groups. This means there are about 27.4 million Malaysian citizens.
"However, this does not include the 40,000 Bangladeshis who were
brought in as phantom voters in the recent 13th general election as alleged by the opposition. Till today no one has even seen them or their shadow. Enough of lies. Ask for forgiveness from Him."
The theme of Budget 2014 is 'Strengthening economic resilience, accelerating transformation and fulfilling promises'.
VIDEO l Analysis by experts l 49 min
AT A GLANCE
Total budget: RM264.2 billion
Operation expenditure: RM217.7 billion
Development expenditure: RM46.5 billion
GDP growth
2014: 4.5% - 5.5%
2013: 4.5% - 5.5%
2012: 4.5% - 5.0%
Revenue
2014: RM224.1 bil
2013: RM220.1 bil
2012: RM206.2 bil
Deficit
2014: 3.5% of GDP
2013: 4.0%
2012: 4.5%
Domestic economic prospects
Net foreign direct investment was higher at RM18.2 billion in the first half of 2013 compared with RM15.9 billion during the same period in 2012.
International reserves remained strong at RM444.9 billion at Oct 14, sufficient to finance 9.7 months of retained imports and 3.9 times the short-term external debt.
For entire 2013, domestic economy expected to expand 4.5% - 5%. Growth supported by private investment, increasing 16.2% to estimated RM165 billion.
Private and public consumption expected to grow 7.4% and 7.3% respectively
Domestic economy projected to grow at a stronger pace of 5% to 5.5%. Growth to be driven by private investment at 12.7%, and private consumption 6.2%.
Exports of goods expected to grow 2.5% over improving external demand. On the supply side, construction sector expected to grow 9.6%, services sector at 5.7%.
Unemployment rate estimated at 3.1%, inflation rate to remain low between 2% and 3%.
Per capita income for 2014 expected to reach RM34,126. Plans to achieve the target per capita income of RM46,500 in and even "achieve developed nation status much earlier than 2020".
Goods and Services Tax
Government to introduce Goods and Services Tax (GST) at 6% starting April 1, 2015. Sales and Services Tax to be abolished.
Items to be exempted from GST - rice, sugar, salt, flour, cooking oil, dhal, chilli, herbs, salted fish, cincalok, budu, belacan, piped water, electricity (for first 200 for domestic use), government services, public transport (bus, LRT, ferry, toll) sales and purchase of property or rental of property.
Implementation comes with a reduction in tax structure effective from 2015. Generally, those with family and earning RM4,000 and below need no longer pay income tax.
After GST, a one-off cash payment of RM300 to be made to those now receiving BR1M help.
GST monitoring committee to be chaired by Minister of Finance II Ahmad Husni Hanadzlah to ensure smooth implementation.
Tax incentives
In tandem with GST, individual income tax rates to be reduced by one to three percentage points for all taxpayers.
Chargeable income subject to maximum rate to be increased from exceeding RM100,000 to exceeding RM400,000.
Current maximum tax rate at 26% to be reduced to 24%, 24.5% and 25%. These measures to be effective from 2015.
Tax rebate of RM2,000 for those earning less than RM8,000
To help the employer's burden of implementing of minimum wage scheme - RM900 in Peninsula Malaysia and RM800 in Sabah and Sarawak, the government will introduce extra tax incentives for whole of 2014. This is to help employers to top up salaries of their employees to the minimum level.
Corporate tax rate cut by 1 percentage point from 25% to 24%, for SMEs reduction from 20% to 19% from year of assessment 2016.
Cooperative tax rate cut by 1 to 2 percentage points from year of assessment 2015.
Projects and allocations
Projects to be implemented include 316km West Coast Expressway from Banting to Taiping. and double-tracking projects from Ipoh to Padang Besar and later from Gemas to Johor Bahru.
National Entrepreneur Development Office to be established to plan and coordinate all entrepreneurship activities.
RM1 billion investment in companies scoring high on Environmental, Social and Governance Index.
RM265 mil to resolve electricity cuts in Sabah.
Government to conduct audit on projects valued at more than RM100 million.
496 more CCTV at 25 areas. RM200 mil allocated for police to get more equipment (weapons, bulletproof vest, forensic vehicles, biometric equipments)
Education
Education budget for 2014: RM54.6 billion or 21 percent of total budget.
RM450 mil funds for school maintenance. Breakdown: RM100 mil for SK, and RM50 mil each for all the rest: SJK(C), SJK(T), Sekolah Mubaligh, Sekolah Asrama Penuh, MRSM, government-aided religious school and sekolah agama rakyat.
Government to continue giving RM100 cash to all primary and secondary school students.
Baucer Buku 1Malaysia for pre-U and tertiary students of RM250 to continue. RM325 mil to be allocated and it is estimated that this will help 1.3 million students nationwide.
RM100 mil to improve education and training for Indians.
Tourism
2013 - RM25 mil tourist arrivals
2014 - Target: 28 mil tourist arrivals
2014 - Visit Malaysia Year
2015 - Year of Festivals
Government to spend RM 1.2 bil to develop, promote and publicise tourism in 2013-2014.
RM2 bil for Special Tourism Infrastructure Fund to finance building tourism infrastructure.
Air transport
RM700 million to build new air traffic control and management system at KLIA. This is to replace the existing one in Subang.
RM312 million to upgrade Kota Kinabalu, Sandakan, Miri, Sibu and Mukah airports, additional upgrade of terminals in Langkawi International Airport and Kuantan Airport.
Services sector blueprint to be launched next year, the logistics sector master plan and national aviation policy to be formulated.
Public transport
RM62 million for 'park and ride' facilities at LRT, KTM Komuter and ERL stations.
RM15.3 million for Centralised Taxi Service System to ensure efficient mobilisation of taxi services.
RM28 million for building 'last city terminals', upgrading of bus stops and providing 'drop-and-ride' facilities.
Refurbishing electric trains at a cost of RM28 million to ensure frequency and efficiency of services.
High-speed broadband
Second phase of the High-Speed Broadband (HSBB) project in collaboration with the private sector involving RM1.8 billion investment to expand coverage to major towns. Internet speed to be increased to 10 Mbps.
RM1.5 bil to build 1,000 new telecommunications tower over three years. RM850 mil to build new undersea cable to improve internet in East Malaysia over 3 years.
Agriculture
RM6 bil allocated to implement high value-added and commercially viable agriculture programmes.
RM2.4 bil for agricultural subsidies and incentives for paddy and fish farming.
Subsidies reduction
Sugar subsidy of 34 sen to be abolished tomorrow. Price to go up to RM2.84 per kg.
Government to allocate RM47 bil for subsidies in 2013 and 53% or RM24.8 bil went to petrolem products that benefitted all, even the rich, the businessmen and foreigners.
Najib cites the recent petrol price subsidy cut as an example of this structural changes to come for subsidies, which make up to a fifth of the total national budget.
Retirement scheme
To allocate RM210 mil for a private retirement scheme (PRS) to encourage young to start saving. Starting

Jan 1

, the government will top up RM500 into the account for those aged 20-30 years old who can save RM1,000.
It is estimated that 420,000 youths may join this scheme to run for five years.
Increase of Real Property Gain Tax (RPGT)
RPGT increased as follow:
- 30% (first 3 years)
- 20% (fourth year)
- 15% (fifth year)
- For foreigners: 30% for all five years
Minimum property purchase price for foreigners to be doubled from RM500,000 to RM1 mil.
Cheaper homes: Subsidy of RM15,000 to RM20,000 for private and public developers for low and medium cost homes, for sale to first home buyers.
BRIM 3.0
Those earning household income of below RM3,000 to get RM650, an increase of RM150.
RM450 for those households earning between RM3,000 and RM4,000.