EXCLUSIVE In 2008, the late Sultan Mahmud Iskandar told the Johor legislative assembly: "Let us be reminded that I will not forget Pulau Batu Puteh... Pulau Batu Puteh is not Singapore's, it belongs to Johor. It does not matter how long it may take, I will find a way to get back the island..."
Five years later, a former high-ranking police officer is spearheading an attempt to nudge the government to bring those allegedly responsible for losing the island to account.
That person is former Kuala Lumpur CID chief Mat Zain Ibrahim, a quiet and media-shy former top police officer whose career was intertwined with politics after he was assigned to investigate Anwar Ibrahim's infamous black eye, after he was sacked as deputy premier in 1998.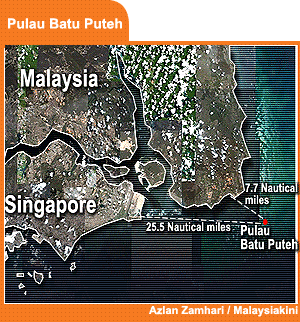 Since his retirement, Mat Zain has embarked on a personal mission to send open letters to the powers-that-be, urging them to take action against allegedly corrupt government officers involved in Anwar's first sodomy trial.
This time, he is taking it a step further, on Batu Puteh - or Pedra Branca as the Putrajaya now prefers to call it - by penning an extensive statutory declaration (SD) about new information he has received on the matter.
Malaysiakini has sighted the SD and was informed by Mat Zain that a copy of it has been submitted to Prime Minister Najib Abdul Razak.
Call for RCI
In his SD, Mat Zain states that his purpose of penning the document under oath is to convince Putrajaya to establish a royal commission of inquiry over the loss of Batu Puteh to Singapore.
The dispute over Batu Puteh began in 1980. Eventually, Malaysia and Singapore agreed to resolve the matter before the International Court of Justice, which is based in The Hague, Netherlands.
In May 2008, the court, comprising 16 eminent judges, ruled in Singapore's favour.
To back his call for an RCI, Mat Zain's SD contains details of his Aug 10 dinner meeting with former prime minister Dr Mahathir Mohamad, senior lawyer Muhammad Shafee Abdullah (left) and former Commercial Crime Investigations Department chief Ramli Yusuff.
Among other issues, the meeting saw the posse of high-profile individuals discussing the Anwar's black eye incident as well as Batu Puteh, according to Mat Zain's SD.
The SD states that Shafee had informed Mat Zain of Mahathir's displeasure with Gani, who led Malaysia's legal team at the ICJ, for allegedly concealing some vital facts.
Back in 2008, Mahathir had made his disapproval known, stating that "Singapore sent their chief justice and a lawyer who used to work with the United Nations. We only sent our attorney-general, who is not very famous".
Caught red-handed
Mat Zain said the Malaysian delegation to the ICJ led by Gani had submitted, as evidence, a controversial photograph that was retrieved from, of all places, an anonymous blog.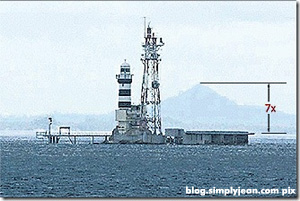 This photograph (left) depicted Batu Puteh in close proximity to Johor, but another photograph submitted by the Singapore delegation disputed the authenticity of the photograph.
Mat Zain described the submission of the "concocted" photograph as a form of deception that severely hurt Malaysia's case.
"I am of the view that we did not lose the island because of a lack of evidence or facts, historical or otherwise.
"The team was ill-prepared, coupled with the fact that they were caught red-handed by ICJ while attempting to deceive them into believing that the island is within close proximity to our mainland by introducing a photograph that was 'concocted'.
"I would not think the ICJ would be so unkind to us to award Singapore the outright ownership of Batu Puteh.
"At the very most, they would have formulated some kind of mechanism for a joint-ownership, or 'twin sharing', of the island. This would come if the court recognised that Johor once had sovereignty over the island," Mat Zain said.
'I know what he is capable of'
He then drew parallels to the submission of the 'doctored' photograph with his allegations that Gani had fabricated evidence in the course of investigations into Anwar's black-eye incident. At the time, Mat Zain was the investigating officer.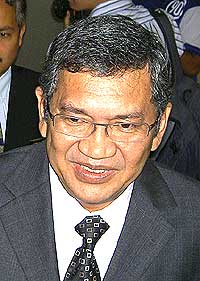 Gani (right), who was then a senior deputy public prosecutor, introduced a medical report by Dr Abdul Rahman Yusoff that states Anwar's injuries could have been self-inflicted.
"Having dealt with Gani many times in the past, including the black eye case, where I was the investigating officer, I know what he is capable of," Mat Zain told Malaysiakini.
The contents of a book titled 'Pedra Branca: The Road to the World Court' written by former Singapore minister S Jayakumar and lawyer Tommy Koh, seem to concur with Mat Zain's claim.
The authors claimed, as highlighted in a Free Malaysia Today report, that the Malaysian delegation had employed some questionable tactics during the trial, which they claim was a display of "a certain sense of desperation".
Jayakumar and Koh claim that the Malaysian delegation deliberately translated a text wrongly, suppressed parts of quotations used to support their arguments and adduced the distorted photograph as evidence.
On the preparedness of the Malaysian delegation, Mat Zain said the inclusion of Gani's son, Faezul Adzra, who graduated from UiTM no more than two years earlier, in the ICJ hearing seemed to suggest that the Malaysian team lacked the necessary experience and firepower.
"This leads to another question: Are there no other capable or senior persons to assist Malaysia's legal team?" he said.
Faezul Adzra had previously been embroiled in a controversy, about him going on a haj trip with Shahidan Shafie, who was once being investigated by Malaysian Anti-Corruption Commission (MACC).
The investigation has since been dropped. Shahidan is alleged to be a proxy of former MAS boss Tajudin Ramli.
Fulfilling the sultan's wish
In view of these developments, Mat Zain said, Najib must order a royal commission of inquiry (RCI) to look into how Malaysia lost Batu Puteh.
"This is about the sovereignty of the nation. This is about alleged treason and betrayal of the Yang di-Pertuan Agong and our country," he said.
He pointed out that the Najib government had established an RCI on Project IC, which did not involve the loss of land, but the Batu Puteh case was more severe.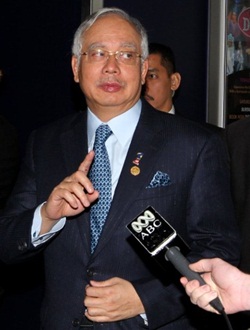 "Not only Johor lost Pulau Batu Puteh and its waters but most of all, its dignity and sovereignty over the island that was rightly the state's."
Mat Zain said should Najib chose not to have an RCI, it was incumbent on his deputy, Muhyiddin Yassin, to push for it because he was from Johor and thus should fulfill the late sultan's wish.
He then called on Muhyiddin and all Johor state assembly representatives to remember Sultan Mahmud Iskandar's pledge to reclaim the island.
In the SD, Mat Zain also calls for Gani to be suspended and urges Najib to set up a tribunal to probe the AG for alleged misconduct - a course of action that the former top cop has suggested before.
When contacted for his reaction to Mat Zain's allegations, Gani told Malaysiakini: "Publish it at your own risk."