DAP's 38 parliamentarians and two senators have all bought a brick each to contribute to Malaysiakini 's new building in Petaling Jaya.
The party's treasurer, Bukit Bintang MP Fong Kui Lun yesterday handed Malaysiakini CEO Premesh Chandran a cheque for RM40,000 for the bricks.
The handover took place at Malaysiakini's office in Bangsar Utama, where Fong, with Segambut MP Lim Lip Eng, Tanjong MP Ng Wei Aik and Seremban MP Anthony Loke, had their first look at the bricks on which their names will be etched and installed at the new building.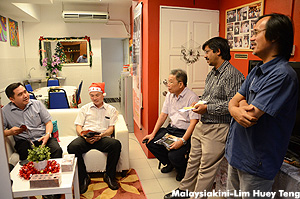 Loke ( left in photo ), who is the DAP parliamentary whip, told Malaysiakini that all 40 DAP representatives agreed last month to contribute one brick each to the portal's 'Buy a Brick' campaign.
" Malaysiakini changed the media landscape by providing independent news. People now are so used to it that it has become a daily routine to read Malaysiakini ," Loke said during his visit.
"That's why I think we must contribute to ensure that Malaysiakini's operation continues," he added.
Meanwhile, Premesh said he appreciates DAP's support and he believed the online portal would do better in carrying out its mission when it moves to its new office.
"We shall continue to hold all politicians accountable," he said.
To add to the festive mood, Segambut MP Lim donned a Santa Claus cap during the visit to Malaysiakini .
RM730,000 raised so far
Malaysiakini has set an ambitious RM3 million target in the 60-day campaign, where supporters can buy a brick for a contribution of RM1,000.
The campaign runs until Jan 15 and the money will be used to supplement the RM6.1 million cost of the new building to be named @Kini.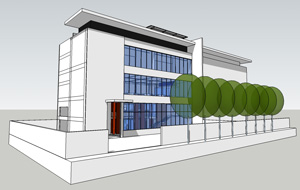 With 27 days of fund raising to go, Malaysiakini has sold more than 500 bricks worth RM730,000. The campaign also offers corporate sponsorship packages of RM25,000 and RM50,000.
Each supporter will have his or her name embossed on a brick, which will be displayed on an 'appreciation wall' in the new building.
In addition, supporters will receive Malaysiakini subscriptions and advertising equal to the amount contributed.
The new building is located in Section 51 of Petaling Jaya and will have nearly double the space available at the existing Malaysiakini office. It will also provide space for public forums, training programmes and exhibitions.
Please click here for more information on how you can get involved.