While PKR has lifted a ban on two mainstream media organisations from covering its press conferences, other news organisations found themselves barred from covering the signing of a memorandum of understanding (MOU) on Selangor's water restructuring exercise in Putrajaya.
It's between the state and the federal government.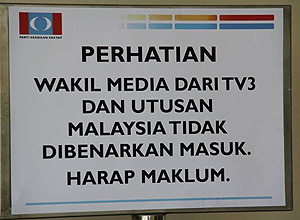 PKR communications director Fahmi Fadzil said he removed the sign previously placed at the party headquarter's press conference hall entrance, which barred newspaper Utusan Malaysia and broadcaster TV3, from PKR's press conferences.
BN leaders have previously accused the Pakatan Rakyat component party of practising double standards for barring the two media organisations despite constantly preaching on press freedom.
Recently, the group Gerakan Media Marah (Geramm) had also condemned such restrictions as a violation of media freedom two weeks ago, when the signboard was displayed.
A TV3 reporter covered the press conference with party leaders this morning, but it is unclear if Utusan reporters were present.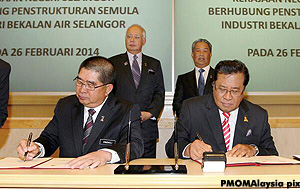 At Putrajaya,
according to journalists, those barred from covering the signing of the MOU on Selangor's water at the Prime Minister's Office include Malaysiakini , The Malaysian Insider, The Malay Mail, The Malay Mail Online and Singapore-based Channel News Asia .
Malaysiakini received an alert to cover the event by the Selangor Menteri Besar's office an hour before the MOU signing.
Meanwhile, Geramm issued a statement yesterday condemning the incident where red paint was splashed on Malaysiakini's office, along with a live duck in a box left at the door, and photos of the Seputeh MP Teresa Kok.
It says that the incident is an attempt to intimidate a media organisation, as well as damaging property and causing suffering to an animal.
"Geramm wishes to stress that it is unreasonable for any party to threaten media practitioners, or construe reports such as those produced by Malaysiakini as a form of support for a party or individual politicians," it said.