Red paint was splashed outside the office of independent news portal Malaysiakini in Bangsar Utama, Kuala Lumpur, this morning.
A cardboard box with a duck inside was left at the main entrance.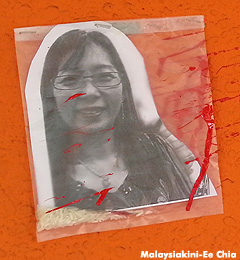 It was initially thought that the duck was dead, as there was no movement.
The box could not be opened all the way pending police investigations.
However, when the cover was partially lifted about noon, it was found that the duck was alive, but barely moving.
A photograph of DAP's Seputeh member of parliament Teresa Kok was taped to the box, with several others to the wall of the office.
These were wrapped in plastic bags into which rice grains had been placed.
The paint was thrown on the walls and floor, as well as the Malaysiakini signboard, at the four-storey building.
A motorcycle parked nearby was also splattered with the paint.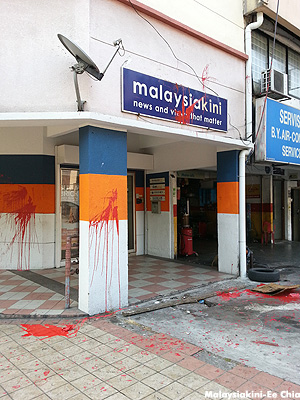 Malaysiakini graphics editor Azlan Zamhari, who was first to arrive at the office at 6.15am, said the paint was still wet.
"It was apparently thrown using five plastic bags," he said.
A shop operator in the vicinity said that, when he arrived at 4.30am, the vandalism had already taken place.
A police report was lodged at the Travers police station at 10.40am.
Malaysiakini editor-in-chief Steven Gan said the news portal will not be cowed by such cowardly attacks.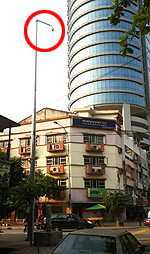 "There is a closed-circuit television camera at the busy intersection outside the office. I hope it's working," Gan said.
"We will be asking the police to check the footage so that we can nail the culprits."
Malaysiakini CEO Premesh Chandran said: "This is the work of agent provocateurs."
"It's a vile attempt to silence those speaking up and, at the same time, to normalise the idea of violence.
"If nothing is done to stop such actions, if nobody is brought to book, we can expect things to get worse."
When contacted, Kok condemned the attempt to threaten Malaysiakini journalists.
"The fact that my photo is placed on the box shows that the perpetrators are trying to link Malaysiakini to my Chinese New Year video clip," she said.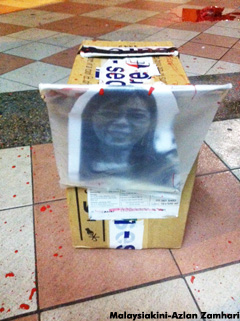 She has decided not to lodge another police report, but urged the police to carry out a thorough investigation into the latest incident.
Asked why she thinks a duck was used this time around, Kok speculated:
"The culprits might want to show difference between a media organisation and politician's office."
The attack comes a week after red paint and a dead chicken were discovered on the staircase leading up to Kok's office in Jalan Kuchai Lama.
The incident is believed to be linked to her political satire video clip 'Onederful Malaysia CNY 2014' , which some had deemed to lampoon top personalities and issues in Malaysia.
Malaysiakini had reported extensively on the video as well as a protest in Kuala Lumpur on Feb 6, during which a group of Muslim NGOs offered a bounty to slap Kok.
Police bag duck, Kok's photos as evidence