If you have fallen sick this year and feel your medical bill was much higher, you are probably right.
Much attention has been focused on price increases of food and petrol but, unknown to many, is an amendment to a schedule of the law that regulates fees for private healthcare services.
The amended 13th Schedule of the Private Healthcare Facilities and Services Act 1998 was published in the federal gazette on Dec 16, 2013, providing for across-the-board increases in fees for medical consultation and procedures.
For example, the fee cap for first consultation with a general practitioner has been RM10 to RM35 - but the new amendment increases this to RM30 to RM125.
Likewise, for specialist doctors, the fee range for first consultation, which was between RM30 and RM125, has now increased to between RM80 and RM235.
Medical procedures also saw a price hike of between 14 percent and 18 percent.
The surgeon's fee for a lumbar puncture has been revised from RM650 to RM745, repair of bladder from RM1,875 to RM2,145 and kidney transplant from RM4,150 to RM4,750.
If the procedures require an anaesthetist, the cost for such services has similarly been increased.
The price hike also includes dental services. For example, a non-surgical permanent removal of a tooth had a price range cap of RM40 to RM250 but it is now RM45 to RM285.
'Parliamentarians in the dark'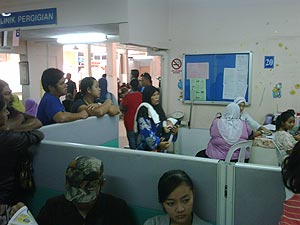 When contacted, MPs who are medical doctors by training, said they were in the dark over the increase as the hikes were implemented in a hush-hush manner.
"As MP, I am not aware of this and it was certainly not highlighted in the last round of sitting in Parliament," PKR's Wangsa Maju MP Dr Tan Kee Kwong said.
This can be explained by Section 106(2) of the Private Healthcare Facilities and Services Act, which grants the health minister the power to amend prices in the 13th Schedule by way of an order published in the gazette, after consulting the ministry's director-general.
This means the procedure does not go through Parliament and MPs need not be consulted or informed.
Elaborating on the matter, Tan ( left ) said the price hike in medical services would further burden the rakyat, who have already faced a slew of price increases for various goods and services.
"As a former medical practitioner, I feel this drastic price increase is not warranted... the rakyat are already suffering from all kinds of price hikes," he said.
Meanwhile, PSM's Sungai Siput MP Dr Jeyakumar Devaraj said he too was not aware of the medical fee hikes but noted that doctors have complained that the old fee structure was outdated and for some time have been seeking an increase.
Jeyakumar said the large number of general practitioners means that consultation fees will not increase significantly, even though they are allowed to do so under the new 13th Schedule. This is because of stiff competition among them.
However, the same will not be true for medical procedures, which are more limited and subjected to less competition, he told Malaysiakini when contacted.
'Gov't owns 60 percent of private hospitals'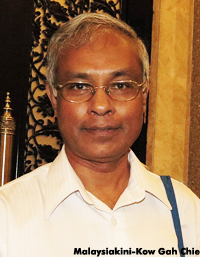 Jeyakumar ( right ) reiterated PSM's stance that quality healthcare is the responsibility of the government and should not be left to private companies that dish out expensive bills.
"There can never be a good time to increase prices of healthcare services. The government is taking the wrong policy approach by relying on the private healthcare system.
"In fact, more than 60 percent of private hospitals, by bed numbers, are owned by the government through government-linked companies such as Sime Darby, Petronas, KPJ (Kumpulan Perubatan Johor) and Pantai Holdings Berhad.
"This is a major problem we are facing in the country. There is serious conflict of interest on the part of the government," he said.
Jeyakumar said the government should halt the expansion of the private healthcare system and focus on providing quality and affordable public healthcare.