MH370 Malaysia Airlines (MAS) chief executive officer Ahmad Jauhari Yahya said any talk of his resignation will have to come later, as the priority is to recover the missing Flight MH370.
Jauhari was responding to growing discontent with MAS among the families of Chinese passengers on the flight.
"Will I resign? It's a personal decision, we'll take it later," he told a press conference at KL International Airport today.
MAS yesterday informed families of passengers on Flight MH370 that it was "beyond reasonable doubt" that all on board had perished following new evidence that the plane fell into the Indian Ocean.
While the news came as a relief to some after more than two weeks, others reacted in anger and anguish, particularly the passengers' relatives in Beijing.
Why test message was sent out
The situation was made worse after the family members in Beijing were informed about the sad news through text message.
However, Jauhari stressed today that MAS' intention was so that family members would receive the sad news first-hand, instead of finding this out in the media.
"Our sole and only motivation last night was to ensure that in the incredibly short amount of time available to us, the families heard the tragic news before the world did.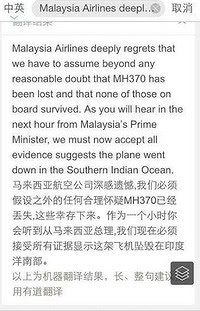 "Whenever humanly possible, we did so in person with the families or by telephone and used SMS only as an additional means of ensuring fully that the nearly 1,000 family members heard the news from us and not from the media," he said.
Jauhari acknowledged that this episode has hurt the company's business, but gave his assurance to the public of the safety of the airline.
"Obviously it has affected the airliner, but so far, like I said, we are doing our best to ensure those who bought MAS tickets are being served and flown safely and comfortably.
"Our procedures are code tango... we have ratcheted up to the level of code tango to ensure the safety and security of our flights," he said.