Malaysiakini brings you the live reports and up-to-the-minute updates of the Kita Lawan rally in Kuala Lumpur in support of jailed opposition leader Anwar Ibrahim and against Prime Minister Najib Abdul Razak.
LIVE REPORT
10.54pm: PKR communications director Fahmi Fadzil said that Kelana Jaya PKR Youth chief Saifullah Zulkifli, who was arrested earlier, will be sent to the Dang Wangi police station.
Meanwhile, Selangor exco Nik Nazmi Nik Ahmad has been asked to go to the Dang Wangi police station at 10am, perhaps for his statement to be taken in connection to today's rally. Nik Nazmi said he will be going there with a lawyer.
8.46pm: Almost all of the rally participants have dispersed and the scene at the venue has returned to normal.
The police, despite declaring the rally illegal earlier this week, took a hands-off approach. The few police officers seen on the streets were helping to smoothen traffic flow.
However, PKR communications director Fahmi Fadzil told Malaysiakini that a party leader was arrested near Masjid Jamek at 7.45pm.
Kelana Jaya PKR Youth chief Saifullah Zulkifli was detained by the police in connection to the rally and he was sent to the Jinjang police station.
7.07pm: PKR secretary-general Rafizi Ramli on Twitter thanks those involved and quips that the authorities will underplay the turnout today.
"If Umno counts (the turnout), a few zeros will disappear. That's why the 10,000 will become 100," he tweeted.
"If 1MDB takes RM42 billion, they think its RM42 million," he said on his Twitter .
6.55pm: About 500 protestors are still at KLCC. A driver in a Nissan car passing by tries to provoke the crowd by waving a baseball bat from the car.
The resting crowd gets agitated and starts chasing the car but is stopped by activist Adam Adli and a few friends.
He holds back one angry protester who is seen chasing the car. After the incident, the situation calms down again.
6.40pm: One of the Kita Lawan secretariat members Mandeep Singh tells Malaysiakini that they have no plans to stay overnight at KLCC.
"Initially, we did not plan to stay overnight here.
"But it's up to the protesters, if they want to, they can spend the night here," he says
Semambu assemblyperson Lee Chean Chung concurs that the secretariat did not have such plans.
"Maybe we will do so in other rallies," says Lee.
6.30pm: Lawyers for Liberty (LFL) executive director Eric Paulsen is in favour of the one-night camp-over at KLCC as suggested by DAP's Hew Kuan Yau.
"As long as rally goers do not damage public property, I think it's fine," he says.
Paulsen, who was among the crowd who marched from Central Market to KLCC, praised Kita Lawan organisers for their efforts in organising the rally.
"Despite misrepresentation of the rally by the police force, I think the people have shown their support by demonstrating peacefully," he told Malaysiakini .
6.07pm: NGO Jingga 13 chief Fariz Musa announces the Kita Lawan rally is officially concluded and that whoever wants to stay on should get candles for a candlelight vigil at KLCC.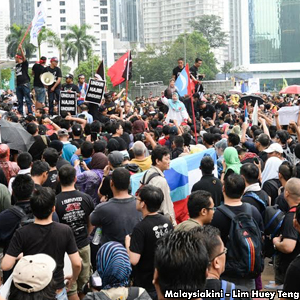 The NGO's members stay on to entertain the protestors who are still there while others disperse.
Thus far, no untoward incidents have been observed by Malaysiakini .
6.10pm: PKR Ampang MP Zuraida Kamaruddin gives the last speech and organisers call it a successful day.
Huge crowds are still lingering around, but some have begun to disperse.
There is a mixed reaction to the proposal that the protestors continue to stay overnight at KLCC.
Some tell Malaysiakini that they would not stay as they have other matters to attend to.
Others are more positive, saying they will stay for as long as they have the energy to do so.
PKR Youth communications director Johan Ariff says all will depend on the momentum of the rally.
"If the momentum is good like right now, then maybe we will do this overnight, but where I don't know yet," he tells Malaysiakini .
6.15pm: After his speech, PKR's Subang MP R Sivarasa says there is no problem for the people to stay overnight at KLCC as they are battling oppressive laws.
"The people here are willing to take to the streets to end these oppressive laws that govern us.
"Some don't even mind being arrested, as long as they have made their stand and hopefully (called for) a change for their children and grandchildren," he tells Malaysiakini .
Legally, the lawyer adds, there shouldn't be a problem with the protesters staying overnight as long as they cause no provocation or destroy any public property.
6pm: Activist Adam Adli Abdul Halim reads the 'Sumpah Pemuda' oath (Youth Pledge).
Before that he states: "If Malaysians are not firm, we will be bullied by the government.
"There is only one word when we get oppressed and caught by the authorities, and that is 'lawan' (fight back).
"Do we want to retreat? Fellow police officers, you can go home, we know how to take care of ourselves. Go and rest all you want, we will come back here," he says.
He then reads the oath, saying that they are not doing it for Anwar, but for the oppressed.
"We swear we will continue fighting this corrupt regime.
"We swear that we will continue to move the rakyat forward to continue fighting, in the name of courage, brotherhood, justice."
"Today we 10,000 have come, next week, 100,000 will come," he continues and chants, "Long live the rakyat" and "Reformasi".
5:57pm: Subang MP R Sivarasa addresses the crowd and says the rally today is meant to show the government that people are not satisfied with the judicial system in the country allegedly manipulated by the ruling government.
"Will we stop the struggle of the people and the youth?" he asks the crowd who replied with a rousing response of: "No!"
"This rally is sending a clear message to the judges who have sent Anwar to jail.
"We want to remind the judiciary, we want freedom, we don't want a judicial system that is being controlled (by politicians).
"We will struggle until Malaysia is free and independent," he says, followed with chants of "Free Anwar."
5.50pm: PAS leader Hatta Ramli says the protest has succeeded in being a peaceful one.
"Not one stone has been thrown," he says.
He urges the youth to channel their anger with Prime Minister Najib Razak and the imprisonment of Anwar into votes to be cast at the ballot box.
"We have a future, and I'm sure we have a dream for a better future," he adds.
5.50pm: KLCC - DAP's 'superman' Hew Kuan Yau addressing the crowd urges the ralliers to camp at KLCC for a day.
"Can we?" he asks the crowd, to the response, "Can!"
"But it's up to you all," he adds. Hew has often advocated for rallies to end in camp-ins to send a stronger message.
PAS leader Hatta Ramli then jokes he understands Prime Minister Najib Razak will be sending mattresses to KLCC for them.
"Who wants to stay, please do. I will hold a feast at the end of the month," he quips to laughter from the crowd.
5.35pm: KLCC - The rally has congregated around KLCC. At the main entrance, D'BangsART entertains the crowd with political songs in the face of the rain.
Some in the crowd wave their hands in the air to music and the sound of drums.
One song calls on Najib to step down, and is sung to the tune of Johor's football team ' Luaskan Kuasamu ' (Expand your power).
"Oh Najib, oh cheater, we want you to step down. We come, we fight, along with the citizens of Malaysia.
"Fight, fight, we fight until we win. We fight along with the citizens of Malaysia," they sing, as the crowd sings along.
PKR Youth chief Nik Nazmi Nik Ahmad meanwhile says Malaysiakini 's estimate of 10,000 ralliers is lower than what he observes.
"To me the figure is conservative. There are many more who have shown up," he says.
He says the rally is a success and hopes the photographs will be widely circulated.
"This struggle is not easy, we have to always try harder and we will not be defeated," he says.
He also thanks the police for their cooperation.
5.30pm: KLCC - More explosions are heard, but so far the crowd has remained calm.
One of the marchers Nicholas Law, 27, tells Malaysiakini that he believes it might be an attempt to intimidate the crowd.
"They might be trying to intimidate us, but so far no one is panicking," he says.
He also brushes off alleged attempts to pit Pakatan partners against one another in the lead up to the rally.
"Everyone is here, so it's not an issue," he says.
DAP's special task unit has been helping to facilitate the crowd's movement in the rear guard, protecting them from crossing into traffic and from blocking roads unnecessarily.
PAS's Unit Amal meanwhile is tasked with ensuring the entire rally's security.
5.10pm: PKR vice president and Anwar Ibrahim's eldest daughter Nurul Izzah says she is "speechless and taken aback" with support from the people who have turned up today.
"I'm so proud to be a Malaysian and to see so many people turn up for this rally.
"This rally is not just about Anwar, but the people's unhappiness with the Najib regime and how it has affected them.
"Many issues like the impending Goods and Services Tax (GST) and 1MDB have driven the people to the streets," she tells Malaysiakini.
5pm: Jalan Ampang - A steady stream of motorists have queued up behind the marchers.
Traffic however resumes smoothly when the crowd turns into Jalan Ampang, the entrance to which police have barricaded for vehicles.
Along the way, a loud bang is heard about 50 metres to the left of the rear guard.
Momentarily startled by the thundering crack, the crowds quickly realise it's a firecracker and shrug it off and move on.
Some policemen are seen directing the traffic to assist the rally.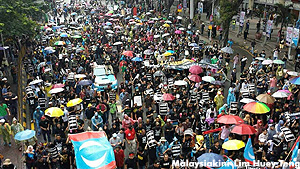 5pm: The crowd of several thousands brave the rain, singing songs and beating drums while marching towards KLCC.
Chants of "Reformasi" and "Undur Najib" fill the air.
One protester is seen carrying an effigy resembling Prime Minister Najib Abdul Razak. The crowd is led by groups holding a poster that stretches as wide as two lanes of the road.
4.30pm: As the crowds march towards KLCC, about 50 supporters are staying back at Sogo because of the rain.
One supporter who did not wish to be named tells Malaysiakini that he will join them once the drizzling has stopped.
"I'm waiting for the rain to stop," he says.
4.30pm Sogo - A group of protesters calling themselves the 'PKR grassroots members club' arrives at Sogo with a banner bearing the face of former prime minister Dr Mahathir Mohamad.
The group shouts, "Hidup Mahathir, hidup Anwar" (long live Mahathir and Anwar).
When asked, one of them named Jaz says they want PKR to collaborate with Mahathir as only the former premier can free Anwar.
"Do you think Mahathir is a child? He is capable of doing great things.
"PKR no longer have brave souls after Anwar was incarcerated. Even Azmin has kept quiet.
"As such, only Mahathir is our hope!" Jaz says.
Meanwhile, several PKR members seem uneasy with this group, and yells, "Undur Mahathir" (down with Mahathir).
They ask the group to prove their PKR memberships by showing their PKR membership cards.
Jaz then shows his card and the two groups argue further.
The 'Mahathir supporters' finally leave the area after 30 minutes.
4.20pm: Thunder roars as Kita Lawan and Pakatan leaders address the crowd.
They are speaking at two different spots at Sogo, one on the mall's sidewalk, and another in the middle of Jalan Tuanku Abdul Rahman.
They have begun marching to KLCC.
4.15pm: PKR president Dr Wan Azizah tells the crowd she will convey the message to Anwar Ibrahim that the people have not forgotten him.
"The crowd present here shows how many people care about him. We will never surrender!," she calls out to the crowd of over 10,000, while wearing a poncho to brave the rain.
Alongside her is PAS central comittee member Khalid Samad and her younger daughter, Nurul Nuha Anwar who heads the March 2 Freedom campaign.
4pm: Sogo - Former Bar Council president and Bersih leader S Ambiga addresses the crowd, urging them to fight for Anwar's freedom.
"I am here today to demand the freedom of Anwar. We must fight for his release. We will never surrender!" she shouts.
PAS Youth chief Suhaizan Kaiat then takes the loudspeaker. He says PM Najib Razak will soon step down.
"Najib has too many problems. GST, Altantuya and 1MDB. Najib won't last for long, and soon we will be rid of Rosmah too," he tells the cheering crowd.
3.55pm: Jalan Tuanku Abdul Rahman - The marching crowd at Masjid Jamek occupy half the road, and traffic moves slowly past while the crowd's chants echo around.
Hatta Ramli and PAS leaders from the HQ arrive at the Sogo junction as chants of "Down with Rosmah" reverberate outside the popular shopping centre.
The roads around Sogo are packed with people as the streams from the other meeting points converge at the final destination.
Dang Wangi police chief Zainol Samah is observing developments from across the street.
3.50pm: Sogo - Among the Pakatan leaders who arrive earlier at Masjid Jamek are DAP Rasah MP Anthony Loke, Kluang MP Liew Chin Tong, DAP Youth chief Teoh Kok Seong and others.
Hulu Kelang PAS assemblyperson Saari Sungib is also present.
Loke says Pakatan will ensure Anwar remains the parliamentary opposition leader.
"Anwar's soul and spirit can never be imprisoned.
"We will send Anwar's voice to Parliament. We will ensure he continues to lead Pakatan to bring BN down," says Loke.
Saari meanwhile says this rally is not a gathering for Pakatan but for the people of Malaysia.
"Keep the fight, we will continue to struggle and reach Putrajaya," he declares.
3.50pm: Bar Council observer N Yohendra says he is pleased with how the rally is proceedings so far.
"So far it has been a peaceful rally. The police have also given the protesters space to speak and walk," he tells Malaysiakini .
Yohendra adds the Bar Council has two teams assigned to watch over the rally and another to handle arrests if there are any.
"We are here to observe and make sure there is no human rights violation," the lawyer adds.
Meanwhile Klang MP Charles Santiago in a statement this afternoon mulls if agent provocatuers have been planted in the rally.
"Deputy inspector-general of police Noor Rashid Ibrahim has warned rally goers of tough action, claiming the gathering is "sedition-laced" and 'unlawful'.
"For any assembly to be 'unlawful', people have to use 'criminal force', as provided for in the Penal Code.
"Why is the deputy police chief preempting the use of criminal force by members of the public?
"Or could this signal a covert plan or a hidden agenda, with the police being aware of agent provocateurs put in place to instigate rally-goers?
"Time and again, there have been speculations that when previous rallies got messy, it was the presence of some initiators who played a big hand in disrupting peaceful gatherings," says Santiago.
3.50pm: Masjid Jamek - A crowd of over 1,500 including those from Central Market are heading towards Sogo.
Many are seen carrying placards and some even wearing red headbands with the words 'Kita Lawan' on them
PKR vice president Nurul Izzah Anwar and PKR's Youth chief Nik Nazmi Nik Ahmad are seen leading the rally despite the increasing rain.
3.40pm: PAS HQ - About 300 led by Hatta Ramli begin moving towards Sogo. They shout, "Free Anwar" and "Step down, Najib".
Some bear "kita lawan" banners and shout "Reformasi" and "Takbir".
PAS' Unit Amal control the traffic that is moving through Jalan Raja Laut.
3.35pm: Sogo - It has started to drizzle, and many are now seeking shelter underneath the mall's awning. The crowd is now 500 strong.
Two policemen are walking among them, taking notes and photos.
3.30pm: Masjid Jamek - The crowd here has grown to roughly 1,000 although organisers put it at 3,000.
3.20pm: Central Market - The crowd here beings to march towards Masjid Jamek as a drizzle begins to sound of thunder.
3.20pm. PAS HQ - PAS Youth elections director Mohd Sany Hamzan says today is the climax to the call for Anwar's release from prison.
"If we look at the allegations against Anwar, even if you ask a kindergarten kid, he will say it is slander manufactured by Umno-BN," he says.
"Why? Because he has exposed the extent of the corruption in Umno-BN's leadership," he says, adding today the people are responding to the ruling party.
"Step down, Najib. Free Anwar," he says.
PAS central committee member Khalid Samad takes his turn and says this is a peaceful rally to show support for Anwar, the political prisoner.
"What has been done to him is slander to break up and weaken Pakatan.
"We do not accept this, we have to oppose the oppression of the rulers. Malaysians are a sovereign people, we do not support (the government's) cruelty.
"We are here to show our opposition to what Umno-BN is doing.
"We must have courage. What we are doing is to make our country fair and prosperous," says the Shah Alam MP to shouts of "Takbir!"
3.20pm: Sogo - The crowds continue to swell, getting more upbeat with the chanting.
Meanwhile five police officers are spotted across the street from the mall, talking on their radios.
DAP Segambut MP Lim Lip Eng is also here, and assures Malaysiakini that the DAP crowd will be coming from Masjid Jamek.
3.15pm: PAS HQ - Batu MP Tian Chua tells the 100-odd crowd there this is a "historic" days as March 8 was the day Pakatan denied BN its two-thirds parliamentary majority in 2008.
He says today's rally also serves to stir up the spirit of the people shown that landmark year.
"The people have begun to gain awareness of the right to peaceful assembly.
"We are also proud to hold the record of (our rallies) causing no damage to public property, not having ever caused unrest and we have gathered with noble intentions, and shown courage to resist continued oppression," he says.
"We don't want to saddle our grandchildren with a political system that is corrupt. And we have no other way but to work hard to bring BN down."
He reminds the crowd to follow the instructions of PAS' Unit Amal and avoid falling prey to provocation.
He adds Human Rights Commission Suhakam and the Bar Council are observing the rally.
PKR information chief Syed Ibrahim Syed Noh is also present.
3.10pm: Sogo - The crowd has grown to 400 people, and present is Kelana Jaya MP Wong Chen.
The crowd waves PKR flags, but no PAS or DAP flags are seen.
"(The number of) DAP (supporters) should be okay, and the PAS supporters will be coming from their headquarters," Wong tells Malaysiakini .
Meanwhile a water vendor gets into the spirit mimicking the opposition slogan ' lawan tetap lawan ' (keep fighting) shouting, " Minum tetap minum ," (keep on drinking) to draw customers.
3.05pm: Central Market - Around 300 in black T-shirts start to gather in front of the building.
Among them are Bersih chairperson Maria Chin Abdullah, human rights lawyer Eric Paulsen and Perak PKR Youth chief Zafril Eusoff.
Inside the popular arts and crafts mall it is business as usual and the shopping crowd looks calm, going about their browsing through the shops and wares.
3.03pm: Lembah Pantai MP and PKR vice-president Nurul Izzah has been served notice to attend questioning by Dang Wangi police over the Kita Lawan rally at Sogo that took place on Feb 14.
According to Padang Serai MP N Surendran, police have confirmed to lawyers that the investigation is under section 9(5) of Peaceful Assembly Act.
He said this was despite that this section was declared unlawful by the Court of Appeal in Selangor exco Nik Nazmi Nik Ahmad's case.
3pm: Masjid Jamek - PKR Semambu assemblyperson Lee Chean Chung addresses the crowd of over 300 at Masjid Jamek LRT station from the top of a truck .
He calls on the crowd to start the march at 3.30pm.
"Let us walk together to Sogo to show its not just the NGOs that are participating at this rally, but the people have gotten down to the streets to express their unhappiness. Reformasi!," Lee screams out on top of his lungs.
2.45pm: Sogo - There is a crowd of at least 300 people gathered outside Sogo now. It is difficult to discern how many are protestors and how just spectators.
Only about 50 people are seen wearing Kita Lawan or Reformasi T-shirts.
Shouts of "Reformasi" and "Hancur Najib" fill the air.
2.30pm: Masjid Jamek - More than 10 members of Pahang Raub Anti - Cyanide gold mining committee are at Masjid Jamek to show their support.
"We are against unfairness and injustice," says one of the group, Hue Soo Lim.
2.20pm: Masjid Jamek - Around 50 members from the #KitaLawan Hulu Selangor division have gathered at Masjid Jamek LRT station.
The members are carrying placards with slogans like 'retreat Najib' and 'Kita lawan'. The participants in an upbeat mood sing songs calling for the resignation of Prime Minister Najib Abdul Razak.
Cries calling for "reformasi" and "free Anwar Ibrahim" are also heard.
2.15pm: PAS HQ - PKR vice-president Tian Chua arrives at the PAS headquarters. After taking pictures with PKR members, the group shouts "lawan tetap lawan".
2.10pm: Met by reporters, Gopeng MP Lee Boon Chye says they are here to give their support and solidarity for Anwar.
"We want to state our stand on the oppression against Anwar and on economy-related matters such as the implementation of the goods and services tax (GST).
"It is clear that there was a political conspiracy in Anwar's case and the case was used to split Pakatan and to prevent the coalition from reaching Putrajaya."
Lee adds that the rally gives an opportunity to the rakyat to state their stand and that the rakyat are the judges.
2.05pm: PAS HQ -Around 40 PKR members from Perlis and the Gopeng branch have arrived at the PAS headquarters, carrying banners bearing the words " undur Rosmah undur " and " undur Najib undur " (step down Rosmah and Najib).
The group also shouts slogans of " lawan tetap lawan " and "reformasi".
Also in attendance is Gopeng MP Lee Boon Chye.
1.50pm : Sogo - There is a calm before the storm at Sogo where the Kita Lawan rally will place.
About two dozen protestors have been spotted outside the mall, spread out among crowds of shoppers who are taking shade from the blistering heat, enjoying a show being put on by buskers.
There is no police presence as yet.
1.30pm: At least five thousand are expected to gather in downtown Kuala Lumpur today for the first major protest of 2015, which police have branded as illegal for multiple reasons.
The Kita Lawan protest at Sogo will campaign for the release of jailed opposition leader Anwar Ibrahim, and for the resignation Prime Minister Najib Abdul Razak.
It is however unclear how much support the Pakatan coalition is giving to the rally.
PAS has not issued a directive for its members to support, while Penang Chief Minister Lim Guan Eng has advised his mostly-DAP state representatives they have state duties to perform today and should concentrate on that.
The protest is expected to kick off at 3pm, with participants marching from Central Market, Masjid Jamek and the PAS headquarters in Jalan Raja Laut, towards Sogo, and may last until midnight.
Previous Kita Lawan rallies have resulted in the arrests of activists Adam Adli Abdul Halim, PKR supreme council member Fariz Musa, and PKR Youth Chief Nik Nazmi Nik Ahmad.