Youth and Sports Minister Khairy Jamaluddin doesn't understand what it's like to be a starving student because he was born with a silver spoon in his mouth, says former student leader Fahmi Zainol.
"Khairy doesn't know anything. Since he was born, he has been with the blue blood. He even married the daughter of Pak Lah (former prime minister Abdullah Ahmad Badawi).
"He never had to borrow money when he was studying," Fahmi, who is PKR Youth's student bureau chief, said in a statement yesterday.
The former Universiti Malaya students' council leader was responding to Khairy brushing off reports that university students nationwide were going hungry because of the rising cost of living.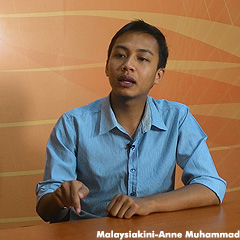 While Fahmi ( photo ) agreed that not all students were starving, many were suffering from hunger and needed help.
As such, he said, Khairy as a minister should sympathise with them, instead of trying to dismiss the issue.
Fahmi challenged Khairy: "If you dare, become a Malaysian university student in 2016. Get a National Education Fund (PTPTN) loan and don't get monetary help from your family or cronies."
Reports of university students going hungry because of the rising cost of living have been making the headlines recently.
'Questionable reports'
A survey by the Muslim Volunteer Malaysia Association (MVM) found that three out of four students in public universities admitted to being in situations where they were so broke that they could not afford to eat a decent meal.
This spurred numerous food programmes aimed at aiding needy students, including food coupons and 'pay-it-forward' programmes.
However, Public University Alumni and Student Affairs Deputy Vice-Chancellors Secretariat chairperson Adnan Hussein refuted media reports on the matter as "untrustworthy and questionable".
Meanwhile, on the backlash against students who sent part of their PTPTN funds on their parents, Kesatuan Mahasiswa Malaysia (Kesatuan) chairperson Azzan Aznan Abdul Rahim said it was a moral obligation for those who are not so well off.
"It is the moral obligation of those students to send the money back to their kampung because they know their families have no money… which child can bear to see their parents starve?
"They would rather starve themselves than see their parents go hungry," Azzan told Malaysiakini when contacted.