Attorney-general Mohamad Apandi Ali is mulling to amend laws to increase the punishment for those who leak state secrets and journalists who report them.
He said the Attorney-General's Chambers is looking to amend the Official Secrets Act 1972 to include life imprisonment and 10 strokes of the rotan as punishments.
"In some countries, the leaking of official secrets is a serious offence, like in China where it carries the death sentence," he told Sin Chew Daily in an exclusive interview.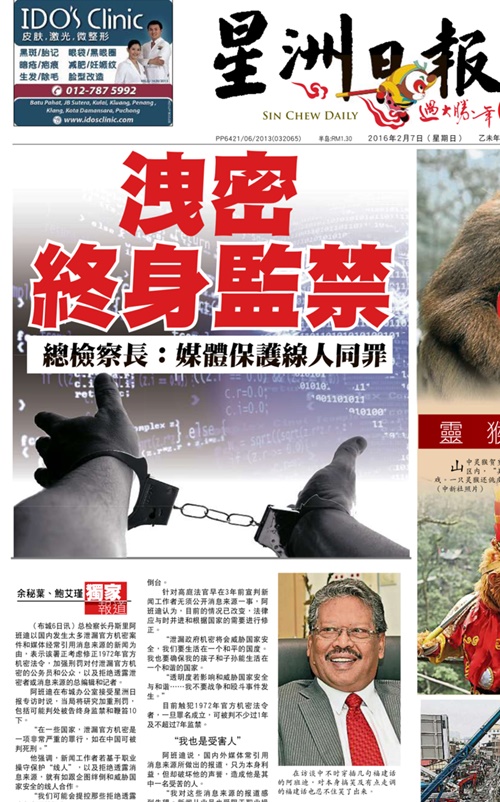 The top prosecutor insisted that should journalists protect or refuse to reveal the sources by invoking journalistic ethics, they will be considered collaborating with a potential saboteur.
"We may charge journalists who refuse to reveal their sources.
"I am not joking. If I have 90 percent of evidence, I will charge the journalist, editor, assistant editor and editor-in-chief. I am serious, no kidding. We have too many leakage of secrets in Malaysia.
"The right to know is not granted by the constitution," he said.
An 'official secret' under the Official Secrets Act 1972 include any information, document or material that may be classified as 'Top Secret', 'Secret', 'Confidential' or 'Restricted', by designated ministerial officials or designated public officials.
The existing punishment for those who found guilty of leaking information is to serve as sentence of at least one year's jail.
Speaking as politicians?
Meanwhile, Apandi expressed his disappointment with Bar Council president Steven Thiru and former president Lim Chee Wee for criticising his closing of the investigations into the RM2.6 billion donation and RM42 million SRC International cases.
Apandi said both appeared to be like politicians when making their media statements on the matter.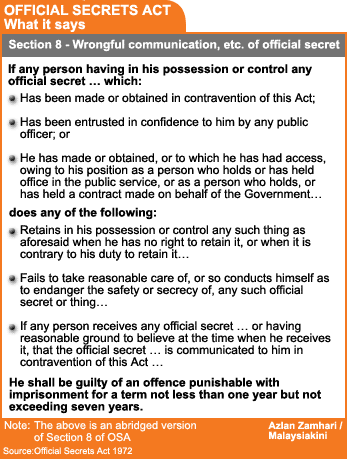 "Are you speaking as politicians or representing politicians?" Apandi asked.
He said he was very familiar with duo during his 10 years of service in the Bar Council, and they could have sought his explanation should there be any dissatisfaction. "Please find me. (You) don't need to make public statements. The public will have bad impression on me. It's also disrespectful to an old friend.
"For me, those who spoke to the press are politicians. Any Tom, Dick and Harry would not speak to the media as they are not politicians. Should they meet me privately, I would explain clearly to make them understand (the issue)."
Previously, Thiru described Apandi's move to clear Prime Minister Najib Abdul Razak of any wrongdoing in the RM2.6 billion and SRC International cases as " unsustainable in law ".
While Lim, in his capacity as a member of the Malaysian Anti-Corruption Commission (MACC) operations review panel, questioned why the AG did not allow the graft buster to obtain overseas bank statements relating to the RM2.6 billion donation received by Najib.
May charge with enough evidence
Apandi did not rule out initiating criminal defamation charges against Sarawak Report and the Wall Street Journal (WSJ) should he obtain "90 percent evidence".
However, he said he has yet to complete his examination of the investigation reports to see if there is any breach of criminal defamation laws.
He insisted that he needs to have 90 percent evidence before filing any charges against either of the two.
Apandi was responding to a question on why Najib did not initiate civil defamation suits against Sarawak Report and WSJ.
Last July, the two media entities were the first to report on the RM2.6 billion which was deposited into Najib's private bank accounts.
Late Saudi king's son is RM2.6b donor, says Apandi