More startling allegations regarding Prime Minister Najib Abdul Razak's multi-million ringgit spending on luxury goods have emerged.
According to The Wall Street Journal , Najib spent a total of US$15 million on holidays, shopping and jewellery. The spending was done at stores in the United States, Malaysia, Italy and elsewhere.
Malaysian investigation documents, it claimed, showed that Najib's credit card was charged US$130,625 at exclusive fashion store Chanel in Honolulu, two days before he teed off with US President Barack Obama on Christmas Eve of 2014.
That trip became a controversy as parts of Malaysia's east coast were then hit by devastating floods and Najib had to fly back to visit the affected areas.
WSJ reported that a worker at a Chanel store in the upscale Ala Moana Center recalled that Najib's wife, Rosmah Mansor, shopped there just before Christmas.
"The transaction in the Chanel store was paid for with a Visa card in Najib's name, according to the Malaysian investigation documents. At first, the transaction didn't go through and Najib, who was present, had to call his bank to approve the charge, said one of the people aware of the shopping trip," the report alleged.
The documents, it claimed, revealed that the credit card was paid for with an account in Najib's name, and that account had been credited with US$9 million a few months earlier.
According to the documents, WSJ alleged that the money came from SRC International, the former unit of 1MDB that is now under the Finance Ministry, which is headed by Najib.
"On the day Najib played golf with Obama, SRC International transferred a further US$9 million to the account via 1MDB's corporate social responsibility arm. The money arrived the day after Christmas," stated the WSJ report.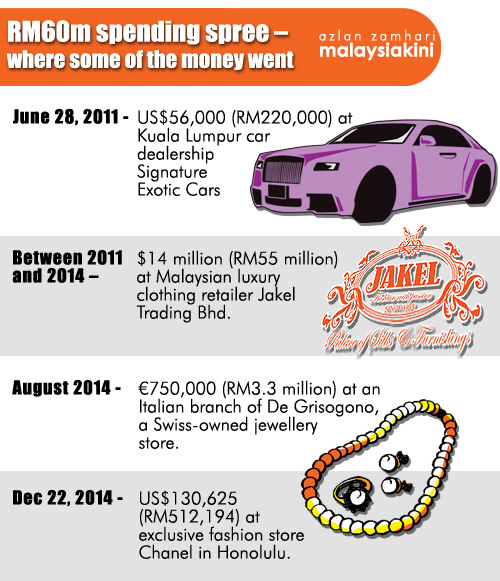 According to WSJ , the documents also showed Jakel Trading Bhd, a Malaysian luxury clothing retailer, as one of the most regular recipients of funds from Najib's accounts.
"Between 2011 and 2014, Najib transferred over US$14 million (RM55 million) to Jakel, according to the documents. The company specialises in traditional Malay formal wear, suits, wedding attire and home furnishings," it said.
'Money spent at Swiss-owned jewellery store'
WSJ claimed that there was also a recorded expenditure on June 28, 2011, at Signature Exotic Cars, a car dealership in Kuala Lumpur, for US$56,000.
"Najib's credit card also incurred charges of €750,000 in August 2014 at an Italian branch of De Grisogono, a Swiss-owned jewellery store, again being financed from the same account as the expenses in Hawaii, according to bank-transfer information that forms part of the Malaysian government probe.
"A person who works for De Grisogono confirmed Rosmah, the prime minister's wife, was a client of a branch of the jewellers in Porto Cervo, a tiny Sardinian resort. De Grisogono declined to comment," it added.
The business publication said that a lawyer who had acted for Rosmah, declined to comment when contacted and 1MDB has denied any transfer of funds to the PM's accounts but refused to address questions specific to the matter at hand.
WSJ had also contacted the other companies allegedly involved in the transactions, but all did not respond to its request for comment.
Malaysiakini has also contacted the Prime Minister's Office, Najib's aides and his lawyers for their response to this report.
Najib has repeatedly denied abusing public funds for personal gain and blamed such allegations on those attempting to topple him.
Attorney-general Mohamed Apandi Ali has also cleared him of any wrongdoing with regard to the funds in his accounts, including the RM2.6 billion which is said to be a donation from a Saudi royalty.
Government leaders have also accused WSJ of being part of the campaign against the prime minister while 1MDB has criticised the publication of recycling unverified allegations.
On Tuesday, Australian Broadcasting Corporation (ABC) published a letter from a Saudi prince who pledged US$375 million for Najib.
Related stories
Report: Najib spent US$15m on holidays, shopping and jewellery
WSJ: Nazir confirms getting US$7m from Najib
So now, there's not one prince but many princes
Seriously, what other options does Najib have?