The government has approved a RM1.5 billion bail-out package for Proton Berhad to help it pay its outstanding financial commitments to vendors.
But the aid comes on condition that the national carmaker comes up with a restructuring plan, eight days after its chairperson, former prime minister Dr Mahathir Mohamad, tendered his resignation.
"The government has today approved Proton's application for a RM1.5 billion flexi-loan. The loan is largely to allow Proton to pay the vendors for the supply of components," said International Trade and Industry Minister Mustapa Mohamed in a statement today.
He said the loan was approved on condition that Proton take steps to improve its business and convince the government that it can come up with a new business model to improve its viability and competitiveness.
More specifically, the national carmaker must come up with a restructuring plan, and look towards strategically expanding domestic and overseas markets.
It must also find a foreign partner to help it in research and development so that it can compete and succeed internationally.
A task force to be headed by Pemandu CEO Idris Jala will be formed to oversee Proton's transformation programme.
The task force will comprise of three representatives from the private sector, and another three from the public service.
The representatives from the government will be from the finance ministry, the ministry of international trade and industry and the economic planning unit. While the private members will be decided as soon as possible.
In addition to the conditions of the flexi-loan, Proton will also need to let the task force scrutinise its previous business model to ascertain any weakness and find ways to address them.
Clash of the titans
Mahathir resigned from the troubled carmaker he helped found on Mar 31, ending his Proton saga 20 days after he was sacked from national petroleum company Petronas when the cabinet decided that his incessant attacks against Prime Minister Najib Abdul Razak's leadership made him no longer in tune with the government.
He also resigned from all other posts he held in government-linked entities.
"I was not expelled by Proton management or owners. I decided on my own, for the sake of Proton I should leave. I therefore have no grudge against Proton nor do I want it to fail after I left.
"This is because Proton seems to be having difficulties with the government and for some unknown reason, sales of Proton cars have plummeted.
"I know I am persona non grata with the government. I do not want to be the cause of Proton's inability to recover because of my presence.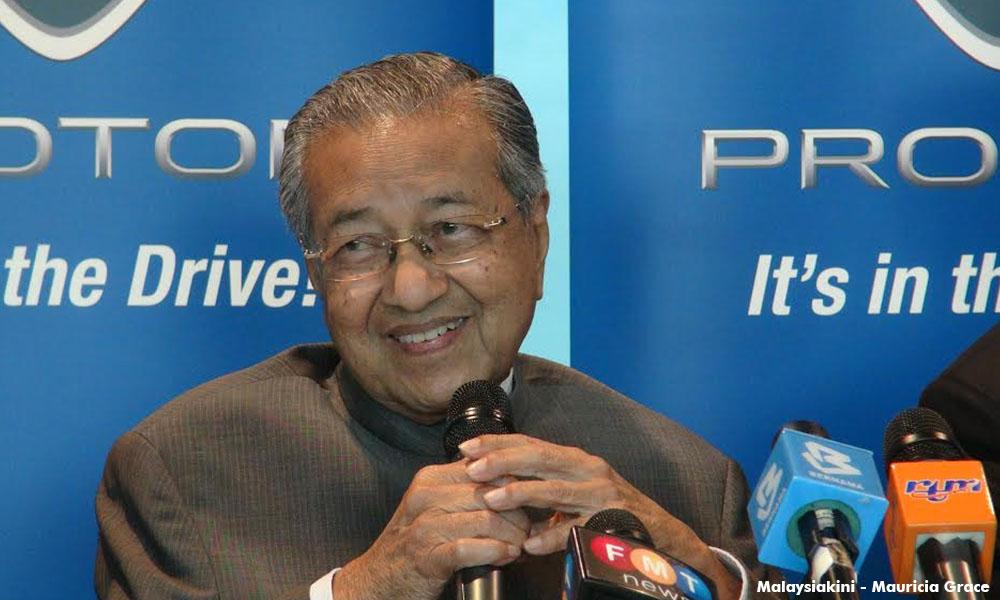 "I would in fact like to see Proton recover and do well," wrote Mahathir ( photo ) in a posting on his blog.
Mahathir's resignation came as reports speak of Proton being caught between a rock and a hard place lock, and there are fears that the struggling national carmaker Proton may become a victim.
The Singapore's Straits Times report related how as it is crushed under the weight of mounting debts, poor sales and inability to pay its suppliers, and the company was hoping for an urgent RM1.47 billion grant from the government to remain in operation.
However, the report said, the feud between Mahathir and Najib is threatening this request, with employees who are faced with the risk of unemployment and suppliers who are not paid, and concerned about being made scapegoats in the clash of the titans.
"They (employees) and vendors are being asked to choose between Mahathir and the (Najib) government," the daily quoted a senior Proton executive, who spoke on condition of anonymity, as saying.
The executive said while there is widespread respect for Mahathir, "there is a growing sense that he is now a liability".