It's been over a year since Bank Negara, the Malaysian Anti-Corruption Commission and the police began their investigations into Malaysia's state investment fund 1MDB. So, when will it be wrapped up, asks lawyer Mohd Haniff Khatri Abdulla.
Haniff, the lawyer representing former prime minister Dr Mahathir Mohamad in cases related to the 1MDB matter, asked in a Facebook posting when these investigations would be completed.
He also noted in the posting a New York Times report last Saturday that said the Swiss authorities are intensifying their investigation into Falcon Private Bank.
This is based on a report that the "law enforcement brass in Switzerland and Malaysia are probing the mysterious Singapore branch transfer of a $681 million cache tied to 1MDB to the private account of Prime Minister Najib Abdul Razak days before a tight election".
Prior to this, Haniff said, Malaysiakini also reported that the Monetary Authority of Singapore ordered the Singapore branch of BSI Bank, which is being investigated for its dealings with 1MDB, to close down and that the Swiss Office of the Attorney-General has commenced criminal proceedings against BSI SA Bank for allegedly failing to prevent offences linked to 1MDB.
"It was widely reported of the United States Department of Justice's civil lawsuits to seize assets worth more than US$1 billion, allegedly stolen from 1MDB late last month.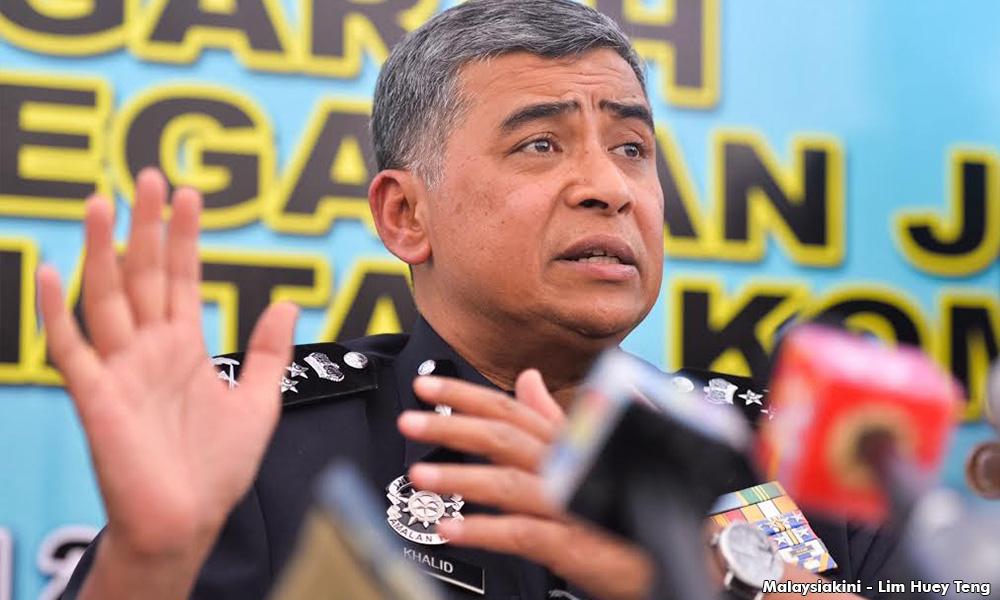 "The point is there are various jurisdictions from foreign countries, which are investigating and taking action on the alleged criminal or quasi-criminal act related to money laundering of 1MDB funds, a company owned by Malaysia. However, our inspector-general of police Khalid Abu Bakar (photo) said "we are in the first phase of investigations and it is still on-going," Haniff said in his posting.
The question is, he asked, after the formation of the Special Task Force by former attorney-general Abdul Gani Patail in early 2015, which is close to one year and six months, why have the investigations into the alleged criminal abuse of power related to 1MDB yet to be completed.
"This is when the foreign countries have taken action on those involved but here in Malaysia, it has yet to complete," he said.
Khalid is personally overseeing investigations into 1MDB and the police Commercial Crime Investigation Department, which has been entrusted to investigate the matter, has also refused to comment on it.
Bank Negara Governor Muhammad Ibrahim has said all necessary action against 1MDB has been taken and that the central bank has completed its investigations into the sovereign wealth fund, including imposing a penalty and that it has closed the investigations.
Earlier this month, attorney-general Mohamed Apandi Ali said the investigations by the police and the MACC are still going on and that the investigators should be allowed to do their work.
"After that, I will make a decision whether to charge or not to charge. Nobody will go scot-free," Apandi said.