Student activists plan to lead thousands of protesters into downtown Kuala Lumpur for the TangkapMO1 rally today to pressure authorities to arrest 'Malaysian Official 1', the mysterious figure whom the US Department of Justice claimed bagged US$731 million in stolen 1MDB funds.
From 2pm they plan to gather at two locations - the student activists at the Sogo shopping center, and supporters from political parties at Masjid Negara. They plan to march to Dataran Merdeka.
Kuala Lumpur City Hall (DBKL) has denied them permission to gather at the iconic square with preparations for the upcoming Merdeka celebrations ongoing, and police may take action as their notice to cops under the Peaceful Assembly Act 2012 is not valid without assent from the venue owner.
A similar rally, the TangkapNajib protest, ended prematurely last year when police pre-emptively arrested rally participants.
Today's protest looks to be an interesting affair, no less because organisers don't plan to allow anyone but students to give speeches.
Whether or not the memo reached former premier Dr Mahathir Mohamad, who is expected to turn up during the rally's peak, remains to be seen.
Malaysiakini brings you live updates as the rally unfolds.
---
LIVE UPDATES
#TangkapMO1 rally sing along by undergraduates on a makeshift stage near Dataran Merdeka.

Video by @psychodelicat pic.twitter.com/kwrZD3HjGd

— malaysiakini.com (@malaysiakini) August 27, 2016

4.35pm, Dataran Merdeka: The 'Tangkap MO1' rally ends with a flourish, as Anis Syafiqah places a gigantic effigy of Najib into a mock prison.
Effigies of stepson Riza Aziz, his wife Rosmah Mansor, and businessman Jho Low are also in the mock jail.
Both Low and Riza were named in the US DOJ filing, while MO1 was described as Riza's "relative" and a powerful politician in Malaysia.
"Merdeka, Merdeka! We will meet again at Bersih 5.0!" a speaker cries out at the end, as the crowd slowly disperses.
The rally, which had started at 2pm, lasted for about two hours and a half.
4.15pm, Jalan Raja Laut: Draped in the Jalur Gemilang, 24-year-old law student Reguna claps her hands and sings along with the crowd's songs of protest.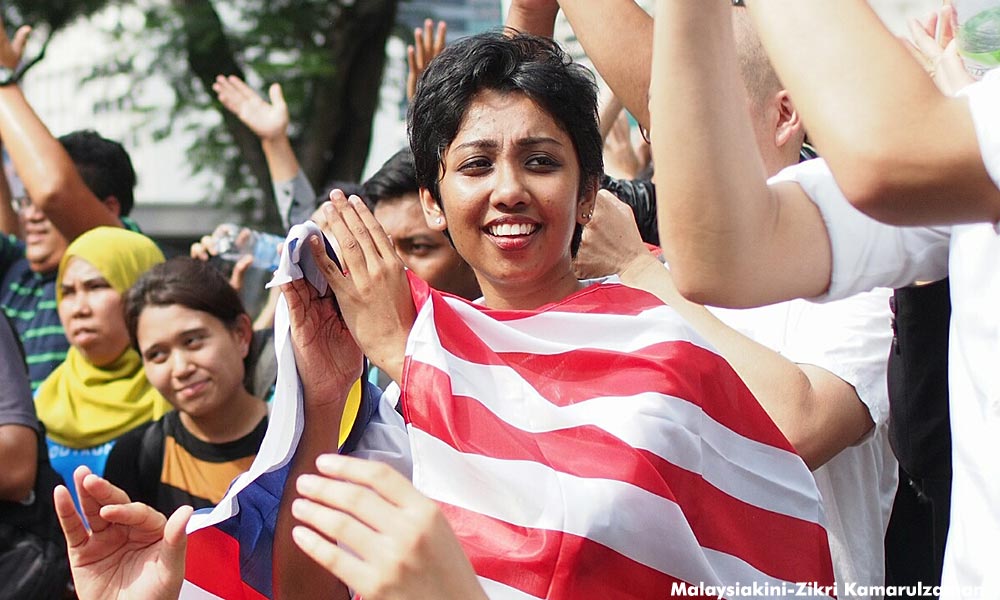 Asked why she is here, she replies that she has a cheesy answer.
"I'm here so we all can get justice... I just want a better country; I don't care who comes in or goes out.
"I just want a thorough investigation about what's happening. The government should stop fooling us; the people are not fools," she tells Malaysiakini.
Traffic stops at Jalan Tun Razak
3.55pm, Junction of Jalan TAR and Jalan Raja: The traffic from Jalan Tun Razak is forced to divert into Jalan TAR, after protesters sat down and refused to let them pass.
They hold up placards, chanting "Najib step down!", as they defy orders from several traffic cops who request that they move aside.
Eventually, the traffic from Jalan Tun Perak turns to Jalan TAR instead. Though prior to this, a bus driver adamantly drove his bus down the road, prompting the crowd to part and let him pass.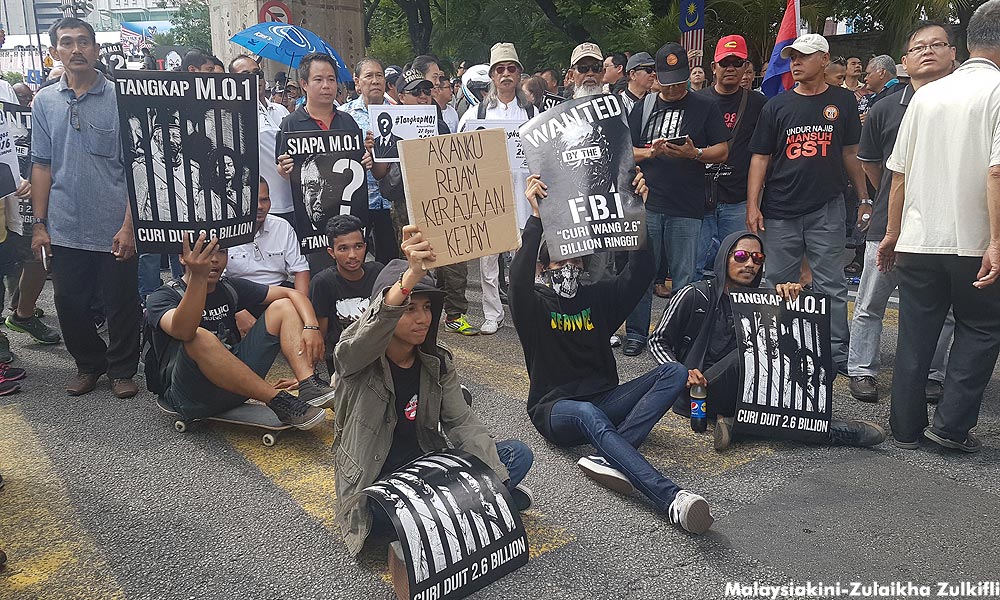 'Shame more didn't turn up'
3.50pm, Jalan Raja Laut-Jalan Raja intersection: Four police trucks, accompanied by a patrol car with its sirens on, drive past the protesters and away towards Jalan Raja Laut.
The protesters have moved from in front of Dataran Merdeka to the Jalan Raja Laut junction to facilitate traffic.
24-year-old Syafiq tells Malaysiakini that he believes Najib won't quit office over today's protest, saying it would take Bersih 5 to achieve that.
"But it's a shame for those who didn't come today, it's a shame they couldn't save Malaysia from corrupt leaders."
Dr Mahathir to skip rally
3.50pm, Dataran Merdeka: Dr Mahathir Mohamad will not make his expected appearance at the TangkapMO1 rally.
"He couldn't come at the last minute as he had to go to Langkawi," an aide tells Malaysiakini.
As of now it is estimated that over 1,500 protesters are marching to the final protest site at Dataran Merdeka.
However Bersatu pro-tem member Syed Saddiq Syed Syed Abdul Rahman claims that over 2,000 protesters are on the ground.
Biker in Jalur Gemilang costume proves to be a hit
3.30pm, Jalan Tuanku Abdul Raman-Jalan Tun Perak intersection: As most rally-goers chant "Tangkap MO1", a motorcyclist appears, wearing a shirt with the Malaysian flag as well as the 1Malaysia logo pattern.
Mohd Yusof bin Ismail, 58, says he has been doing this for more than a decade to celebrate Independence Day.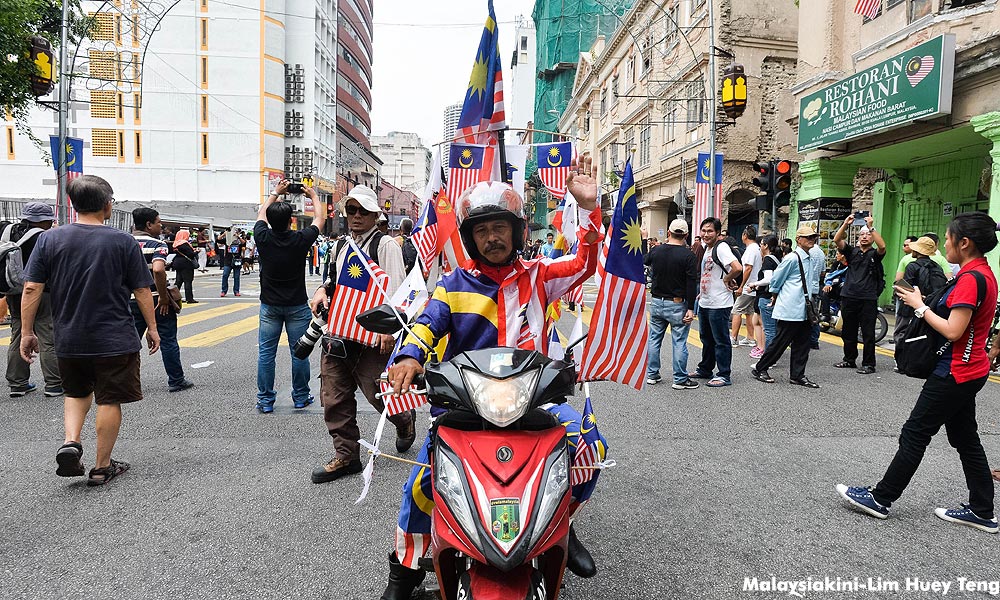 Although he sticks out like a sore thumb among the crowd, he claims he is in the dark about the rally.
"It depends on individuals (whether they want to support or go against the government)... but regardless of ethnicity, we as the rakyat, celebrate Independence Day," he says.
Mohd Yusof is a member of DUBBM (Dewan Usahawan Bumiputera Bersatu Malaysia).
He says that every year, from July 1 to August 31, he rides atop his motorcycle wearing clothes decorated with the Malaysian flag.
Mohd Yusof proves to be a hit among the crowd, as protesters eagerly take picture with him.
Crowds converge at Dataran Negara
3.30pm, Dataran Merdeka: The crowd of about 1,000 people from Sogo and Masjid Negara arrive at Dataran Merdeka but only manage to gather around the square's perimeter.
Anis Syafiqah and other student leaders address the crowd from a makeshift stage on a lorry. They order the rally-goers to sit on the road.
But the crowd stands up to make way for a bus that insists on passing through the road. Student leaders warn the protesters not to fall for any provocation.
Police and DBKL officers are seen observing the crowd from behind metal barricades erected to prevent entry into Dataran Merdeka.
Cries of 'Tangkap Najib' reverberate at Dataran Merdeka
3.15pm, Dataran Merdeka: While awaiting the arrival of the Masjid Negara and Sogo crowds, those already at Dataran Merdeka are keeping their spirits up by chanting "Tangkap Najib".
One rally-goer from Johor Bharu, Rosli Kemin, 50, questions why the government is still silent, despite the US Department of Justice's relevations on Najib.
"This issue has been exposed by the DOJ, a body that we can trust. So why is the government still ignoring it?" he says.
Rosli, who arrived at Masjid Negara around 8am, came with 40 others via a bus.
He said he is here to support the rally and to express his unhappiness over the country's corrupt leaders.
"We are ashamed that the whole world knows our leaders are immoral. It is embarrassing to the people and the country," said Rosli.
His words were greeted with three cries of "Tangkap Najib, jangan tangkap rakyat!" (Catch Najib, don't catch the rakyat).
Scuffle breaks out
3.15pm, Jalan Tun Perak-Jalan Parlimen intersection: During the march from Masjid Negara, a small scuffle breaks out between student activists and PKR Youth members about a disagreement over traffic control.
PKR Youth members advancing on several trucks and cars were told to move their vehicles to the side by the students organisers as the road is narrow and they are blocking traffic.
Unhappy over the matter, PKR Youth members began to shout at the students who shouts back.
A shouting and shoving match ensues, though the situation got under control after police intervention.
The student organisers have always fiercely maintained their independence and ownership of the protest, and have said that they will not even allow politicians to speak at the rally.


Masjid Negara crowd joins with Sogo group
3.12pm, Jalan Tun Perak-Jalan Parlimen intersection: The crowd from Masjid Negara are now near Dataran Merdeka.
They marched through Jalan Raja, Jalan Parlimen and Jalan Tun Perak, and joined with the crowd from Sogo.
Police are now monitoring traffic to ensure it remains smooth.
Among the politicians from Masjid Negara are Tian Chua and PR Youth Chief Nik Nazmi Nik Ahmad.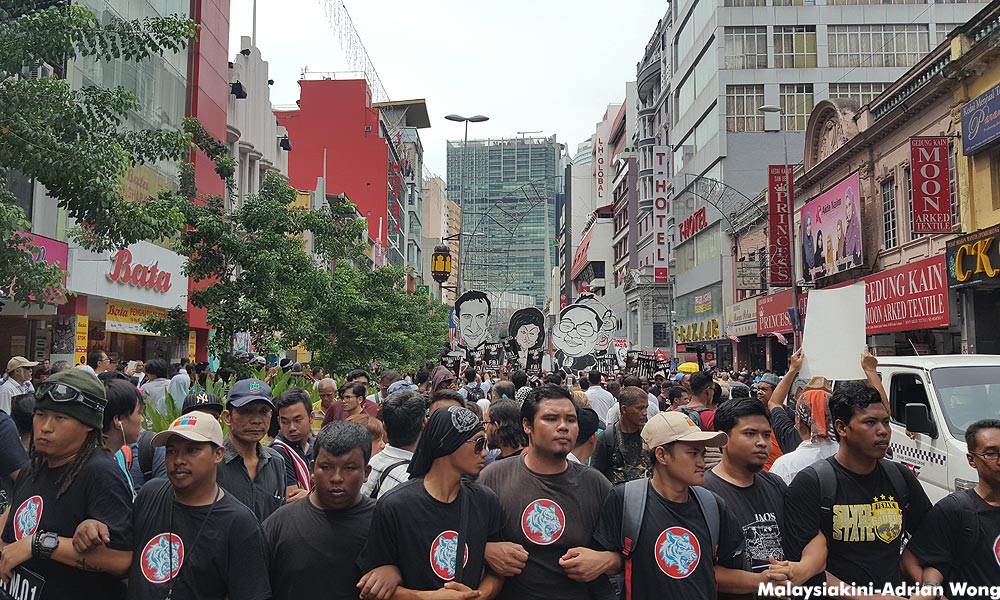 Traffic got slightly congested at the intersection between Jalan Tun Perak and Jalan Raja Laut, which is crowded with people as well as vehicles carrying several student leaders.
However, the situation is under control again with the help of the police.
Drum beats and music resounds
2.55pm, Jalan Tuanku Abdul Rahman: The crowd from Sogo marches toward Dataran Merdeka along Jalan Tuanku Abdul Rahman, blocking half of the road.
Police are seen helping to facilitate the roughly one kilometer march to Dataran Mederka.
Drums beats and music resounds, as the crowd sang songs to build up momentum.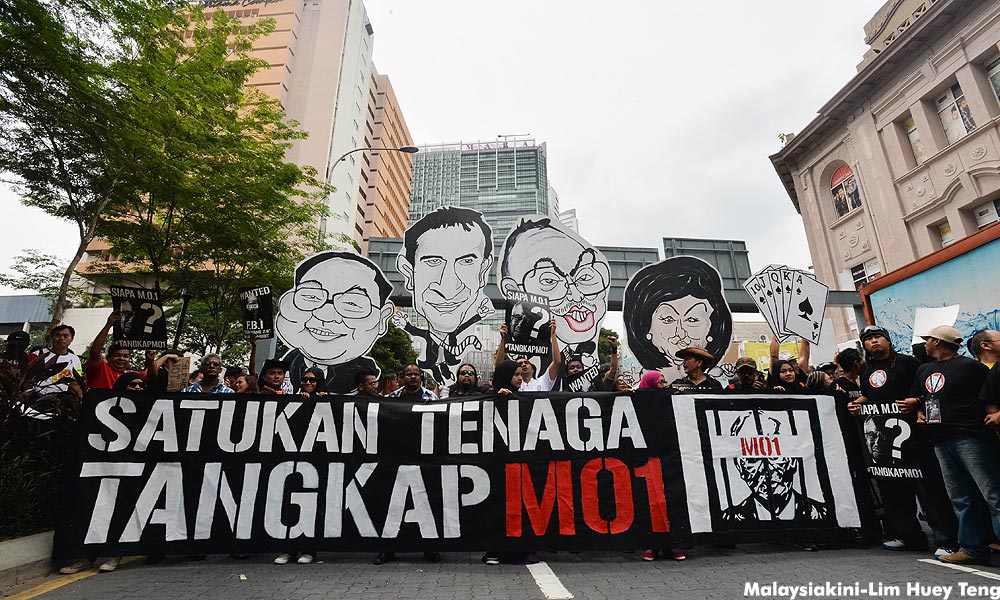 At the forefront is a team from Squad Keadilan Malaysia, who join hands, forming a moving human barricade.
Earlier, a senior police officer advises rally spokesperson Anis Syafiqah against continuing, but the organisers remain steadfast to keep on the march.
Using loud hailers, rally marshalls urge rally-goers not to obstruct traffic.
Cop tells rally-goers to go home
2.45pm, Masjid Negara: The 300 gathered around Masjid Negara since 1.45pm have begun marching to Dataran Merdeka.
Earlier, police officer ASP Mohd Zain, had warned the crowd to disperse, saying that street protests were against the law.
"I, representing the Dang Wangi police chief, want to warn that any street assemblies or protests are against the law.
"Hence, I urge all to disperse," Mohd Zain had said.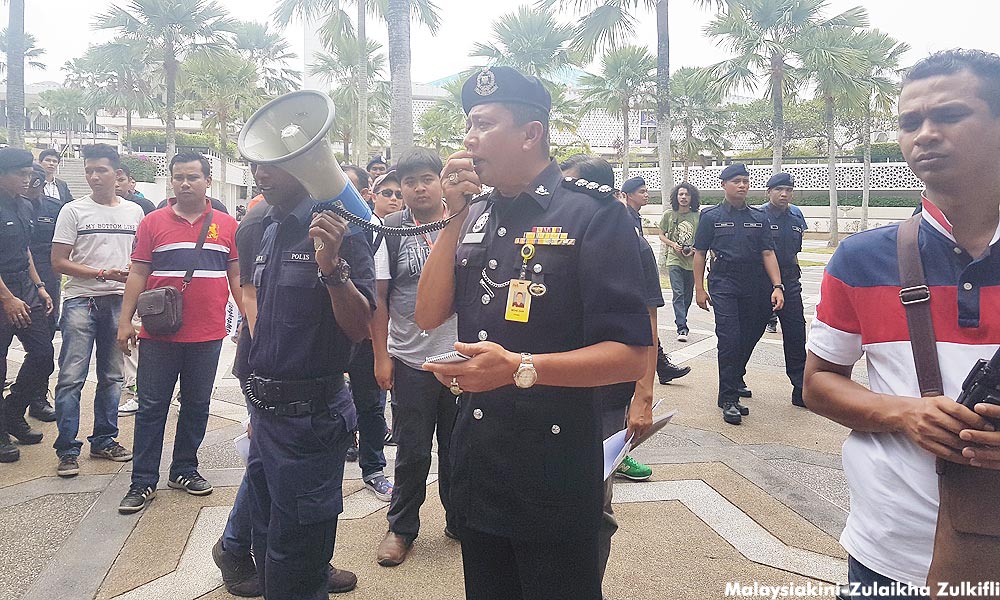 However, his warning went unheeded.
The crowd is now moving to Dataran Merdeka via Jalan Raja, chanting "Hidup Rakyat" and "Tangkap MO1" Some are on lorries, leading the march.
Sogo crowd moves to Dataran Merdeka
2.50pm, Sogo: Anis Syafiqah announces from the back of a truck that the crowd will move from Sogo.
She leads them to chant 'Hidup Rakyat'.
After a short negotiation with cops, the crowd starts moving.
An estimated 1,000 protesters have joined today's rally.
Rainbow flags add colour to rally
2.40pm, Sogo: Among the black and white 'Tangkap MO1' placards and posters, a few Rainbow flags are seen as well.
The flags symbolise the lesbian, gay, bisexual, and transgender (LGBT) movement which promotes gender equality.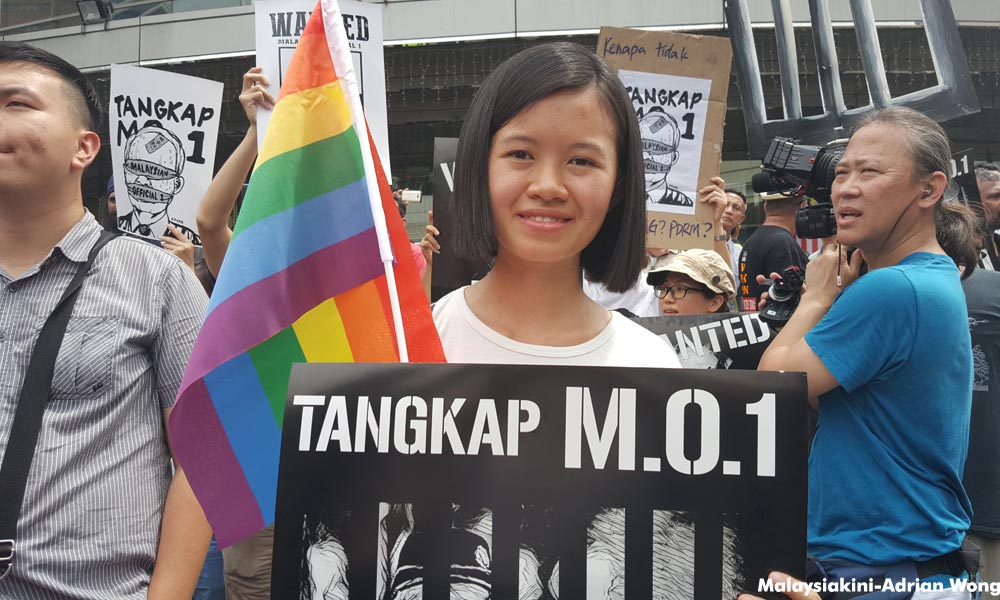 Ng Xiang Yi, one of the flag carriers, tells Malaysiakini that while she supports the rally, she also hopes more people will pay attention to gender issues.
"Today's rally is mostly mobilised by youngster. We also hope more people will come out (on gender issue)," she says.
'Catch the national blood-sucker'
2.50pm, Dataran Merdeka: The little corner outside Restoran Rohani is becoming more and more packed as the number of protesters grows to about 30.
Among the newcomers is 28-year-old protest veteran Rachel, who designed two signs, one of which reads 'Tangkap MO1, Penghisap Darah Negara' (Catch MO1, National Blood-Sucker).
The other sign reads 'Stop Mosquito 1', and has a caricature of a mosquito with Najib's face.
"A leech can be used for medicine, but a mosquito only brings dengue... A mosquito is more insidious," she says, bantering with other protesters.
The group briefly chants "Tangkap, tangkap Najib".
Group of 50 gathers near Dataran Merdeka
2.30pm, Dataran Merdeka: More than 500 police officers are said to have been deployed around the area to ensure the safety throughout the rally.
Some 50 protesters have begun gathering around the Jalan Parlimen and Jalan Raja Laut intersection.
Meanwhile, up in the air, two helicopters are seen flying above Kuala Lumpur.
According to one police officer, he and his team had arrived in Dataran Merdeka as early as 9am.
More police bussed in
2.15pm, Dataran Merdeka: 80 police officers arrives in National Service busses adding more warm bodies to the barricades protecting Dataran Merdeka.
Meanwhile, nearby a small group of about 10 protesters waits together with the media, at the corner of Jalan Tun Perak and Jalan Tuanku Abdul Rahman.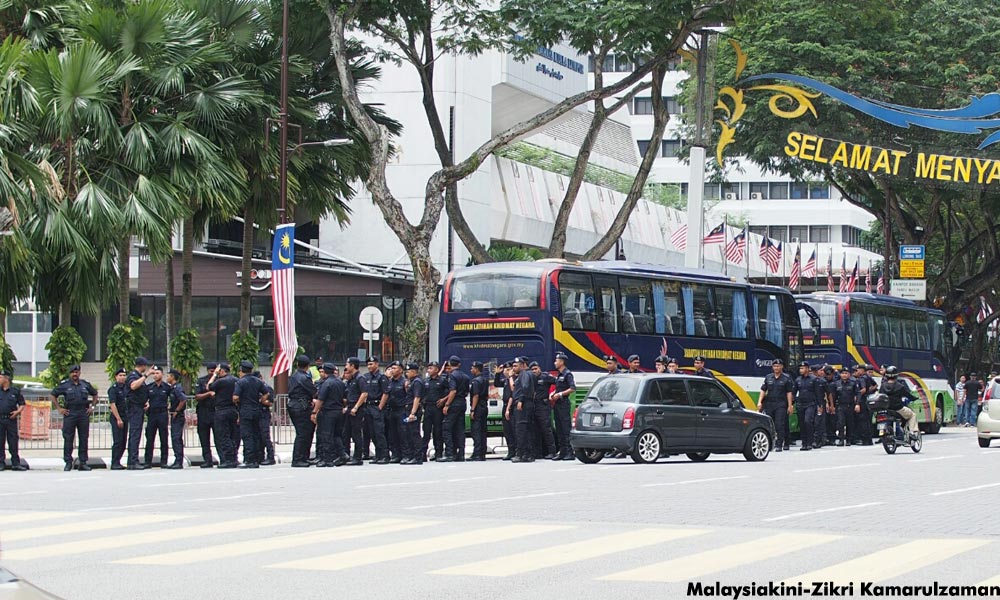 Among them is 18-year-old student Yasmin, who holds up a plaque saying "Tangkap #MO1" which bears Fahmi Reza's clown caricature of Prime Minister Najib Abdul Razak.
"I'm here to make the smallest change, even if we can't achieve something big we can make small changes," the illustration student tells Malaysiakini, adding that she was inspired to join by protest leader Anis Syafiqah's fiery enthusiasm.
This is her second protest, after having joined last year's Bersih 4 rally.
Pokemon, DiCaprio appear on placards
2.15pm, Sogo: A series of Pokemon Go-themed placards and posters are seen in the rally.
This includes a poster brought by Subang DAPSY chief Edry Faizar, which illustrates a monster running away with a bag of money.
A placard with a drawing of a Pokeball – the weapon to catch Pokemon in the game – is also seen here.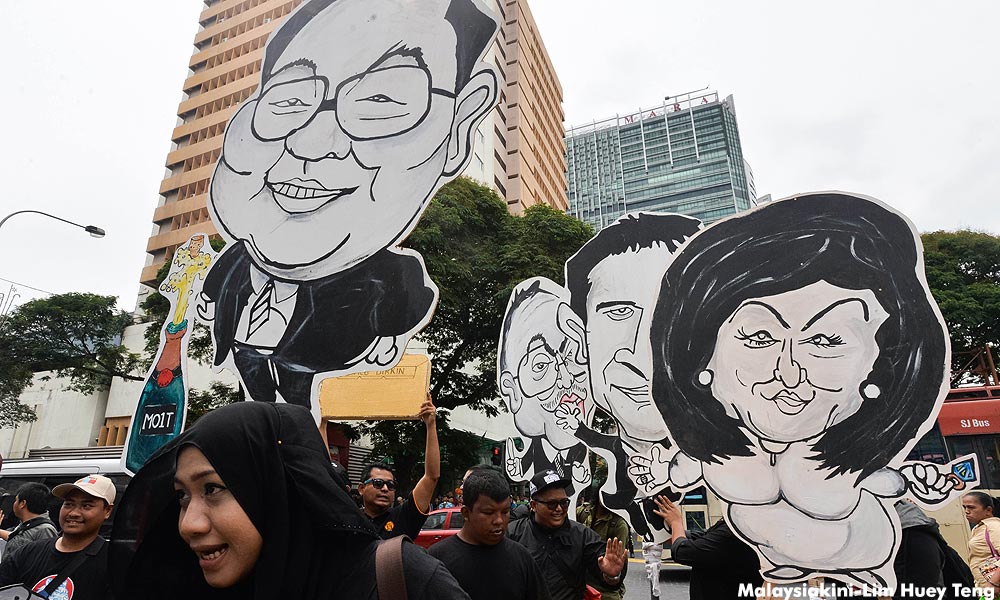 But this rally is not just about catching MO1.
One of the Johor Yellow Flame members holds a placard with the words 'Leonardo DiCaprio, pay back our money'.
The Hollywood Reporter had alleged that the foundation set up by 'The Wolf of Wall Street' star had received funds stolen from 1MDB.
Parade rehearsal goes on as usual
2.10pm, Dataran Merdeka: The National Day 2016 parade rehearsal at Dataran Merdeka went smoothly this morning, according to Bernama.
Senior deputy secretary-general in the Prime Minister's Department Othman Mahmood said the exercise which started as early as 6.30am involved 15,000 people comprising various groups and agencies.
"Today is the first day of rehearsal and we have two more. We will have the full rehearsal on Aug 29. Certain aspects such as performance and technical still need to be improved, including position of the audience's seats and the LED screen," he told Bernama when met after the rehearsal.
He hoped a 400,000 to 500,000 crowd would turn up at Dataran Merdeka on Aug 31 to celebrate National Day together.
"Last year, the crowd was about 200,000. I hope the number will be more this year as the event is going to be slightly different with the Royal Malaysian Police staging a special performance in front of the Sultan Abdul Samad building," he said.
He said the crowd is encouraged to wear the red, white and blue colours of the Jalur Gemilang (national flag). The government has retained last year's National Day theme, 'One Heart, One Soul' for this year.
Small crowd gathers at Masjid Negara
1.55pm, Masjid Negara: People begin gathering around the mosque to listen to the speeches from student leaders as well as representatives from political parties.
About 50 are in the area, wearing white shirts bearing the words 'Mahasiswa dan rakyat Tangkap MO1' as well as black shirts.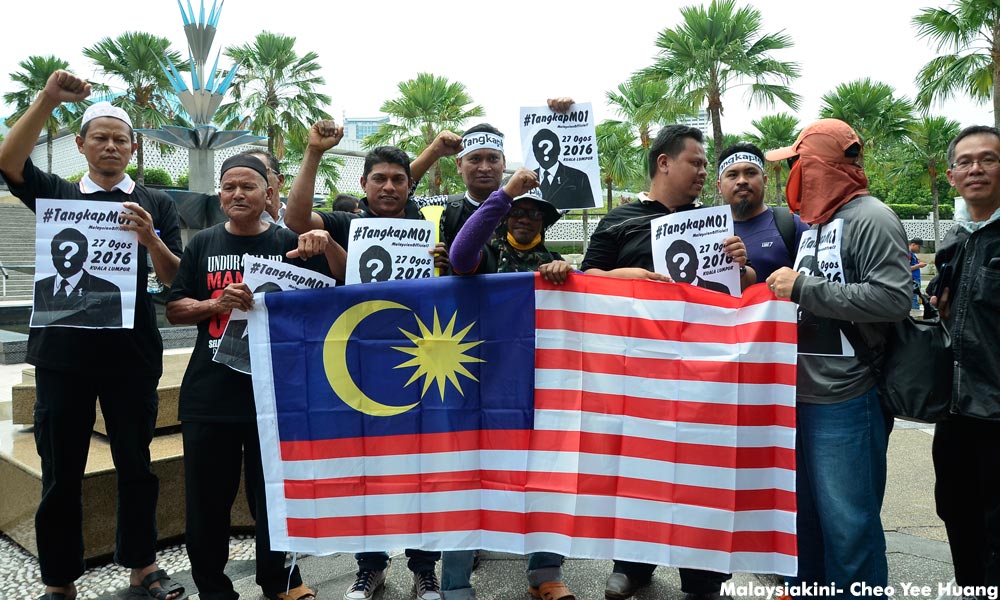 Among the politicians present are PKR vice-president Tian Chua, Amanah communications director Khalid Samad and several DAP state assemblypersons.
National laurete A Samad Said is also in the area.
Bangsa Johor represented
1.50pm, Sogo: A man carrying the Johor flag receives immediate media attention after taking photographs with activists.
Dubbing himself "Captain Anwar", the 38-year-old, who is from Kluang, is wearing the state football team T-shirt.
He says he is attending the rally as a Johorean who is not satisfied with Prime Minister Najib Abdul Razak.
"(I carry the state flag) as Bangsa Johor agrees with the Johor Sultan, that all issues without transparency and integerity must be stopped immediately," he tells Malaysiakini.
Suaram deploys urgent arrest team
1.30pm, Sogo: Suara Rakyat Malaysia (Suaram) deploys an Urgent Arrest Team comprising 20 people on the ground to help in the case of arrests.
10 will be deployed at Sogo and the rest will be at Masjid Negara.
Dobby Chew, the coordinator of the team, says the team will be providing assistance to any arrested rally-goers.
"Send in your name, adress, IC and which police station you are in.
"We will go there and help", he tells Malaysiakini.
Red Shirt member spotted
Meanwhile, although the Red Shirts have said that they will not be holding a counter rally today, a member of the movement is spotted in the area.
He was previously photographed attending a Red Shirt press conferences.


A small crowd gathers at Sogo
1.10pm, Sogo: A busker performs in front of the mall, attracting about 200 people. However, it is uncertain how many will join the rally later at 2pm.
A rally-goer holds up a poster with the caption "WANTED: Malaysian Official 1 Sapu USD3.5 billion", and quickly becomes the poster girl for the rally as the media snap pictures.
Next to her, a person holds up a 'monkey' puppet. This triggers the ire of a passer-by, who tries to approach the duo. Several police officers prevent the angry man from approaching the girl and the puppeteer.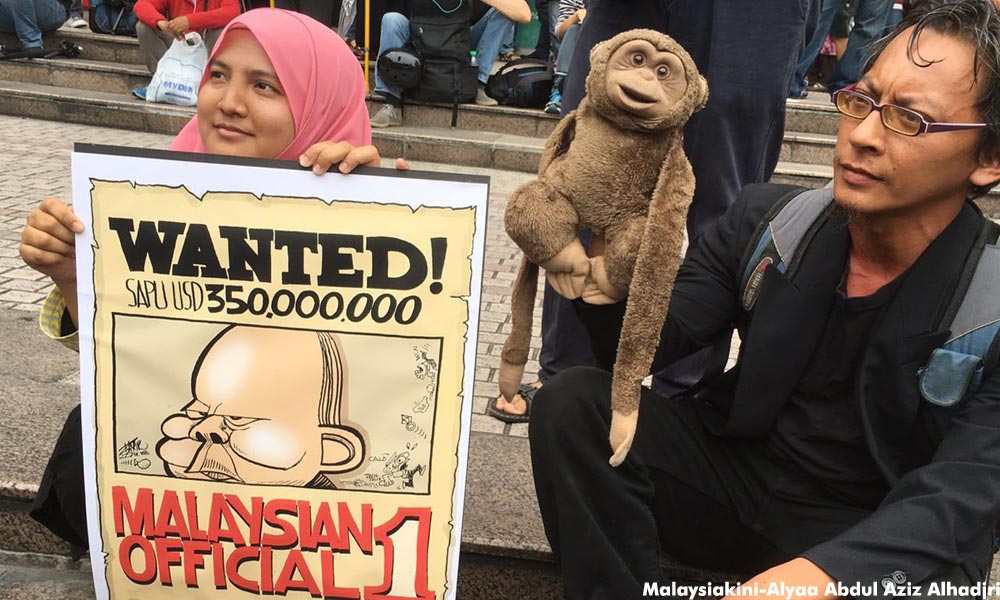 Dataran under lockdown
1pm, Dataran Merdeka: Barricades have been erected around the historic square, as well as outside Menara DBKL and a section of the sidewalk at the junction between Jalan Tun Perak and Jalan Tuanku Abdul Rahman.
Traffic, however is moving as usual.
There are no protesters in sight yet, although police, City Hall officers, and the media are on standby.
Some 200 meters away at Masjid Jamek, city dwellers are going about their business as usual, heading to popular shopping strips along Jalan Masjid India. There's no indication that traders are hunkering down in preparation for a protest.
Route Map