Parti Pribumi Bersatu Malaysia (Bersatu) pro-tem president Muhyiddin Yassin is the top pick for prime minister if the opposition wins the 14th general election - at least according to former prime minister and Bersatu adviser Dr Mahathir Mohamad.
Speaking at a lecture in London last week, Mahathir, however, qualified that this depended on whether Bersatu elects Muhyiddin as president, and whether the opposition coalition agrees to Muhyiddin taking over as prime minister if it wins GE14.
"If you name the prime minister now, some people might be very disappointed and that would split the party.
"At the moment we are not doing anything (to choose a future PM), except that if the opposition wins, most likely (the) PM would be Muhyiddin.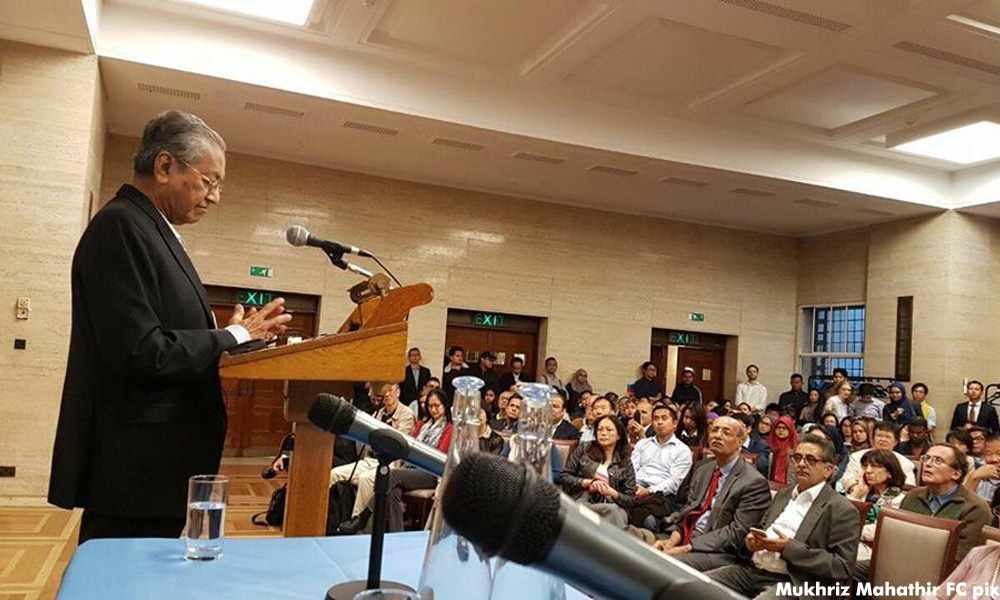 "But that depends on his party, whether they will elect him as president, and it depends upon the coalition on who should be the PM," Mahathir said in a lecture he gave at the Macmillan Hall of the Senate House, University of London, on Sept 21.
A video clip of his lecture and the question-and answer session was uploaded on political commentator Mariam Mokhtar's blog.
Mahathir said this in response to a question from the floor on the opposition's PM candidate, and whether the opposition is able to propose at least a shadow cabinet.
He said safeguards have been put in place in Bersatu, so that if the party's president becomes prime minister, he would have to consult with the party chairperson and committee on government policy decisions.
This is so that the prime minister does not make unilateral decisions, he said, given that members of the cabinet are often too "obliged" to support the prime minister's decisions.
"But in our party, the new party, we will make sure the power of the president, who will be the PM, should be subjected to agreement of a group of people within the party," he said.
Mahathir also defended the party's decision to be a bumiputera-only party, despite claims of reform.
He said the decision was solely so as to not alienate the bumiputera grassroots, since a bumiputera party is what they want.
"If we say, 'Oh, we have to be multiracial', for them it is (like) they are not seen," he said.
The BN, Mahathir noted, is made up of race-based parties that enjoy public support.
"While we don't like to see racism in the country, we have to accept that lots of people still cling to racism because they feel unsafe," he said.
Even so, he added, it is encouraging to note that there are many ethnic Chinese Malaysians who are joining Bersatu as associate members.
However, Mahathir could not say if associate members can contest in the general election on Bersatu's ticket and said he needed to check with the committee first.
Bersatu came under fire for being bumiputera-only, but has defended itself as a "hybrid" model.