Sahabat Alam Malaysia (SAM) has urged the authorities to investigate claims that the police and Forestry Department assisted loggers to break up a blockade by the local Orang Asli community in Gua Musang.
"We are worried about the allegations made by the people that the Forestry Department staff and the police had travelled together in private vehicles with the company representatives to the blockade site.
"This allegation must be thoroughly investigated by both authorities," SAM president SM Mohamed Idris said today.
He urged the police to take an impartial stance and investigate the allegations.
"The Orang Asli protesters must not be harassed or threatened with arrest for protecting their customary land from encroachment.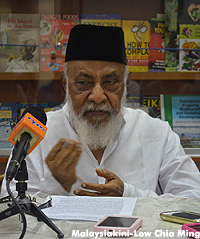 "The people's actions fall well within their constitutional rights, the freedom to assemble peacefully and the right to protect their property," Idris (photo) said.
He urged the Kelantan government to enforce sustainable development of the state's forest.
On Wednesday, Orang Asli activists claimed loggers dismantled their blockade with a chainsaw.
They claimed the loggers were accompanied by police and Forestry Department officers who travelled in the vehicles provided by the loggers.
Three of the activists were also briefly detained by men in plainclothes, who claimed to be police officers.
However, there is doubt if they really were police officers.
Gua Musang police chief Rajab Ahad Ismail when contacted, said his officers were not involved in detaining the Orang Asli activists.
Meanwhile, Kelantan MCA secretary Lua Choon Hann criticised the Kelantan government over the incident.
"For one who was personally involved in delivering food aid to the Kelantan Orang Asli during the 2015 Kelantan flood, I witnessed first-hand the extensive damage excessive logging had inflicted upon the indigenous people there, with soil erosion having cut off road links from the interior to the town," Lua said.
"I wish to remind the Kelantan PAS government that we did not inherit this Earth from our forefathers, but merely borrowed it from our children," he said.
The Coalition of Malaysian NGOs in the UPR Process (Comango) also expressed concern over the alleged aggression against the Orang Asli.
It noted that at the international level, the government of Malaysia is a signatory to the United Nations Declaration on the Rights of Indigenous Peoples (UNDRIP) and has committed itself to protect the land rights of its indigenous people.
"Comango demands a comprehensive response from the government of Malaysia with regard to the situation of indigenous peoples' land rights.
"The indigenous people should not have to resort to defending their land rights through the courts and through physical blockades merely to protect their livelihood, cultural life and customary lands," the NGO said in a statement.