A commentary on the BN Backbenchers Council (BNBBC) portal claimed that the US$27.3 million (RM116 million) pink diamond, allegedly acquired using stolen funds and gifted to the wife of Malaysian Official 1, does not exist in the US Department of Justice third civil forfeiture suit on 1MDB.
Instead, it claimed the jewellery was a creation of news portal Malaysiakini. It also went on to name the prime minister's wife Rosmah Mansor.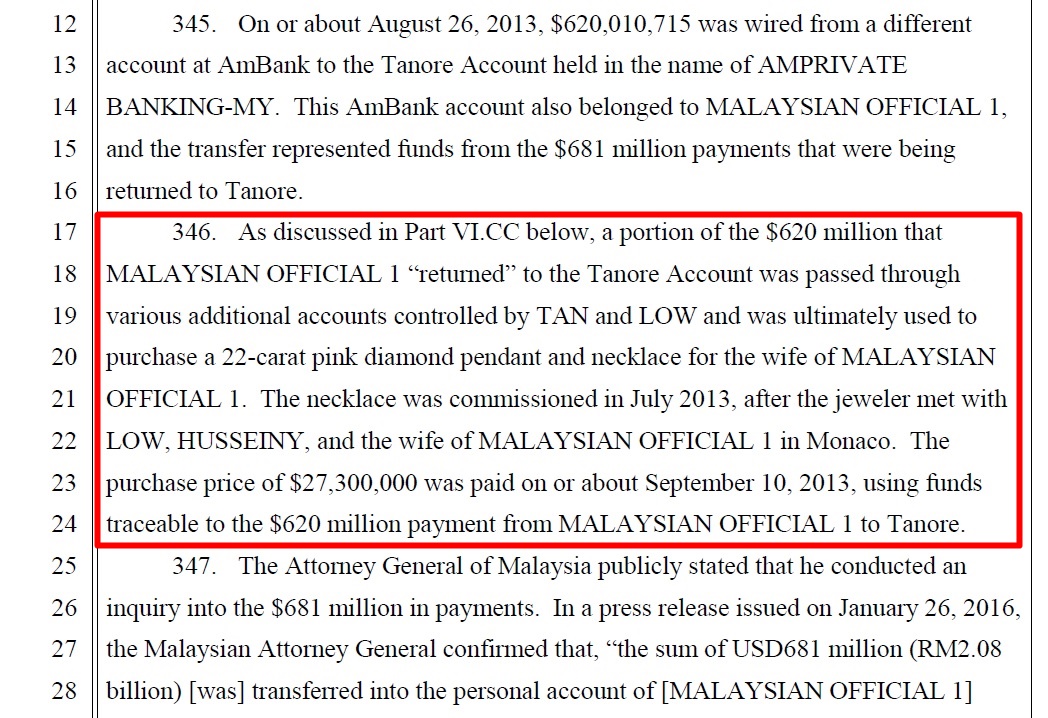 "When checked, the 22-carat pink diamond necklace worth RM116 million was not mentioned in the 251-page filing by the DOJ.
"If the RM116 million diamond was not mentioned by the DOJ, why Malaysiakini as a third party wants to slander and attack Rosmah Mansor? The DOJ did not mention Rosmah Mansor," said a comment piece published on the BNBBC website.
It then accused Malaysiakini of influencing the international media regarding the pink diamond.
"The international media took a story that was inaccurate and gave the wrong perception from Malaysiakini. Reuters, CNN, Al Jazeera and Bloomberg were duped by Malaysiakini," it said.
"They were willing to be duped with false information from Malaysiakini simply to succeed in their campaign to bring down a democratically-elected prime minister," it said.
Malaysiakini last Wednesday reported the contents of the DOJ's third filing, which detailed that the US$620 million of 1MDB-linked funds Malaysian Official 1 returned to his "donor" was later used to purchase a US$27.3 million pink diamond necklace.
This was mentioned on page 100, from paragraph 346 to 348 of the filing.
It stated: "A portion of the US$620 million that Malaysian Official 1 'returned' to the Tanore account was passed through various additional accounts controlled by (Eric) Tan and Low (Taek Jho) and was ultimately used to purchase a 22-carat pink diamond pendant and necklace for the wife of Malaysian Official 1".
The DOJ filing added: "The necklace was commissioned in July 2013, after the jeweller met with Low, (Mohamed Badawy Al) Husseiny, and the wife of Malaysian Official 1 in Monaco.
"The purchase price of US$27.3 million was paid on or about Sept 10, 2013, using funds traceable to the US$620 million payment from Malaysian Official 1 to Tanore."
This was elaborated in detail from page 224 to 228, from paragraph 846 to paragraph 863.
Minister in the Prime Minister's Department Abdul Rahman Dahlan in an interview with BBC last year confirmed that Malaysian Official 1 was Najib.
The same filing also listed another 27 pieces of jewellery given to the wife of Malaysian Official 1, allegedly acquired using misappropriated 1MDB funds, totalling US$28.6 million.
The BNBBC website commentary insisted the US$681 million deposits in Najib's personal bank accounts, colloquially referred to as RM2.6 billion based on the exchange rate when it was revealed in 2015, was a donation from a member of the Saudi Arabia royal family.
It also quoted Rahman questioning why the said pieces of jewellery were not on the DOJ's seizure list.
It further cited a Quranic verse, stating that slander is a bigger sin than murder.