SPECIAL REPORT | Where were you, 10 years ago?
In 2007, three major socio-political movements swept through the nation: the first Bersih march, the Hindu Rights Action Force (Hindraf) rally and the Malaysian Bar's "Walk for Justice".
For the country, this sparked a new political awakening. For the many participants, it transformed the course of their lives.
Malaysiakini interviewed 10 individuals as we looked back at the past decade of socio-political movements. In this part, five of them reveal their first-hand accounts and in the final part tomorrow, another five will share their experiences.
A timeline of the events can be viewed here.
---
1. K Balakrishnan (59, Hindraf)
2007: Retired as a soldier.
2017: Former Hindraf committee member, lorry business owner and Kampung Ladang Bukit Jalil Residents action committee member.
In 2007, a Hindraf briefing session set in motion a series of events that would shape Balakrishnan's next decade: he participated in activities organised by the movement across the country, braved tear gas attacks and attended gatherings of varying sizes. The 59-year-old eventually left Hindraf after a disagreement with its leadership and has since become an active participant in civil society groups.
"In my life, I had served the nation in the army. I was appalled that the Indians here were being denied their rights."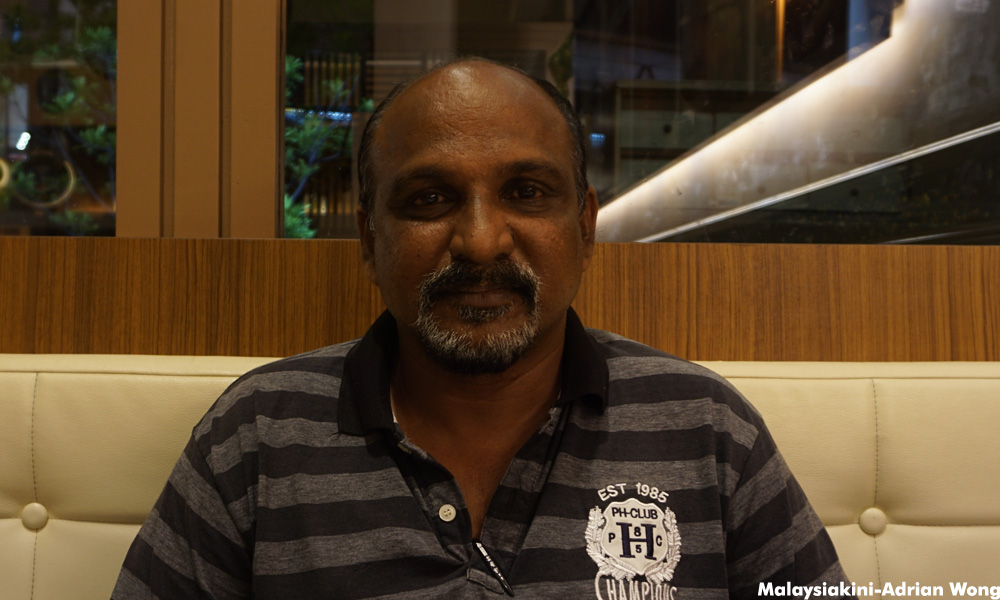 What inspired you to participate in the movement?
Two weeks before Merdeka Day in 2007, I received a letter saying Hindraf would be holding a briefing session at the Kuala Lumpur and Selangor Chinese Assembly Hall (KLSCAH). At the session, they showed slides of Hindu temples being destroyed, people forcefully evicted from their homes, and Indians born and bred in this land who were denied identification cards. It broke my heart.
In my life, I had served the nation in the army. I was appalled that the Indians here were being denied their rights. I decided then that I would fight for our rights.
What do you remember about the Hindraf rally?
The day before the rally, there were roadblocks all over Kuala Lumpur; no one was able to enter the city.
At the time, I was driving from Batu Caves to my home in Puchong. We saw the Federal Reserve Unit (FRU) heading towards Batu Caves. Once I got home, I received a phone call saying that the FRU had arrived at Batu Caves, so I drove to the Ampang Point mall.
It was 1am but about 500 people were already there. Some of them had come from Penang and Kedah. The city was usually quiet at this time.
At 7.50am, the FRU started firing tear gas at the people gathered at Ampang Point. All of us were hit. I used to be a soldier, but I had never been a protester before. I was so afraid and confused, I could not breathe.
I tried to escape the gas. Next, all of us ran towards the Petronas Twin Towers, but there was a wired fence in front of the towers. To avoid blocking traffic, we just sat on the ground. The FRU failed to contain us, once a group of protesters dispersed, another group would appear.
We were strangers but everybody helped one another. When the tear gas was being fired, people who had salt with them offered it to the other protesters. Some used traffic cones to cover up the tear gas canisters from hurting others.
The FRU did not fire tear gas into the sky (as they were supposed to) but were firing directly at the protesters. They kept firing until noon.
I asked the people around me why they decided to come to the rally, and everyone said: "Every time we visit a government office to bring forth our requests, we would get rejected. This time, the people are highlighting these issues. We think it's best that we follow suit (and be heard)."
Al Jazeera was on the scene to interview protesters, who were fuming with anger by this time. All we wanted to do was present our memorandum. We are not foreigners (we are Malaysian citizens), why did they treat us like this?
If the authorities had not fired tear gas at us, and had instead invited Hindraf representatives to peacefully hand over the memorandum, this situation would not have got out of hand. Even the United Kingdom Embassy was ready to accept our memorandum.
We had no idea there would be such suppression. We only intended to gather in order to hand over our memorandum. Most of us were Indians, and even some MIC members were there.
Current state of democracy
Whether it was the Bersih 1, Bersih 2 or Hindraf, when the authorities fired tear gas, the protesters would not run away but would instead tear up some cloth (to cover their eyes) and stay to resist.
Today, we have seen how people enjoy participating in rallies like Bersih 3, 4 and 5. Even the government now realises people will just go home after shouting slogans at the rallies.
These rallies are platforms to highlight our rights. It's good that people now know what it's like to be part of a rally. If we want change, the people need to come together. Where do you think the 2008 change came from? It came from the people standing up to demand change.
When I was in the army, I knew nothing about this. But when I started participating in civil society groups, I finally understood why it was important that groups like these fight for the people. Though I have left Hindraf, I now take part in various human rights movements.

2. Yap Swee Seng (51, Bersih)
2007: Suaram executive director.
2017: Freelancer.
A social movement veteran, Yap has been a human rights activist for almost 30 years. Having served as CEO at the Asian Forum for Human Rights and Development (Forum-Asia), an organisation with a regional secretariat in Thailand, the activist's global exposure enabled him to explore new ways to improve Malaysia's human rights standards...
All Access Plan
starting from
~RM12
per month
Subscribe Now
You can cancel anytime.
Get unlimited access to our articles on web and apps
Add comments to our articles
Bookmark articles to read later
We accept