Deputy Prime Minister Ahmad Zahid Hamidi has visited de facto Pakatan Harapan leader Anwar Ibrahim at Kuala Lumpur Hospital (HKL).
"Just visited Anwar Ibrahim who underwent surgery on his right shoulder at HKL recently.
"May he have a speedy recovery," he said in a Facebook posting.
In the photograph uploaded on Facebook, Zahid and his wife were seen by Anwar's bedside.
Anwar was also accompanied by two of his daughters, Nurul Nuha and Nurul Ilham.
In a statement posted on Facebook, Anwar's family said Nurul Nuha and Nurul Ilham had received the couple as their mother, Dr Wan Azizah Wan Ismail, who is also PKR president, was carrying out party duties in Kuantan.
"The deputy prime minister asked about (Anwar's health and follow up treatment.
"Our father reiterated his appreciation to the hospital and prisons department for assisting with his treatment," said the statement.
Yesterday, Prime Minister Najib Abdul Razak and his wife Rosmah Mansor also visited Anwar at the hospital.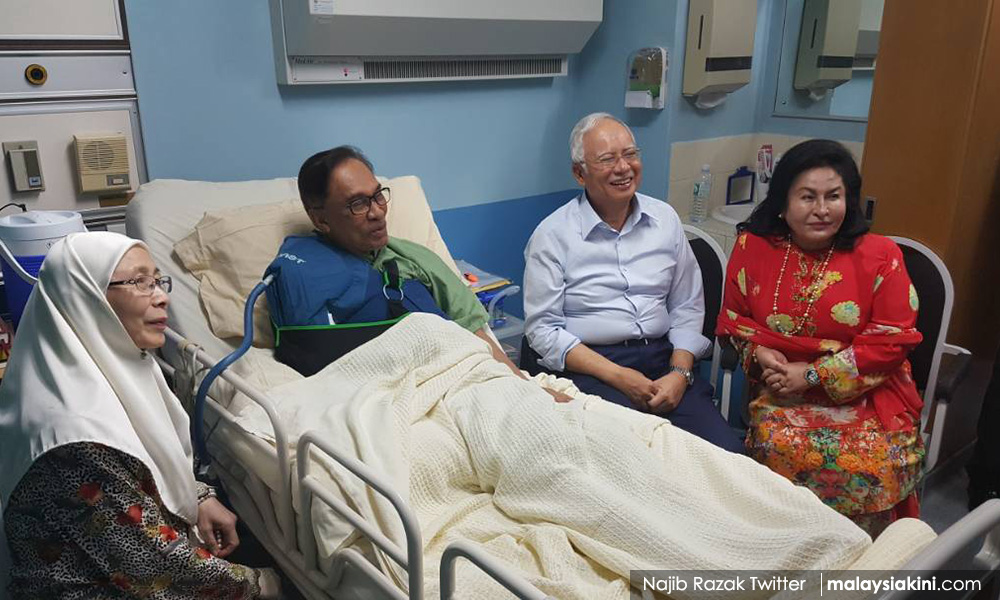 Anwar underwent surgery last Sunday due to an ongoing problem with his right shoulder.
The opposition leader, who is presently serving a five-year prison term, was temporarily allowed to be treated at HKL.
His family had made an appeal to the government to allow him to recover at the hospital instead of being sent back to prison.
In Feb 2015, the Federal Court upheld Anwar's sodomy conviction, a charge he claimed was politically motivated.
With good behaviour, Anwar is expected to be released from prison in the middle of next year.