KINIGUIDE | The track alignment for the Kuala Lumpur-Singapore High-Speed Rail (HSR) project is now available for public scrutiny, but accessing the information remains a challenge.
The track alignment is not available online nor published in newspapers. Instead, it can only be accessed at the Land Public Transport Commission (Spad) headquarters or relevant local government offices.
Naturally, site visits by Malaysiakini revealed that some communities located along the present alignment are completely oblivious of the matter.
Better informed residents from these communities have been embarking on a campaign to stop their homes, neighbourhoods and land from being acquired.
The only way to study the map is through operating the dedicated computers available at the HSR public inspection booths.
A cursory study by Malaysiakini suggested that at least nine residential areas in Kuala Lumpur, Selangor, Negeri Sembilan and Malacca are in the way of the present alignment.
The maps, provided by project delivery partner MyHSR Corp, indicate the alignment through yellow lines while the red lines indicate the buffer zone. Any alterations to the alignment must keep within this zone.
A non-exhaustive list of affected areas follows:
Kampung Baru Salak Selatan, Kuala Lumpur
Approximately nine houses along Jalan 27.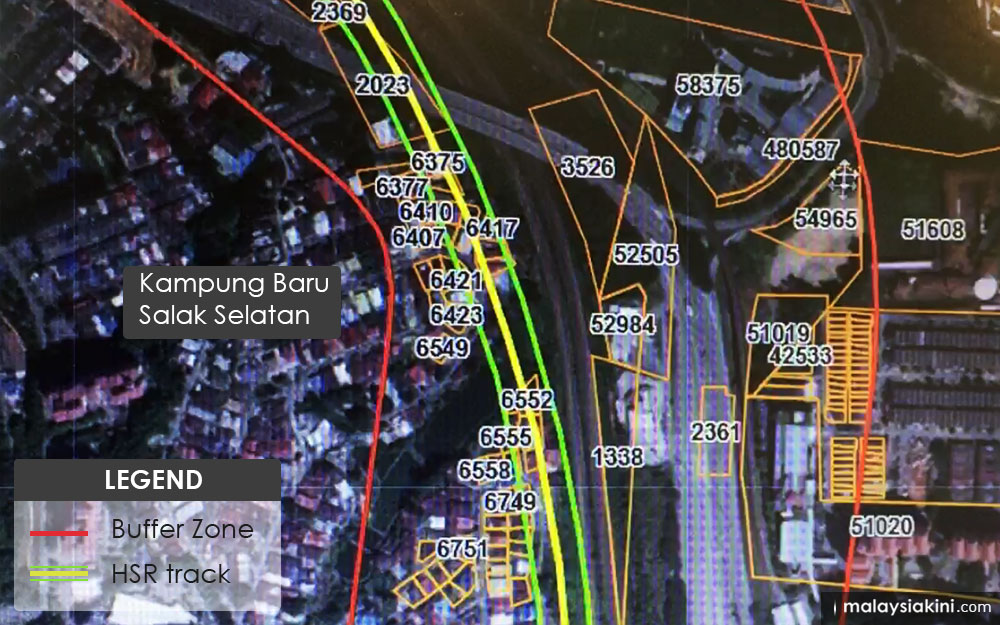 Kampung Dato' Abu Bakar Baginda, Kajang, Selangor
At least 100 plots of Malay reserve land, where some 400 houses are located, along Jalan Anggerik, Lorong Mawar Putih, Lorong Anggerik, Jalan Cempaka Biru and Jalan Kemboja will likely be affected...