The widespread fear of DAP among Johor's Malay voters could be Bersatu's Achilles' heel in the upcoming 14th general election, according to a study.
A phone survey among 1,100 Malay respondents in the state between May and June 2017, found that 85 percent of Johor Malays were not in favour of DAP, said analyst Wan Saiful Wan Jan in a paper published by Singapore's Iseas-Yusof Ishak Institute.
"The current strength of DAP in the state still generates fear among rural Malay voters there. They see a vote for Bersatu as a vote for DAP since both are in the same coalition," Wan Saiful wrote in the paper.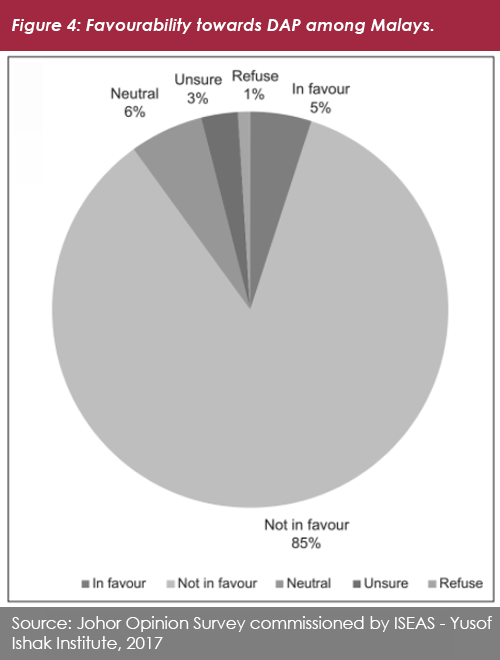 The strength of Johor DAP refers to the 13 state seats it bagged in the 13th general election, the highest among opposition parties.
Bersatu, which is an Umno-offshoot, only has one state seat in Jorak.
In the same phone survey conducted by the Iseas-Yusof Ishak Institute for this study, this time including non-Malay respondents, the situation looked bleaker for Bersatu.
Sixty percent of respondents were not in favour of Bersatu while only 2.7 percent would vote for the party if the polls were held at the time of the survey. Only 2.2 percent said they would vote for Pakatan Harapan.
Wan Saiful, however, cautioned that the telephone surveys might not be entirely forthcoming on their answers due to fear of being victimised.
In field interviews he conducted, Wan Saiful said among others Johor Malays associated the "Chinese-majority DAP" with the risk of their special privileges being eroded.
He said villagers interviewed for the paper often gave the analogy that Malays in Johor could become marginalised like Singaporean Malays, whom they believe are discriminated against by the ruling PAP.
"Interestingly, even though many of them cited the example of Singapore Malays, none of the villagers interviewed has visited the country or know any Malays from Singapore," the analyst added.
He also said that many often based their views on politicians from Umno, former Umno members or Umno-linked media.
In an effort to counteract this perception, Wan Saiful said that Bersatu is eyeing to become the dominant force in Johor by contesting the most seats.
At the Harapan convention last Sunday, it was announced that the Umno-offshoot would be contesting the lion's share of parliament seats in the Peninsular with 52 seats.
It is understood that 10 of these seats are in Johor, making Bersatu the majority there as well.
However, state seat allocations have yet to be finalised, although the parliamentary seat arrangements could indicate that Bersatu would get the most seats to contest in Johor.