SPECIAL REPORT | In the coming 14th general election (GE14), a VIP belt of marginal seats which lies in the western part of Pahang will decide the fate of several top guns from both sides of the divide - seats that are widely expected to be the most hotly contested battlefields in the peninsula.
This "Pahang VIP (very important persons) belt" covers five parliamentary seats - Cameron Highlands, Raub, Temerloh, Bentong and Bera - an area that includes the Titiwangsa mountain range and spans over 300km.
These seats could switch hands with only five percent swing in votes. Indeed, a few of them were won with just hundreds of votes in the last general election in 2013.
From Cameron Highlands to Bera, this VIP belt sees big names from both political divides, be they defenders or challengers.
They include MCA president Liow Tiong Lai, party vice-president Chew Mei Fun, Pahang DAP chief Leong Ngah Ngah, PAS information chief Nasrudin Hassan Tantawi and Umno supreme council member Ismail Sabri Yaakob.
Liow and Ismail hold posts in the cabinet as transport minister and rural and regional development minister respectively.
Geographically, these areas are about one to three hours of driving distance from the nation's capital, with the East Coast Highway connecting Kuala Lumpur to the state's capital, Kuantan. Many voters from these regions of Pahang are working in cities in the Klang Valley.
Should the opposition gain momentum in GE14, it could create a domino effect against the BN in this VIP belt in Pahang, a state that has been solidly behind the ruling coalition since the first general election and the birthplace of two prime ministers – Abdul Razak Hussein and his son, Najib.
Pahang, the largest state in the peninsula, has a vast expanse of forest and mountains. When the Communist Party of Malaya (CPM) went underground, Pahang was one of its major bases. CPM established the 10th Malay Regiment in Temerloh as a wing of the predominantly-Chinese Malayan National Liberation Army (MNLA), and this in a way planted the seeds of dissent.
Still, it will not be an easy task for the opposition to create the domino effect.
Pahang has 14 parliamentary seats. In GE13, Umno won eight, while MCA and MIC garnered only one each. As for the opposition, PKR bagged two seats, while DAP and PAS have one each.
Vote majorities in GE13 below 500
BN secured both Cameron Highlands and Bentong in 2013 with not more than 500 votes, making them the most marginal seats in Pahang.
For Cameron Highlands, thanks to a five-cornered fight, former MIC president G Palanivel edged out DAP candidate M Manogaran with a sliver of 462 votes.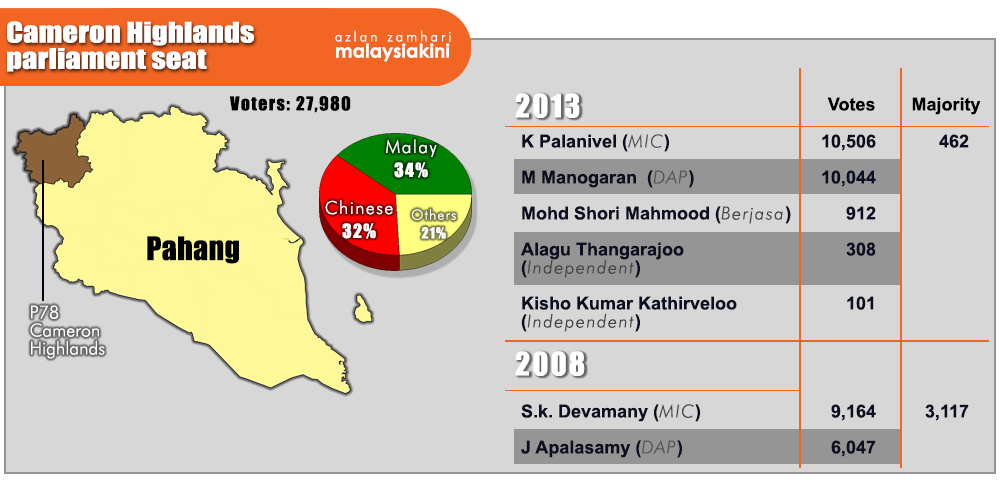 It is widely expected that this parliamentary constituency will see a multi-cornered fight in GE14 as well, with the ruling coalition and several opposition parties having voiced their intention to contest the seat.
The MIC is likely to field its Youth wing chief Sivarraajh Chandran to defend the seat as Palanivel has been dropped as he no longer holds any post in the party. Another BN member party, the People's Progressive Party (MyPPP) led by M Kayveas is also eyeing the seat.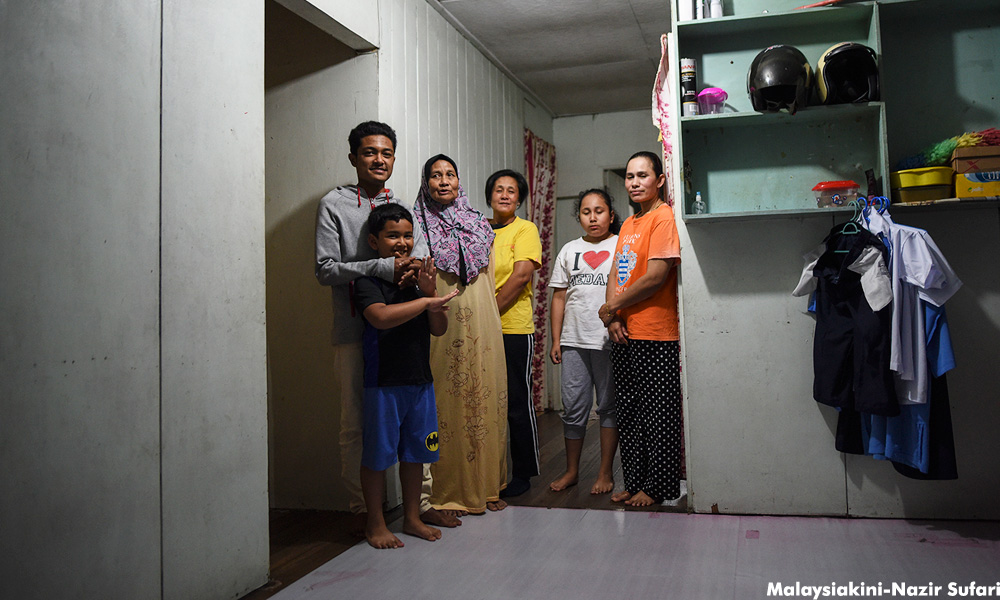 As for the opposition, DAP is expected to field Manogaran again, while Parti Sosialis Malaysia (PSM) has stated that its Orang Asli affairs bureau coordinator and local branch chief B Suresh Kumar would contest there.
Cameron Highlands has 12 percent of Indian voters and 20 percent Orang Asli, with the remaining made up equally of Malays and Chinese...