Malaysia's Ambassador to Indonesia Zahrain Hashim today cautioned against a proposal for the republic to impose a freeze on sending its citizens to work as domestic helpers in Malaysia.
Speaking to reporters during a press conference at the Malaysian Embassy in Jakarta, Zahrain said the move would only encourage "irresponsible parties" to use other illegal or non-procedural measures to recruit and send the workers to Malaysia.
"A unilateral move such as imposing a moratorium (on formal recruitment and placement of workers) will not resolve the (human trafficking) issue.
"We are concerned that such a move would encourage the practice of recruiting and sending Indonesian migrant workers out through illegal or non-procedural ways," said Zahrain.
Malaysiakini obtained an audio recording of his press conference plus a copy of his official statement.
He was responding to Indonesia's Ambassador to Malaysia Rusdi Kirana who reportedly proposed a new moratorium on sending Indonesians to work as domestic helpers in Malaysia.
This following the death earlier this month of Adelina Lisao who worked as a maid in Bukit Mertajam.
She was later discovered to be a victim of a human trafficking syndicate based in her hometown of East Nusa Tenggara, a cluster of islands to the East of Bali, Indonesia.
Adelina died last Sunday at the Bukit Mertajam hospital, allegedly due to
multiple organ failure and physical abuse by her employer.
Zahrain said Adelina's death also uncovered a complex human trafficking syndicate which eventually led to the arrest of two Indonesian "recruitment agents" on human trafficking charges.
"The Malaysian and Indonesian police will work closely to crack down on these (human trafficking) syndicates," said Zahrain who reassured that Malaysian authorities are committed towards ensuring that justice would be served.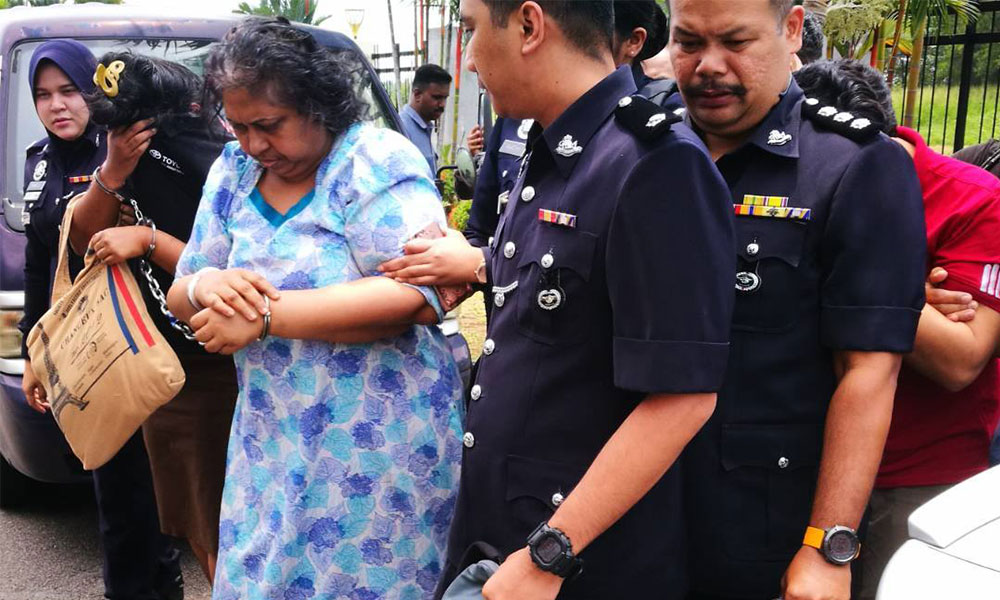 New SOP
In Penang today, a 59-year-old senior citizen was charged in the Bukit Mertajam Magistrate's Court for allegedly causing Adelina's death.
MAS Ambika (above, in blue) was charged with Adelina's murder while her daughter, 32-year-old R Jayavartiny, was charged with allegedly employing Adelina without valid documentation between March 2017 and Feb 10, 2018.
Zahrain also said he had forwarded an invitation from Deputy Prime Minister Ahmad Zahid Hamidi to Indonesia's Manpower and Transmigration Minister Muhammad Hanif Dhakiri.
This was for a meeting in Kuala Lumpur to discuss a revised Standard Operating Procedure (SOP) for the recruitment, employment and protection of Indonesian domestic helpers in Malaysia.
He also said a technical level meeting between Malaysia's Human Resource Ministry and Indonesia's Manpower and Transmigration Ministry would be held sometime in April to draft a new agreement between the two countries on the recruitment and placement of domestic helpers.
Indonesia had in 2009 imposed a similar moratorium as a response to a series of domestic helper abused cases.
The freeze was lifted in May 2011, after the two governments signed a memorandum of understanding which included protection measures such as an employer not being allowed to withhold the passport of the domestic helper.
Terms of the agreement, however, lapsed in 2016 and Zahid, who is also Home Minister, had requested for new discussions to be held on the matter in response to Adelina's case.
Bernama reports that Zharain also revealed that compensation and salary arrears totalling RM63,900 had been paid to the family of Adelina.
The amount comprised the maid's salary arrears from January 2015 amounting to RM35,900 and the compensation for the family, including the costs for repatriation and funeral processes.
"The payment was made to Indonesian Consul-General in Penang on Feb 13," he said.
The Indonesian media reported that the woman's family was demanding compensation and full settlement of her salary which had been in arrears for three years.
"Adelina's death was a heartbreaking tragedy. I regret that it happened in Malaysia," Zahrain said.