Republican donor Elliott Broidy, alleged to have been in negotiations for a US$75 million (RM295 million) deal with businessperson Jho Low to get the US Department of Justice (DOJ) to drop its 1MDB investigation, has reportedly cried victim in the matter.
The negotiations were first brought to light by the Wall Street Journal (WSJ) claiming to have reviewed emails showing Broidy, who is a close ally of US President Donald Trump, in a draft proposal asking for a US$75 million fee "if the DOJ quickly drops its investigation".
"He (Broidy) says the reason his emails are turning up all over the place and all sorts of news reports now is because he has been hacked by a foreign government, and he is the real victim here," said American television host Rachel Maddow of MSNBC on her news programme "The Rachel Maddow Show" on Friday night.
---
Read more: 'Feds worried MO1's wife would wear DOJ-listed jewellery in US visit'
---
The episode titled "With New Player's Details, Trump-Russia Probe Seems Far From Over", Maddow makes detailed mention of the 1MDB scandal from the time of the "Arab donation" matter to the latest expose on the Jho Low deal.
As reported by the WSJ, the emails dated the past year involved discussions to set up a consulting contract with Low.
Also among the emails were allegedly talking points Broidy had drafted for Prime Minister Najib Abdul Razak's meeting with Trump last year, which included mention of the "US legal pursuit of the 1MDB matter".
Low has been embroiled in the 1MDB scandal, particularly after the DOJ launched a series of forfeiture suits to seize assets it claims had been siphoned from 1MDB.
The businessperson again hit the spotlight when a luxury yacht he allegedly acquired using 1MDB funds was seized by Indonesian authorities in Bali in a joint operation with the US authorities.
Maddow addressed the seizure of the yacht named Equanimity on her show last night, jokingly congratulating the US public for their "new yacht".
Broidy in deep water
Maddow also said Broidy, who is a venture capitalist, has most recently become involved in another high-profile DOJ investigation led by the department's special counsel Robert Mueller, into the "influence of foreign money on Trump's political activities".
Mueller and his team of prosecutors, she said, has found a new cooperating witness in their probe, George Nader, an adviser to the United Arab Emirates (UAE) government.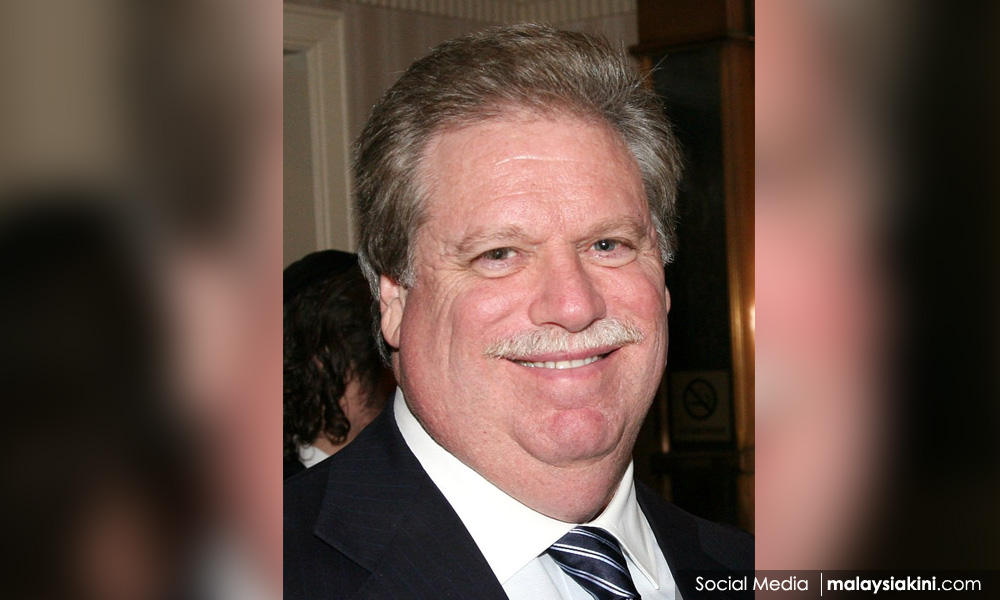 "Nader turns out to be in business with Broidy (photo). He surfaces now in the reporting of this new cooperating witness... because Broidy has reportedly been giving Nader detailed briefings on all the work he's been doing in the White House, including meetings with Trump to pursue the foreign policy aims of this country that Nader works for.
"Broidy himself is someone who has recently received hundreds of millions of dollars from the UAE," Maddow said.
Quoting a New York Times report, Maddow said Nader had become friendly with Broidy and introduced him to the crown prince of the UAE.
Broidy's company later signed contracts with the UAE worth several hundred million dollars, she said.
She also pointed out that Broidy had pleaded guilty in 2009 of bribing New York state officials about US$1 million to benefit his financial firm.
However, he later got to withdraw his felony plea and admit to a misdemeanour in reward for his cooperation in this case, she said.
Maddow also further commented on Broidy's alleged links to Low, as well as the 1MDB case in general, describing it as "strange" and "weird" multiple times.
"Yes, it was strange when Trump hosted the Malaysian prime minister at the White House just a few months ago in September (last year) in the middle of this big investigation.
"This is weird, right? This massive corruption case, massive heist, multi-billion dollar scheme and Trump is hosting the prime minister [...]? In the middle of this big case by the DOJ
"That's a strange story, right? Who knows where this one ends," she said.
Malaysiakini is unable to independently verify the MSNBC report.