LIVE REPORTS
Bersatu lawyer: Harapan candidates to file objections nationwide
Nomination ends, Guan Eng opens fire on EC
PKR candidate replaced due to MyKad address
Nik Omar turns up at nomination centre
BN's Bandar Tun Razak candidate sorts out documents
Commotion over Gerakan candidate's MyKad
PKR's Tan eligible to contest after MyKad bungle
Tian Chua disqualified
Negeri MB wins uncontested
Gan's ex-aide contesting in Rawang
Puad Zarkashi no show
Papagomo pulls out
---
Campaigning begins
4.30pm: We've ceased live updates for the nomination. Follow our updates as we officially enter day one of the 11-day campaigning period in the lead up to the "mother of all polls".
4.00pm: Putrajaya - Election Commission (EC) chief Mohd Hashim Abdullah says those unhappy with decisions made during nomination day are welcome to take the matter up to court.
He says this when asked why PKR vice-president Tian Chua had his nomination papers rejected when filing them at the Batu nomination centre today.
Hadi says candidate gained fame amidst MH370's disappearance.
1.40pm: Marang - PAS president Abdul Hadi Awang is confident its Rhu Rendang candidate Ahmad Samsuri Mokhtar can retain the seat due to the latter having a greater "aura" than he himself as the incumbent for the Terengganu state seat.
"His aura is greater - when the MAS (flight MH370) vanished, whether it was in the South China Sea, he appeared on TV, on TV3, Astro Awani and others," he boasts of his political secretary.
"He is an expert in aviation, and active in students associations," he says after handing the nomination form for the Marang parliamentary seat at the Marang district office.
This follows the candidate being asked by the media what he thought of his chances were, in the shadow of the aura of his party president, an eight-term Rhu Rendang assemblyperson.
Before he could answer, Hadi cuts in and answers on behalf of Shamsuri, who chuckles at his party chief's actions.
Samsuri will run against BN's Nik Dir Nik Wan Ku and Harapan's Zarawi Sulong.
Bersatu man disqualified due to bankruptcy
1.10pm: Kepala Batas, Penang - Yaakob Osman, who is supposed to contest the Penaga state seat in Kepala Batas, has been disqualified due to bankruptcy.
"The election commission has said that there is data that I am bankrupt. We did a check last week and yesterday as well.
"There were no issues and I have not been summoned by anyone or declared bankrupt.
"The election commission has decided, nothing can be done," he is quoted as saying by The Star.
1.00pm: Bukit Bendera, Penang - EC returning officer Zulkifli Sulong officially announces that all nominations submitted by BN, Harapan, PRM, PCM and Malaysian United People's Party (MU) are accepted.
As a result, there will be a four-cornered fight for Tanjung Bungah and Air Putih state seat where caretaker chief minister Lim Guan Eng is contesting, while the three-cornered fight will be at Bukit Bendera parliamentary seat, and Kebun Bungah and Pulau Tikus state seats.
No independent candidates are fielded.
As Zulkifli announces their names and ballot paper numbers, party supporters cheer on loudly amidst the blazing hot weather.
There is a minor dispute when EC did not recognise PCM's new logo and the party's Air Putih candidate R Manikandan would need to use the old logo.
Manikandan says PCM has applied to change their logo with ROS and believes there is a possibility of miscommunication between the EC and ROS.
"Is not fair to us, we may need to reprint all our publicity materials," he adds.
Zulkifli explains that EC will only allow the old logo in their existing system.
12.27pm: Hang Tuah Jaya, Malacca - BN candidate for Hang Tuah Jaya, Mohd Ali Rustam, questions how his opponent from Harapan, Shamsul Iskandar Md Akin, will take care of two constituencies.
An earlier report states Shamsul was at the Jasin nomination centre, registering to contest at the state seat of Rim.
"One Hang Tuah Jaya also he cannot take care, now he wants to go to two (constituencies).
"When he can't even take care of one, and then wants two, it will be even more difficult," he tells reporters.
The returning officer Murad Husin earlier announced that all candidates had been approved in Hang Tuah Jaya, including its state seats.
Document woes - another Harapan candidate disqualified
12.30pm: Pagoh, Johor - Another Pakatan Harapan candidate, Bersatu's Pizi Jihat, has been disqualified due to problems with his documents.
Pizi was supposed to contest the Bukit Pasir state seat. With him out of the race, the seat will witness a straight fight between BN's Noriah Mahat and PAS' Najib Lep.
Commotion over Gerakan candidate's MyKad
12.20pm: Bentong, Pahang - A commotion breaks out at the nomination centre as DAP candidates demand that Gerakan's Ketari candidate Lau Hoi Keong show his MyKad.
The DAP candidates, including Wong Tack who is contesting in Bentong, want to know if Lau's MyKad has a Pahang address, which is a prerequisite to contest in a Pahang state seat.
This leads to a long drawn nomination process and prompts MCA president Liow Tiong Lai and Pahang Umno chief Adnan Yaakob to intervene.
The returning officer later declares Lau a candidate but it is unclear if he had shown his MyKad.
11.55am: Langkawi/Pekan/Pandan – The EC returning officer announces a three-cornered fight for the Langkawi parliamentary seat involving former premier Dr Mahathir Mohamad (Harapan), Nawawi Ahmad (BN) and Zubir Ahmad (PAS).
Nawawi is the incumbent MP for Langkawi.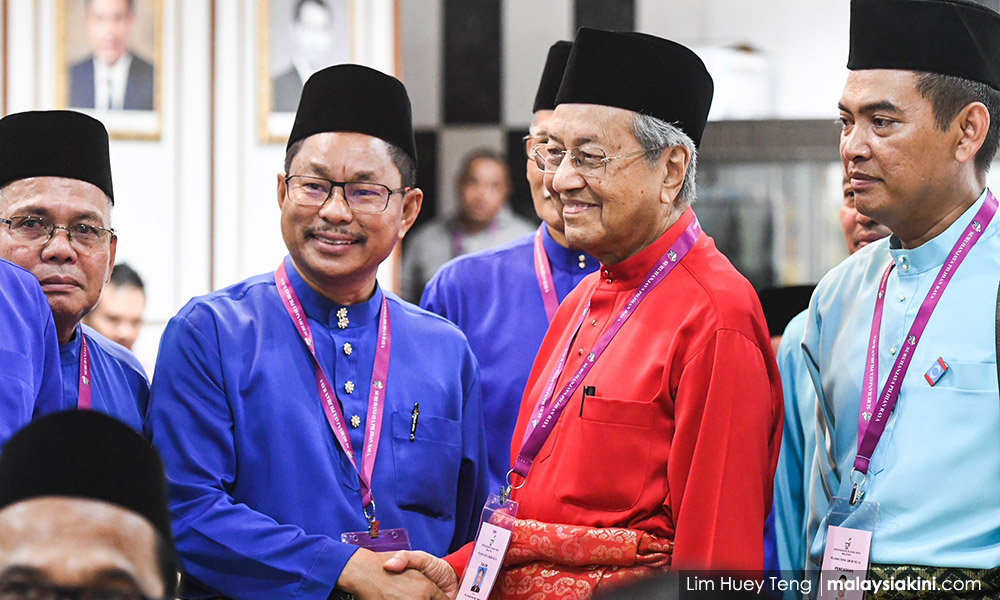 Meanwhile, in Pekan, caretaker prime minister Najib Abdul Razak will be in a four-cornered fight to retain his stronghold in Pahang.
He will be facing Harapan's Zahid Mat Arip, the grandson of deputy prime minister Abdul Ghafar Baba, PAS' captain (retired) Ahiatudin Daud and independent Abd Kadir Sainuddin.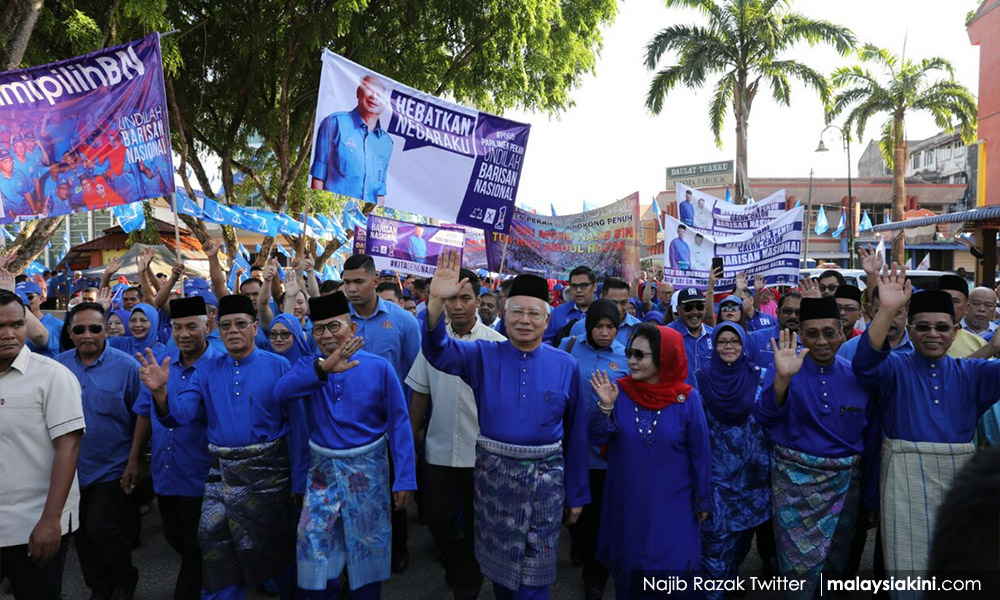 In Pandan, Kuala Lumpur, PKR president Dr Wan Azizah Wan Ismail will face four challengers in the form of BN's Leong Kok Wee, PAS' Mohamed Sukri Omar, PRM's Jenice Lee and independent Mohd Khairul Azam Abdul Aziz.
The Pandan seat's incumbent, PKR vice-president Rafizi Ramli, is not contesting due to his conviction.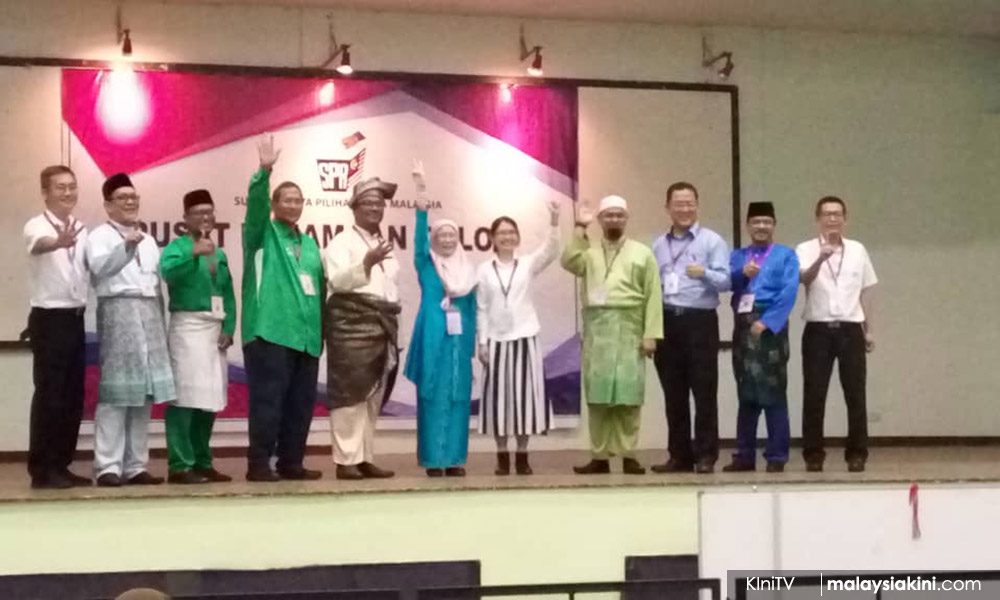 11.50am: Gombak, Selangor - BN's candidate for the Gombak parliamentary seat, Abd Rahim Kamarudin, is confident that the coalition can recapture Selangor.
"I am very confident that on May 9 at 10pm, we can form a government in Putrajaya and Selangor, you wait and see," he says.
He adds that BN can win no less than 35 out of the 56 state seats in Selangor.
Abdul Rahim plans to contribute to BN's victory by defeating Azmin Ali, whom he claims has neglected Gombak.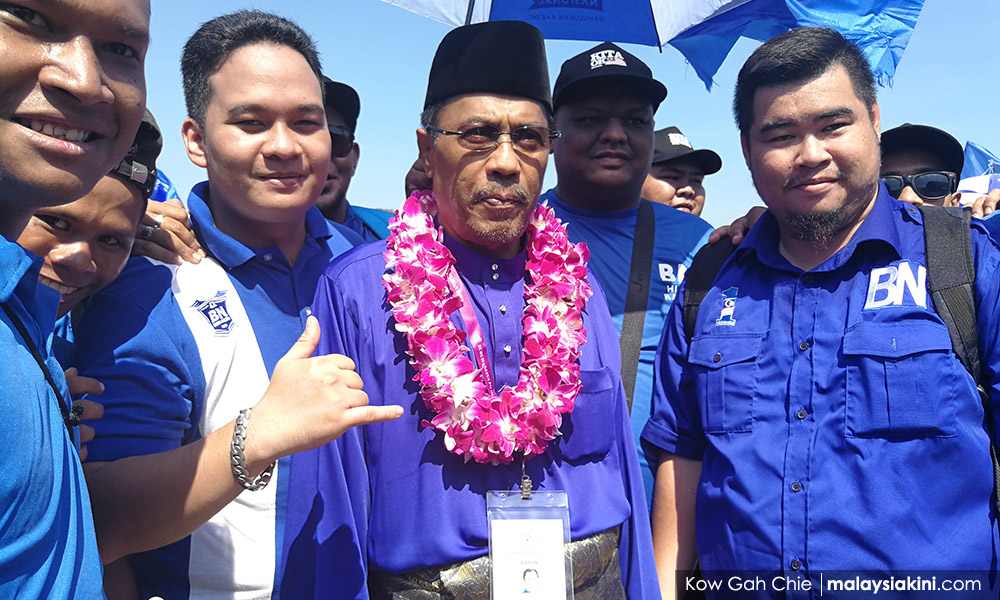 Gan's ex-aide contesting in Rawang
11.40am: Rawang, Selangor - Gan Pei Nei's former political aide Azman Md Noor is contesting the Rawang state seat as an independent candidate.
In a Facebook posting, the former two-term Rawang assemblyperson says she had no knowledge that Azman intended to contest and is shocked by his decision.
"I do not support his candidacy and urge him to withdraw in order not to worsen the situation," she adds.
Prior to Gan being dropped as a candidate, she told an emotionally-charged press conference that she is being targetted over a letter of complaint accusing her of misusing the allocation for her constituency.
She has denied the allegation and vowed to address it after the polls.
Tian Chua disqualified
11.25am: Batu, Wilayah Persekutuan - PKR vice-president Tian Chua has been disqualified from contesting the Batu parliamentary seat.
Media reports claim this is due to a previous court case.
Speaking to journalists after being disqualified, Tian Chua decries the returning officer's decision.
"This is an unfair interpretation because, in the last general election, the higher courts had decided that an RM2,000 fine does not lead to disqualification.
"But this time they (Election Commission) claimed that that ruling cannot be used for this general election," he says.
Tian Chua vows to mount a legal challenge against the returning officer's decision.
Negeri MB wins uncontested, PKR candidate forgets EC tag
11.20am: Rantau, Rembau, Negeri Sembilan - Caretaker Negeri Sembilan MB Mohamad Hasan wins the Rantau state seat uncontested.
This is after PKR candidate S Streram did not bring his EC tag and therefore is denied entry into the nomination centre.
Rantau is one of the four state seats under the Rembau parliamentary seat.
PKR's Tan eligible to contest after MyKad bungle
11.15am: Wangsa Maju, Wilayah Persekutuan - After an initial scare, PKR's Tan Yee Kew has been allowed to contest as a candidate for the Wangsa Maju parliamentary seat.
Tan left her MyKad at home, prompting fears that she will be not allowed to file her nomination papers.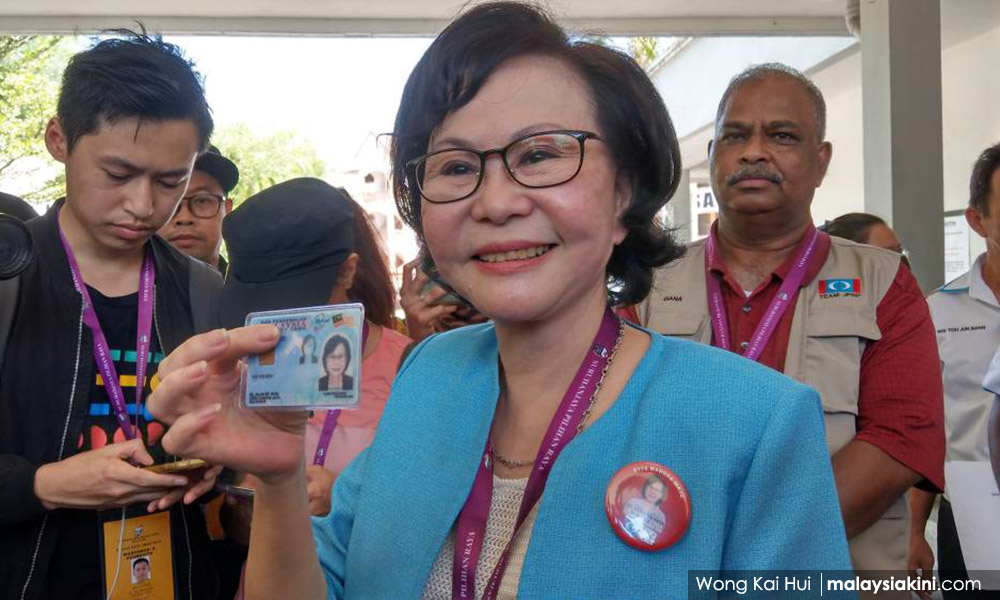 The returning officer later confirms that she will be able to contest. Tan manages to get hold of her MyKad in time.
She will be facing BN's Yew Teong Look and PAS' Razali Tumiran.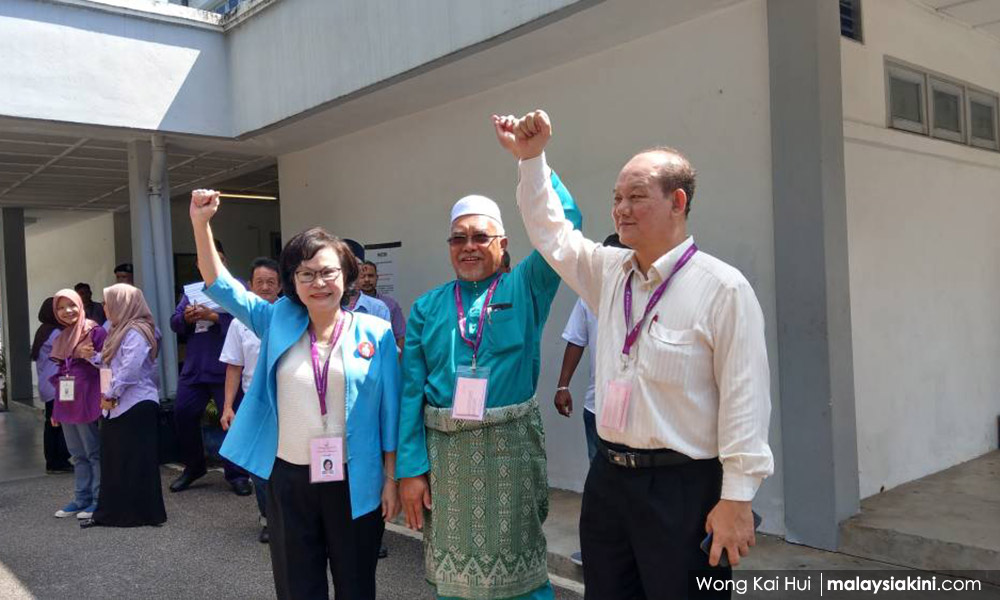 10.47am: Shah Alam, Selangor - Returning officer Ahmad Zahrain Mohd Saad announces a three-cornered fight between BN, PKR and PAS for the Shah Alam parliamentary seat as well as the Kota Anggerik and Batu Tiga state seats.
In Shah Alam, incumbent Khalid Samad from Amanah is defending his seat against BN's Azhari Shaari and PAS' Zuhdi Marzuki.
For Kota Anggerik, three newcomers are contesting for the seat - PAS' Ahmad Dasuki Abdul Rani, PKR's Najwan Halimi and BN's Jumaeyah Masdi.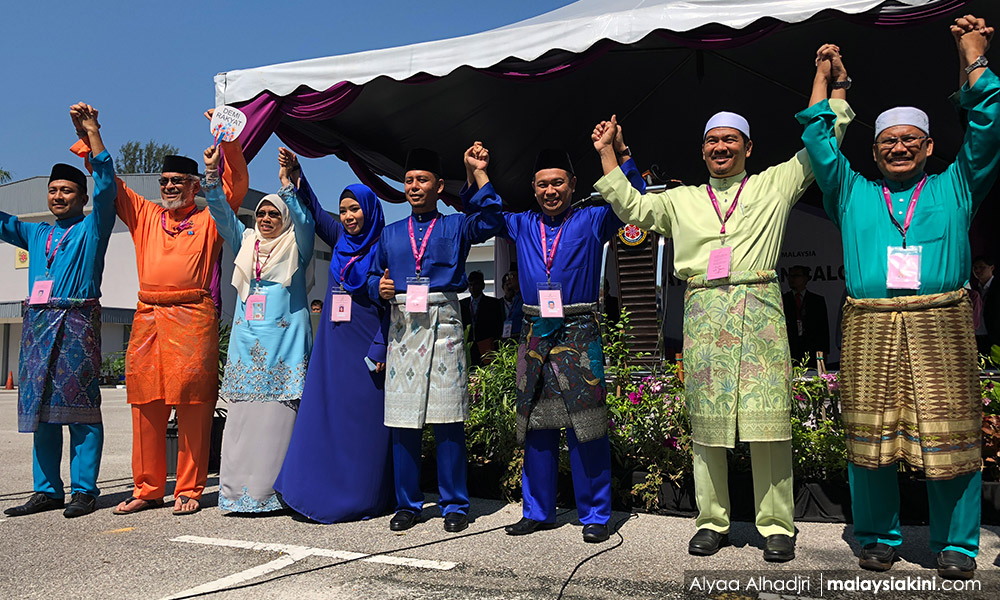 In Batu Tiga, PKR's incumbent Rodziah Ismail is defending her seat against BN's Ahmad Muadzam Shah Yaakob and PAS' Abdul Halim Omar.
Outside the Dewan Besar Tanjung hall, hundreds of supporters greet their candidates with chants and cheers.
BN supporters sing praises to Prophet Muhammad SAW while PKR supporters beat the kompang and chant "Reformasi!"
Down the road, PAS supporters are listening to an impromptu ceramah.
PKR candidate replaced due to MyKad address
10.36am: Kuala Selangor, Selangor – Harapan candidate for the Bukit Melawati seat Sivamalar Ganapathy is replaced with Juwariyah Zulkifli.
This is confirmed by Amanah strategic director Dr Dzulkifli Ahmad who is contesting the Kuala Selangor parliamentary seat.
"We had problems but after making a few calls Juwariyah is placed as the candidate," he tells Malaysiakini.
Apparently, Sivamalar, who hails from Pahang, did not change her address on the MyKad and therefore cannot contest a seat in Selangor.
10.30am: Gombak, Selangor - Badrul Hisam Md Zin, 46, a corn trader- turn- developer says he is contesting as an independent in Sungai Tua because he wants to help the youth achieve success.
He is dissatisfied with the BN government's failure to fulfill its promises.
Nomination ends, Guan Eng opens fire on EC
10.15am: Bukit Bendera, Penang - After nomination closed, caretaker Penang chief minister Lim Guan Eng shakes hands with his challenger Teng Chang Yeow from BN.
Lim then criticises the EC chairperson for allowing his Penang director to hold a joint press conference with Penang Umno liaison committee chairperson Zainal Abidin Osman yesterday.
Although Zainal attended the EC media centre launching in the capacity of Penang Federal Council chairperson, Lim says it was inappropriate.
"I don't blame the officer but only question the EC chairperson. EC should invite us as well. You not only need to be fair and independent but also need to be seen as fair and independent.
"Zainal is still the Umno chief in Penang. Although he is not contesting in this election but he is still actively campaigning for other candidates," he adds.
10.10am: Kuala Lumpur - Bersatu lawyer Rafique Rashid Ali tells Malaysiakini that Harapan candidates are expected to file objections nationwide with regard to Umno's illegality.
Hence, he says the leader is illegal and thus Najib Abdul Razak cannot function as the leader of BN which is the main component of BN.
"If Umno is illegal the whole structure falls. BN is registered as a coalition of 13 parties," he adds.
10.00am: Gombak, Selangor – Caretaker Selangor MB Azmin Ali does not turn up at the nomination centre for the Bukit Antarabangsa state seat.
However, he denies this is because he wanted to avoid meeting his brother Azwan Ali, who is contesting the seat.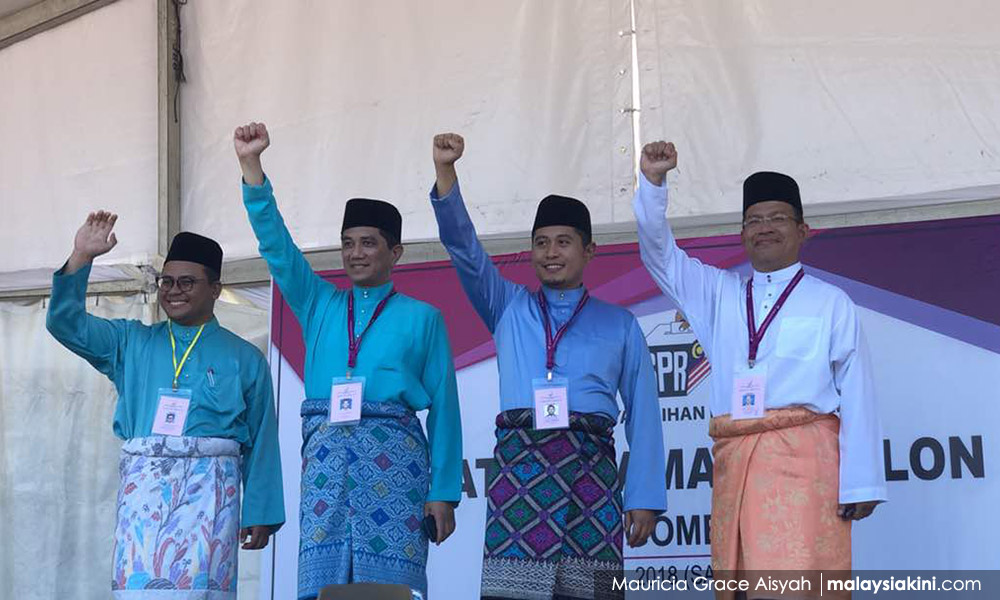 Azmin says that as the candidate for the Gombak parliamentary seat, he needs to be together with the Harapan candidates who are contesting in the state seats under this constituency.
The PKR deputy president declines to comment on his brother's chances.
"Let the rakyat decide," he says.
10am: Batu Pahat, Johor - The nomination period has ended, and Puad Zarkashi is not among the nominees present at the nomination centre.
Only BN's Haliza Abdullah, PKR's Rashid Hasnon, and PAS' Mahfodz Mohamed have submitted their nomination papers.
BN supporters broke into a chorus of "Inilah Barisan Kita" after nominations closed.
BN's Bandar Tun Razak candidate sorts out documents
9.55pm: Bandar Tun Razak, Kuala Lumpur - BN candidate Adnan Abu Seman breathes a sigh of relief after sorting out problems with his documents.
According to Berita Harian, Adnan forgot to attach his BN appointment letter to his nomination papers.
9.50am: Penampang, Sabah - Apart from Leiking and Mandela, Parti Kerjasama Anak Negeri's Edwin Bosi also files his nomination papers to contest the Penampang parliamentary seat. Bosi is the incumbent Kepayan state representative.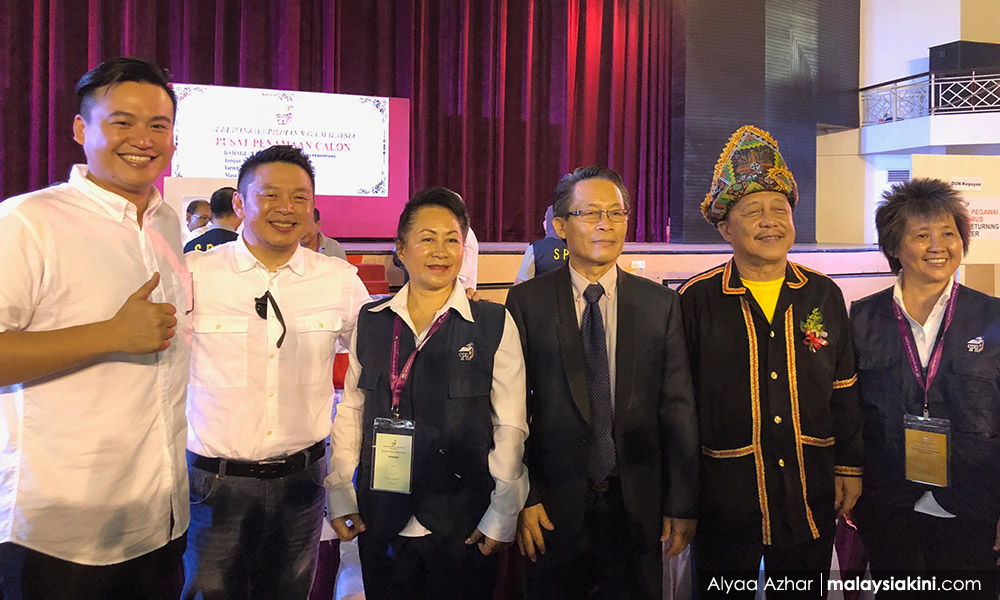 Sabah State Reform Party's (Sabah Star) Cleftus Stephen Spine also files his papers for the Penampang seat.
Bosi won the Kepayan seat under DAP. Bosi today says he did not jump parties but merely "moved" to another party.
"I told voters that I have not abandoned them. I told the Kepayan people I'm going to the national level," he says, explaining his decision to go for Penampang.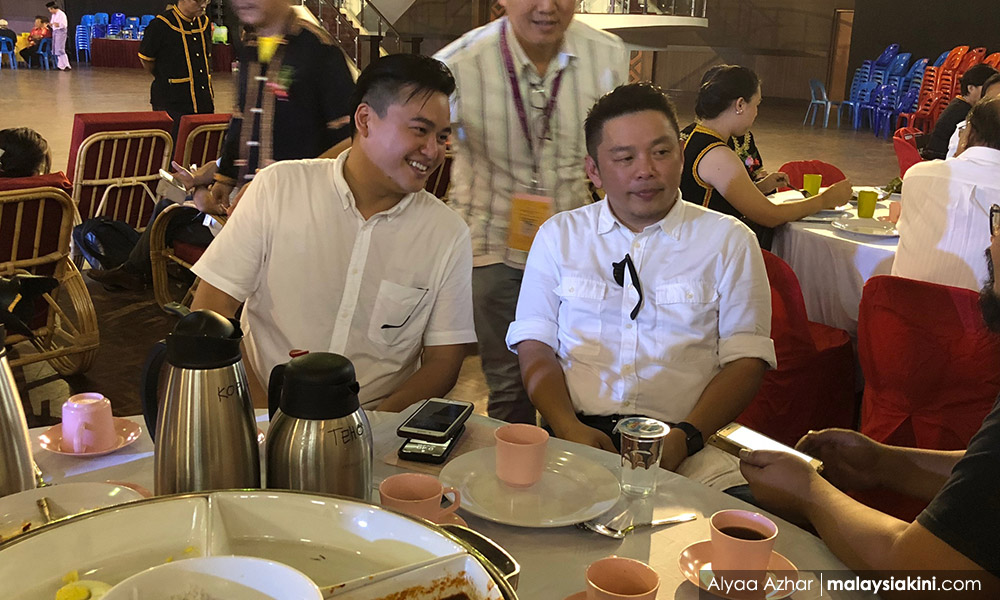 Meanwhile, Leiking and Mandela sit at the same table while waiting for their nominations to be confirmed.
Leiking says both of them want to present something different to their constituency.
"We leave it to the voters on who they would like to engage and represent them. Of course, I would like to be the one, he would like to be the one as well," he jokes.
Referring to Mandela's youth, Leiking says he has to "jog a little bit more, wake up earlier", because "this young man is so strong".
Mandela chips in to say how Leiking is young as well. Leiking is 17 years older than Mandela.
9.50am: Gombak, Selangor - Caretaker Selangor MB Azmin Ali describes the tussle over candidates as a "process of discussion".
He believes the incident will not impact Harapan's chances of winning Selangor.
"At the end, the voters will decide what we have done, I believe they understand our policy and appreciate what we had done.
"Inshallah, they will retain the current state leadership," he says.
He believes Selangor Harapan will win at least 40 state seats out of 56 and rule the state with a two-thirds majority.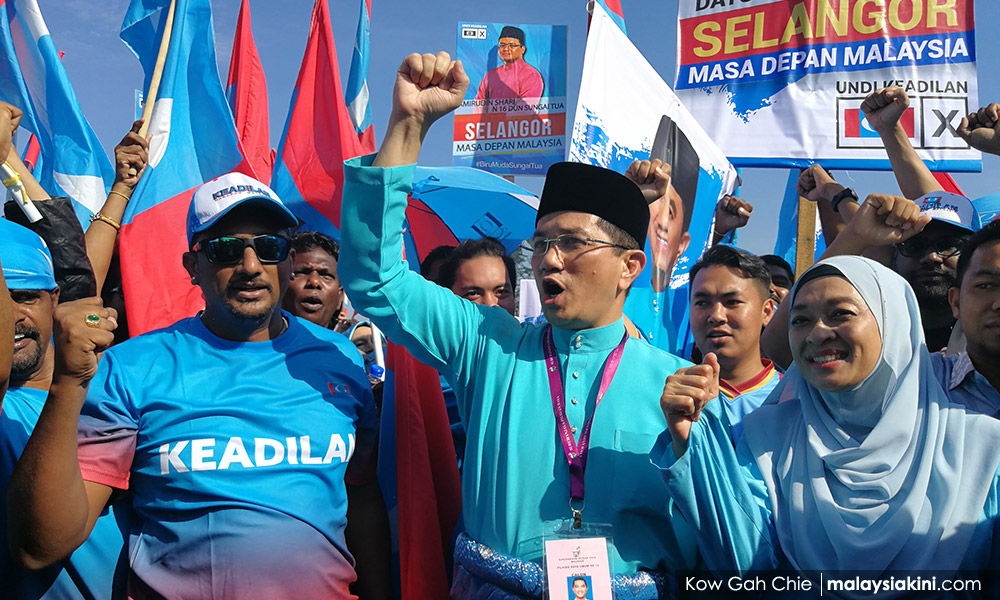 9.50am: Seremban, Negeri Sembilan - BN candidate Chong Sin Woon describes his opponent Anthony Loke's birthday wish for a change of government as "dreaming".
"This is his dream. A dream will remain a dream. He is only able to dream," he tells reporters.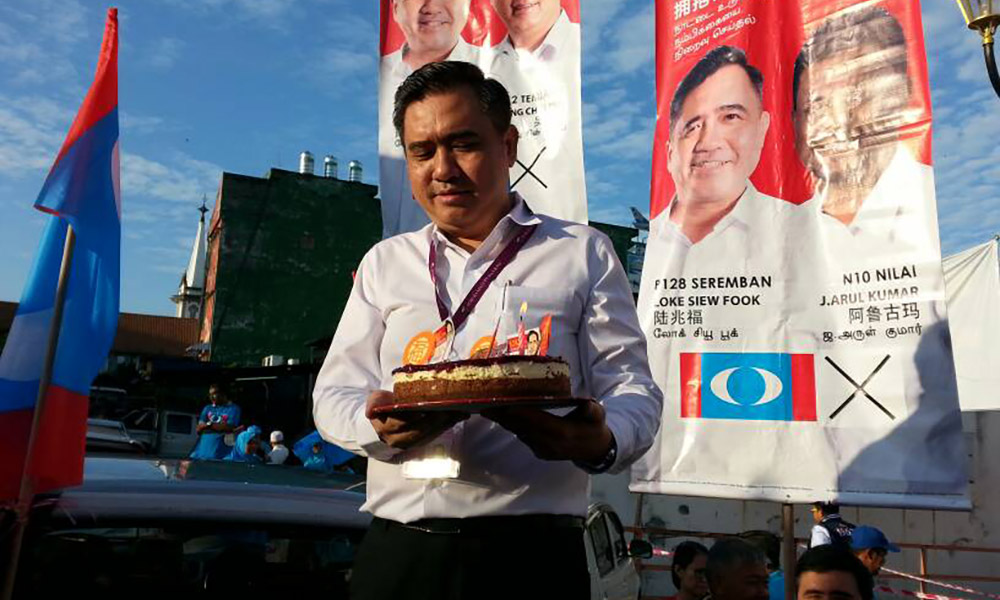 However, Chong also extends his birthday greetings to Loke and wishes him good health.
Apart from the Seremban parliamentary seat, Loke will be contesting in Chennah, a state seat under Jelebu, which he won in the last GE.
Chennah is about 50km from Seremban downtown.
9.40am: Hang Tuah Jaya, Malacca – Harapan candidate Shamsul Md Aki sends a representative to file his papers. This is because Shamsul is filing his papers at the Jasin nomination centre to be a candidate for the Rim state seat as well
"The party decided this a while ago. It was up to him whether to accept or not," says PKR Bukit Katil state seat coordinator Abdul Halim Ismail.
Previously, Shamsul was slated to contest at the Machap Jaya state seat but declined and backed PKR's Ginie Lim for the seat.
He was later given the Rembia state seat but declined that as well, as he said he wanted the Kelebang state seat.
Meanwhile, Hang Tuah Jaya Bersatu division vice-chief Kamarolzaman Mohd Jidi applies to be an independent candidate for the Ayer Molek state seat.
He claims to have the blessings of his division chief to contest as an independent since Hang Tuah Jaya Bersatu did not get any seats in the constituency.
"There are five seats here, one parliament and four state seats. Yet Bersatu did not get even one seat," he laments.
Puad Zarkashi is nowhere to be seen
9.40am: Batu Pahat, Johor - There is still no sign of Batu Pahat Umno chief Puad Zarkashi at the nomination centre, and only 20 minutes are left before the window for candidates to hand-in their forms close.
Attempts to contact Puad have been unsuccessful. BN, Harapan, and PAS have already submitted their nomination papers.
After being dropped, speculation was rife that Puad may contest as an independent.
9.37am: Wangsa Maju, Kuala Lumpur - PKR candidate Tan Yee Kew, who forgot to bring her MyKad, is allowed to enter the nomination centre after showing the EC official an image of her identity card on the mobile phone.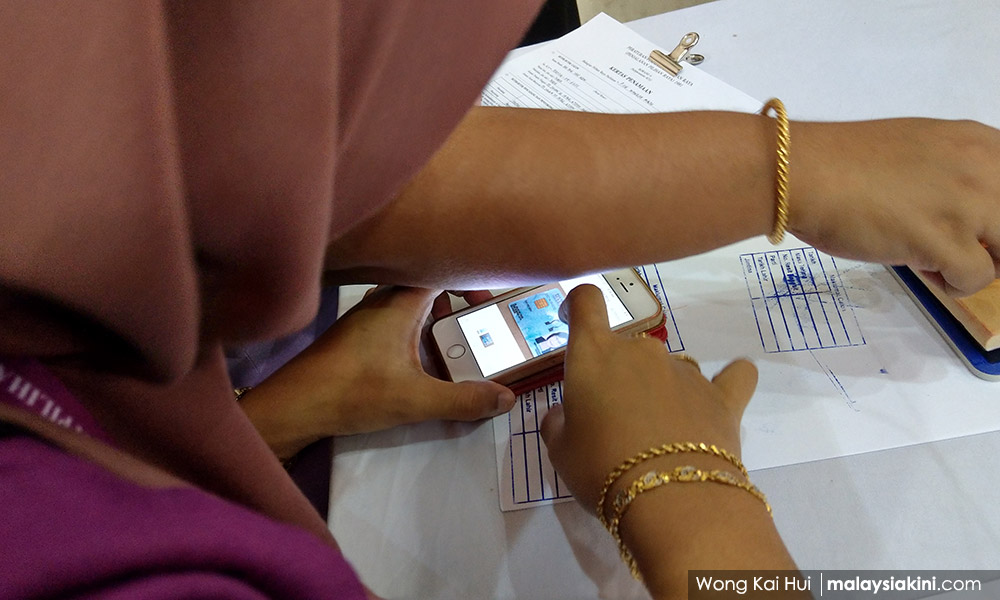 However, the EC tells reporters that the original MyKad is required for the nomination process to be completed.
One of Tan's friends is rushing back to her home to retrieve the MyKad.
9.35am - Kubang Pasu, Kedah - Jitra candidate Mukhriz Mahathir is now departing the Kubang Pasu nomination centre.
He is making his way to the Jerlun nomination centre at Sekolah Menengah Sains Kubang Pasu to attend to his nomination as the parliamentary candidate there.
He greets his BN and PAS counterparts before his departure.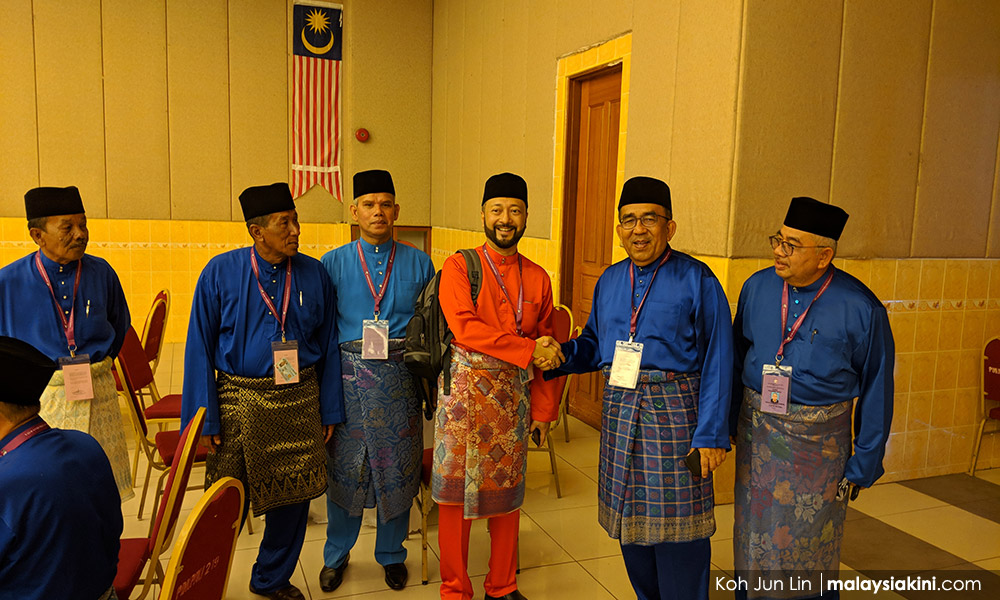 PKR candidate forgets to bring MyKad, denied entry
9.35am: Wangsa Maju, Wilayah Persekutuan - PKR candidate Tan Yee Kew forgets to bring her MyKad and is denied entry into the nomination centre.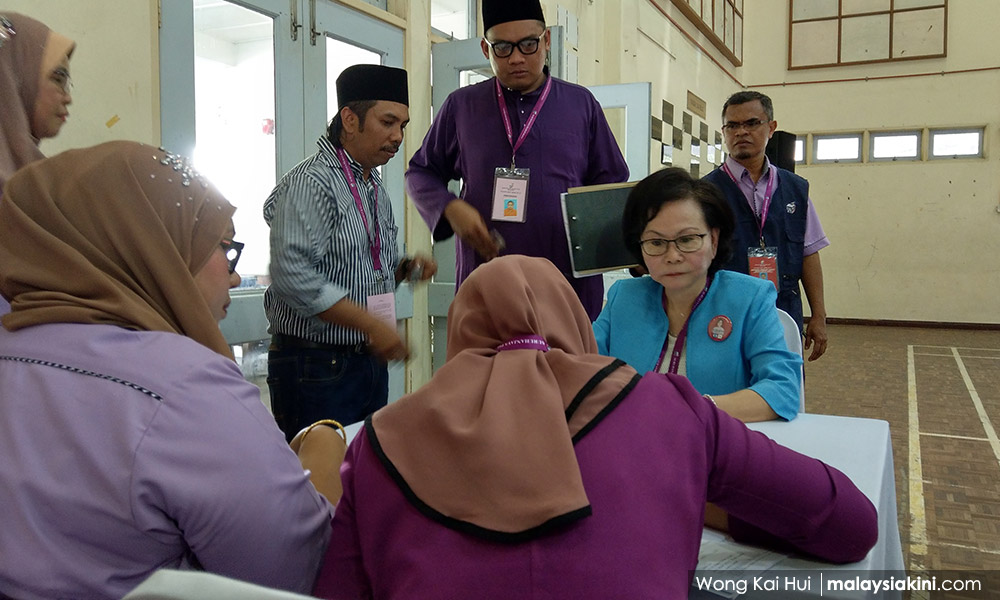 Meanwhile, PAS candidate Razali Tumirin and BN's Yew Teong Look, who brought along their identity cards, are allowed to enter the hall to submit their nomination papers.
BN's Bandar Tun Razak candidate has problems with documents
9.30am: Bandar Tun Razak, Kuala Lumpur - BN's candidate Adnan Seman appears to be facing problems with his nomination documents, reports BFM.
"BN candidate Adenan Seman appears to face some issues with his documents during submission.
"(He) looks worried and has been talking on the phone for more than 10 minutes now," it says.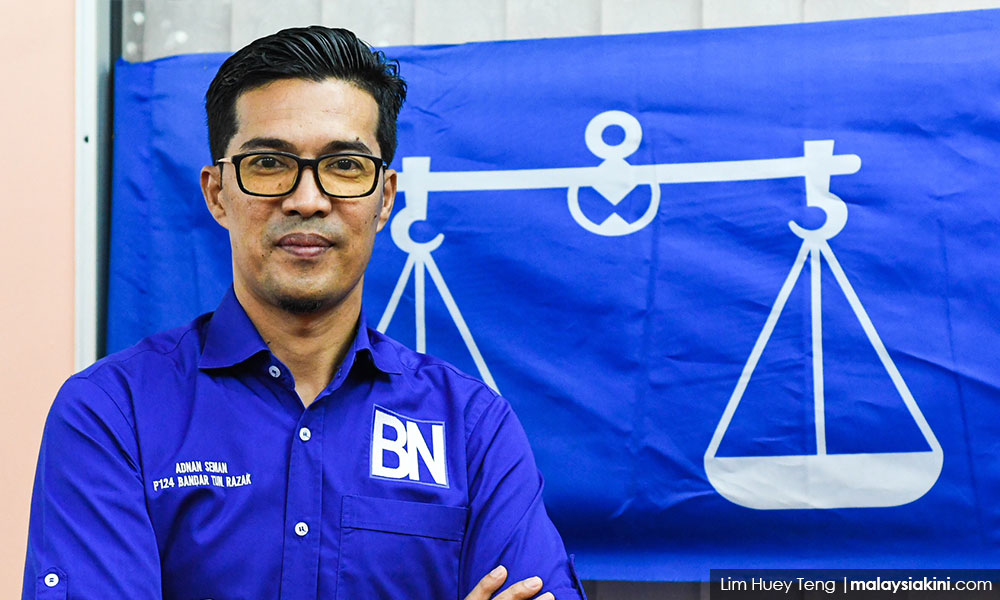 9.27am: Kota Raja, Selangor - Amanah president Mohamad Sabu files his nomination papers at the MBSA hall in Kota Kemuning.
BN's V Gunalan from MIC also files his papers. He rates his chances as good for Kota Raja as he is a local while Mat Sabu is an outsider.
"He has been defeated before so I am confident," he says.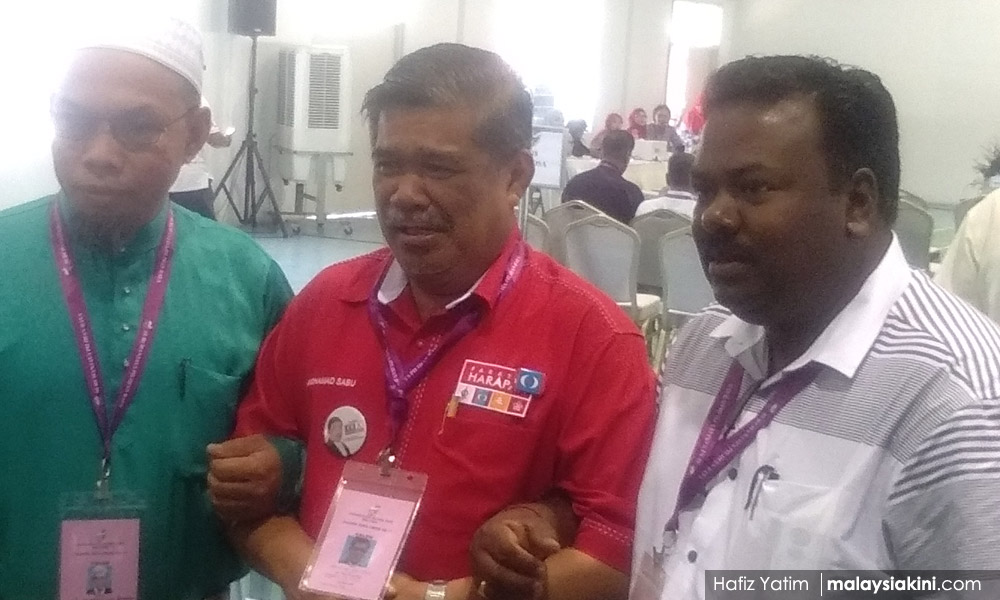 9.10am: Hang Tuah Jaya, Malacca - BN's candidate for Hang Tuah Jaya, Mohd Ali Rustam, along with the state seat candidates, are the first to enter the nomination centre.
They are followed by PAS' candidates, including their Hang Tuah Jaya candidate Khalid Kassim.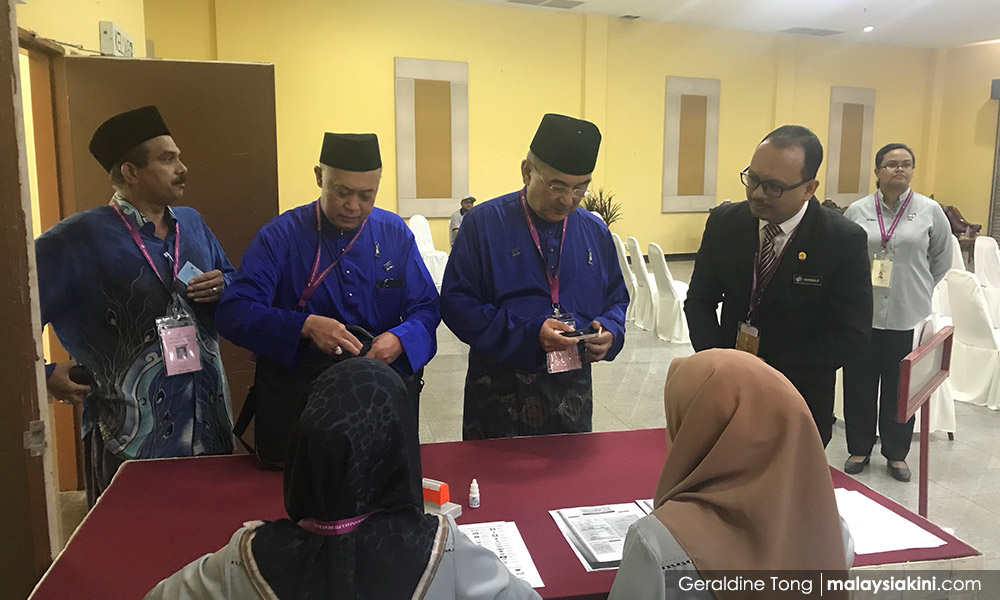 The last to enter is Harapan candidates. However, Harapan's Hang Tuah Jaya candidate Shamsul Iskandar Md Akin is nowhere to be seen.
Meanwhile, supporters from all three parties are still chanting outside the nomination centre.
9.05am: Bukit Mertajam, Penang - A sea of turquoise flags and supporters accompany Nurul Izzah to the nomination centre. PKR's Seberang Jaya candidate Dr Afif Baharuddin arrives with his wife and child.
There is a minor commotion when supporters push and jostle at the police barricades.
As they walk towards the nomination centre, the candidates are heckled by both BN and PAS supporters.
Unfazed, the candidates wave at their opponents and enter the building. BN supporters, on the other hand, add a festive mood outside the nomination centre with the beating of drums and blowing of vuvuzelas.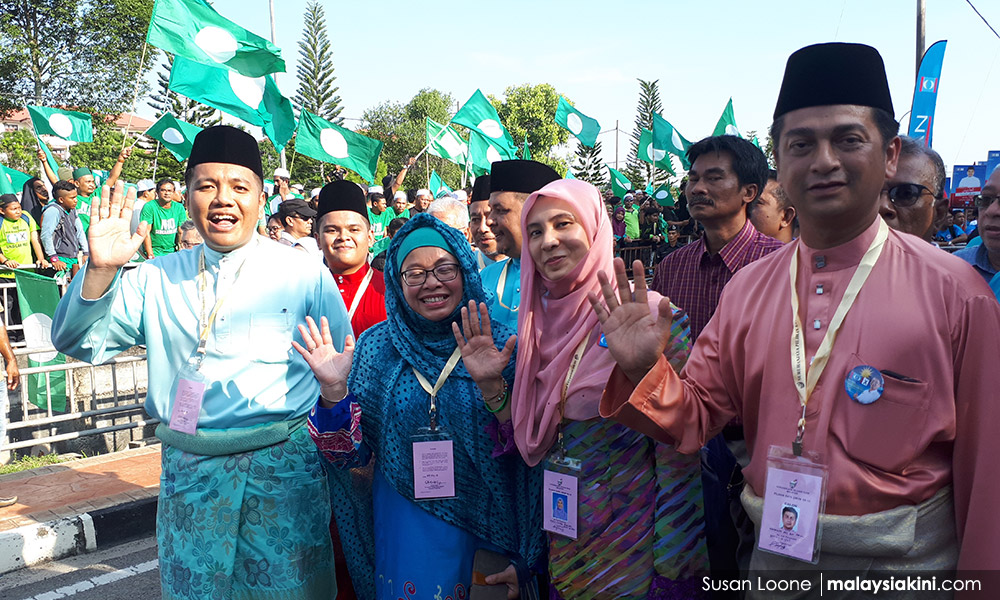 9am: Seremban, Negeri Sembilan- Incumbent Seremban MP Anthony Loke celebrates his 41st birthday with his supporters before nomination.
"Certainly, I hope there is a change in government, Malaysians will have a new hope and new beginning," he tells reporters when asked about his birthday wish.
Meanwhile, for MCA, former deputy education minister and three-term Seremban parliamentarian Hon Choon Kim will be Chong Sin Woon's seconder.
9am: Penampang, Sabah - As both BN's candidate Ceasar Mandela Malakun and Warisan's Darell Leiking prepare to enter the hall, the two stop to pose for photographs.
The two, who are related, even hug each other. Mandela is heard saying, "He's my brother."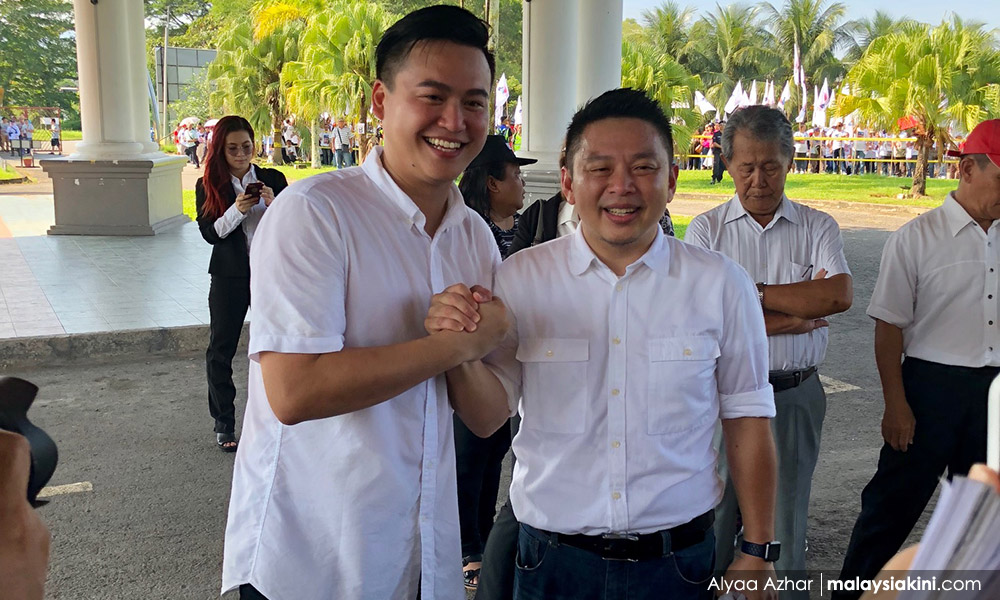 The Lasimbang sisters, Jannie who is contesting under DAP for the Kepayan state seat and PKR's Jenifer who is contesting under Warisan's ticket, also take the opportunity to pose for photographs.
Jenifer is going for the Moyog state seat. both Moyog and Kepayan are under the Penampang parliamentary constituency.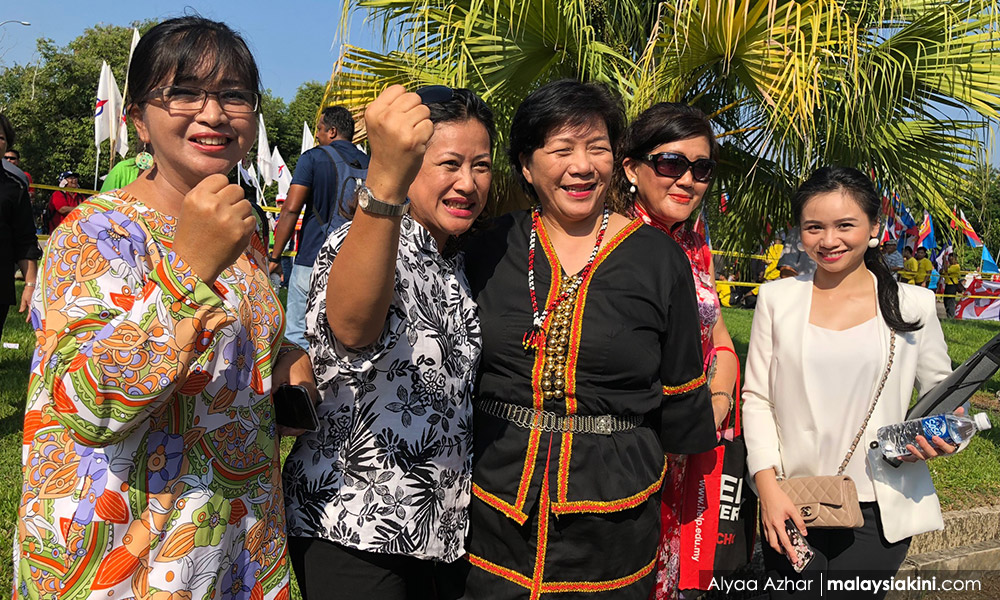 9am: Lembah Pantai, Kuala Lumpur - All candidates, from BN, PKR and PAS, enter the nomination centre.
Outside, some 300 BN supporters can be seen near the Bukit Bandaraya community centre chanting "RNC", the initials of their candidate Raja Nong Chik.
Kamaruddin Hamid, a 67-year old BN supporter, turns up in a wheelchair to show his support.
"I support BN. I'm here with my wife. I am willing to come because of my determination," he says.
Some 500 PAS supporters are also nearby with banners reading "Allah, help PAS win" while PKR supporters chant "Reformasi" and "Ubah".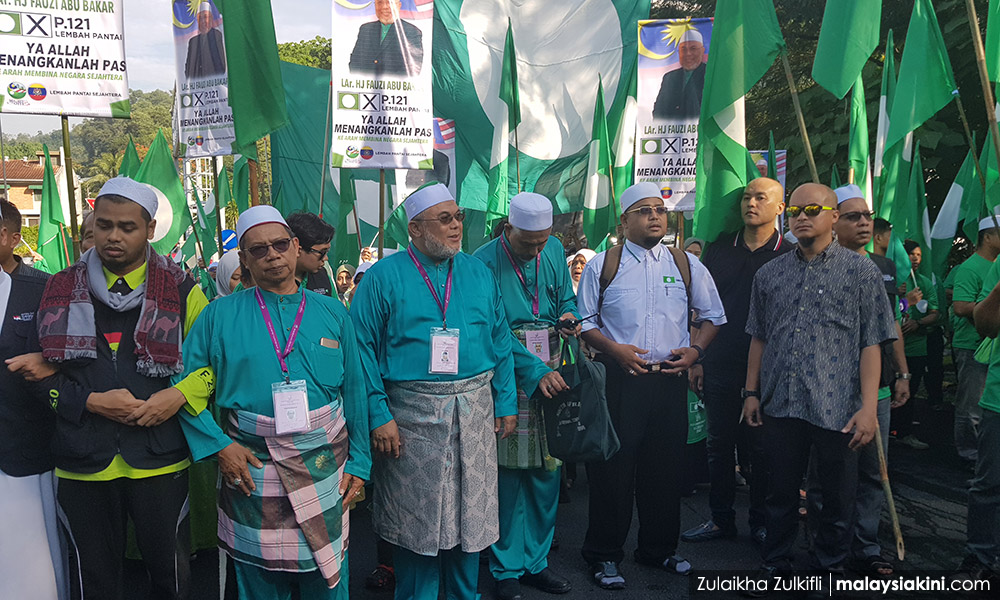 Vote for 'true son' of Teluk Intan
8.40am: Teluk Intan, Perak - Some 500 BN supporters in blue arrive a Padang Bandaran in front of Dewan Bandaran Teluk Intan.
They chant "Hidup BN, BN menang (Long live BN, BN will win)" with banners that read, "Please vote for Anak Jati Teluk Intan" (Please vote for a true son of Teluk Intan), "Vote Mah for Teluk Intan's development."
Former Penang chief minister Koh Tsu Koon is also present to support the BN candidates.
Meanwhile, some 80 PAS supporters, clad in green, arrive with a banner which reads "Bersama PAS menuju Malaysia sejahtera, Teluk Intan sejahtera (Together with PAS in the direction of a successful Malaysia and Teluk Intan). "
Teluk Intan and its two state seats Pasir Bedamar and Changkat Jong will see three-cornered fights.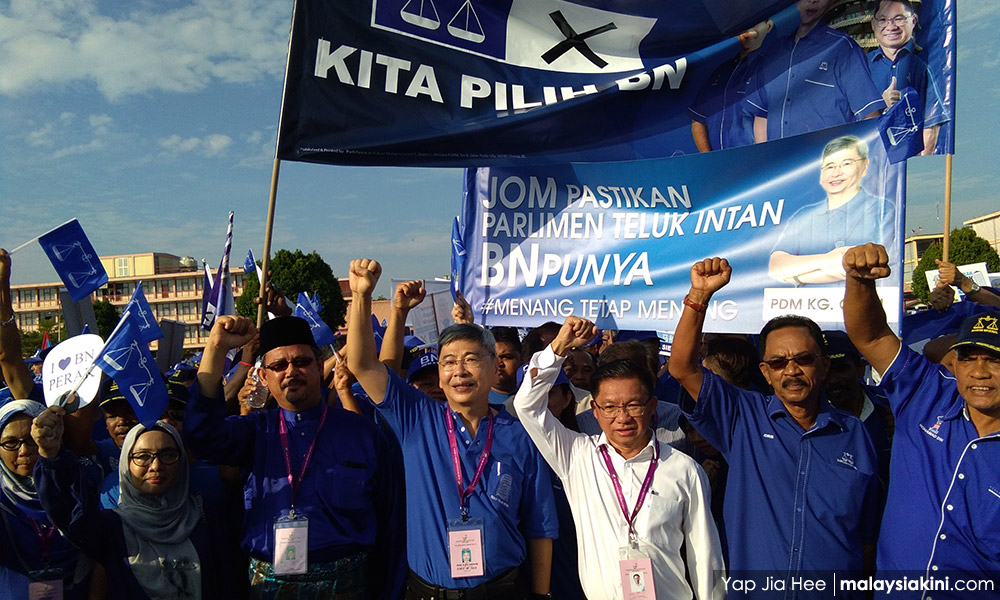 8.40am: Hang Tuah Jaya, Malacca - As the BN entourage marches towards the nomination centre, PAS and its candidates march parallel to them, but on the main road towards the centre.
Meanwhile, Harapan supporters and some of its state candidates are waiting on the other side of the nomination centre.
Harapan and BN groups are separated by barricades and barbwires placed about 150 metres apart. The PAS entourage is kept apart from the other two groups by another set of barricades along the main road.
Both BN and PAS groups are chanting their own slogans while waiting for the nomination centre to open.
BN is fielding former Malacca chief minister Mohd Ali Rustam while the PAS candidate is Khalid Kassim.
Harapan's Shamsul Iskandar Md Akin will defend his seat here.
Nik Omar turns up at nomination centre
9am: Chempaka, Kelantan - Nik Omar Nik Abdul Aziz, the son of the late PAS spiritual leader Nik Abdul Aziz Nik Mat is present at the nomination centre, confirming rumours that he will be contesting under PAS splinter party Amanah's banner.
Nik Omar previously said he will not contest in the state in anticipation that his own brother Nik Abduh, who is with PAS, will be contesting there.
However, Nik Abduh will be fielded in the parliamentary seat of Bachok. Furthermore, Amanah has sought for a new candidate in Chempaka after discovering at the eleventh hour that its initial candidate has a police case.
Nik Omar makes his way to the nomination centre at the Education Technology Division Hall in Pengkalan Chepa. He is accompanied by Amanah's Pengkalan Chepa candidate Mohamad Ibrahim, Panchor candidate Zulhazmi Hassan and some 100 supporters.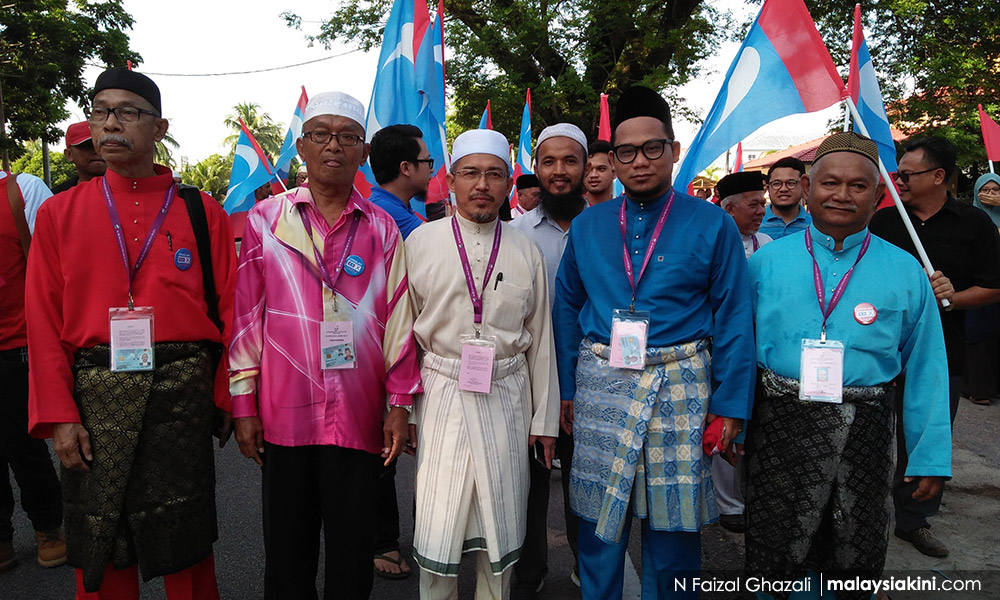 However, the party's Kijang candidate has yet to arrive.
Chempaka, Panchor and Kijang are state seats under the parliamentary seat of Pengkalan Chepa.
8.45am: Bukit Mertajam, Penang - BN candidates led by Permatang Pauh candidate Mohd Zaidi Said arrives. Sporting a white satin baju melayu, Zaidi turns to the PAS supporters, telling them "Don't give them (Jagan bagi kat dia)."
BN supporters, in their dark blue T-shirts, sing the patriotic battle song "Barisan Kita", carrying white banners, which says "DEMI" Permatang Pauh in capital letters.
Police tell the group to move to the other side of the road, to avoid clashing with the PAS and PKR teams, who are yet to arrive.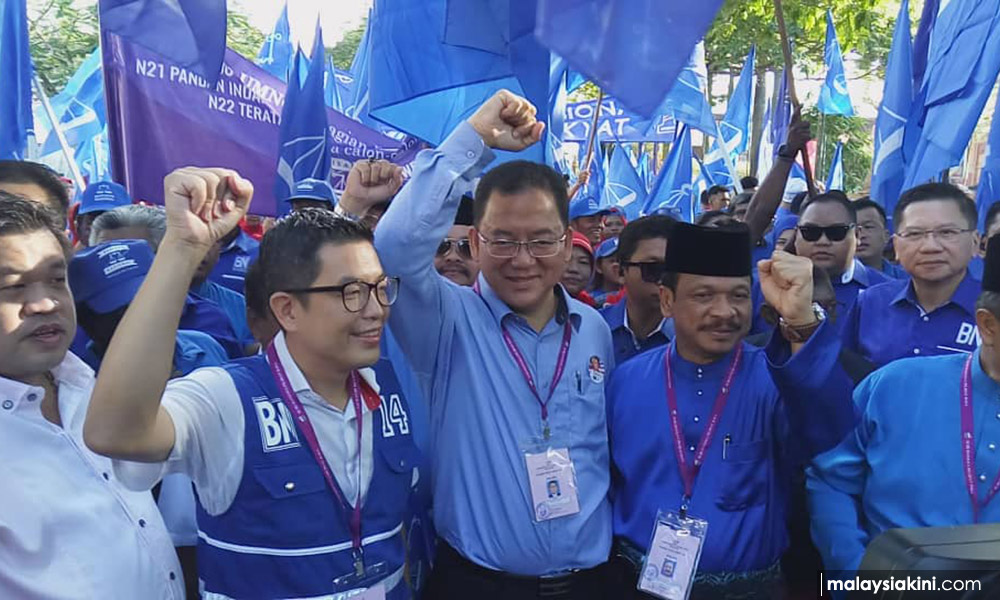 'Together to heaven'
8.42am: Shah Alam, Selangor - More than 200 PAS supporters accompany the party's candidates for P108 Shah Alam Dr Zuhdi Marzuki, N40 Kota Anggerik Ahmad Dusuki Abdul Rani and N41 Batu Tiga to file their nomination papers at the Shah Alam City Council Tanjung Hall.
Clad in various shades of green, they sing praises to Prophet Muhammad SAW along the way.
One official campaign t-shirt with Ahmad Dusuki's image on the front reads "Bersama Ke Syurga (Together to heaven)."
PAS is attempting to reclaim the Malay-majority urban parliament seat from incumbent Khalid Samad who won for two-terms in 2008 and 2013 under PAS. Khalid, who is now a member of PAS splinter party Amanah, will be contesting under the PKR logo as a Harapan candidate.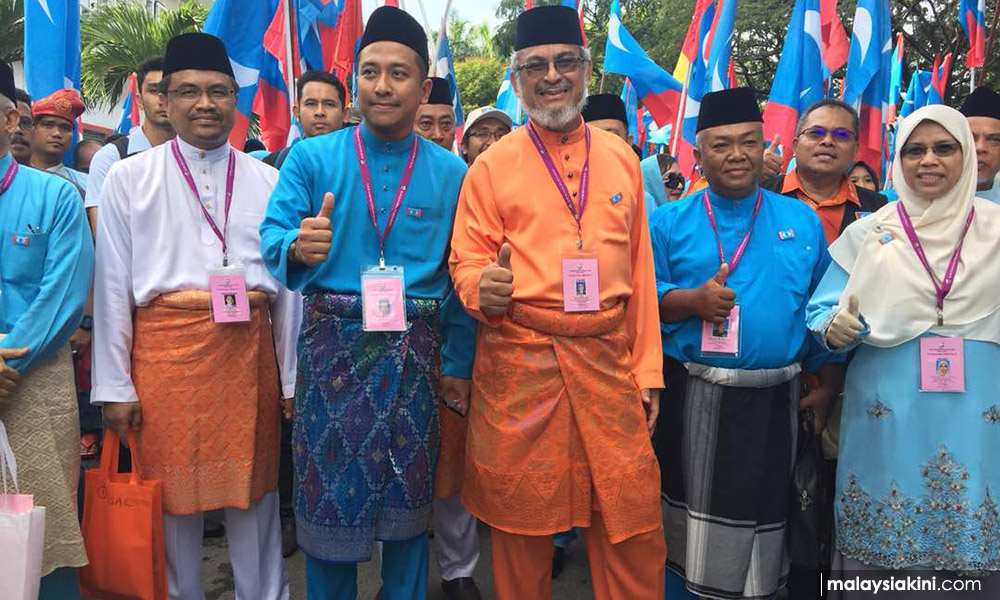 8.40am: Batu Pahat. Johor – More than 200 BN supporters and some 100 Harapan supporters arrive at the Batu Pahat district office which is serving as the nomination centre.
The two sides are separated by barricades and a line of barbwire
Both sides exchange chants, with the smaller Harapan crowd going on the offensive chanting "dedak" (bribe) and "tangkap Najib" (arrest Najib).
BN responds by chanting "reformasi hancur" (destroy reformasi), "pilih biru" (choose blue) and singing "Inilah Barisan Kita."
The PAS contingent of 50 people, meanwhile, is kept 50 meters behind the BN lines.
Police say they haven't received any word about an independent delegation marching to the nomination centre.
8.35am: Penampang, Sabah - BN's candidate for the Penampang parliamentary seat, Ceasar Mandela Malakun has started walking towards the hall for the nomination process.
He is accompanied by more than 1,000 supporters braving the scorching heat.
His supporters, clad in BN blue shirts, chant "Tatap BN" (still with BN) as they walk along carrying BN flags.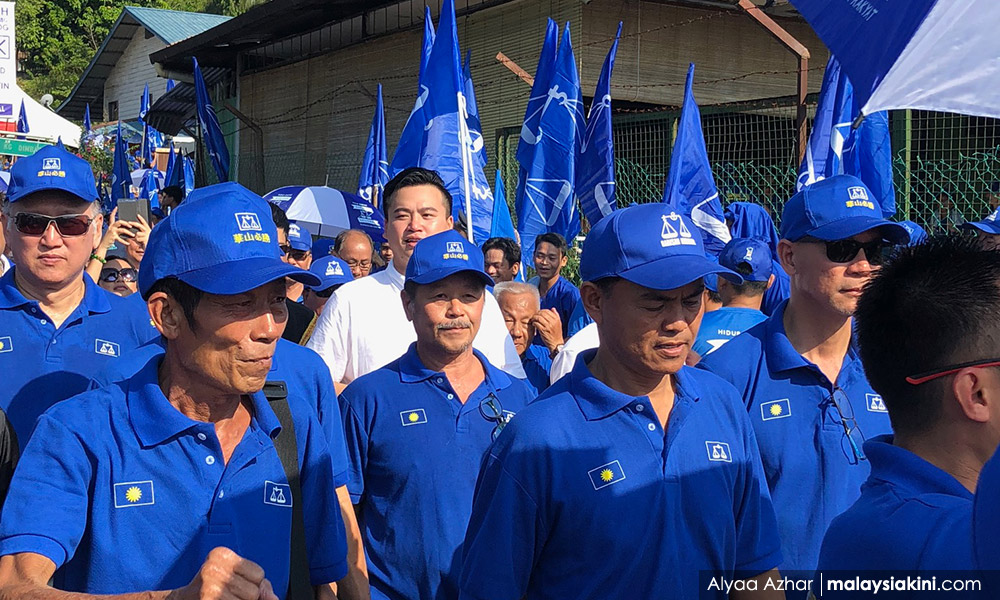 A group of some 30 DAP supporters of Kepayan candidate Jannie Lasimbang are heard chanting "Abolish GST" and "We choose DAP" as they walk along the road to meet up with hundreds of Parti Warisan Sabah supporters who are converged near the Penampang district police station.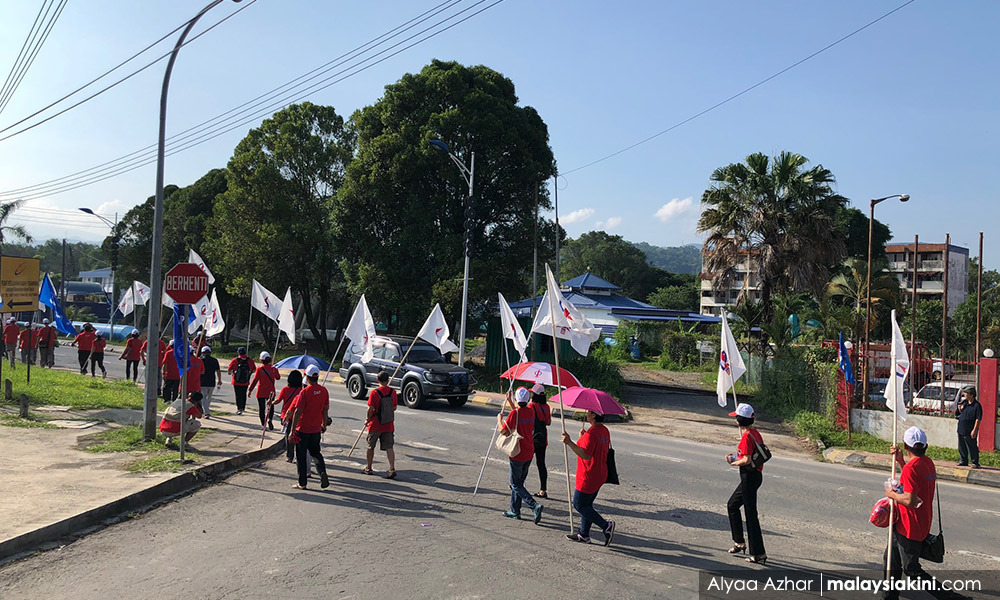 8.30am: Iskandar Puteri, Johor - Some 500 Pakatan Harapan supporters gather in front of a Hindu temple, located about 500m from the nomination centre - Dewan Majlis Bandaraya Iskandar Puteri.
Almost all the Harapan supporters are clad in red, holding the respective candidates' banners and PKR flags.
DAP veteran Lim Kit Siang will be defending Iskandar Puteri (formerly known as Gelang Patah), whereas DAP's Tan Hong Pin and Amanah's Dzulkifli Ahmad are contesting the state seats of Skudai and Kota Iskandar.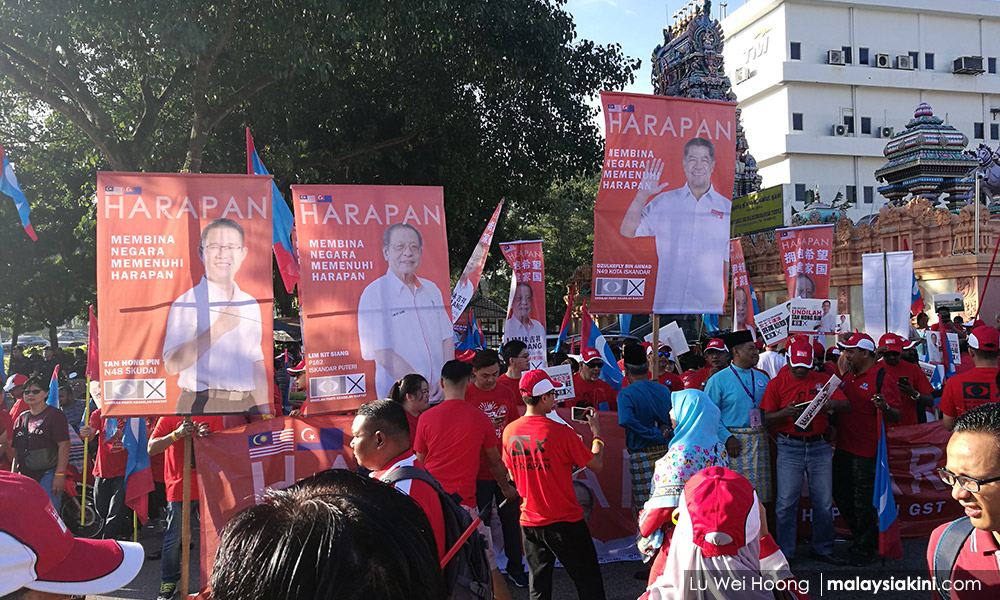 They are expected to face BN's Jason Teoh, S.Kannan and Mohamad Khairi A Malik respectively.
PAS is fielding Sallehuddin Mohd Dahiran in Kota Iskandar but has decided to stay out of the contest for Skudai and Iskandar Puteri.
Minor commotion
8.30am: Gombak, Selangor - A minor commotion erupts when bodyguards pushed media personnel away from approaching caretaker Selangor MB Azmin Ali and Harapan candidates.
Azmin then steps forward to stop his bodyguards.
Umno and PAS candidates also arrive at the nomination centre at SMK Sg Pusu.
Self-employed Badrul Acong also plans to contest as an independent in Sungai Tua.
P098 GOMBAK:
1. Datuk Abd Rahim Kamarudin (BN)
2. Dato Seri Mohammed Azmin Ali (PH)
3. Khairil Nizam Khirudin (PAS)
N. 16 SUNGAI TUA
1. Datuk N. Rawisandran (BN)
2. Amirudin Shari (PH)
3. Mohammad Ibrahim (PAS)
4. Badrul Acong
N. 17 GOMBAK SETIA
1. Datuk Megat Zulkarnain Megat Omardin (BN)
2. Hilman Idham (PH)
3. Hasbullah Mohd. Ridzwan (PAS)
N. 18 HULU KELANG
1. Ismail Ahmad (BN)
2. Saari Sungib (PH)
3. Kamalulhysham Mohd Suhut (PAS)
8.31am: Seremban, Negeri Sembilan - Around 150 BN supporters, mostly Chinese, are in front of State Education Department, 100m away from the nomination centre.
Three MCA state candidates - Lim Kok Kean (Lobak), Leaw Kok Chan (Nilai), Sio Koi Voon (Temiang) are among the crowd.
However, Mazalan Maarop (Lenggeng), Abu Ubaidah Redza (Ampangan), Syamsul Amri Ismail (Sikamat) are yet to be seen.
MCA Youth chief and caretaker deputy education minister Chong Sin Woon, who will be contesting for Seremban, has also not arrived.
Meanwhile, DAP is mobilising a convoy of 50 cars to go around the city as a show of force.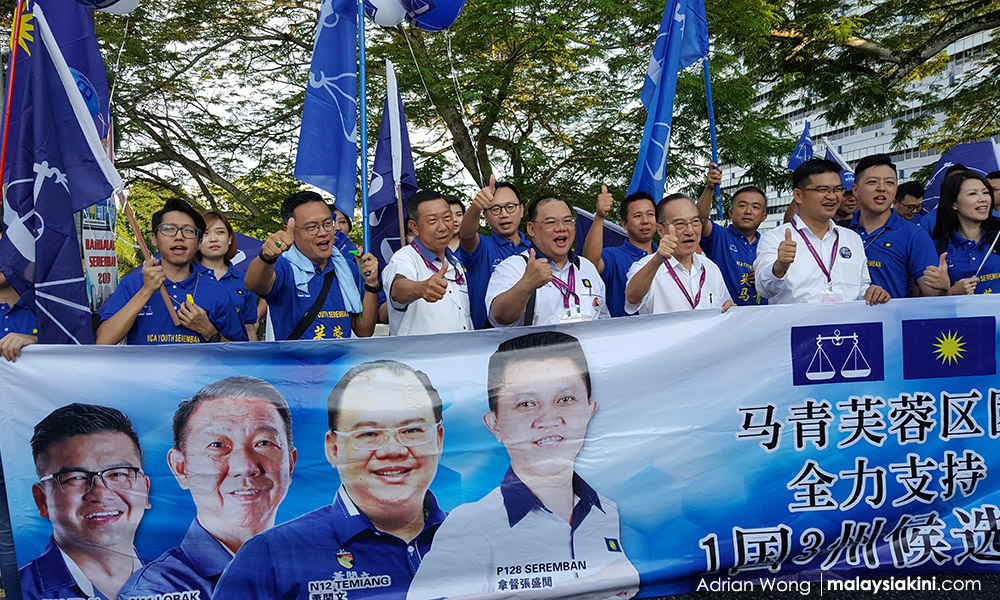 8.32am: Seremban, Negeri Sembilan - About 100 PAS supporters gather in front of the nomination centre.
Clad in green, the supporters chant "Allahuakhbar"(God is great) to boost morale.
PAS will be fielding candidates for all state seats under Seremban, except Lobak.
Their candidates are: Sharifuddin Ahmad (Seremban), Muhammad Ghazali Abu Bakar (Lenggeng), Mohd Abu Zahrim Abdul Rahman (Nilai), Yaw Con Seng (Temiang), Rahim Yusof (Sikamat), Mustaffa Daharun (Ampangan).
Papagomo pulls out
8.30am: Kuala Lumpur - Blogger Wan Muhammad Azri Wan Deris, better known as Papagomo, will not be contesting the Pandan parliamentary seat.
"No, (I am not going to contest). I give way to MCA," he says in a text message to Malaysiakini.
Previously, Wan Muhammad said he planned to stand in the seat to teach PKR chief Dr Wan Azizah Wan Azizah and her family a lesson because they were getting too big-headed.
Pandan is expected to see a multi-cornered fight. The candidates are Leong Kok Wee (BN), Mohamed Sukri Omar (PAS) and Janice Lee (PRM).
8.25am: Hang Tuah Jaya, Malacca - BN candidate for Hang Tuah Jaya, Mohd Ali Rustam, arrives at the nomination centre.
He makes a stop outside the nearby Internal Revenue Board building where over 100 BN supporters dressed in blue have been waiting for him since 7.30am.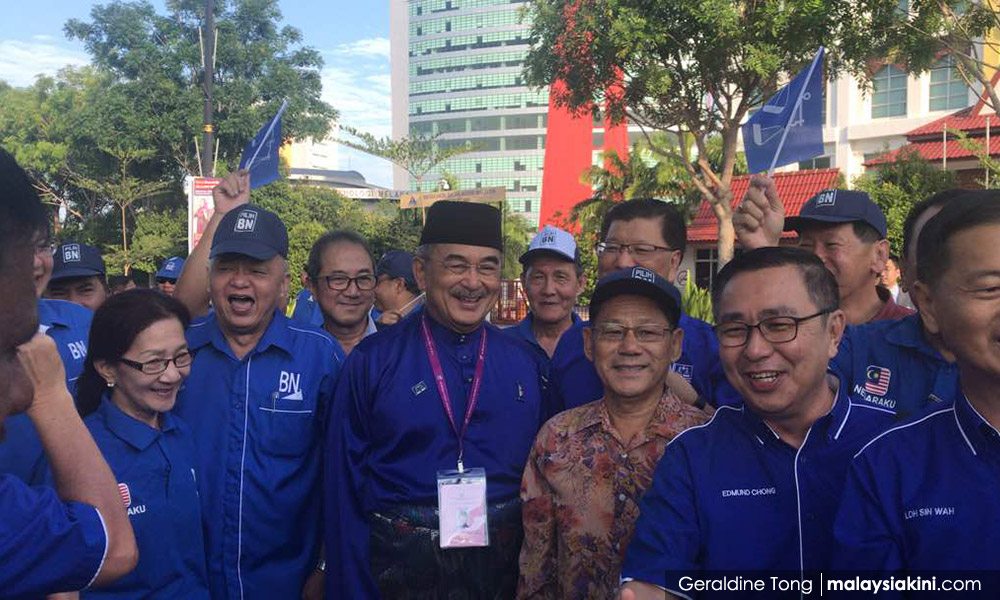 Mohd Ali greets the supporters and many clamour to take pictures with him, which he happily obliges.
This is his second time contesting at Hang Tuah Jaya, which was previously known as the Bukit Katil parliamentary seat.
He is also expected to have a second showdown with incumbent and PKR vice-president Shamsul Iskandar Md Akin at this seat.
'Ini kalilah, ubah' in Teluk intan
8.22am: Teluk Intan - DAP Teluk Intan candidate Nga Kor Ming with 100 supporters have arrived at Padang Bandaran, in front of the nomination centre, Dewan Bandaran Teluk Intan.
Don in white T-shirts and holding PKR flags, they chant, "Ini kalilah, ubah," as they march towards the Padang Bandaran.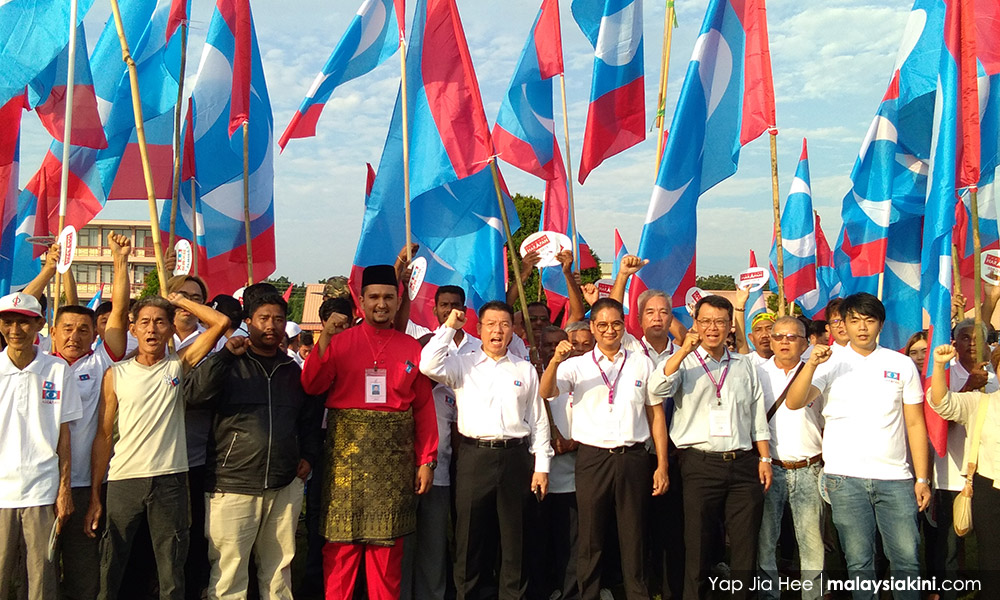 There is a stage erected in front of the Dewan Bandaran, and soft and romantic music can be heard.
"We don't want to play hard music which can raise tensions. We play soft music to calm everyone down," one of the officer told Malaysiakini.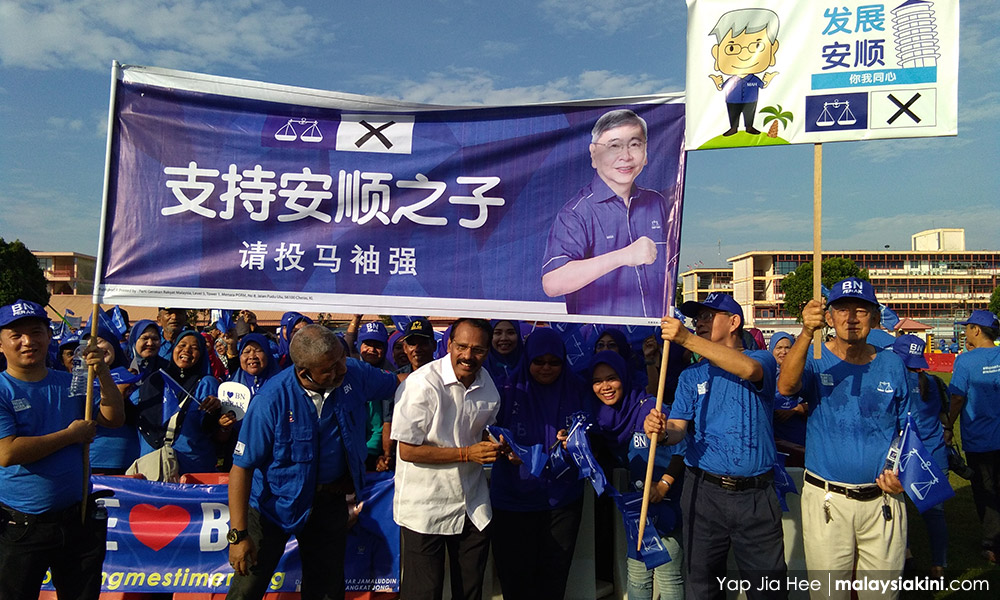 8.20am: Lembah Pantai, Wilayah Persekutuan - BN supporters assemble near the Serai condominium along Jalan Medang Serai, some 650m from the nomination centre, which is at the Bukit Bandaraya community centre.
PAS supporters are gathering 1km away at the Bandar Damansara MRT station while PKR is gathering at Tivoli Villa, around 450m away.
PKR vice-president Nurul Izah held the seat for two-terms having become a repeat "giant killer" by defeating two ministers, namely Shahrizat Abdul Jalil in 2008 and Raja Nong Chik Raja Zainal Abidin in 2013.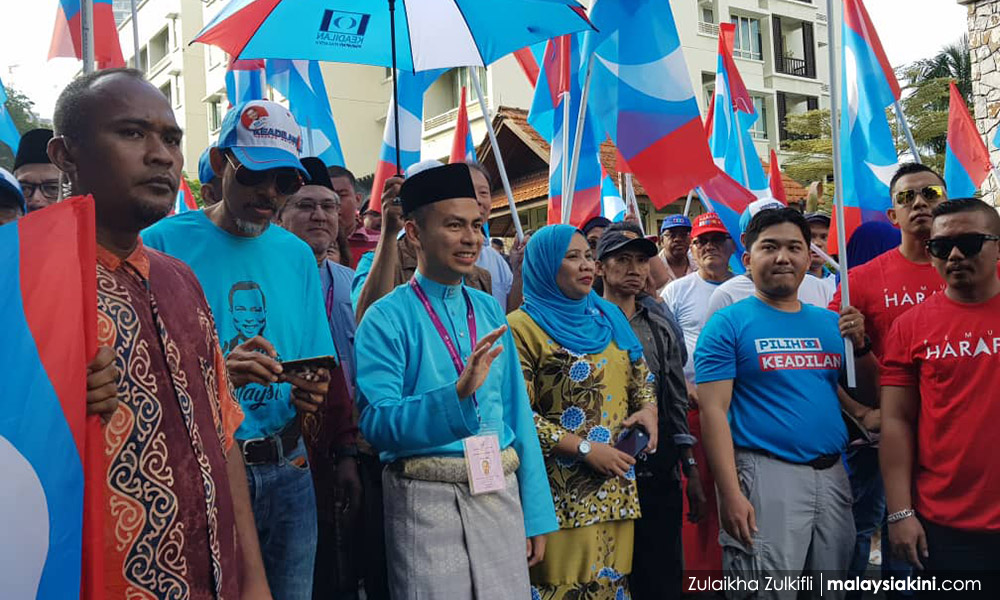 However, Nurul has moved to Permatang Pauh and PKR communications director Fahmi Fadzil will be taking her place.
Raja Nong Chik is expected to give the seat a second go while PAS will field Fauzi Abu Bakar.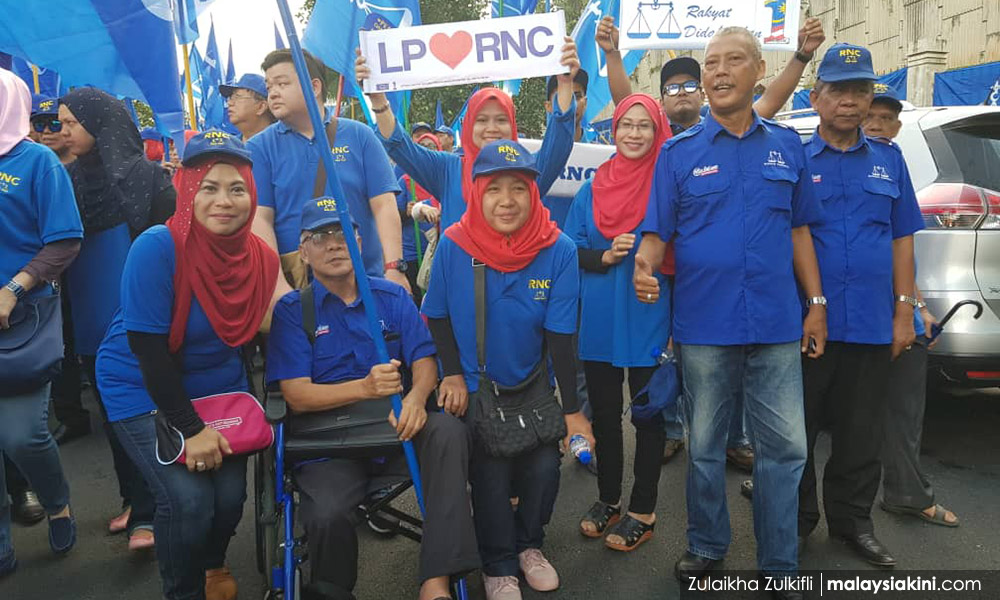 8.20am: Bukit Bendera, Penang - Penang BN chief Teng Chang Yeow and about 300 supporters gather at Padang Polo in the Bukit Bendera constituency.
Half of the crowd comprises Umno Wanita members who came on school buses.
Penang Umno Youth chief Rafizal Abd Rahim and veteran Umno division leader Ahmad Ismail, who is known for his controversial remake of "Pendatang" in 2008, also turn up to show their support to BN candidates.
Teng is contesting the Tanjung Bungah state seat under Bukit Bendera parliamentary seat. A multiple-cornered fight is expected but his main opponent is expected to be DAP's candidate Zairil Khir Johari, who will stand under the PKR logo.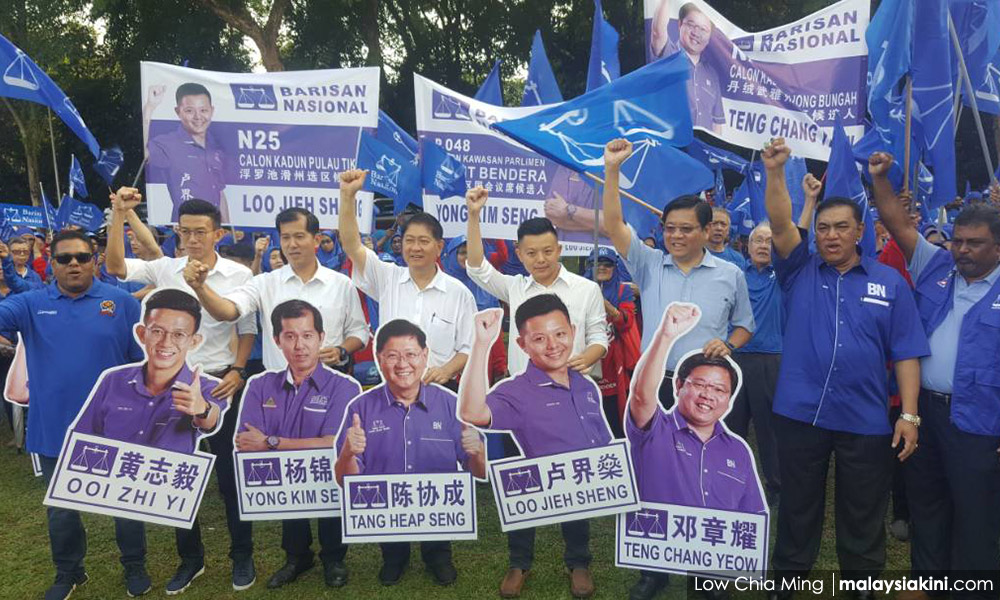 8.16am: Wangsa Maju, Kuala Lumpur - A group of about 350 gather at the carpark next to the KWSP office.
Yew Teong Look, the MCA candidate, told journalists that he had a discussion with Mohd Shafei Abdullah, the Wangsa Maju Umno division chief, and he agreed to send 1,000 people today.
"This election will be a major challenge for us and I will do my best. As we have more human power for the campaign this time, I think we stand a better chance for victory," said Yew.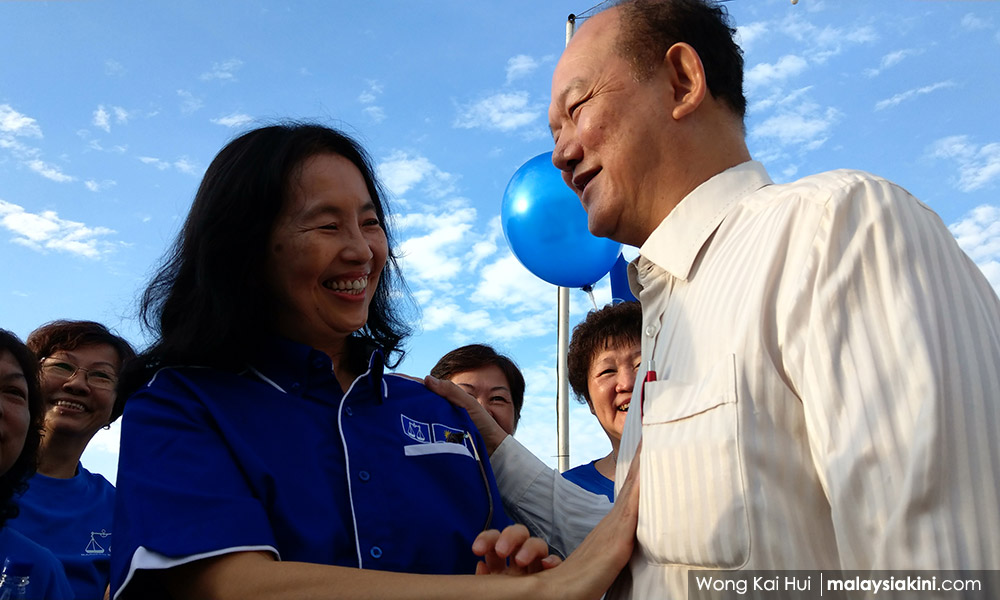 8.10am: Bukit Mertajam, Penang - Four women, who are supporters of PKR, sit on the curb, waiting for their candidates, to arrive. One of the women says, "We can win as Pakatan Harapan voters are many."
A sea of green has arrived at the nomination centre. PAS candidates, in their green baju melayu, followed by their supporters, carrying the party's flags, marched to the centre while shouting "Allah hu Akhbar".
Permatang Pauh candidate Afnan Hamimi said he reserves his comment until after the nomination process is over. PAS supporters wait outside the centre as their candidates enter the building.
PAS supporters, led by one Zakaria Hamzah, shouts "Hancur Najib, Hancur Mahathir". The group also chants "Tumbang (Wan) Azizah (Wan Ismail)" and "Tumbang Anwar (Ibrahim).
Asked if he has any post in Permatang Pauh PAS, Zakaria, spotting a turban and sunglasses, replies "I'm ex-Umno, joined PAS recently because we do not like Umno."
Asked if PAS can win in this constituency, Zakaria says, "Insyaallah (God Willing)." His, friend, however, was more confident, adding: "We can take all four seats."
8.05am: Langkawi, Kedah - It appears third parties may be joining the fray in the seat where former prime minister Dr Mahathir Mohamad will be making a comeback.
Supporters in red T-shirts bearing the "tree symbol" can be seen near the Langkawi land and district office where the nomination process will be taking place.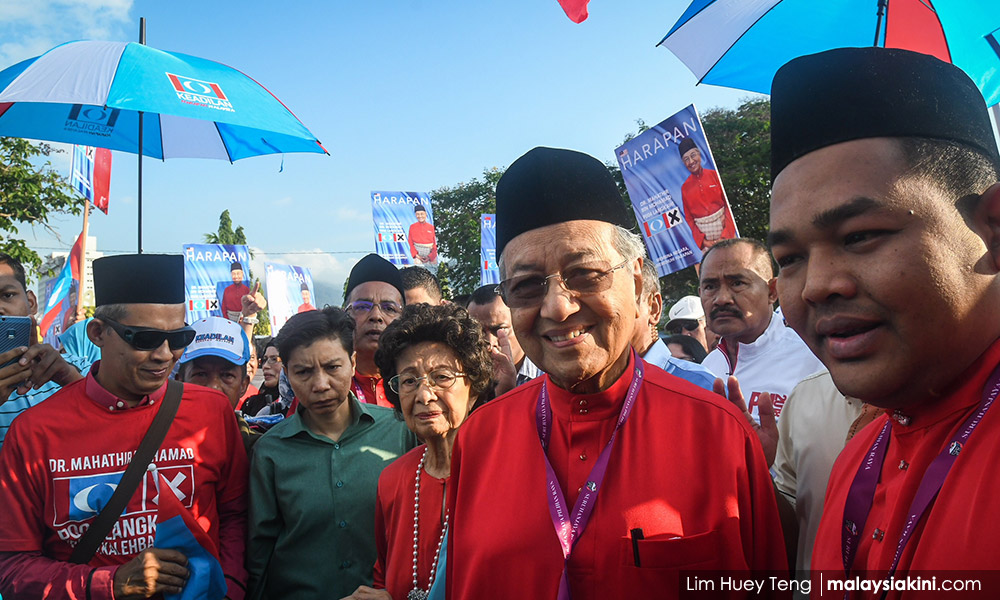 Hundreds of BN and Harapan supporters are gathering in the vicinity of the nomination centre and are expected to march soon.
BN will retain its incumbent Nawawi Ahmad while PAS will be fielding Zubir Ahmad. The nomination process will commence at 9am until 10am.
Peeved Puad Zarkashi no show
8am: Batu Pahat, Johor - Over 200 BN supporters are gathered under canopies pitched at the parking lot of the district fire department, having breakfast and taking shade from the morning sun.
Not among the crowd is disgruntled Batu Pahat Umno chief Puad Zarkashi, who is widely expected to contest as an independent candidate for the Batu Pahat parliamentary seat.
Senggarang Barat Umno polling district chief Saari Bidin says it is sad that Puad is not here, but states that voters want a new and friendlier face to represent BN in Batu Pahat.
"That's the kind of person the candidate Haliza Abdullah is... I'm sure those voters who were upset with BN in 2013 will come back to vote for us now," Saari tells Malaysiakini.
He says there were teachers in Batu Pahat who did not vote for the coalition in the last polls.
Malaysiakini understands that the teachers had gone against BN in protest to the transfer of several teachers for allegedly supporting the opposition.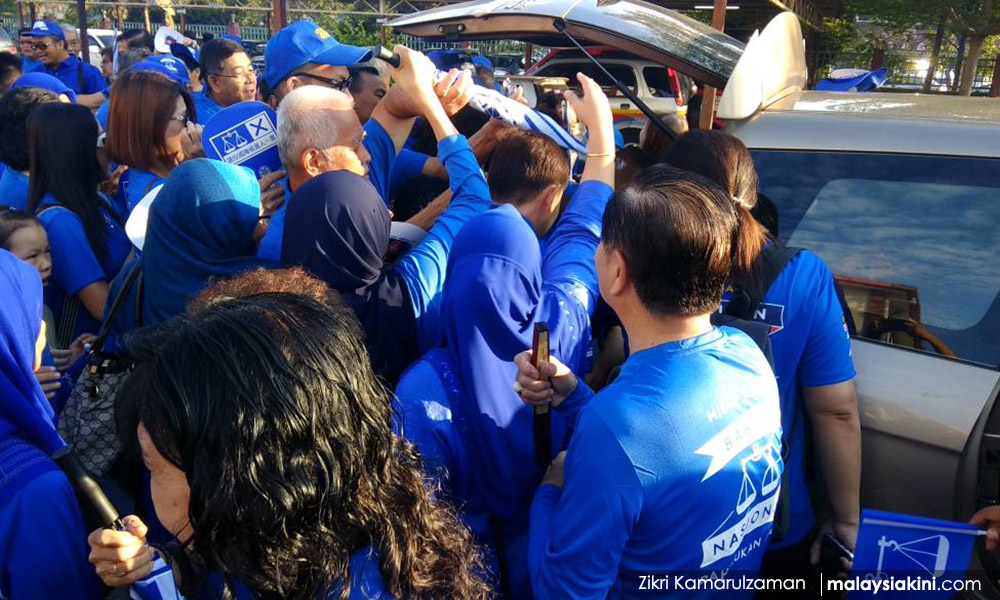 7.40am: Bukit Antarabangsa, Selangor - According to Berita Harian, controversial celebrity Azwan Ali was at the nomination centre at 7.15am.
He is contesting in Bukit Antarabangsa state seat against his brother, caretaker Selangor menteri besar Azmin Ali.
7.30am: Bukit Mertajam, Penang - Flags from several parties - BN, PKR, PAS and PRM lined the road leading to the nomination centre.
The candidates or their supporters are nowhere to be seen near here as they gather at different meeting points. Supporters from the various parties will march in solidarity with their candidates to the center before 9am.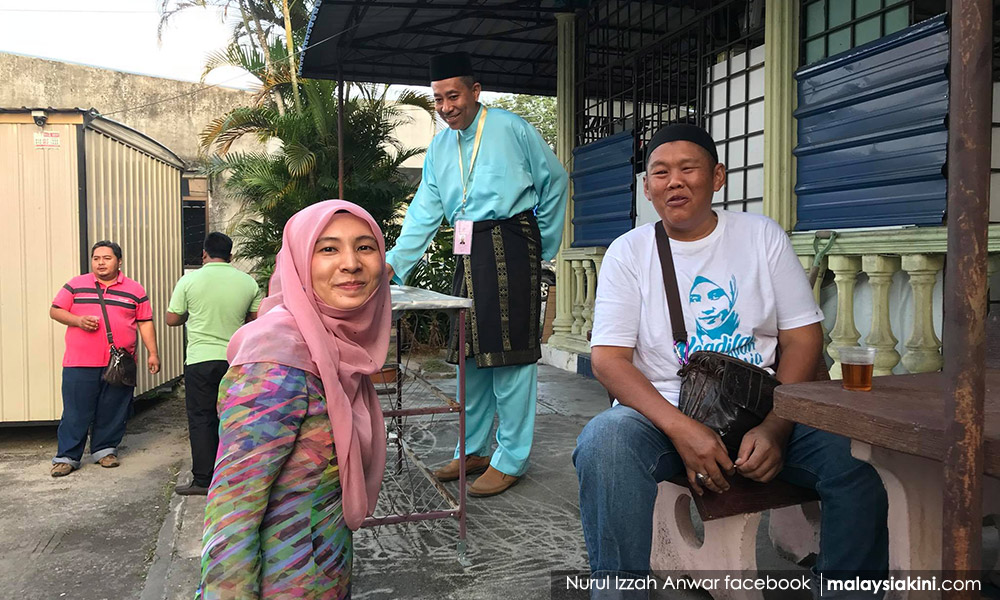 Nomination opens from 9am to 10am. The candidates are expected to be:
P44 - Permatang Pauh
BN - Mohd Zaidi Mohd Said
PH - Nurul Izzah Anwar
PAS - Ust. Afnan Taib Azamudeen
N10 - Seberang Jaya
BN - Abu Bakar Sidekh Zainul Abidin
PH - Dr Afif Bahardin
PAS - Ahmad Rafie A Rashid
N11 - Permatang Pasir
BN - Anuar Faisal Yahaya
PH - Muhammad Faiz Fadzil
PAS - Muhammad Fauzi Yusof
N12 Penanti
BN - Suhaimi Sabudin
PH - Norlela Ariffin
PAS - Fawwaz Mohd Jan
7.25am: Kubang Pasu, Kedah - A group of about 50 Pakatan Harapan supporters are seen gathering outside SJK (T) Ladang Paya Kamunting, which is a short walk away from the Kubang Pasu District Office that serves as its namesake parliamentary constituency's nomination centre.
The three of them are standing on top of a lorry to distribute T-shirts, and the vehicle also carries other supplies such as bottled water, button pins, and PKR flags. They are scheduled to begin their march at 8am, well ahead of the opening of the nomination centre at 9am.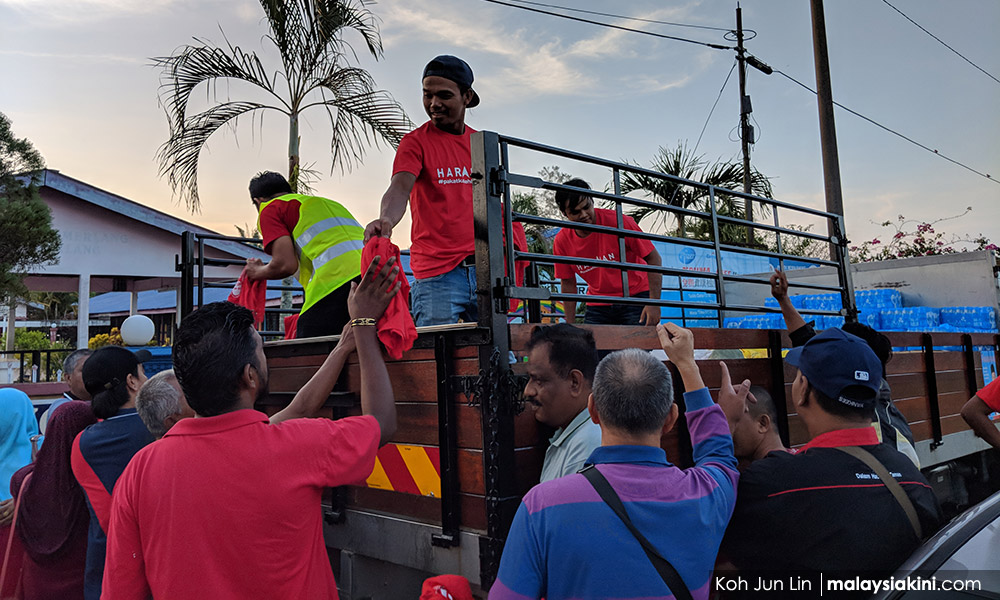 Kubang Pasu is a BN stronghold that has been held by the coalition since its creation in 1974. It was former premier, now Pakatan Harapan leader, Dr Mahathir Mohamad's seat for seven consecutive terms.
The incumbent Mohd Johari Baharum, who is also the caretaker minister of defence, is slated to defend his seat against PAS' Norhafiza Fadzil and Bersatu's Amiruddin Hamzah.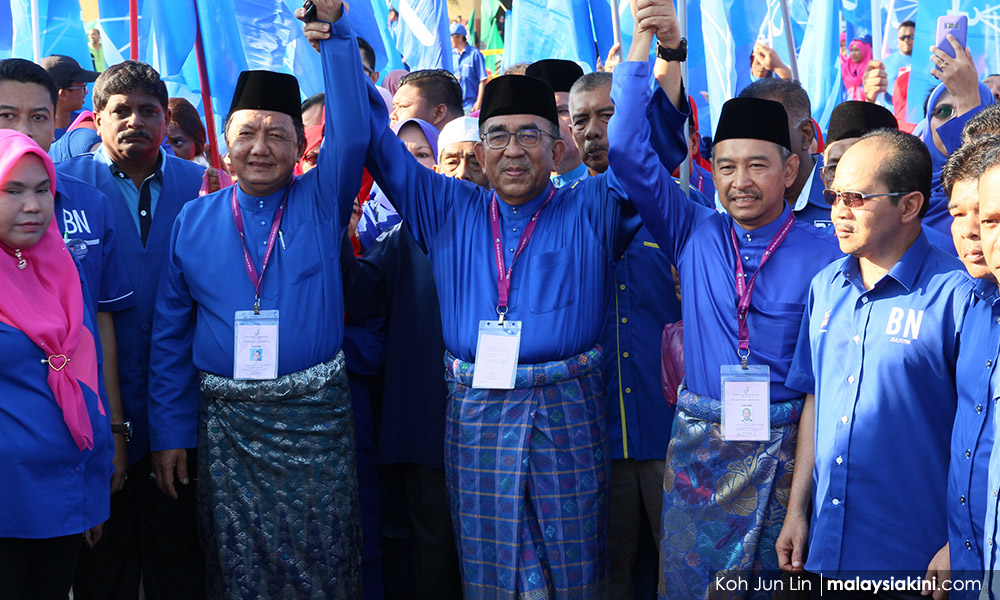 However, another highlight at this nomination centre is Kedah Pakatan Harapan chief Mukhriz Mahathir, who will be contesting at the Jitra state seat here against the BN incumbent Amiruddin Omar and PAS's Zulhazmi Osman.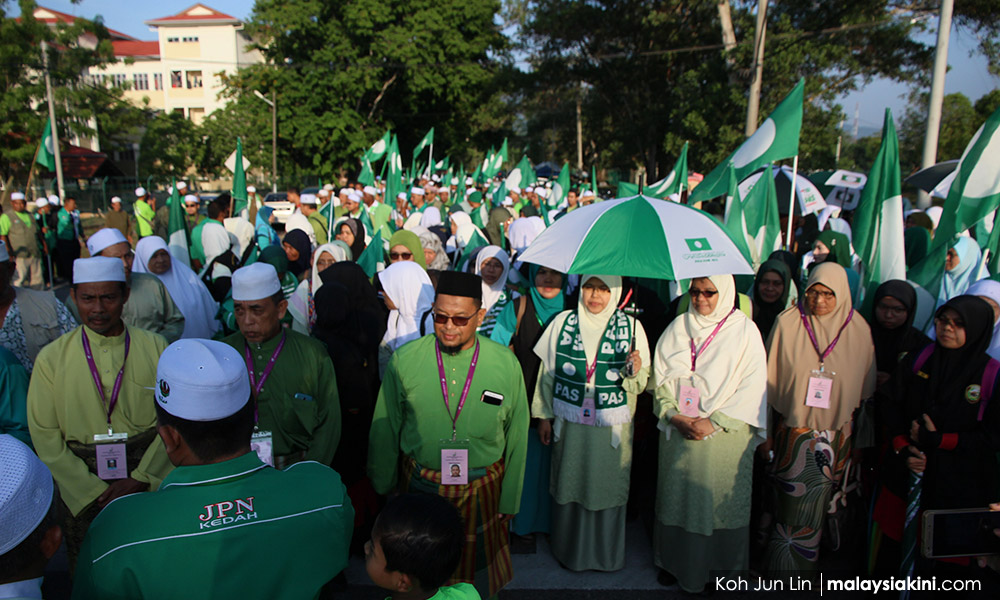 Mukhriz is expected to submit his nomination papers here, and then make the rush to the Jerlun nomination centre about 15 minutes' drive away to submit his nomination papers for the neighbouring Jerlun parliamentary seat.
Clear skies are forecasted throughout Kedah for this morning with a maximum temperature of 33 degrees Celsius. For now, however, both the temperature and the atmosphere remains cool.
Mother of all elections
7.16am - Nomination day for the "mother of all" elections is here.
An estimated of 2,000 candidates for 222 parliamentary and 505 state seats, excluding Sarawak, would submit their nomination papers to contest in the 14th general election.
Most of the seats are expected to see three-cornered or multi-cornered fights.
The 222 nomination centres are mostly located at district offices, land offices, community halls and school halls nationwide.
The nomination period starts at 9am and ends an hour later. Following which, the EC returning officer will deliberate on any objection raised and officially declare the contestants for the respective seats.
In the run-up to the last general election in 2013, former Election Commission chairperson Abdul Aziz Mohd Yusof said candidates had missed the nomination period during previous polls due to oversleeping, being caught in a traffic jam and getting lost.
He also cited how there were candidates disqualified for misspelling their names on the nomination forms and even forgetting to bring along their deposits.
Candidates vying for parliament seats would have to fork out RM10,000 in deposit whereas those contesting state seats, RM5,000. Whereas an additional RM5,000 and RM3,000 must be paid respectively for campaign material.
Candidates would lose their deposit if they fail to obtain one-eighth of the total votes cast.
BN chairperson Najib Abdul Razak will lead the ruling BN coalition in his second general election.
This election will also witness Pakatan Harapan candidates, including its chairperson Dr Mahathir Mohamad, contesting under a single logo – PKR's "eye" symbol.
This is the first general election since 1969 that DAP has agreed not to use its iconic "rocket" logo in the peninsula.
Once the nomination is over, the candidates would immerse themselves in campaigning for 11 days until the stroke of midnight on May 8. The following day, Malaysians would cast their ballots.