GE14 DAY 7 | It's day seven of the 14th general election campaign period, and there are just five days to go before polling day.
Follow our live blog as the Malaysiakini team brings you the news as it takes place.
KEY HIGHLIGHTS
Bring in new contractor to repair country, Rafidah tells voters
Syed Saddiq names time and place for Razali debate
Ngeh Koo Ham barred from entering Sarawak, detained at Sibu airport
Mahathir says 'sorry' for choice of words over Memali deaths
'I'll run naked around Komtar if PRM wins any seat in Penang'
Dr M and Anwar 'clones' appear at Penang Harapan campaign
C4: Immigration event in Bagan Datuk an abuse of gov't resources
'Stop the slander, PAS not contesting Rantau due to winnability factor'
Where are our ballot papers, Global Bersih asks EC
Tian Chua loses bid to defend Batu seat, endorses independent candidate
---
11.59pm: Thank you for following our live updates for Day 7 of the campaigning period in the lead up to the May 9 polls. Follow us again tomorrow for Day 8.
Night turns electric as 10,000 chant Dr M's name
11.35pm: Bukit Katil, Malacca - At its peak, the crowd at the Pakatan Harapan ceramah perdana here is close to 10,000.
The atmosphere is electrifying as the crowd cheers and applauds throughout Harapan chairperson Dr Mahathir Mohamad's speech.
Mahathir says caretaker prime minister Najib Abdul Razak has his own philosophy in life. Before he can complete his sentence, however, the crowd shouted back, "Cash is king."
"Wow, you already know. I don't have to ceramah anymore," he joked, to laughter from the crowd.
At one point, he turns around to face the crowd behind the stage, which spilled out onto the main road.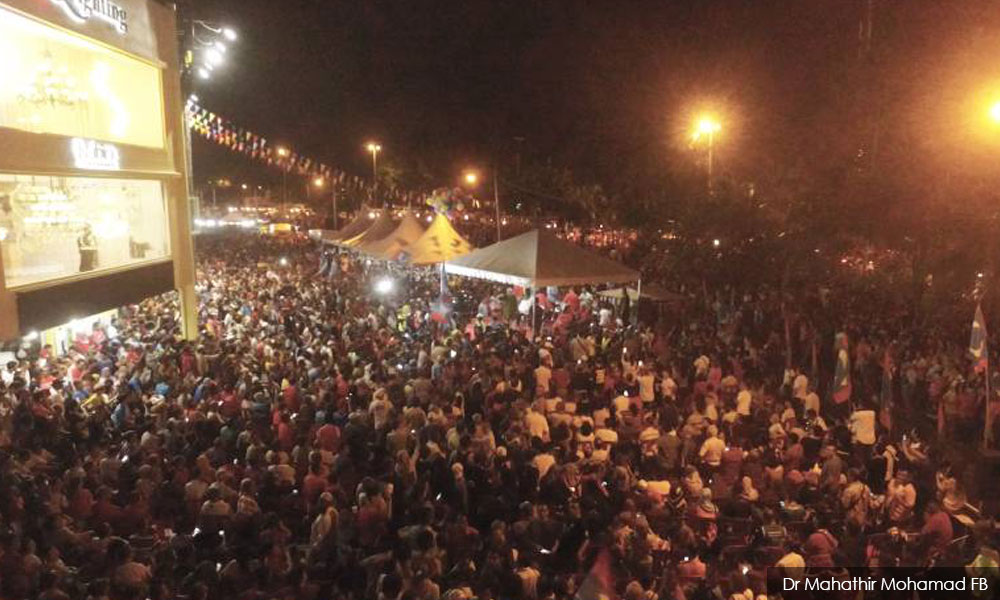 Without even saying anything, the crowd there begin to cheer. He turns just slightly to the side, where more of the crowd was gathered, and got a similar reaction.
"This has never happened to me before," he says, before the crowd began to chant "Hidup Tun" (long live Tun) over and over again.
When Mahathir ends his speech, the crowd breaks out into thunderous applause and chants of "Hidup Tun" ring out again.
Many rush towards the stage in an attempt to take pictures with the prominent figures on the stage, especially Mahathir, his wife Dr Siti Hasmah Mohamad Ali and former Umno ministers Rafidah Aziz and Daim Zainuddin.
Eventually, the tightly packed crowd begin to disperse. Most head to their cars, while others head to the variety of food trucks parked towards each end of the street.
Crowd of 5,000 clamour for a glimpse of Dr M
10.18pm: Bukit Katil, Malacca - The crowd goes wild when Pakatan Harapan chairperson Dr Mahathir Mohamad arrives at the ceramah perdana here.
Cheers and applause fill the air as his arrival is announced.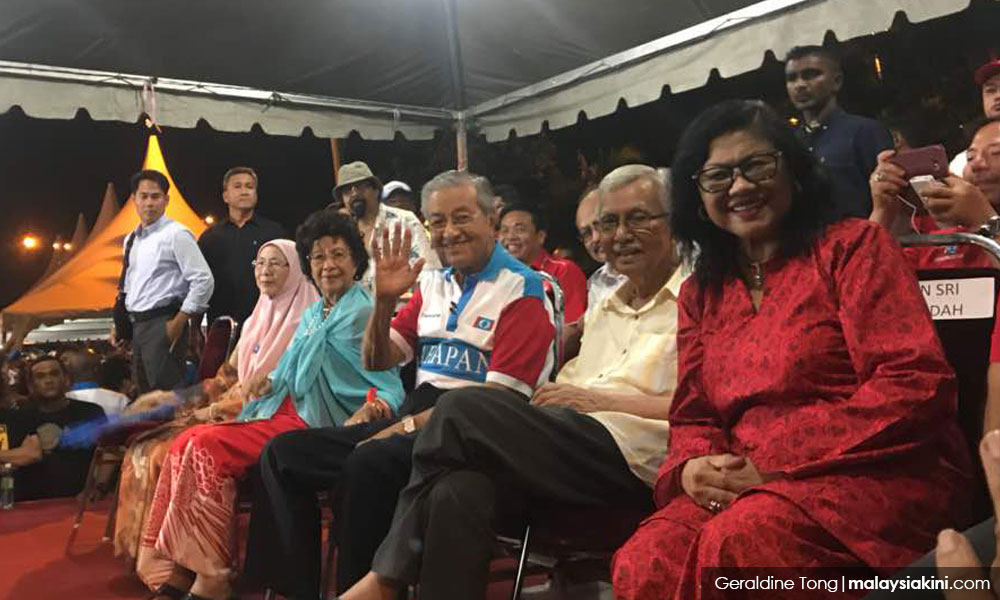 As Mahathir made his way through the crowd with his entourage, the crowd pushed to get a better view of him, with many climbing onto chairs to take pictures of the ex-premier.
Another round of cheers greet his arrival onstage. His wife, Dr Siti Hasmah Mohamad Ali, receives similarly resounding applause.
The crowd is well over 5,000 now, with half of the crowd spilling over to part of the main road parallel to the shop lots.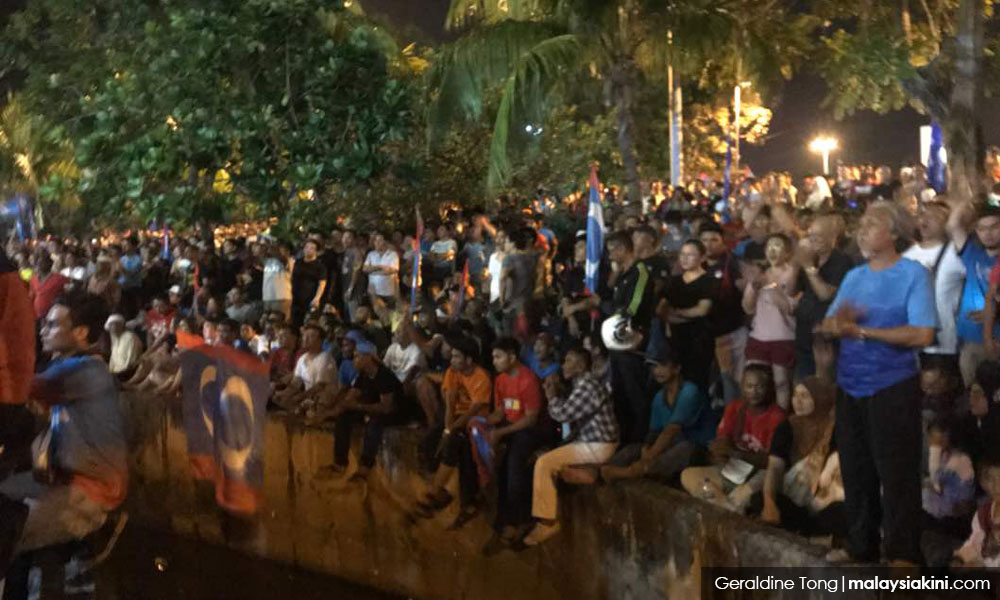 DAP secretary-general Lim Guan Eng addresses the crowd spilling over to the main road behind the stage during his speech.
"I didn't know there were more of you behind," he says.
Ahead of GE14, Najib proposes 18 incentives for Langkawi
10.15pm: Langkawi, Kedah - Caretaker prime minister Najib Abdul Razak announces 18 new incentives for the duty-free island's tourism industry.
Speaking at a dinner for industry players at the Mashuri International Trade and Convention Centre here, he said these include an Urban Transformation Centre (UTC), a motocross circuit and an expansion of the Langkawi international airport.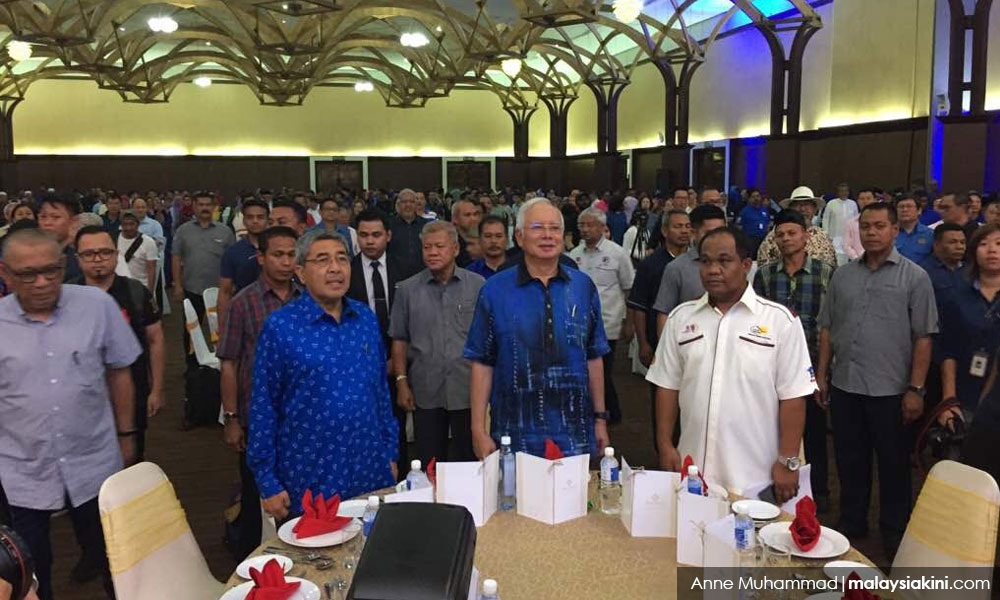 He says the proposed packages would help boost Langkawi's stature as an international tourist destination.
Najib also reminds the audience that the incentives can only be realised if the island residents continue to support BN.
Pakatan Harapan chairperson Dr Mahathir Mohamad is the opposition candidate for Langkawi in the coming polls.
Small turnout at JB Sri Stulang flats PKR ceramah
10pm: Bukit Chagar, Johor Bahru – Johor Baru Pakatan Harapan hold a ceramah in front of the Sri Stulang flats.
Changing the tone from national to local issues, PKR's parliamentary candidate for Johor Bahru Akmal Nasir touched on the BN government's move to allow for hire-purchase agreements for the flats after residents have rented them for five years.
"Anyone got it?" he asked the 150-strong crowd to which most of them shouted "No!"
The crowd is a mixture of Malay and Chinese locals.
Crowd in Malacca lights up
9.52pm: Bukit Katil, Malacca - Pakatan Harapan's Hang Tuah Jaya candidate Shamsul Iskandar Md Akin takes the stage to give his speech at the mega-ceramah here.
Shamsul starts off his speech by referencing Pakatan Harapan's ceramah in Lembah Pantai yesterday where the crowd used their mobile phones as torchlights when the lights from the main tent went out.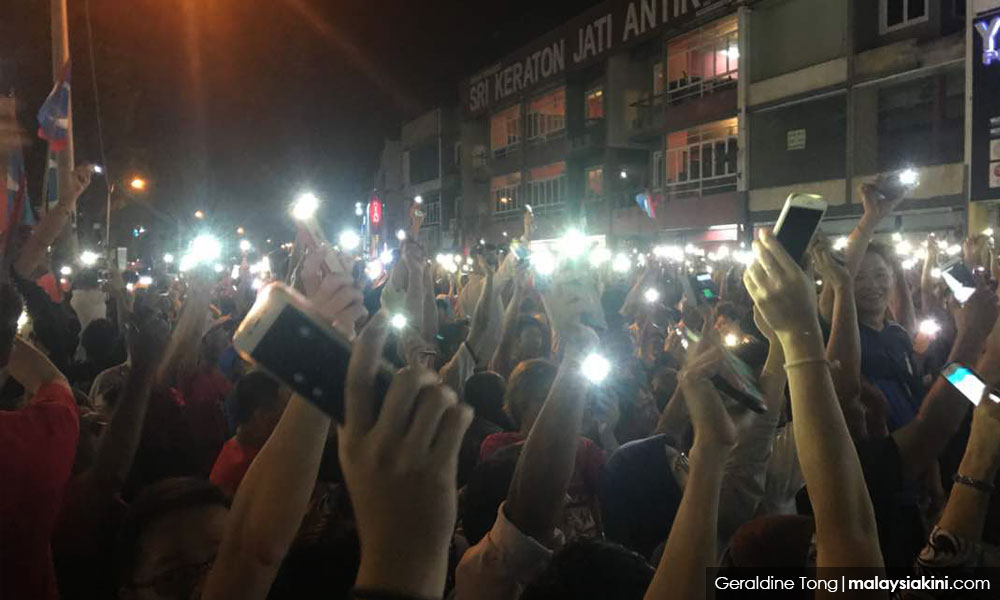 "I'm jealous of that. Do you think we can do that here too?" he quipped.
The crowd, which continues to grow in size and is now around 5,000, immediately obliges as people take out their phones and hold them up in the air with the flashlights turned on.
Hundreds gather to catch glimpse of Harapan's new Batu candidate
9:30pm: UTC Sentul, Batu - About 400 people have gathered by a busy road across the road from UTC Sentul to get a glimpse of Pakatan Harapan's newly-adopted Batu candidate, P Prabakaran.
The emcee leads the crowd in chanting rather unfamiliar chants, "Undi kunci untuk ke Putrajaya!" (Vote the key to get us to Putrajaya) and "Key to the future!"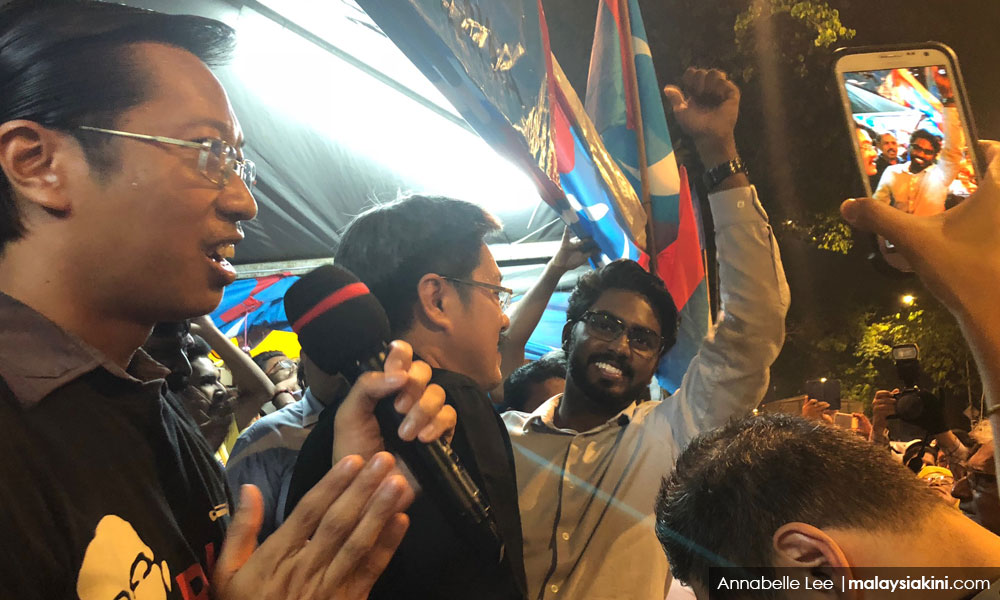 The key is the logo Prabakaran is running under.
Posters showing faces of Tian Chua and Prabakaran as a duo with the slogan are also handed out to the crowd.
Bring in new contractor to repair country, Rafidah tells voters
9.40pm: Bukit Katil, Malacca - Former Umno minister Rafidah Aziz speaks to the crowd of about 4,000, the first time she is hitting the campaign trail for the opposition.
Describing BN as the "old contractor" who had damaged the country, she urged the people to give Pakatan Harapan the chance to fix things.
"Give the new contract to Pakatan Harapan.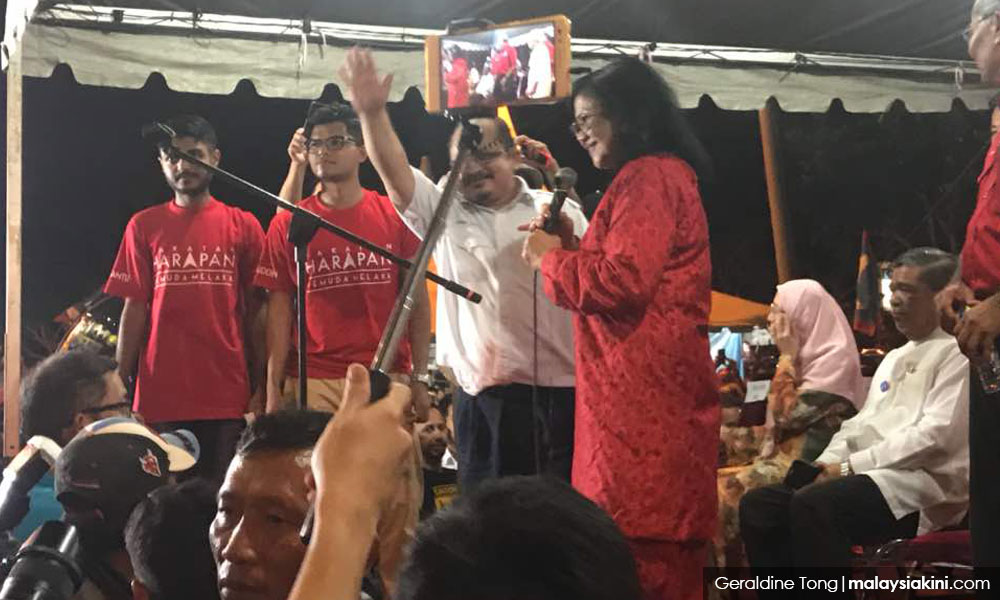 "Cancel the old contract (with BN) so that Harapan can fix the mistakes," she said to a mixed crowd.
Her speech was interrupted a couple of times as fellow Mahathir-era minister Daim Zainuddin arrived, followed by PKR president Dr Wan Azizah Wan Ismail and Hang Tuah Jaya candidate Shamsul Iskandar Md Akin.
The crowd goes wild every time one of the leaders arrive with chants of "Reformasi" reverberating through the night.
'Iron lady' makes her entrance
9.25pm: Bukit Katil, Malacca - Former minister Rafidah Aziz has just arrived at the Pakatan Harapan ceramah perdana.
The crowd was trying to see who had just arrived and when they realised it was Rafidah, they go wild with applause.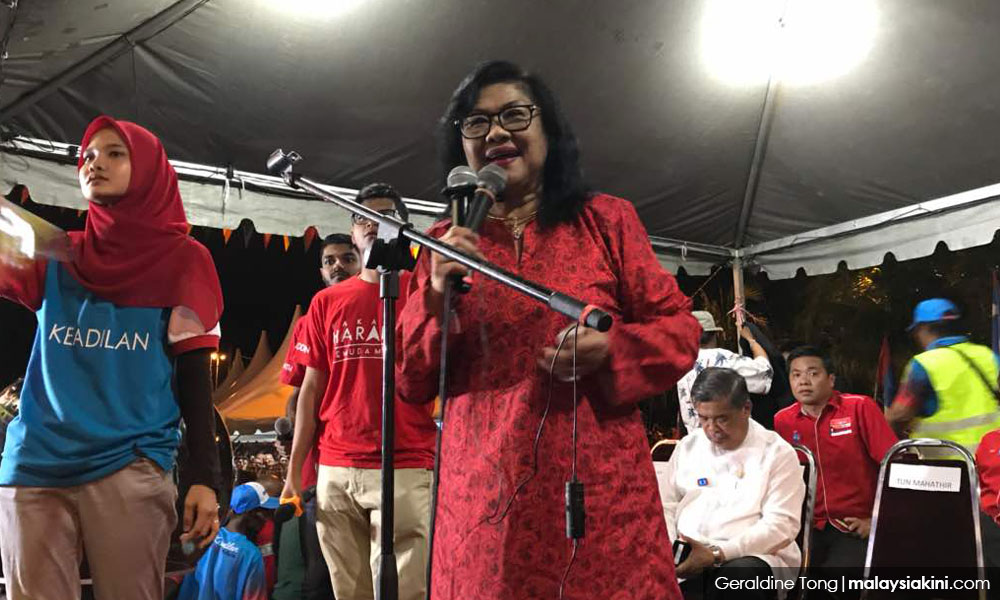 Chants of "Reformasi" ring out and the crowd began to push forward against the stage. Some in the crowd could be seen climbing on chairs to get a better view.
Tensions also rose when the security team tried to push back against the crowd.
One of the security team members and a member of the public seemed on the verge of a physical fight when other security members broke them apart.
Though she has been critical of the government, this is Rafidah's first time appearing on the campaign trail.
Harapan chairperson Dr Mahathir Mohamad is expected to arrive and speak later in the night.
Other prominent figures who are already here include Amanah president Mohamad Sabu, Jasin candidate Khairuddin Abu Hassan and activist Hishamuddin Rais.
Malacca crowd goes wild for 'wrong' Azizah
9pm: Bukit Katil, Malacca - The crowd at the ceramah perdana here has quickly built up to over 3,000 while they await the arrival of the Pakatan Harapan top leadership, including Dr Mahathir Mohamad.
Earlier, there was a false alarm when the crowd thought Harapan president Dr Wan Azizah Wan Ismail had arrived.
There was a small commotion at the edge of the crowd, with Wan Azizah's name being chanted between shouts of "Reformasi" and "Ubah" (change), as a small group as it made its way towards the stage.
But when the group came closer, the banners accompanying it revealed it was actually Harapan Tangga Batu candidate Rusnah Aluai.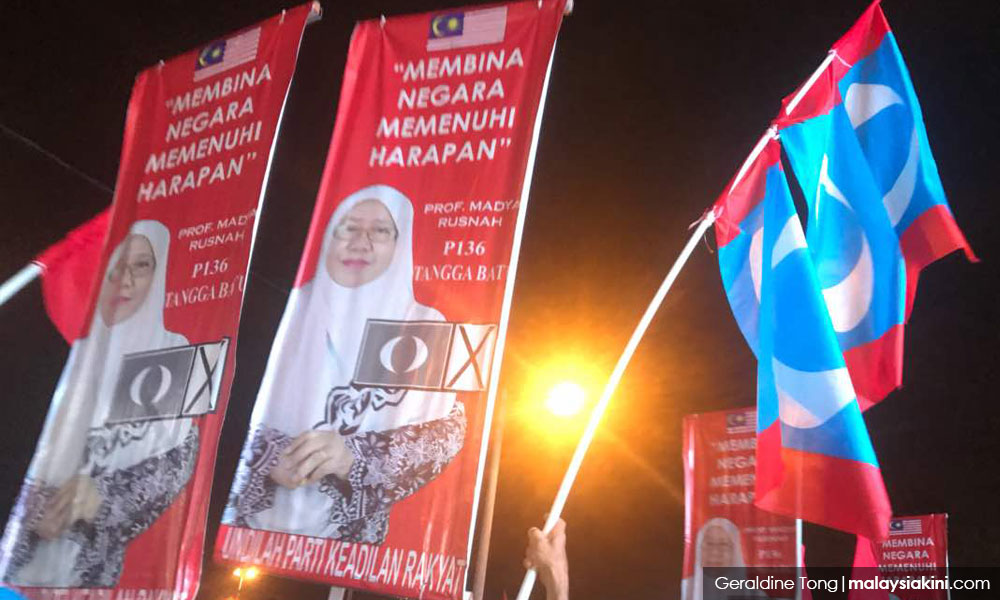 Regardless, the crowd is in high spirits as they listen to the speakers onstage, which currently consist of Malacca Harapan candidates.
The ceramah is held in front of a row of shops by the roadside with a makeshift stage. Further down the road, food trucks and stalls have been set up.
Syed Saddiq names time and place for Razali debate
9pm: Muar, Johor - Bersatu Muar candidate Syed Saddiq Syed Abdul Rahman in his letter to incumbent MP Razali Ibrahim proposes that their debate be held at 9pm this Sunday at the Mayang Sari Resort in Parit Kassim.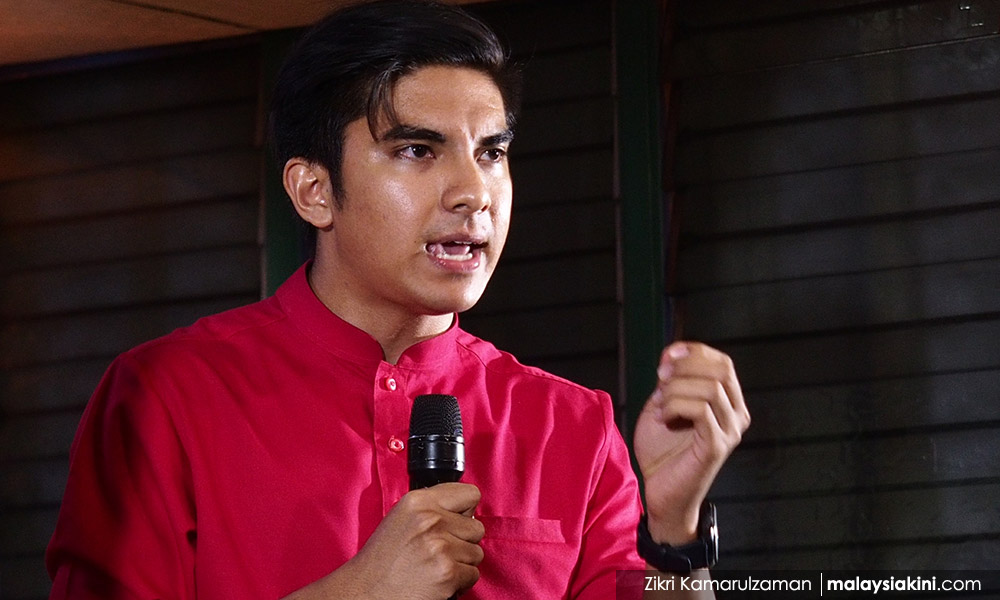 "I will even agree to a debate in the Umno HQ if is he is comfortable with the venue," Syed Saddiq tells Malaysiakini in explaining that he is flexible with the time and location for the debate.
When informed of this, Razali tells Malaysiakini that he already has a packed schedule, having to visit all 33 Muar poling districts within the campaign period, and having a dinner with BN component parties.
"But I will check if my schedule can be rearranged as this involves many parties. I don't want anyone to be upset," the caretaker deputy minister tells Malaysiakini.
Muar may see debate between candidates
7pm: Muar, Johor - Incumbent Muar MP Razali Ibrahim says his office has received a letter from Bersatu challenger Syed Saddiq Syed Abdul Rahman for a debate, though a time and date is not specified.
"Since you made the challenge, you have to find the place and set the time or else you'll be campaigning and I'll be busy with logistics," Razali tells reporters when met at the Parit Amat evening market today.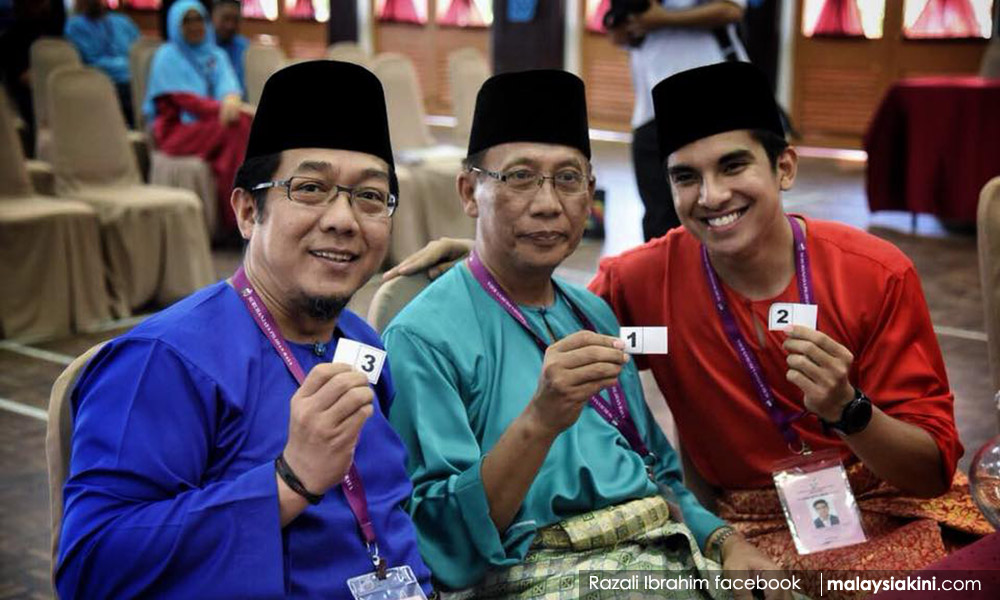 PAS Muar candidate Abdul Aziz Talib, meanwhile, tells Malaysiakini he must get the party's blessing before accepting the challenge.
Earlier, Aziz, together with PAS Maharani incumbent Mohamad Taslim and Sungai Balang candidate Cheman Yusoh have a friendly run-in with BN Maharani candidate Ashari Sarip.
The PAS trio were unknowingly leaning against Ashari's car when the encounter happened.
Najib to make 'big announcement' for Langkawi
7pm: Langkawi, Kedah - Caretaker prime minister Najib Abdul Razak is expected to make an announcement to tourism industry personnel at the Mahsuri Internatianl Exhibition Centre in Langkawi tonight.
BN candidate for Langkawi Nawawi Ahmad said this when accompanying Najib on his visit to the 'Majlis Helang, Hebatkan Langkawi' event at Telaga Walk.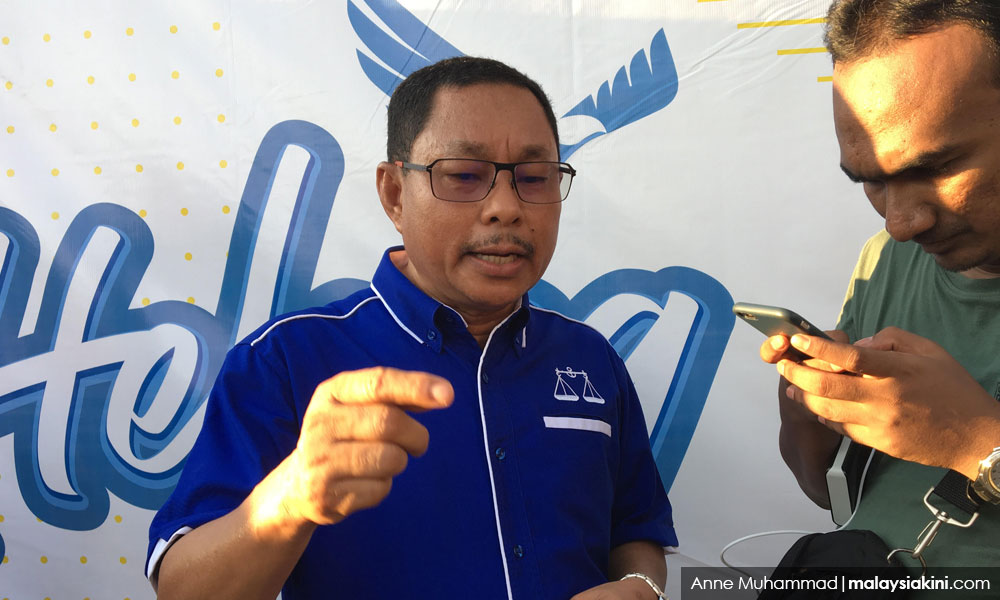 "Tonight we will be with tourism industry players, around 1,500 of them. The (caretaker) prime minister will announce something good for Langkawi tourism, something we have been expecting, something secret. There will be an announcement tonight," he says.
Najib arrived in Langkawi today to campaign for the polls.
The parliamentary seat will witness a heated battle between Nawawi, Harapan chair Dr Mahathir Mohamad and PAS' Zubir Ahmad.
PAS do the 'mannequin' in Muar market
6.30pm: Muar, Johor - Ten Muar PAS election workers march through the Pasir Amat evening market holding placards showing off their election promises and slogans.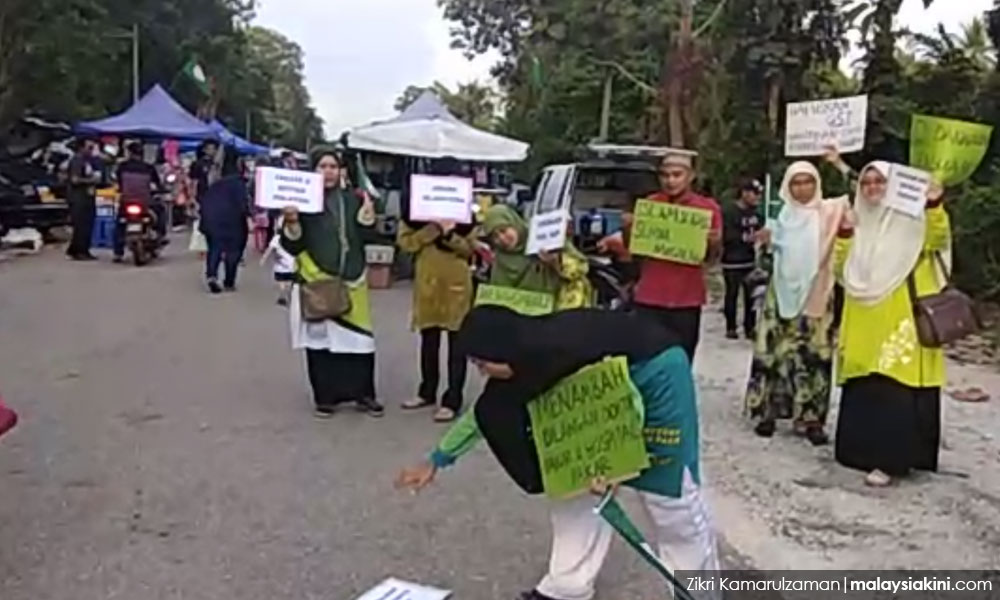 They then stop near one of the market's entry points to stage a flash mob stunt called the 'mannequin', where they stay frozen in their poses for almost five minutes as market-goers pass.
Among the placards ther are holding say "Abolish GST", "Free school bus programme" and "Create a better Malaysia."
Razali gets 'putu bambu' treat from trader
6pm: Muar, Johor - Incumbent Muar MP Razali Ibrahim gets a treat from a trader at the Parit Amat evening market, who gifts him a packet of putu bambu dessert.
Razali insists on paying, but the trader Rosilawati has the final word after saying the putu bambu is a gift for Razali's father, who is recuperating from a lung infection at the Muar hospital.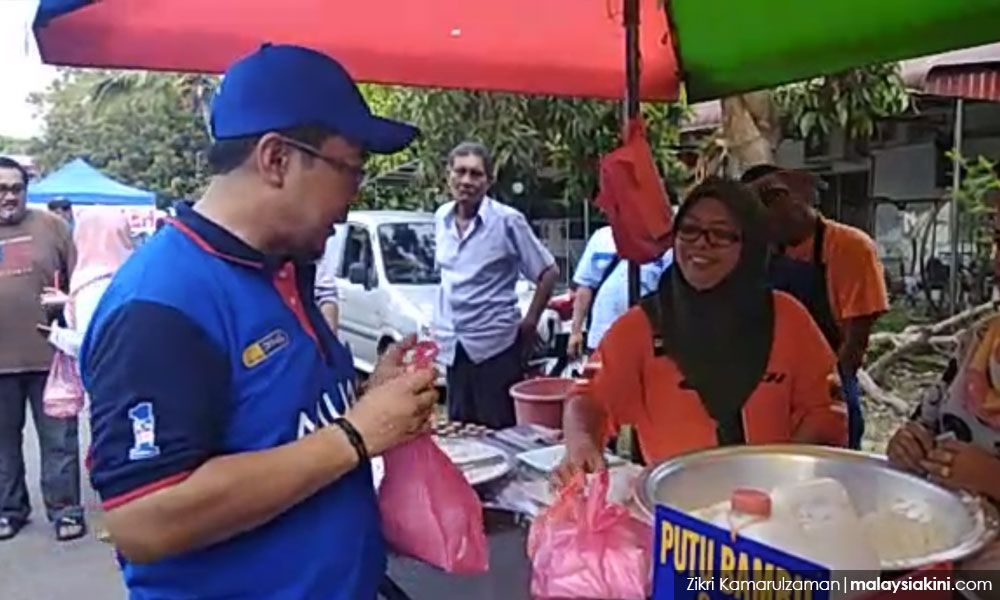 "His father is like an adoptive father to me," Rosilawati tells Malaysiakini.
The BN-Umno candidate is popular with most of the traders, some of whom he recognises personally.
Voters come from afar to see Dr M in action
5.50pm: Jasin, Malacca - The crowd is listening intently to Pakatan Harapan chairperson Dr Mahathir Mohamad's speech in Pekan Merlimau.
They hang onto every word he says, laughing at several intervals.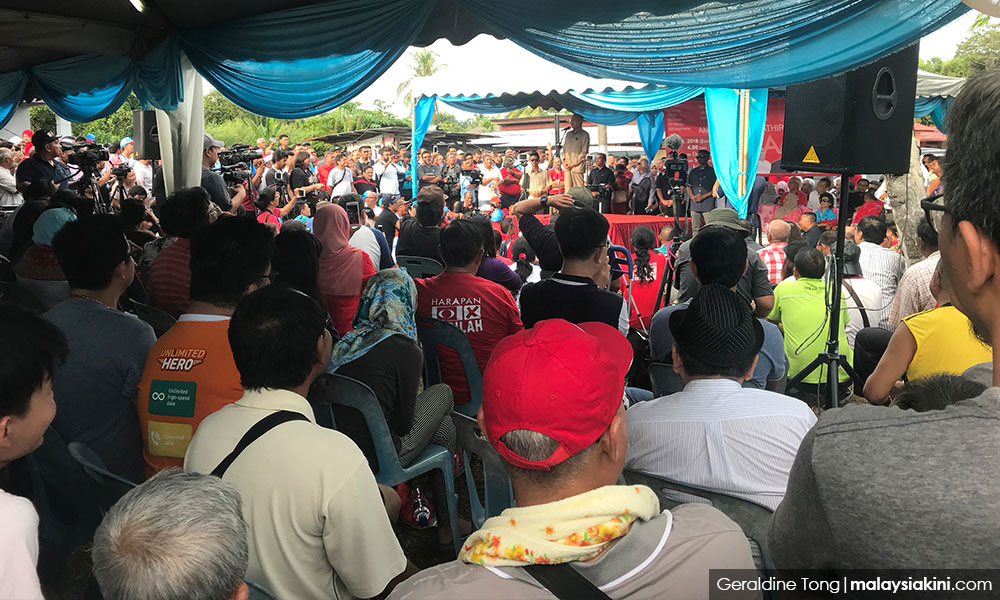 Mahathir extols the efforts by Harapan's Jasin candidate Khairuddin Abu Hassan in lodging a report against caretaker prime minister Najib Abdul Razak, one of the first to do so.
The Harapan chair unleashed his usual ammunition against Najib, saying the Umno president believes "cash is king" and that he has stolen from the rakyat to this end.
When he ends his speech, the crowd breaks into thunderous applause and chants of "Hidup Tun" (long live Tun) and "Hidup Pakatan" (long live Pakatan Harapan) ring out.
Many of the attendees in the crowd who Malaysiakini spoke to said they had come from other areas to listen to Mahathir's speech.
Former PAS supporter Isa Karim, 47, drove up all the way from Muar, which is about 30 minutes away, to show his support.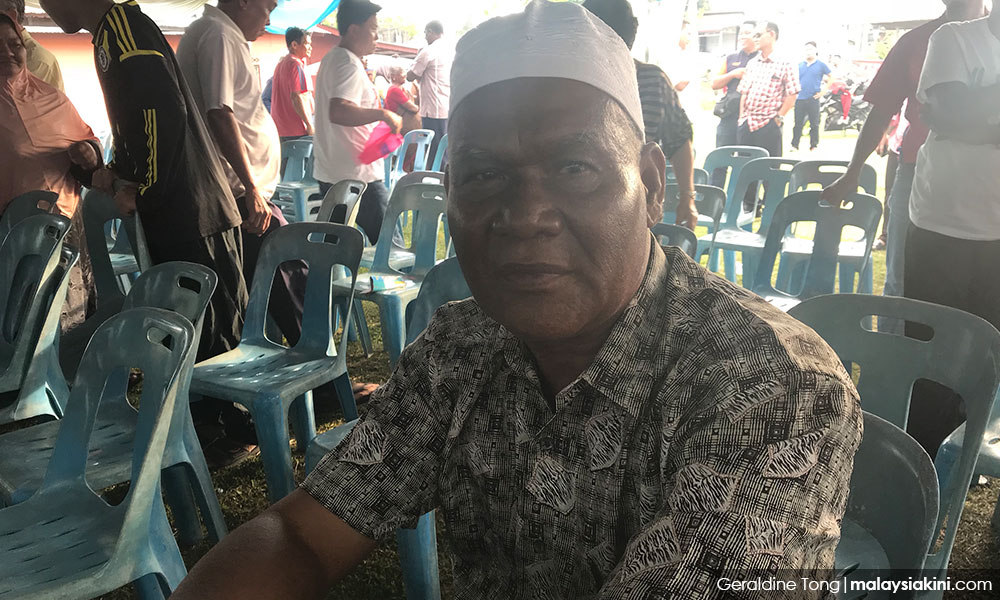 A group of two women and one man said they had come from Seremban, and intend to go for the ceramah perdana later tonight.
However, there were locals in attendance as well.
Local retiree 68-year-old Nordin Baharom said he used to support PAS, but has switched to Amanah as he finds PAS to be too indecisive about its allegiance.
Free mobile mammograms in Muar
5.30pm: Muar, Johor - The local Puteri Umno division has engaged an NGO to give out free mammograms from a bus bearing the image of Umno president Najib Abdul Razak and de facto deputy president Ahmad Zahid Hamidi.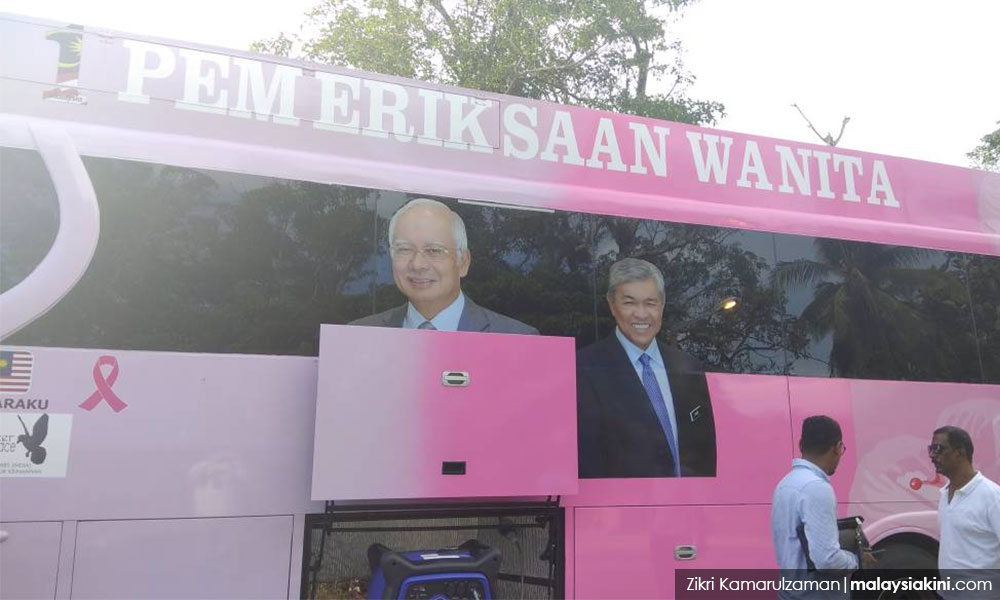 The bus, which is currently parked at the Parit Amat evening market in the outskirts of the Maharani constituency, is equipped with a portable mammography machine, and has been in Muar since yesterday. It will stay in town till Sunday.
One of the NGO's doctors, Dr Sham, stresses that the NGO is not affiliated with any party and willing to work for all, but that it has been commissioned by Puteri Umno as part of the election campaign.
Mahathir arrives for Malacca ceramah perdana
5.12pm: Jasin, Malacca - Pakatan Harapan chairperson Dr Mahathir Mohamad drops in on a ceramah in Pekan Merlimau, before the planned ceramah perdana in Malacca tonight, which will also feature former ministers Rafidah Aziz and Daim Zainuddin.
His arrival is heralded by a convoy of motorcycles honking and waving the PKR flag.
The crowd of about 800 all stand up and rush to follow Mahathir's car to catch a glimpse of the former prime minister.
A crush of people surround the car and the makeshift stage, where the car stops. They clamour to take pictures of Mahathir and his wife Dr Siti Hasmah Mohamad Ali.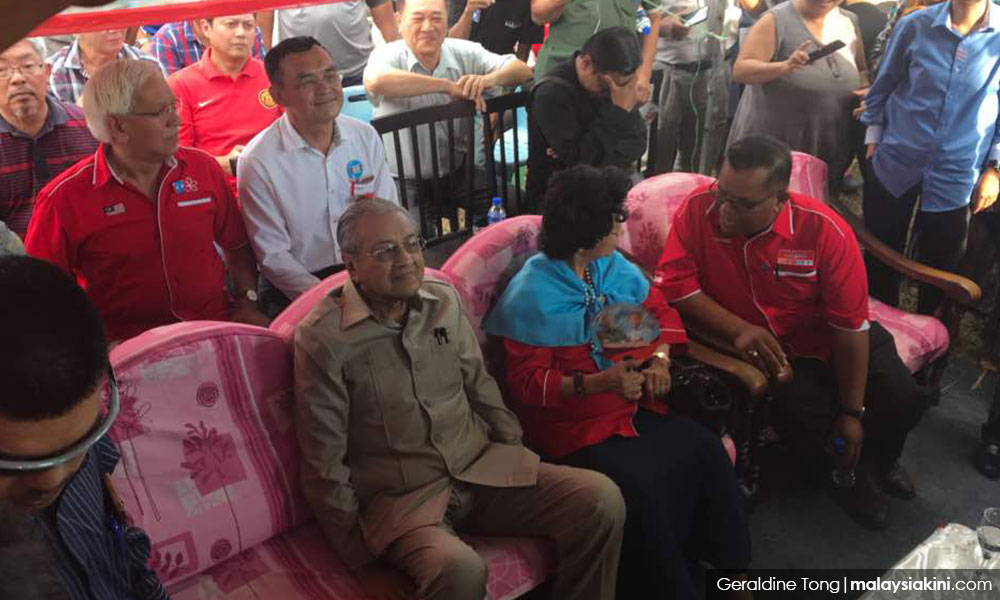 Some of the crowd, which was previously milling around further away from the stage, are now all gathered at the front of the stage. Those seated at the back urge them to move away so as not to block their view.
Harapan's Jasin candidate, Khairuddin Abu Hassan from Amanah, takes the stage to speak first.
Ngeh Koo Ham says he's barred from entering Sarawak
4.45PM: Sibu Airport, Sibu - DAP's Ngeh Koo Ham claims he is barred from entering the Sarawak after being detained at the Sibu airport.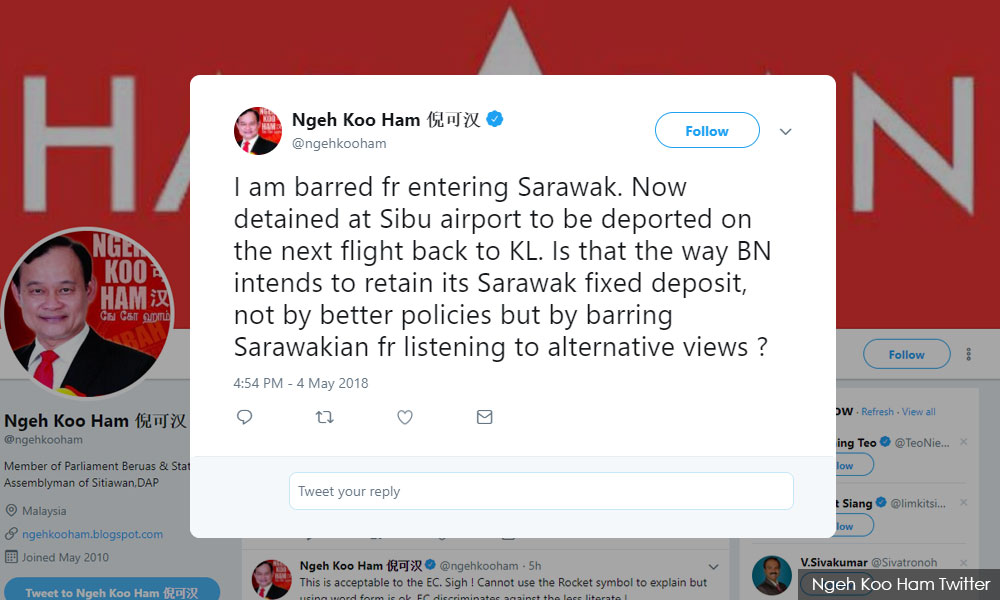 In a Twitter post, Ngeh, who is seeking a third term for the Beruas parliamentary seat, states: "I am barred from entering Sarawak. Now detained at Sibu airport to be deported on the next flight back to KL.
"Is that the way BN intends to retain its Sarawak fixed deposit, not by better policies but by barring Sarawakians from listening to alternative views?"
Dr M apologises for 'mati katak' statement
4.34pm: Petaling Jaya - Pakatan Harapan chairperson Dr Mahathir Mohamad apologises to the families of those who died in the Memali incident, for stating the latter "mati katak (died in vain)".
"Sometimes in my speeches I say the wrong things... Maybe the words I used were harsh, I apologise to the families of those who died in Memali," he says in a Facebook video.
He had made the comment during a ceramah at Pantai Dalam last night.
Zahid at groundbreaking ceremony for UiTM Baling
4.30pm: Baling, Kedah - Caretaker deputy prime minster Ahmad Zahid Hamidi officiates a ground breaking ceremony for Universiti Teknologi Mara's Baling campus, with an audience of at least 3,000 people in attendance, including BN candidates for Baling and the state constituencies of Bayu, Kupang, and Kuala Ketil.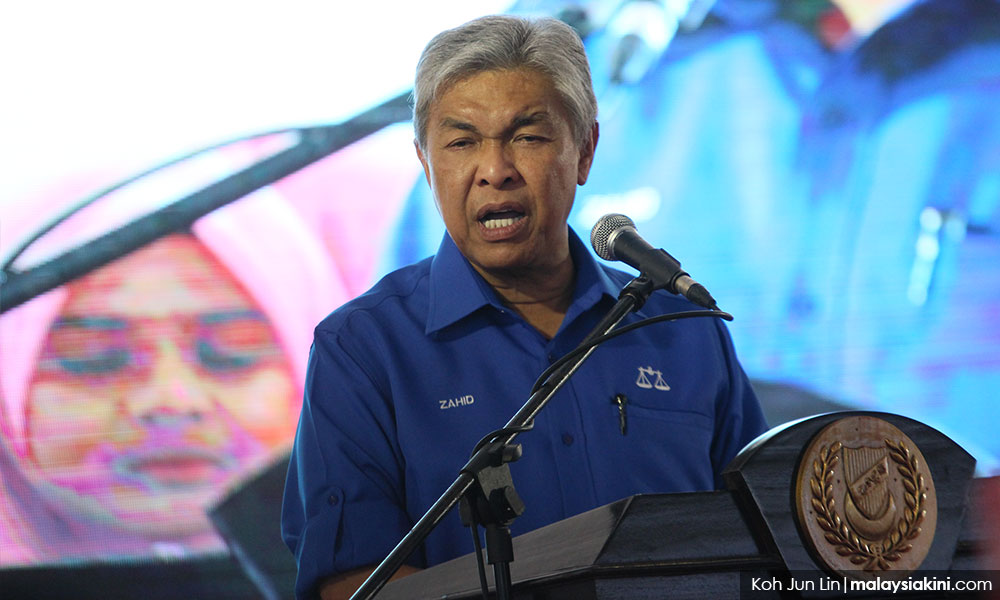 According to the program booklet distributed at the event, the new campus is expected to receive its first intake of 1,800 students for the 2021/2022 academic year. The booklet also highlights various other development projects in Baling, such as mosques and bridges.
Zahid, who will be looking to defend his Bagan Datuk seat in next week's polls, also distributed envelopes containing aid for storm victims and zakat recipients in Baling.
An emcee announces the money came from the Welfare Department, the zakat office, and the Disaster Management Agency under the Civil Defence Department.
Charles Santiago to take case of voters transfer to court
4.30PM: Klang - Pakatan Harapan candidate for Klang Charles Santiago will be taking legal action against what he claims are "illegal" transfer of voters out of his constituency.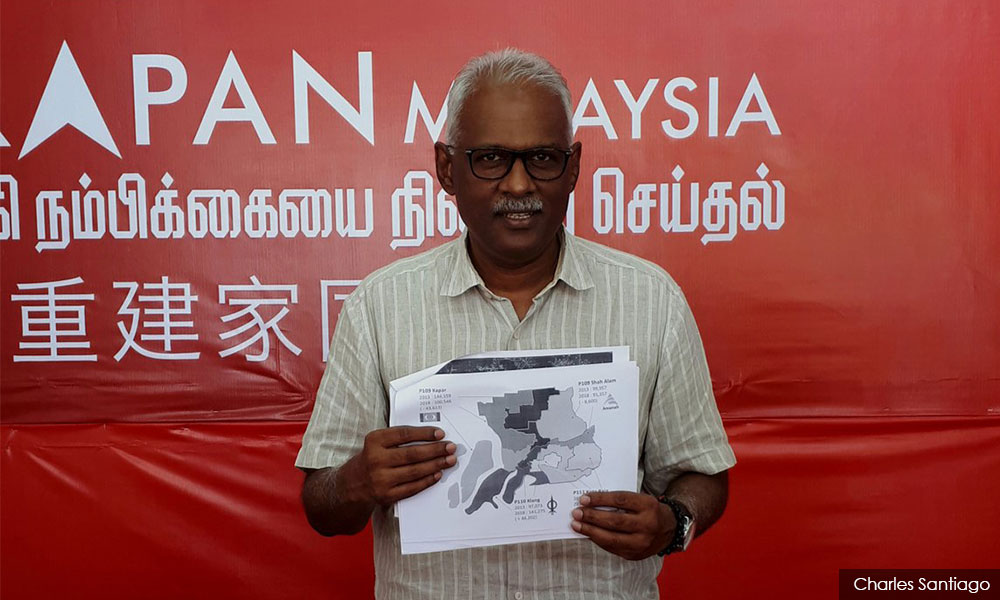 Santiago says he received up to eight complaints since March from voters who found their polling districts altered, from Klang to Kamunting, Taiping, without their knowledge, and says this infringes on their constitutional right to vote for their representative.
He says a complaint has been filed with the Election Commission and he urges they investigate the matter.
The leader of his legal team, John Fam, stresses that illegal transfer of voters was a severe offence, chargeable under the section 4(g) of Election Offences Act 1954.
'I'll run naked around Komtar if PRM wins any seat in Penang'
4pm: George Town, Penang - Gary Nair, a former Parti Rakyat Malaysia (PRM) leader, says he would run naked around Komtar if any of the party's 14 candidates were to capture a seat in Penang.
Nair, who was a PRM member for nearly 40 years, says none of the candidates could win the polls.
"I will strip naked and run around Komtar if any one of them wins a seat, they may even lose their deposits," he told Malaysiakini.
Nair has been using this line while campaigning for Pakatan Harapan.
He also repeated it in a ceramah in Sungai Puyu last night, much to the amusement of the crowd, and vowed, "I will say it again and again".
The former PRM vice-president and state party chair for 10 years, had resigned from the party, claiming he cannot accept the party leaning towards BN and helping it win seats by joining multi-cornered fights.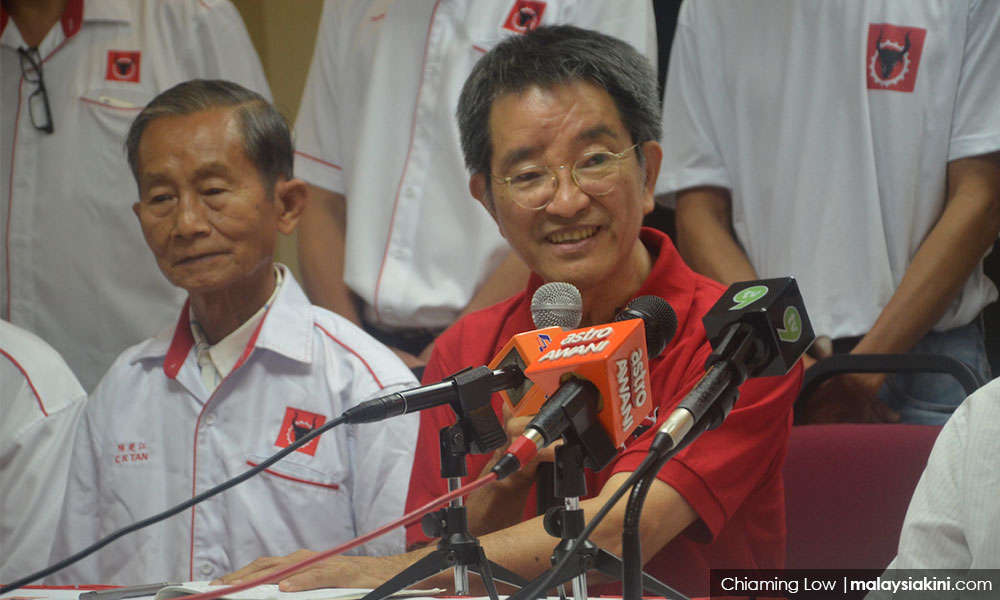 PRM secretary-general and Taman Templer candidate Koh Swee Yong had previously told The Star that Gary is merely expressing his frustrations since the party went against his wishes and fielded as many as 31 candidates for state seats, and six for parliamentary seats.
BN hikes 'Botak Hill', says no action taken against hill clearing
2.21pm: Bukit Relau, Penang - BN is literally taking their election campaign to greater heights by hiking up the much talked about 'Botak Hill'.
BN Tanjung Bungah candidate Teng Chang Yeow, who made the climb, accuses his opponents of not daring to visit the site to "see with their own eyes" the extent of hill clearing being carried out there, and that they are reluctant to take action against the landowner.
Caretaker chief minister Lim Guan Eng and Pakatan Harapan representatives were invited to join the event but none turned up.
In 2016, Lim invited a group of NGOs to visit the infamous hill, which lies between Relau and Batu Uban, to witness ongoing restoration works being carried out after they voiced concerns that a bigger patch of 'baldness' had appeared on the hill, becoming an eye-sore.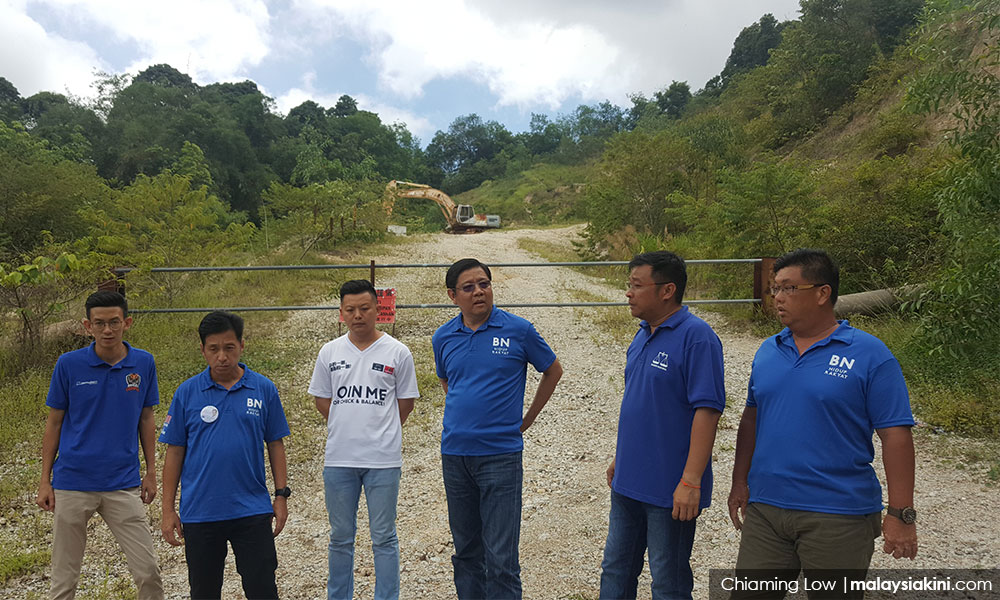 DAP threatens legal action against Gerakan candidate for 'defamatory' video
2.00pm: Georgetown, Penang - DAP has threatened to take legal action against BN-Gerakan state seat candidate for Sungai Pinang, Ng Fook On, over a video clip which allegedly defamed his DAP opponent Lim Siew Khim and former Jelutong MP Jeff Ooi (photo).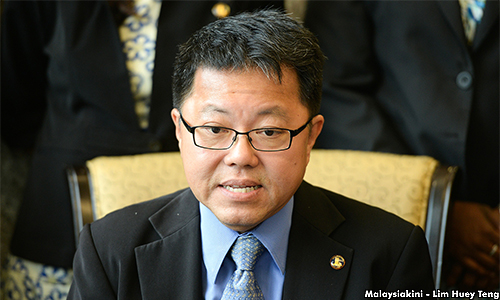 The four-minute clip features a resident's complaint about housing issues in Jelutong, claiming that residents were given the run-around when they approached Ooi for help.
The residents claim to have been promised replacement houses, which had not materialised even after 10 years of DAP rule in Penang.
In the video, which has gone viral on social media, Ng says the residents approached him for help as they were "worried about their surroundings".
At a press conference held at DAP's headquarters in Jalan Rangoon, lawyer RSN Rayer gave Ng a 48-hour ultimatum to respond to the false allegations made in the video.
"It is a serious allegation made against the two DAP leaders, which will tarnish their reputations," Rayer, who is DAP's Jelutong parliamentary seat candidate said.
"Is he implying that Lim and Ooi have cheated residents?" asked Rayer.
"I want him (Ng) to answer within these 48 hours, failing which legal action will be taken," he said.
Dr M and Anwar 'clones' appear at Penang Harapan campaign
1.00pm : Bayan Baru, Penang - Several "clones" of Pakatan Harapan leaders, including that of Langkawi candidate Dr Mahathir Mohamad and PKR de facto leader Anwar Ibrahim, have joined the election campaign to support PKR's Bayan Baru candidates.
The "clones" comprise people wearing masks featuring the faces of the Harapan leaders.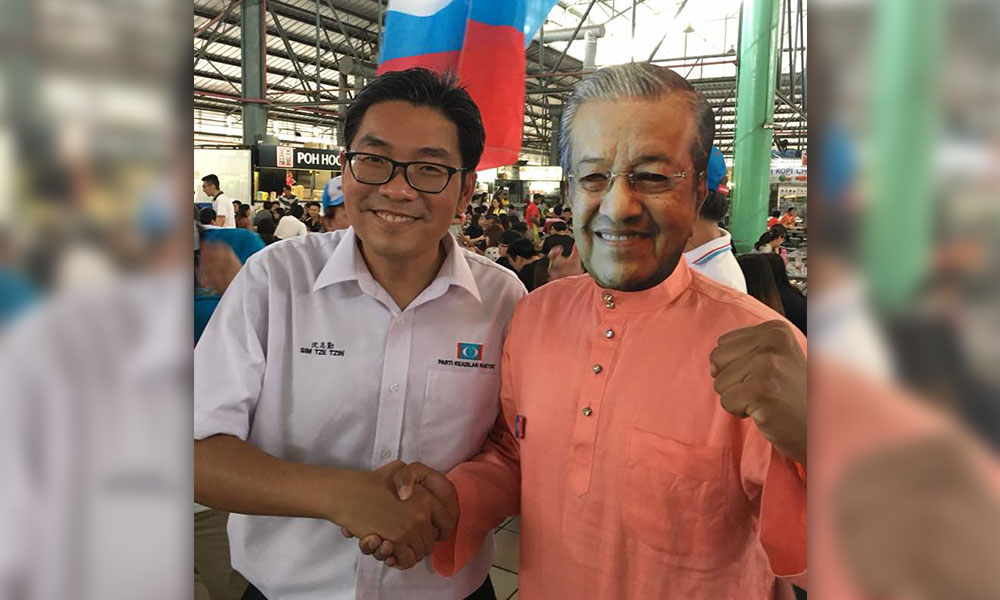 They were present to support Harapan candidates Sim Tze Tzin (Bayan Baru), Saifuddin Nasution (Pantai Jerejak), A Kumaresan (Batu Uban) and Muhammad Bakhtiar Wan Chik (Balik Pulau).
"As the EC cuts out all photos of Mahathir and Anwar on billboards, they are here to support us.
"Having Mahathir and Anwar here in our campaign is the most fearful thing for BN?" asked PKR secretary-general Saifuddin.
"Thank you, Mahathir, thank you, Anwar, for choosing to campaign in Bayan Baru, we truly feel honoured," said Saifuddin, who is also a candidate for Kulim-Bandar Baru.
As the team walked around, shook hands and distributed the candidates' manifestos and leaflets, the customers at the hawker centres greeted the "clones" with smiles and laughter.
PKR reps invite Nong Chik to debate KL City Plan gazette
1pm: Lembah Pantai, Kuala Lumpur - PKR candidates for Lembah Pantai and Permatang Pauh, Fahmi Fadzil and Nurul Izzah Anwar, have handed over an invitation to debate the gazetting of the KL 2020 City Plan gazette to Raja Nong Chik Raja Zainal Abidin.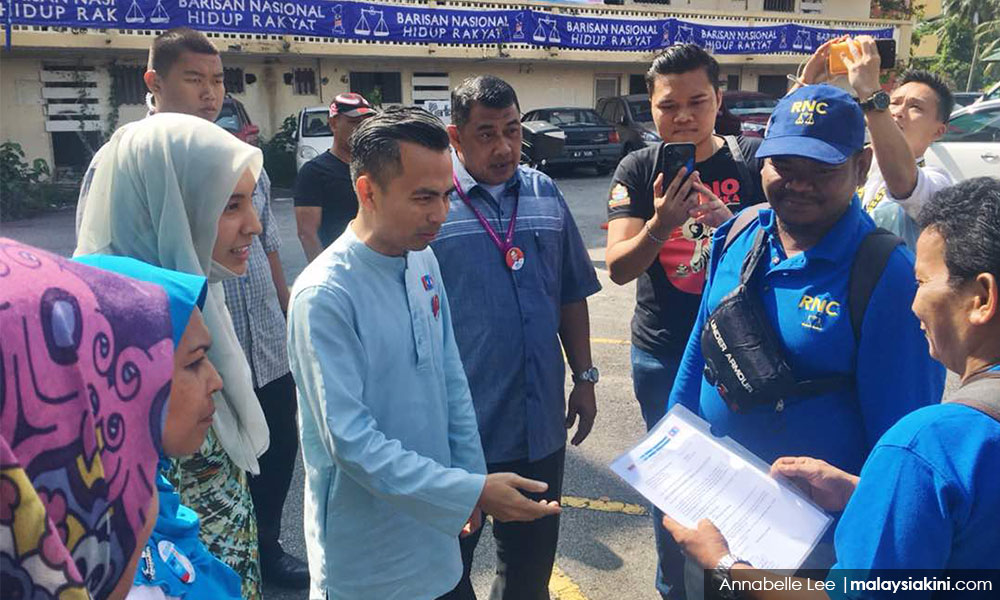 The meeting took place at the Lembah Pantai Umno division office.
Raja Nong Chik is BN-Umno's candidate for Lembah Pantai.
Zahid promises to connect Putrajaya 'water tank' to 'thirsty' Kedah voters
1pm: Pekan Sik, Kedah - Caretaker deputy prime minister Ahmad Zahid Hamidi turns to a plumbing analogy to urge local voters to vote for BN at both federal and state level at an event this morning. He says this is to ensure continued development in the state.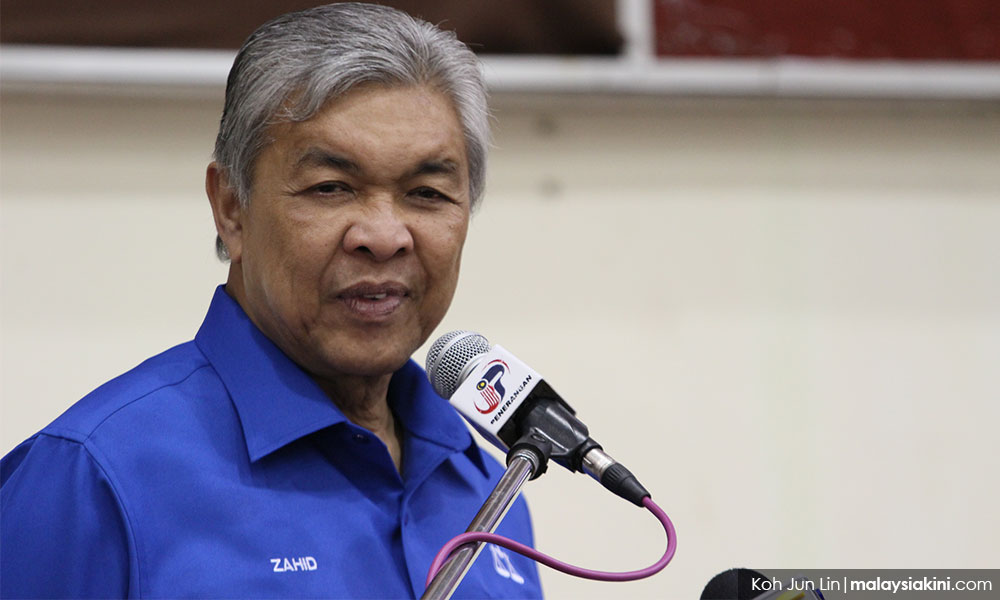 Likening government funds to water tanks, he said the Putrajaya water tank and the Alor Setar water tank were not connected from 2008 to 2013 when the state was under PAS' administration.
"Please take care of the Kedah government. Please, so that the Kedah government stays connected with the water tank in Putrajaya, because the water tank in Putrajaya is bigger than the water tank in Alor Setar.
"God-willing, the Putrajaya water tank will channel water to Alor Setar to be distributed throughout Kedah. In this situation, the people are too thirsty for development," he says.
The event, which is aimed at education professionals and Sik residents, is attended by at least 1,000 people at Dewan Al-Hana, almost two-thirds of whom are dressed in Wanita Umno's blue and red colours.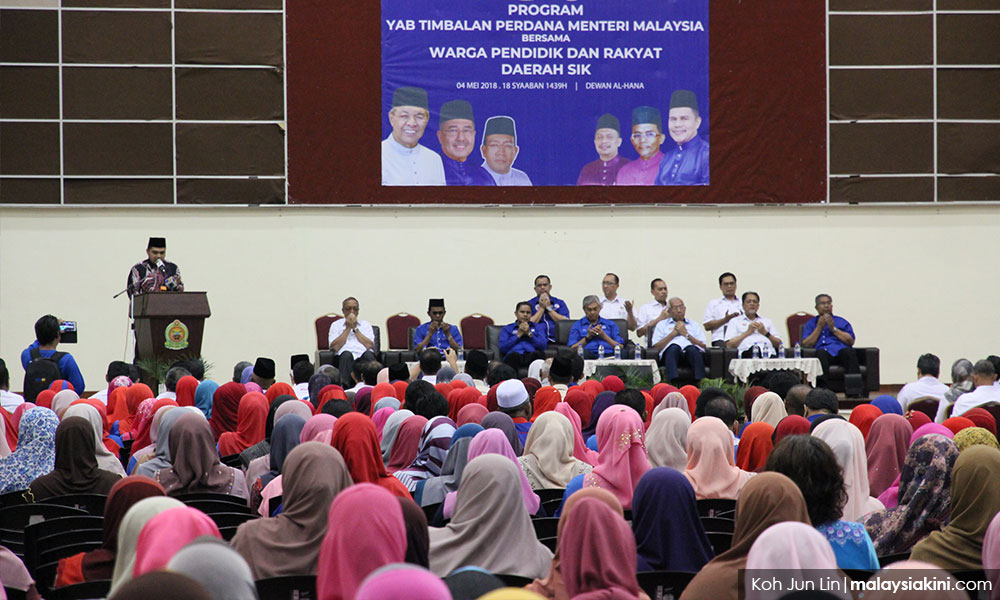 C4: Immigration event in Bagan Datuk an abuse of gov't resources
12.45pm: Petaling Jaya - The Centre to Combat Corruption and Cronyism (C4) has decried an event held by the Immigration Department today in the parliamentary constituency of Bagan Datuk, whose incumbent is caretaker deputy prime minister Ahmad Zahid Hamidi.
The corruption watchdog's executive director Cynthia Gabriel said the event in question, called "Gerak Mesra dan Jati Diri", had been held this morning for the youth and residents of Bagan Datuk.
In a statement today, Gabriel alleged that the event was an example of the "abuse of government resources" by members of the caretaker government during the election campaign period.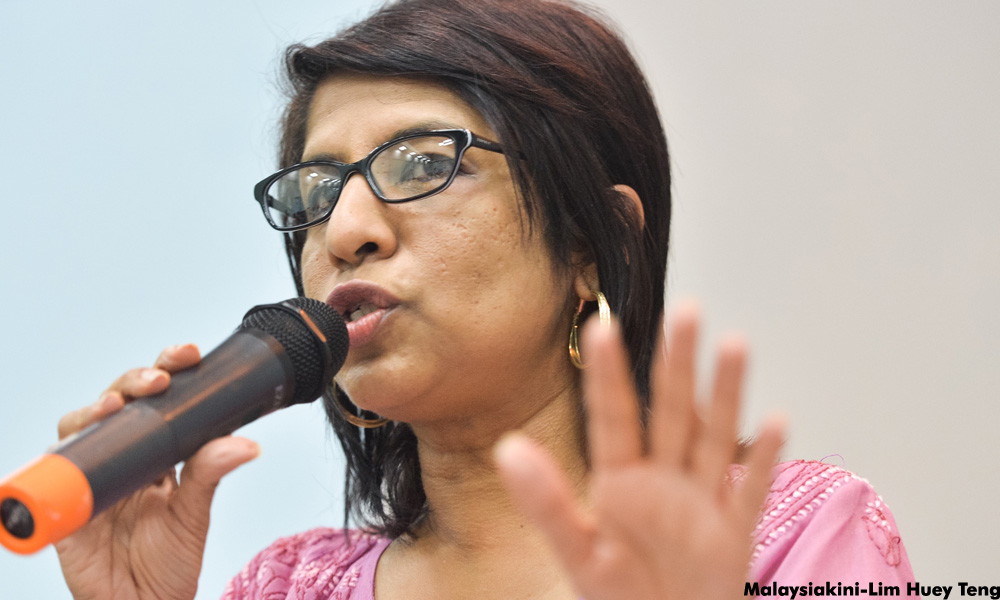 "It is important to note that because caretaker deputy prime minister Zahid is running for the Bagan Datuk parliamentary seat, the event becomes partisan in nature and betrays the supposed neutrality of the caretaker government," she said.
She added that Immigration director-general and former MACC deputy chief commissioner Mustafar Ali had "become complicit in this indefensible display of abuse of power" by speaking at the event.
Gabriel reiterated C4's call for all relevant public institutions, in particular the MACC, to act independently to combat corrupt practices at elections in order to uphold electoral fairness and integrity.
DAP candidate lodges police report over Umno hecklers
12.30pm: Georgetown, Penang - DAP Seri Delima candidate Syerleena Abdul Rashid is holding a press conference over a threat of violence hurled at her campaign team last night, after her ceramah in Taman Tun Sardon.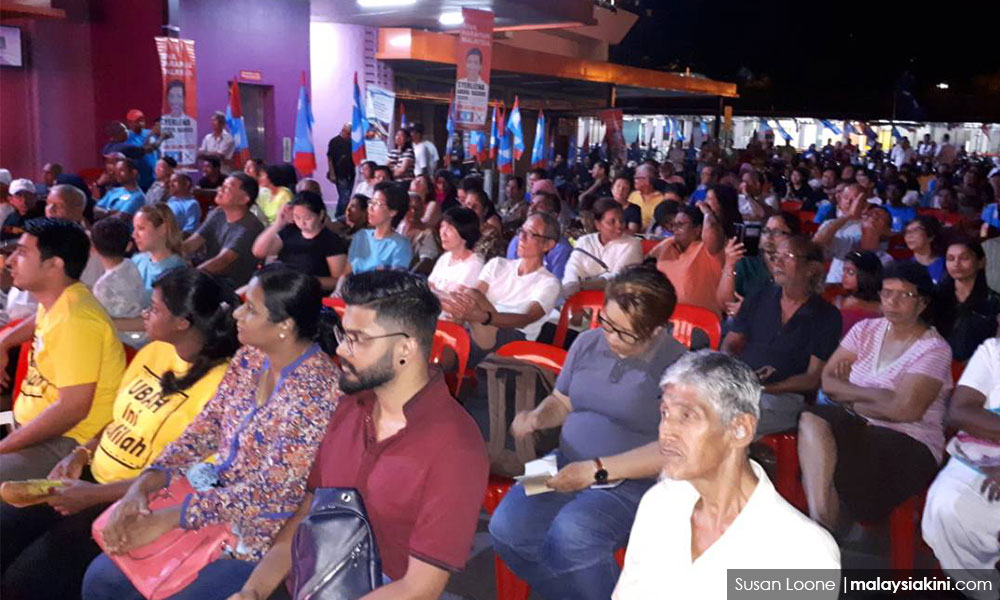 This follows a commotion which happened during Jelutong candidate and former Seri Delima assemblyperson RSN Rayer's speech at the event last night.
Syerleena expressed regret over the violent nature of the commotion, although she is aware that such incidents were expected especially when polling day was nearing.
"Harsh words were hurled at my team, while one was threatened with violence.
"I will not tolerate any harm, whether physical, emotional, and mental to anyone, especially those close to me," she said during a press conference at DAP Penang's headquarters on Jalan Rangoon.
A police report was lodged this morning over the incident.
Harapan's Yeo thanks Johor supporter for RM500 donation
12.30pm: Petaling Jaya - DAP's Bakri parliamentary seat candidate Yeo Bee Yin has thanked a supporter for donating RM500 after attending a Harapan ceramah in Parit Sakai, Muar last night.
In a Facebook post recapping the incident, she described the supporter as a Malay man wearing a kopiah, green baju Melayu and slippers. He had approached her after the talk and given her a green packet, and told her that there was RM500 inside to be donated to the election campaign fund.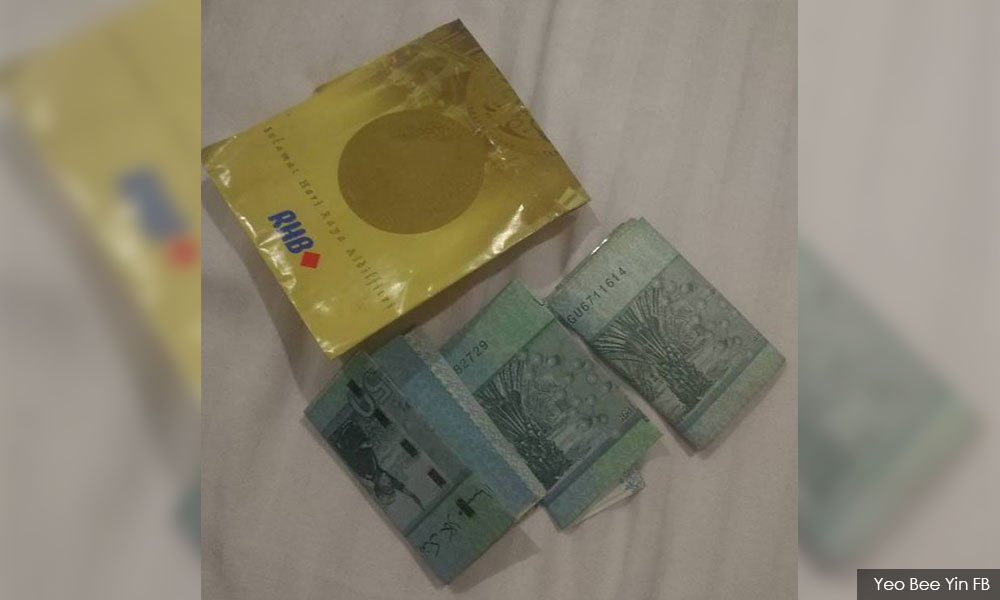 Yeo said she was "shocked" because Parit Sakai was an average-income area and RM500 from an individual was "huge".
She added that the money did not look like crisp banknotes from the ATM, but rather well-worn notes that looked like it had been folded and kept for a long time. She said it was likely the supporter had donated his own earnings, rather than extra funds.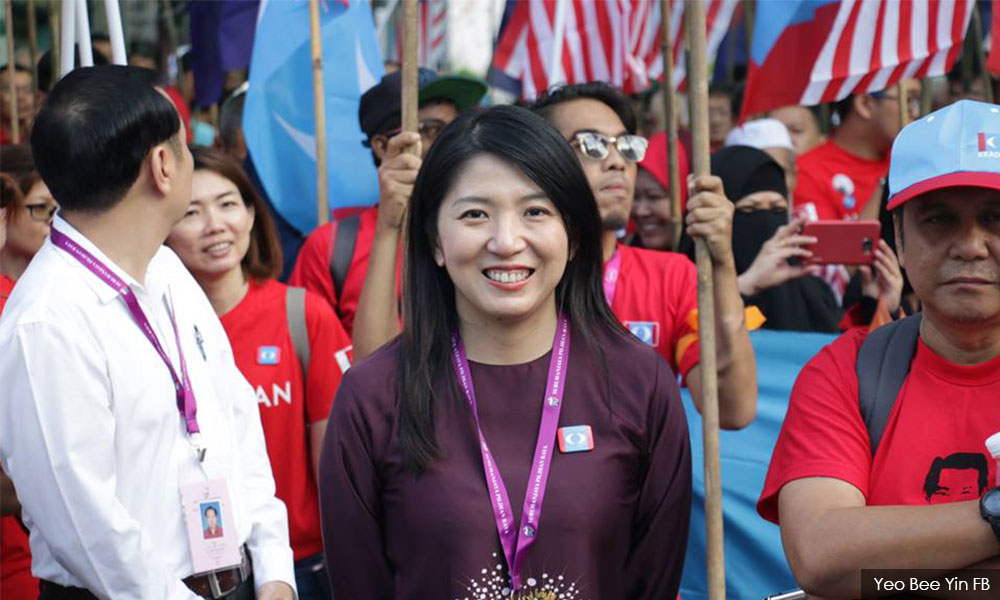 Yeo apologised for not having taken down the man's name, and hoped her message of thanks would reach him. She also pledged that the Harapan team in Bakri would use the money wisely.
Kok does it again with letters
12pm: Seputeh, Kuala Lumpur - Incumbent Seputeh MP Teresa Kok seems to have found the cheatsheet on the EC directives on billboards, for the second day running.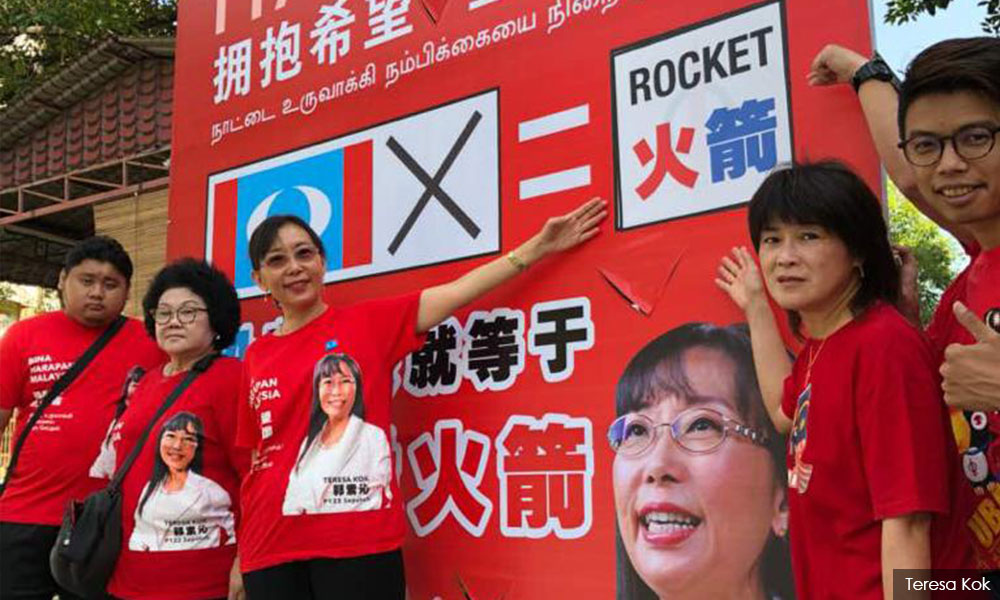 She wrote earlier today on her Facebook page that she was asked to cut out the Rocket symbol (which represents DAP), from a billboard in her constituency.
"EC officers asked me to cut out the Rocket symbol as Rocket is not the symbol I use in this GE.
"It is ridiculous for them to order me to cover it, because we are trying to explain voting for the 'blue eye' (PKR) = voting for 'Rocket'.
"However, we take their instructions and we covered the rocket symbol with the word 'rocket'," she wrote.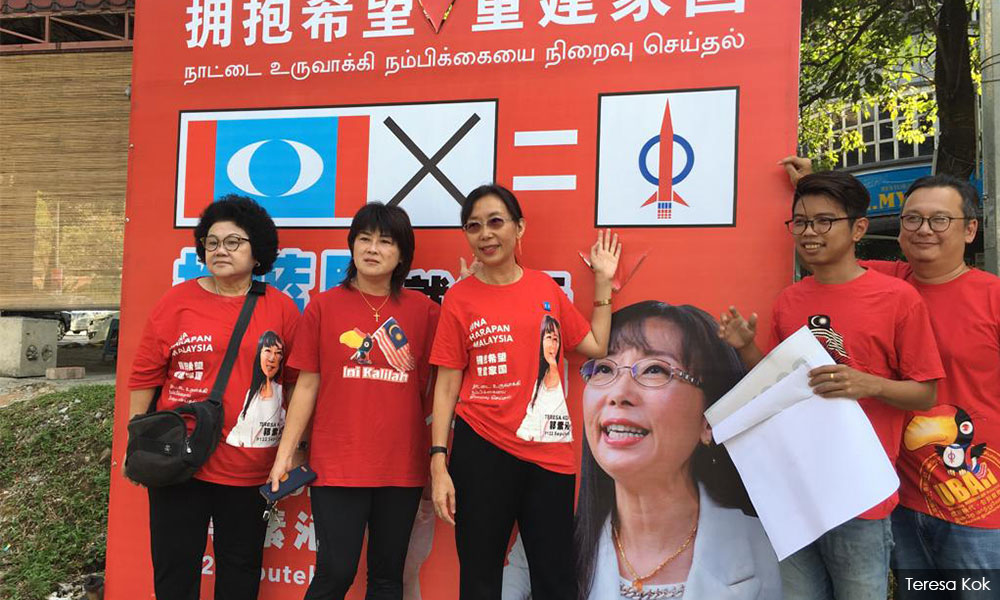 Yesterday, Kok and team pulled a similar trick after EC officers asked her to cut out photos of Pakatan Harapan chairperson Dr Mahathir Mohamad and DAP secretary-general Lim Guan Eng, from a billboard in the constituency.
They merely pasted pieces of black papers over the duo's faces, with the short forms of their names - Tun M and LGE, written on them.
'Stop the slander, PAS not contesting Rantau due to winnability factor'
11.20am: Kuala Lumpur - PAS deputy president Tuan Ibrahim Tuan Man tells PKR president Dr Wan Azizah Wan Ismail to stop slandering his party by claiming that the Islamist party withdrew from contesting in Rantau, Negeri Sembilan, to ensure a win for BN.
Citing her recent speech in Indera Mahkota, Tuan Ibrahim says PAS and its allies in Gagasan Sejahtera did not field their candidates in the state seat as it was considered a non-strategic seat to contest in after taking into account various factors, including the composition of voters.
Thus, Wan Azizah's comment was meant to confuse the voters, he alleges.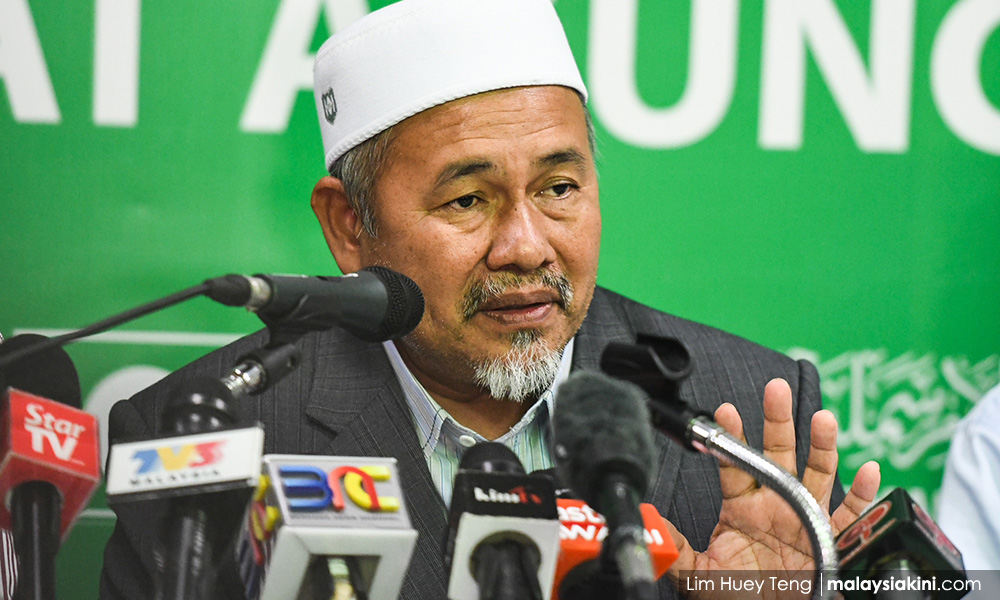 Where are our ballot papers, Global Bersih asks EC
11am: Kuala Lumpur - The Canberra chapter of electoral watchdog Bersih condemns the EC for "disenfranchising" the right of overseas Malaysians to vote on May 9.
In a statement, Bersih says several Malaysians in Canberra, Australia, had complained about receiving notifications from the courier service that their ballots are only expected to arrive by the "end of the day" on May 7 (Monday), which will not provide adequate time for the overseas voters to send back their votes before 5pm on May 9.
A similar predicament is also faced by Malaysians residing in several European cities, it alleges, blaming the situation to the "unprofessional" conduct of the EC to set only 11 days for the campaigning period.
Harapan has the list of MB candidates, says Muhyiddin
Pakatan Harapan already has a list of Johor menteri besar candidates, should the coalition win the state in GE14, said Bersatu president Muhyiddin Yassin.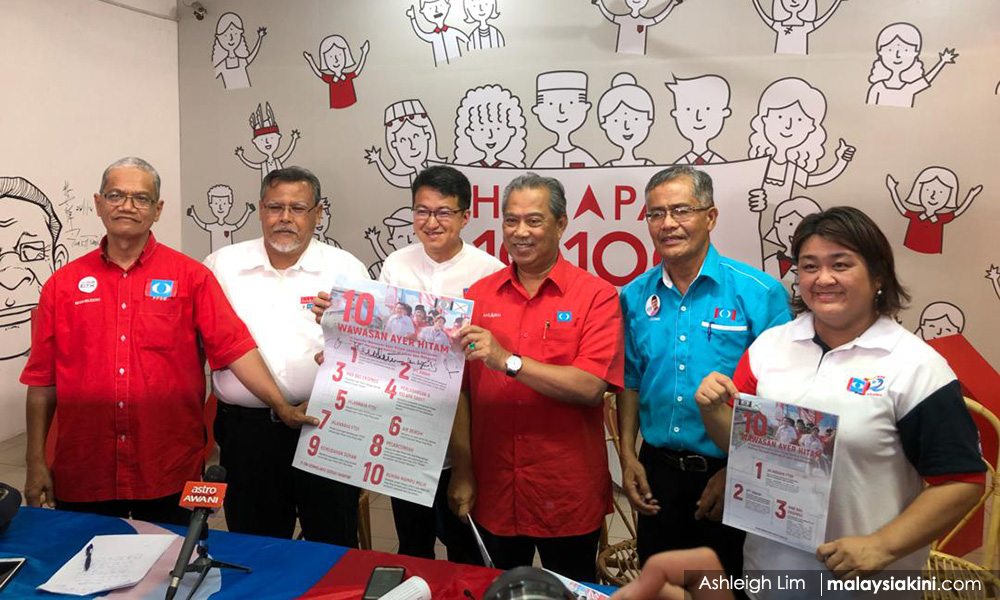 The Malay Mail quoted Muhyiddin saying this in response to caretaker state menteri besar Khaled Nordin challenging Harapan to name his successor, if Harapan wins the May 9 election.
"We only need one person and I could probably select at least 10 of them who are qualified for the post, just look at their qualifications, be it state or federal.
"We know the situation in Johor is quite peculiar as certain things have to be taken into consideration, which I am not going to go into detail about, but it is a strategic move on our part to not announce the MB candidate," he was quoted saying.
What about local woes, trader asks PKR hopeful
10am: Pasar Awam Larkin, Johor Bahru - PKR's candidate for the parliamentary seat of Johor Bahru, Akmal Nasir did a walkabout in Pasar Awam Larkin, adjacent to well-known Larkin Central bus station for Johor Bahru's long distance bus.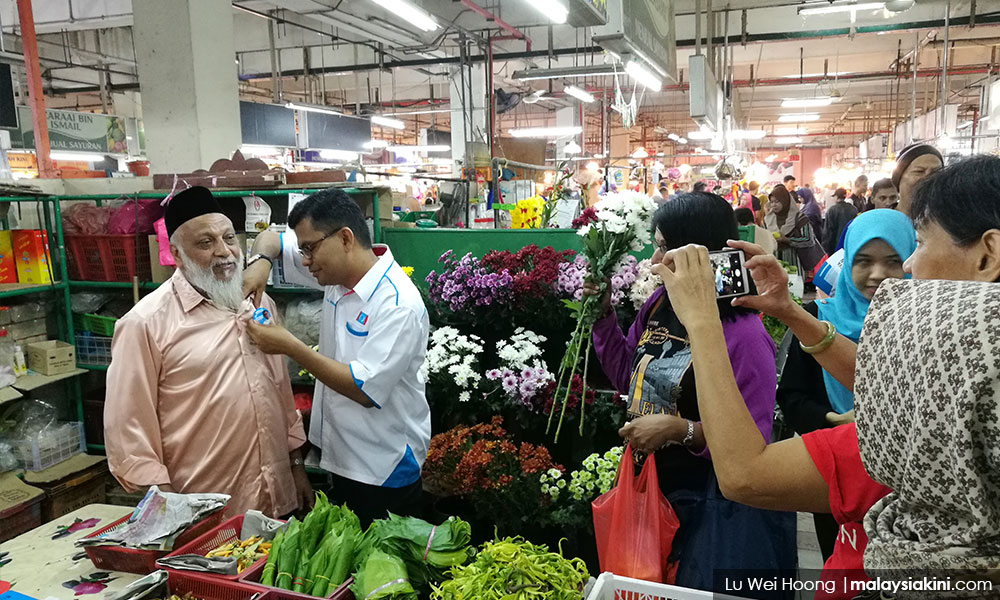 Near the end of the campaign on the ground floor of the market, Akmal was questioned by a stall owner on how to resolve the parking summon and high rental problem.
The stall owner, who only wanted to be identified as Adam, was dissatisfied on PKR touching national issues such as GST, instead of also addressing local issues.
"I don't care everyone saying about GST, but nothing is being settled locally. We are normal folks, how can you help us if we help you to win?" he questioned, adding the local council frequently issued summons on illegally parked vehicles by the roadside, which ultimately costs the traders there, business.
He also complained about the high rate of rental in the market. As such, he demanded a solution from Akmal, "otherwise there is no difference with (BN candidate for Johor Bahru) Shahrir Samad."
In response, Akmal said it is practical to allocate a parking lot in front of the market for a small fee. This is to convenience those who want to leave in a span of 20 minutes after purchasing items.
The Johor Bahru PKR chief then promised that if he was elected, he will organise a town hall meeting to listen to the voice of stall owners.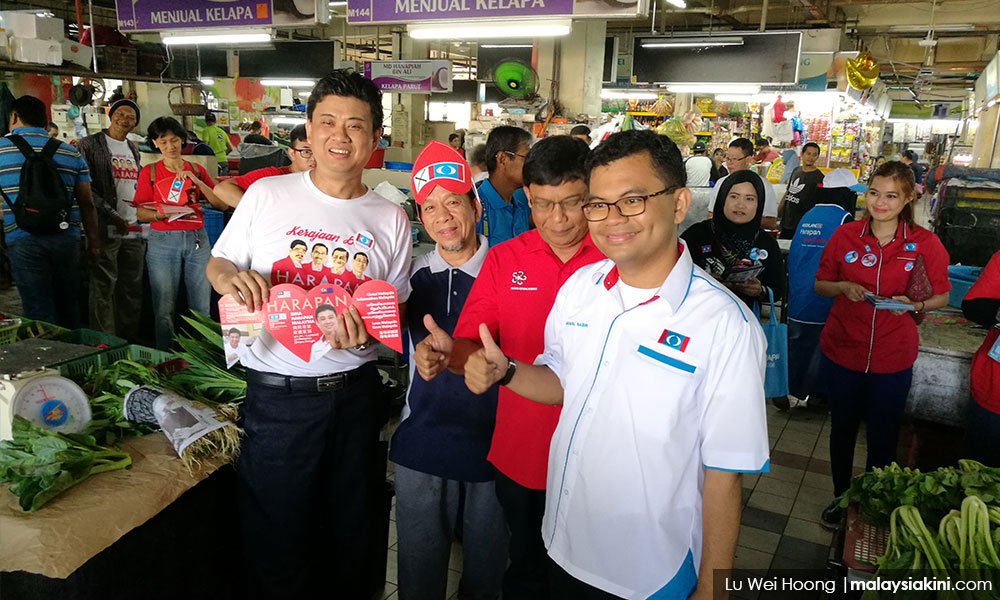 During the campaign, Akmal was well-received by shop-goers and some five Malay stall owners and customers even asked for the PKR badge to wear.
Pasar Awam Larkin is a central point for Rumah Pangsa Larkin, Larkin Jaya and Larkin polling districts, which are BN strongholds. BN gained 4,539 votes against PKR's 1,746 in the three Malay-majority polling districts.
Akmal is facing Umno veteran Shahrir, who seeks a seventh-term as the Johor Bahru MP. The capital of Johor has 52.64 percent Malays, 41.09 percent Chinese and 5.15 percent Indians.
9.30am: Kuala Lumpur - Incumbent Batu MP Tian Chua loses his bid to defend the Batu parliamentary seat, after the Kuala Lumpur High Court rejected his originating summons on his disqualification from contesting in GE14, on nomination day.
Tian Chua later tells reporters that he and the Pakatan Harapan leadership will endorse independent candidate P Prabakaran, to contest and defend the seat for the opposition.
At 22, the law student is the youngest candidate to contest in GE14.