GE14 | In his maiden foray into elections for the Alor Setar parliamentary seat in 2013, PKR's Gooi Hsiao Leung won by a 1,873 majority against MCA heavyweight Chor Chee Heung, earning himself the label "giant slayer".
But will the giant slayer slay or be slayed this time in Bukit Tengah, Penang, a highly industrial state seat, sandwiched between Perai and Nibong Tebal come GE14?
He may feel encouraged by thousands who attended a Pakatan Harapan Grand ceramah in Juru on Wednesday, which featured caretaker chief Minister Lim Guan Eng and his dad, Lim Kit Siang.
However, several questions abound as to Hsiao Leung's candidacy, for example, why was he "parachuted" into Penang at the eleventh hour, can he speak Chinese, the lingua franca in this side of the nation?
Since he served as an MP for five years, does he understand local issues, especially in a place like Bukit Tengah, which boasts not only a commercial hub dubbed Auto-City, but also houses professionals, factory workers and fisher folk?
A lawyer by profession, Hsiao Leung comes from a rather illustrious family; politics run in his blood.
His dad, Gooi Hock Seng, was former Bukit Bendera MP (1982 to 1995), Air Itam assemblyperson (1986-1990) and state DAP chief, who joined PKR in 2002.
In every ceramah, Hsiao Leung tells his voters, "I am not an outsider, I was born and bred in Penang! I am a local boy, and I am returning to my home state."
Hsiao Leung speaks the Hokkien dialect fluently enough to get by even in the most rural Chinese part of the state, but said he would try to pick up Mandarin to better communicate with the people.
"As for local issues, I would definitely look into the problems face by my constituents," said the 45-year-old father of two.
"Even as Alor Setar MP, I took up local issues such as the case of Bernas' monopoly hurting paddy farmers. Both state and national issues are very much entwined," he told Malaysiakini.
Tough battle against BN
Gooi (photo) is also very keen to champion issues that affect all Penangites, not only those in Bukit Tengah.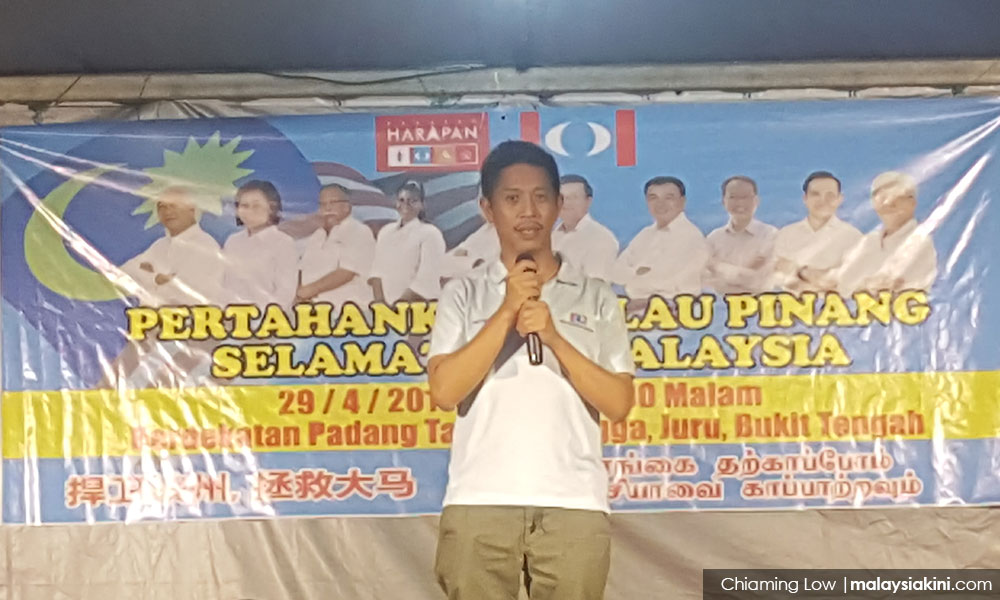 He recently issued a statement on the ferry service, which has now been taken over by Prasarana and Rapid Ferry Sdn Bhd, saying it needs to be monitored closely due to many previous grouses against its management Penang Port Corporation, whose chairperson is MCA state chief Tan Teik Cheng.
Despite this, keen observers say Gooi may face a tough battle against BN's Thor Teong Gee, 48, the smiling doctor from Gerakan, who is mostly known as "Mr Nice Guy".
Both are new to Bukit Tengah, but Thor has been harping on the issue of an upcoming foreign workers hostel, which he says must be relocated to another spot as it affects about 6,000 voters in Juru.
He's launched his own manifesto to say "No" to the workers hostel in Juru, and vows to tackle flooding and massive traffic congestion in the constituency due to the many factories in the area.
"I must make this clear, we are not against foreign workers nor against accommodation for them, we would just like to see the project relocated to a more suitable place, instead of building them close to people's homes," he told Malaysiakini in an interview on Wednesday.
Some quarters are pushing for Thor (photo) to debate the matter with Hsiao Leung, but the good doctor prefers to weigh the situation first.
"If a debate can resolve the problem, let's have it or else, there is no point to have a debate," he said.
Thor said as a candidate who represents the caretaker government, Hsiao Leung must state his stand on the matter if he wishes to represent the people here.
"He cannot just focus on national issues like cost of living or GST, he must also look into local issues affecting the Bukit Tengah folks," said Thor.
Hsiao Leung admits he is a newcomer to the constituency, urging, "This project has been planned for some years, please give me a chance to look into it and study it."
Last year, Penang Front Party (PFP), which is also contesting the seat, has staged a protest against the state government demanding that the hostel plan be scrapped or face the wrath of the residents in the coming GE.
However, a village development and security chief said although the issue may worry some residents, it is not significant enough to cause the seat to fall to another party.
50-50 winning chance
Bukit Tengah's voter pattern is mixed, with Malays 36%, Chinese 47% and Indians 17%.
In 2013, PKR's Ong Chin Wen defeated state BN chief Teng Chang Yeow with a thumping majority of 5,190.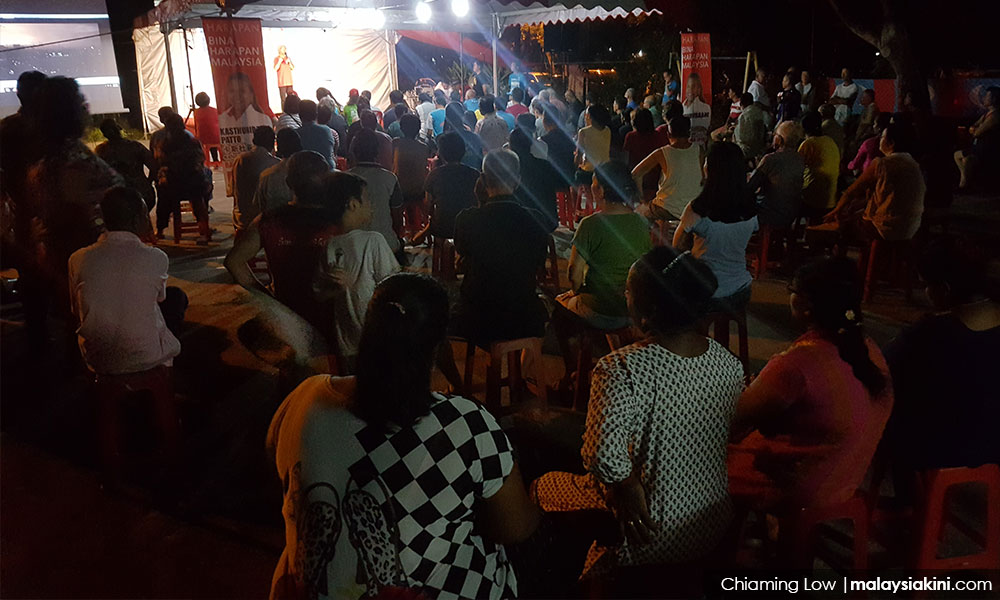 With PAS no longer a Harapan ally, votes previously cast for PKR is expected to go to the Islamic party, which has fielded its own candidate Norazman Ishak in Bukit Tengah.
The PKR candidate may also burn from the effect of an "internal crisis" involving leaders who are unhappy with not being picked as candidates, resulting in them withdrawing their help and support for Gooi's campaign.
With PFP's Edward Joseph and Party Rakyat Malaysia's Tang Hiang Lye joining the fray, the chances of winning the seat for any party appears to be unpredictable.
Sources claim that Thor too faces an internal struggle from his own party as he hails from a different camp from Teng, the state Gerakan chief, who is contesting the Tanjung Bungah state seat.
Thor was earlier slated to contest Sungai Pinang, which he was more familiar with, having contested the state seat in 2013 but lost to DAP's Lim Siew Khim.
Being sent across to the mainland to Bukit Tengah only a few weeks before nomination has posed some new challenges for Thor.
"Any party that wins here will do so with a lower majority," said a resident who wishes only to be known as Goh.
"It's a 50-50 chance for BN or Harapan, but if the (caretaker) Penang government announces that it would shelve the foreign workers hostel, all votes would go to the PKR candidate," said the resident.
A group of residents has filed an application to review the workers hostel project at the Penang Appeals Board.
The Board decided yesterday that if residents could prove they live nearby but were not notified about the project, the planning permission granted by the Seberang Perai Municipal Council to the developer may be revoked, and the latter would have to submit fresh applications.