POST-GE LIVE | After battling through the mother of all polls, Pakatan Harapan emerges victorious in the battle for Malaysia.
In what is truly a reflection of the power of the people, Malaysians left a clear message for change at the polls, stripping federal control away from BN after 61 years.
This is the first time the nation will see a change of government since independence in 1957.
Follow our live blog as the Malaysiakini team brings you the news as it takes place.
KEY HIGHLIGHTS
Hundreds of revellers line streets near Istana Negara
Istana Negara receives GE14 results from EC
Bashah says Kedah BN respects people's decision
Upko leaders visit to Warisan chief's house raises eyebrows
Patriot urges Harapan to begin rebuilding nation, starting with national unity
Najib "accepts the verdict of the people"
Agong will decide next PM
Sultan grants audience with Azmin
Negeri Sembilan Harapan waits for audience with ruler
TV3 reports Dr M's swearing-in 'won't happen today'
BN out, Harapan to form new gov't
Financial markets closed in view of GE holiday
---
11.59pm: Thank you for following our live updates of the first day after the historic 14th general election, which saw Pakatan Harapan wrest federal control from BN after six decades.
---
Hundreds of revellers line streets near Istana Negara
9pm: Jalan Duta, Kuala Lumpur - A wave of euphoria is in the air as hundreds of revellers line the streets near Istana Negara.
The sound of trumpets and car horns are incessant as the people celebrate Pakatan Harapan's victory and Dr Mahathir Mohamad's installment as prime minister.
"I feel goosebumps," a tutor from Damansara who wished to be known as Sue tells Malaysiakini, as she looks on to the crowd.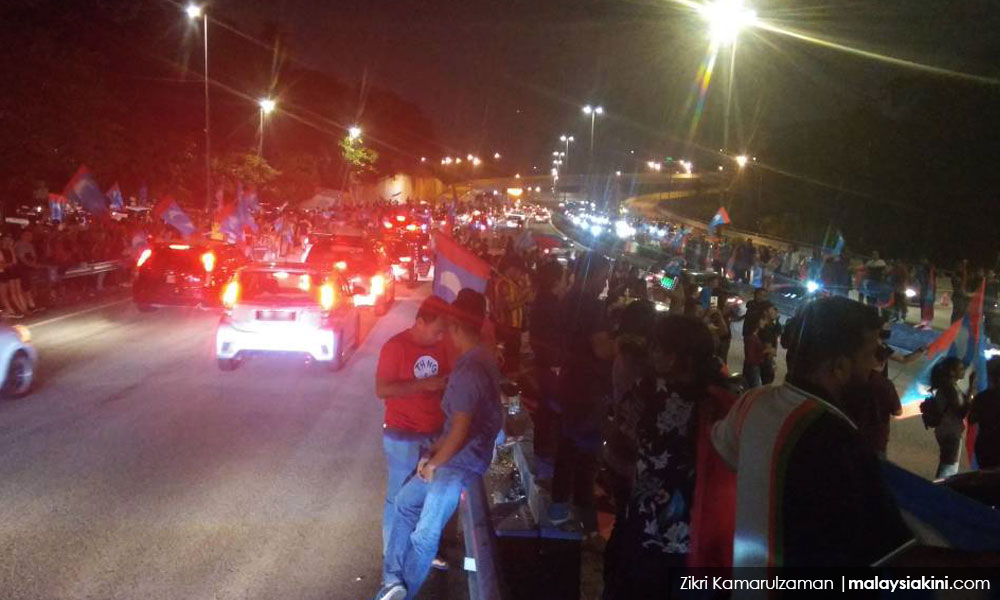 Sue hopes the new government can fulfill their promises, and do a good job in the next five years.
Another reveler who wished to be known as Angah, from Kampung Pandan, says the celebrations tonight show that "the people are united."
---
Istana Negara receives GE14 results from EC
8pm: Istana Negara, Kuala Lumpur - Istana Negara has received the results of the 14th general election, paving way for Dr Mahathir Mohamad to be sworn in as the country's seventh prime minister tonight.
Bernama quotes Nik Mohd Shafriman Nik Hassan, the senior private secretary to Yang di-Pertuan Agong Sultan Muhammad V, as saying that the palace received the official results of yesterday's polls from Election Commission chairperson Mohd Hashim Abdullah, about 2.45pm at the palace.
Previously, about 1.38pm, Nik Mohd received a document signed by Pakatan Harapan leaders, which named Mahathir as the seventh prime minister-designate.
"The two documents will be handed to the Yang di-Pertuan Agong to seek his consent for the swearing-in ceremony soon," said Nik Mohd in the statement.
---
Najib wrong, 'party' simple majority not needed to form gov't - constitution expert
2.30pm: Ipoh, Perak - Constitutional law expert cum Pakatan Harapan Tebing Tinggi elected assemblyperson Abdul Aziz Bari says there is no mention in the federal constitution that "a party" must have a simple majority to form a government.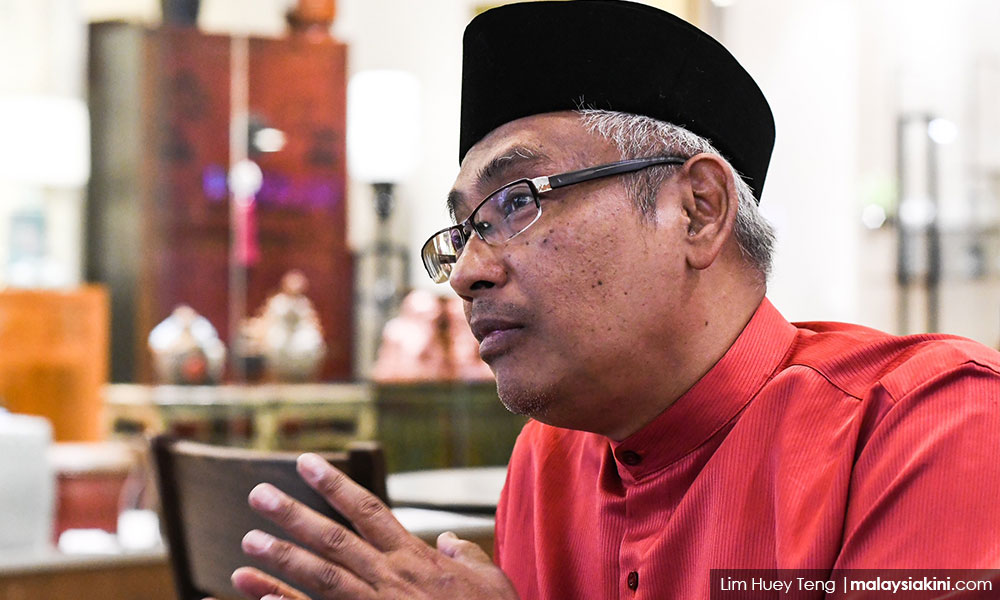 He points out that the constitution only says anyone, and not "a party", that has a simple majority can form the government.
"I want to respond to (BN president) Najib Razak's statement that no party has a simple majority. This is not true.
"Now we already have a simple majority, that is by "a party and other parties".
"The constitution did not mention 'party', but it said 'anyone' with a simple majority in the Dewan," he says at a press conference in Ipoh today.
---
Bashah says Kedah BN respects people's decision
2.34pm: Kedah - Kedah BN says it respects the people's decision to hand victory to Harapan yesterday.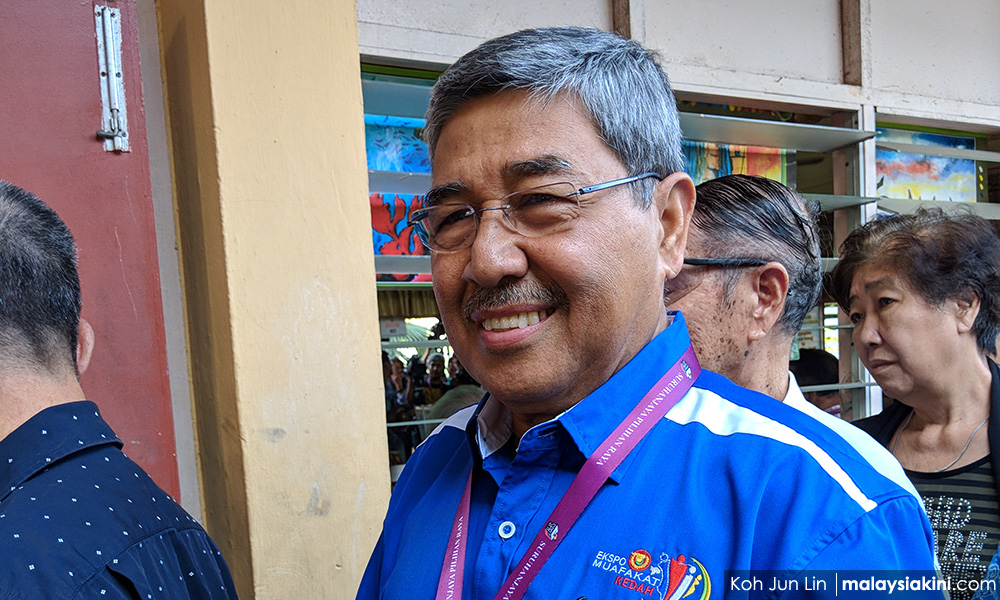 "We accept and respect the decision taken by the people in last night's election.
"For us, the democratic system and federal constitution must continue to be upheld to ensure the harmony and prosperity of the nation is ensured," says Kedah BN chief and caretaker menteri besar Ahmad Bashah Md. Hanipah.
Harapan won 18 out of the state's 36 seats, beating BN and PAS.
However the status of the state government remains in question as Harapan does not have a simple majority.
---
Civil servants urged to continue carrying out duties
2.30pm: Chief Secretary to the Government Ali Hamsa called on all civil servants to continue carrying out their responsibilities to serve the people and remain loyal to the King, country and elected government, according to Bernama.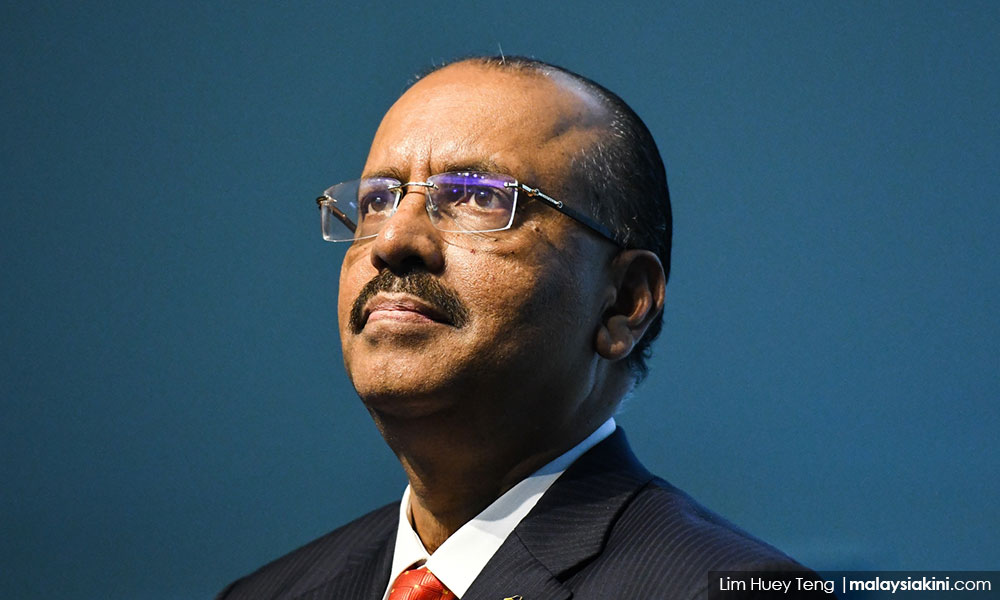 This includes all members of the Federal Public Service, State Public Service, federal and state statutory bodies as well as local authorities, he said in a statement here today following the results of the 14th general election, which saw a change in the ruling party.
"As a country that practices the parliamentary democracy and constitutional monarchy, we must respect the results of the GE14 as announced by the Election Commission (EC).
"Based on Article 132 (2) of the Federal Constitution, every civil servant will continue to serve as long as permitted by the Yang di-Pertuan Agong," he said.
---
Patriot urges Harapan to begin rebuilding nation, starting with national unity
2pm: Army veterans' association Persatuan Patriot Kebangsaan congratulates Harapan for victory as a "new beginning", and urges the coalition to begin rebuilding the nation, citing national unity as a top priority.
"It is indeed a victory long overdue, to give our country a chance to wipe off the shame, to renew and rebuild, and a new beginning.
"This Malaysian victory is a new beginning, and it (rebuilding) has to start with national unity," says Patriot president retired brigadier general Mohamed Arshad Raji in his congratulatory message.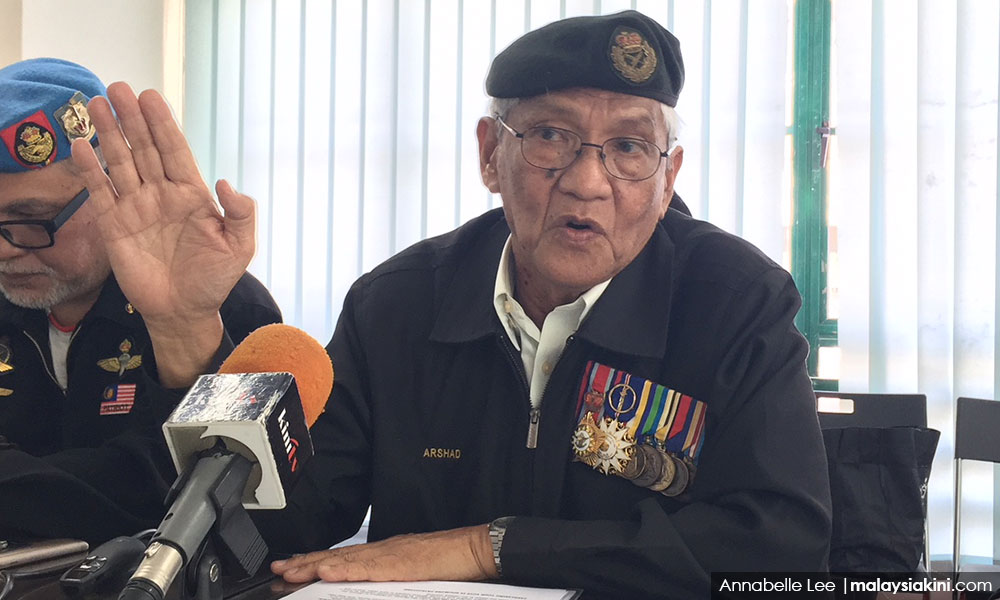 "Every Malaysian, irrespective of race, religion or social standing, must be made to feel important and needed.
"It is for a better tomorrow where every son and daughter of this beloved country of ours can proudly call Malaysia, my home.
"Towards this end, Patriot calls on all Malaysians from Semenanjung, Sabah and Sarawak, to put our nation first, help our new government in building our society and nation," he says.
He adds much needs to be done to put right, for example "fiscal policy, climbing national debt, inter-ethnic distrust, religious bigotry, decline in our educational standard, wastage and abuse in governance, the plight of minority groups, and poverty among the rural and urban poor, among others".
"Let us all start to think as Malaysians first. Let us together make Malaysia great again."
---
Dr M denies Warisan in discussions with BN
1pm: Sheraton Hotel, Petaling Jaya - Pakatan Harapan chairperson Dr Mahathir Mohamad quashes rumours that its ally Warisan is in discussions with BN.
"Warisan is always close to us.
"I spoke to Shafie Apdal (Warisan president) twice this morning and he has told me he has already decided that all members of Warisan who won the election... will name me as the PM," he tells a press conference.
The 60-seat Sabah state legislative assembly is hung after BN won 29 seats, while Warisan, PKR and DAP also collectively won 29 seats.
Parti Solidariti Tanah Airku (Star) won two seats.
Dr M urges Agong to name him as premier by 5pm
12.30pm: Sheraton Hotel, Petaling Jaya - Pakatan Harapan chairperson Dr Mahathir Mohamad implores the Yang di-Pertuan Agong to name him as the prime minister by 5pm today.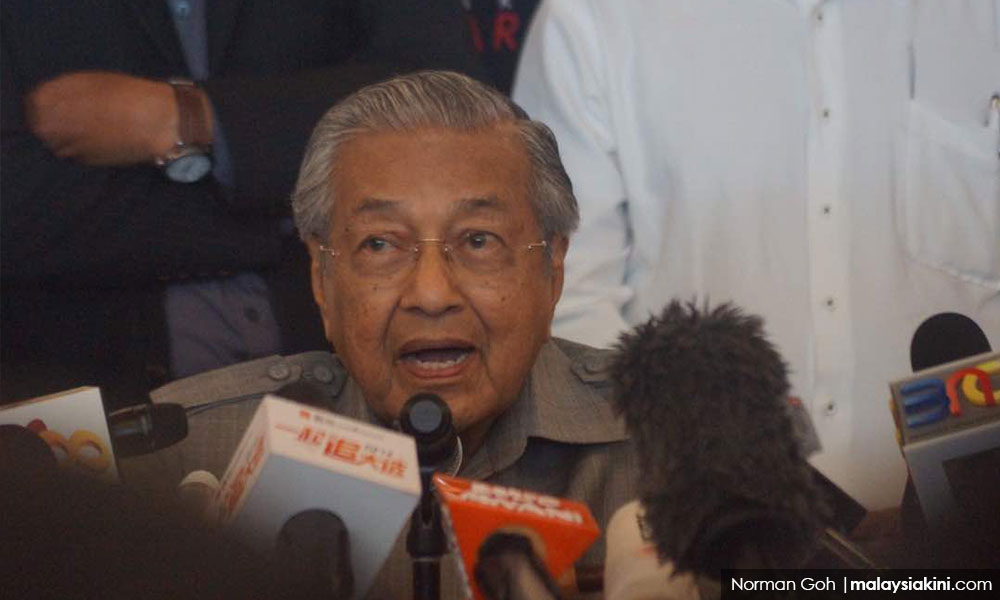 "Currently, there is no government of Malaysia. The interim government has been over since last night.
"Any delay will mean we have no government, no law and no constitution," says the Langkawi MP.
The Federal Constitution stipulates that the Agong is obliged to appoint an MP who commands the most confidence of other MPs as the prime minister.
Mahathir says all Harapan MPs have signed a letter to support him as the prime minister.
---
All eyes on Negeri Sembilan palace
12.20pm: Seremban - Negeri Sembilan Pakatan Harapan is waiting to hear from the state secretary who is believed to have been granted an audience with the Yang di-Pertuan Besar.
"We are waiting to get more information and once we do, we will inform as soon as possible about what is happening today, specifically regarding the appointment of the Negeri Sembilan menteri besar," said the state Harapan deputy information chief Mokhtar Ahmad in a statement today.
Harapan won 20 state seats in Negeri Sembilan last night, out of 36 seats. They are poised to form a simple majority government.
---
Upko is leaving BN to join Warisan, claims acting president
2.31pm: Kota Kinabalu, Sabah - According to Bernama, United Pasokmomogun Kadazandusun Murut Organisation (Upko) acting president Wilfred Madius Tangau claims that the party's supreme council has unanimously decided to leave BN and join Parti Warisan Sabah to form the new state government.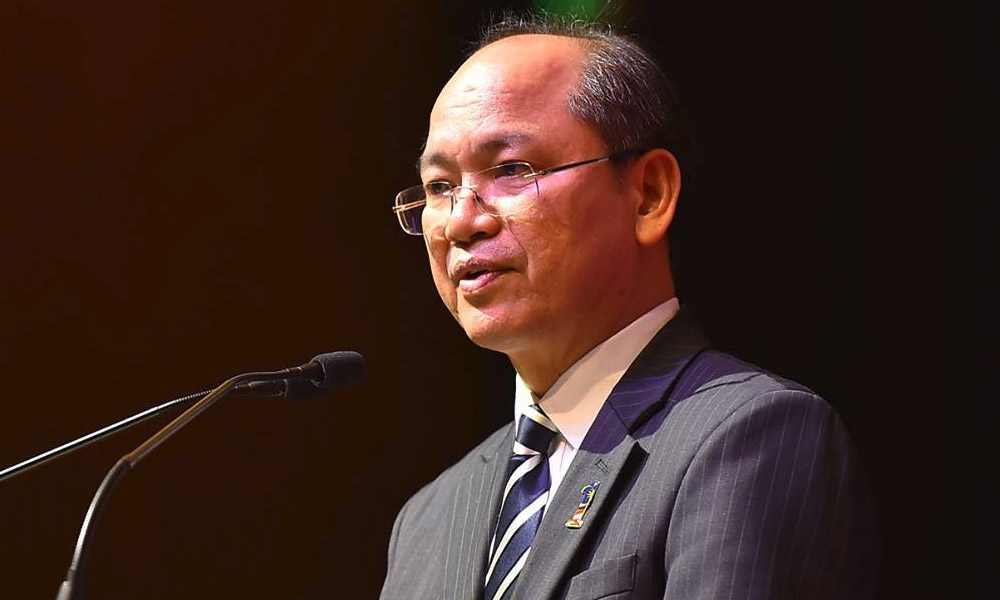 ---
Azmin summoned to palace
11.50am: Shah Alam - PKR deputy president Mohamed Azmin Ali is at Istana Bukit Kayangan for an audience with Selangor ruler Sultan Sharafuddin Idris Shah.
Azmin is expected to discuss the formation of the new Pakatan Harapan state government after winning a supermajority - 51 out of 56 state seats.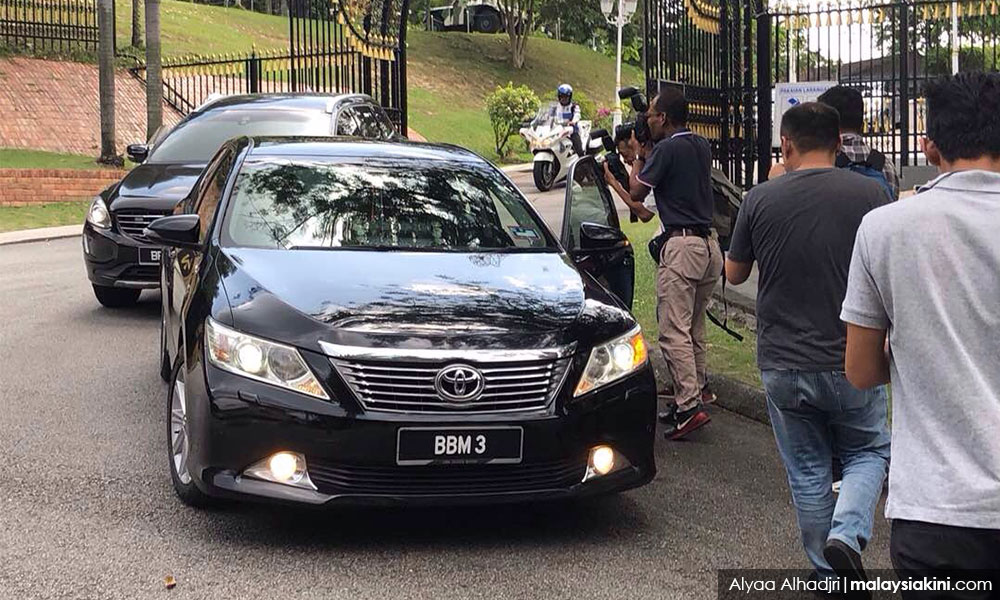 Also seen arriving at the palace earlier was Selangor chief of police Mazlan Mansor.
---
Move over Umno-BN, make way for Harapan, says Azmin
Earlier, Azmin cheers the election results yesterday as having made history, a "victory of the people, a victory as we have never seen before".
"The citizens of Selangor and Malaysia have spoken loud and clear: Move over Umno-BN, make way for Pakatan Harapan.
"This is not a Malay tsunami, nor a Chinese tsunami, nor an Indian tsunami – this is 100 percent a Malaysian Tsunami!
"A tsunami that has swept across the entire nation for both state seats as well as parliamentary seats," says the caretaker menteri besar in a statement.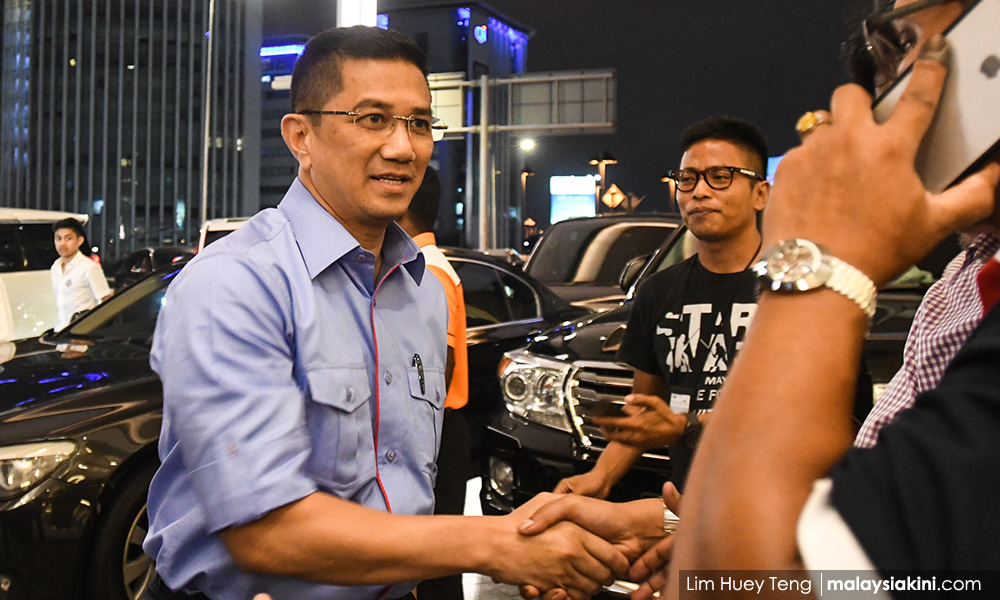 He said he was "humbled" by the landslide majorities in Selangor, in which Harapan clinched 51 out of 56 seats.
"The Malaysian people have chosen constitutional democracy over kleptocracy. The people have chosen rule of law over rule of men. And the people have chosen justice over injustice.
"Today marks a new dawn for the nation, and the citizens of Malaysia can look forward to a bright new day to begin a brand new chapter for the nation.
"We in Pakatan Harapan could not have done this without your support," he says.
---
Upko leaders meet with Shafie Apdal
11.32am: Kota Kinabalu, Sabah - Two leaders from the United Pasokmomogun Kadazandusun Murut Organisation (Upko) arrive at the residence of Parti Warisan Sabah president Mohd Shafie Apdal.
The leaders are Wilfred Madius Tangau and Donald Peter Mojuntin.
Both Warisan and Upko leaders, however, are keeping mum over the reason for their visit.
The leaders are currently in a discussion.
Upko won five state seats and one parliamentary seat in the election. [Read more here]
---
No one has majority, Agong to decide, says Najib
11.20am: Putra World Trade Centre, Kuala Lumpur - BN president Najib Razak has just concluded his PC and does not take any questions from the media.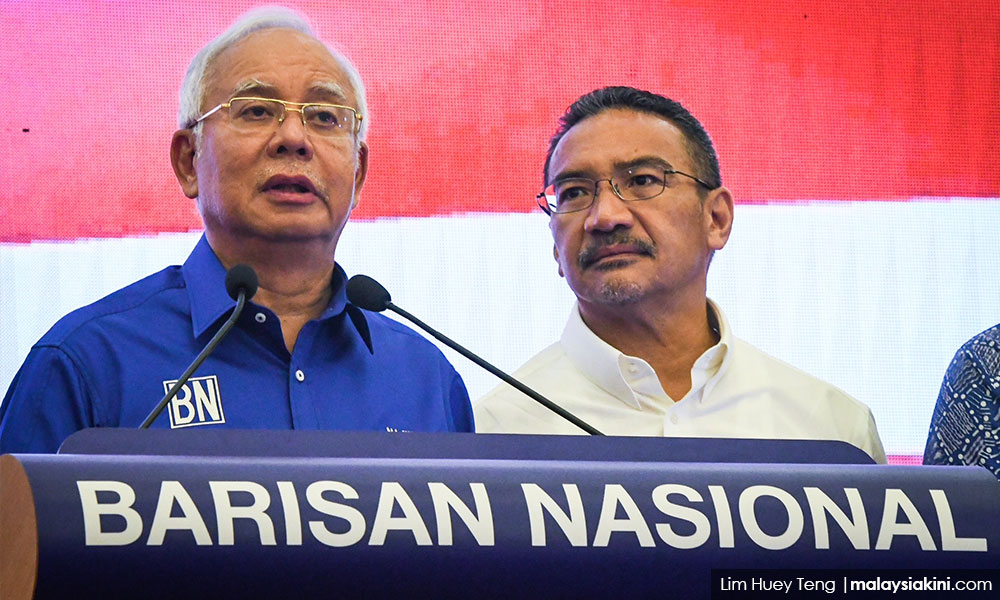 He says he "accepts the verdict of the people" and adds that the decision as to who will be sworn in as prime minister will be up to the Agong, as no one party emerged with a simple majority. [Read more here]
Among the other points raised are:
The results of the election countered claims BN cheated to win [Read more here]
Despite rumours to the contrary, he did not call for nor attend any national security council meeting.
His government had tried its best to raise the standard of living of the people and ensure a good future, such as by reducing unemployment and developing infrastructure
Rakyat benefited from many inclusive benefits offered by the government
BN won 79 seats and this is a mandate to serve and earn back the people's trust in the future
---
Warisan blocked from entering Sabah governor's office
11.12am: Kota Kinabalu, Sabah - Parti Warisan Sabah president Shafie Apdal is being barred from entering the office of the Yang di-Pertua Negeri Juhar Mahiruddin.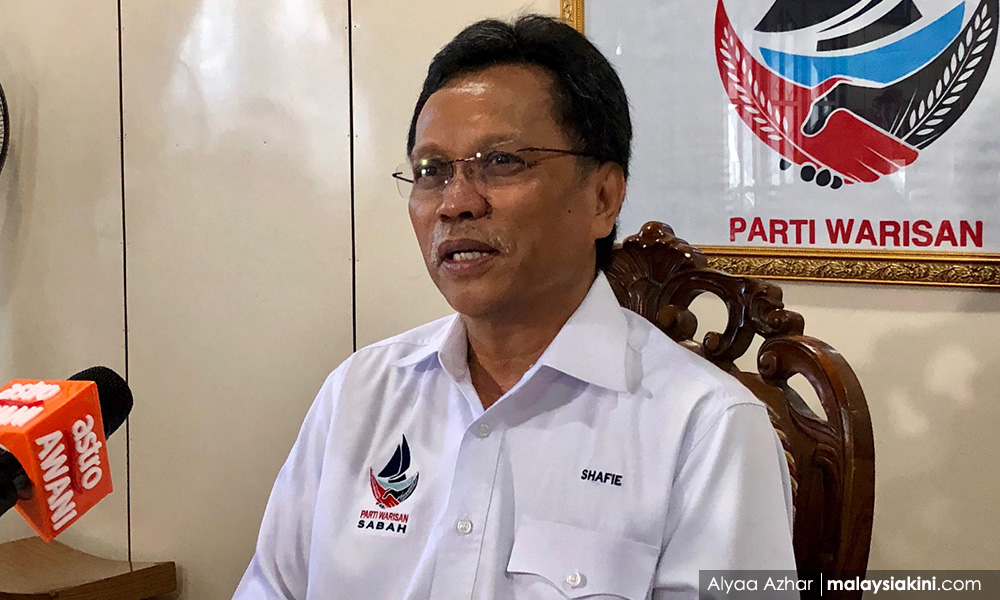 Believed to be trying to seek a meeting with the governor, Shafie's convoy gets blocked as it reaches Jalan Istana, about two kilometres away from the gates.
A group of police personnel from the Light Strike Force stand firmly in the area, blocking anyone who has no reason to use the road from entering.
Warisan won 21 state seats while its electoral partners PKR and the DAP won two and six seats respectively. Currently, the pact is up with 29 seats against BN's 29. Parti Solidariti Tanah Airku (Star) won two state seats, making it the kingmaker.
A rumour is being spread on social media that the BN is trying to get Warisan and PAS to jump over to the coalition to form the federal government.
Warisan party sources, however, deny this rumour.
11am: Johor Umno headquarters - Johor BN chairperson Mohamed Khaled Nordin concedes defeat to Pakatan Harapan at the state level and says he will ensure a peaceful transition of power to the new government.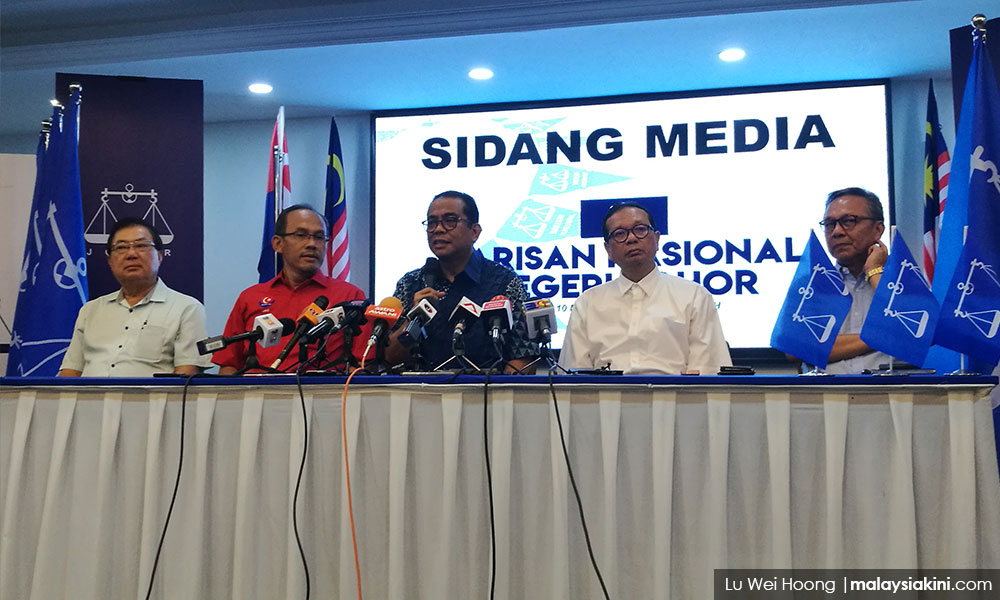 "The people have elected their representatives...On behalf of Johor BN, I accept the result with an open heart."
"I congratulate Harapan in forming the new government. I will ensure the smooth transition of power. I wish them every success as the new government," the caretaker menteri besar told a press conference.
Harapan captured 36 seats to BN's 19 seats and PAS 1.
---
BN top brass still not seen at PC
11.05am: Putra World Trade Centre, Kuala Lumpur - Hordes of local and international press are gathered at the Umno headquarters as BN chairperson Najib Abdul Razak is slated to deliver his post-election address today.
Despite its 11am start time, Najib and other BN top brass are nowhere to be seen at the venue, Dewan Tun Hussein Onn.
Umno secretary-general Tengku Adnan Tengku Mansor was sighted earlier but is not seen now.
After BN's thumping loss at the polls yesterday, and the delay of Pakatan Harapan chairperson Dr Mahathir Mohamad's swearing in as the new prime minister, there has been speculation that negotiations among parties are ongoing.
---
Malacca MB to be named by tomorrow
11.03am: Malacca - Harapan's Malacca MB will be named by tomorrow.
State chairperson Adly Zahari says they are still discussing who they will name for the post.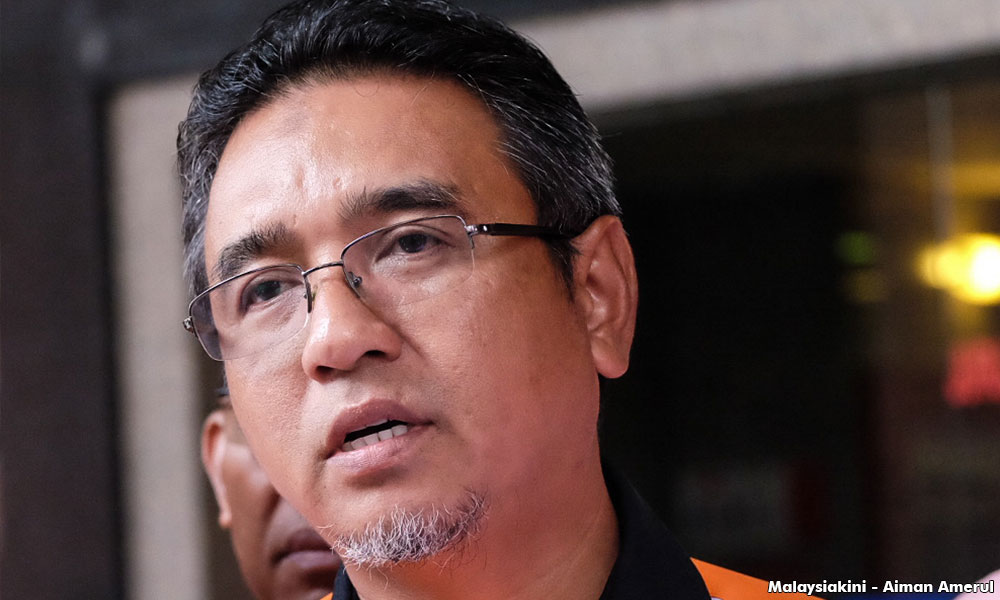 The swearing in will, therefore, take place only tomorrow, he says at a press conference.
---
Harapan expect Malacca CM swearing-in tomorrow
10.45am: Malacca - Pakatan Harapan says it is still discussing who should be the Malacca chief minister, and expects their candidate to be sworn in by tomorrow at the latest.
"The latest (for the chief minister to be sworn in) is tomorrow," Malacca Harapan chief Adli Zahari says in a press conference today.
PKR vice-president Syamsul Iskandar Md Akin, meanwhile, says he has tried to contact former Malacca chief minister Idris Haron but that he was "not answering his phone."
Harapan managed to secure a simple majority in the Malacca state government after winning 15 state seats against 13 by BN.
---
YB Maria Chin tells people not to forget EC's transgressions
10.30am: Selangor - Former Bersih chairperson and Petaling Jaya MP Maria Chin Abdullah urges the people not to forget the Election Commission's ineptitude in handling this election.
"The rakyat of this country have spoken, and it is now time for us to chase our dreams for a brighter future.
"At the same time, we should not set aside or forget the inefficiency shown by the EC in handling this election. [Read more here]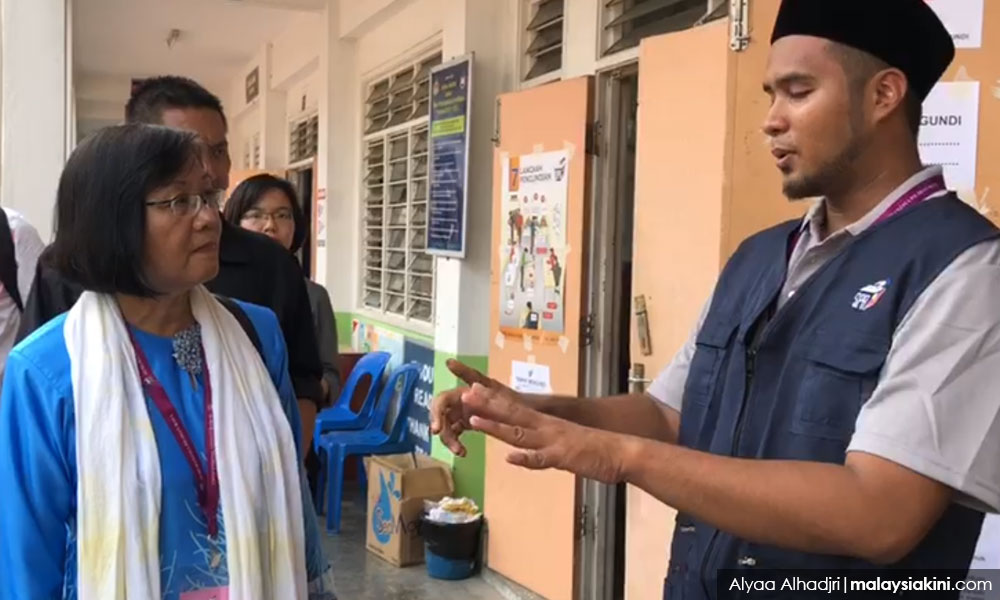 ---
US sends guarded congratulations
10.10am: The US State Department has congratulated Malaysians on having concluded the election, but remains elusive.
"We congratulate the people of Malaysia on their participation in a hard-fought election campaign.
"Malaysians from all parties, states, and backgrounds engaged the electoral process in large numbers peacefully and with great enthusiasm.
"We fully expect all institutions will carry out their functions and duties to produce and implement official results in accordance with the federal constitution and the will of the people," says a message this morning from the US.
---
Swearing in reportedly delayed
10am - TV3 reports that there will not be a swearing-in ceremony for the new prime minister today.
Palace sources had reportedly informed the media that the ceremony would be held on another day.
Malaysiakini is contacting Dr Mahathir Mohamad's camp for comment.
---
Apandi says AG's Chambers 'apolitical'
10.26am: Attorney-general Mohamed Apandi Ali reminds that his department is apolitical.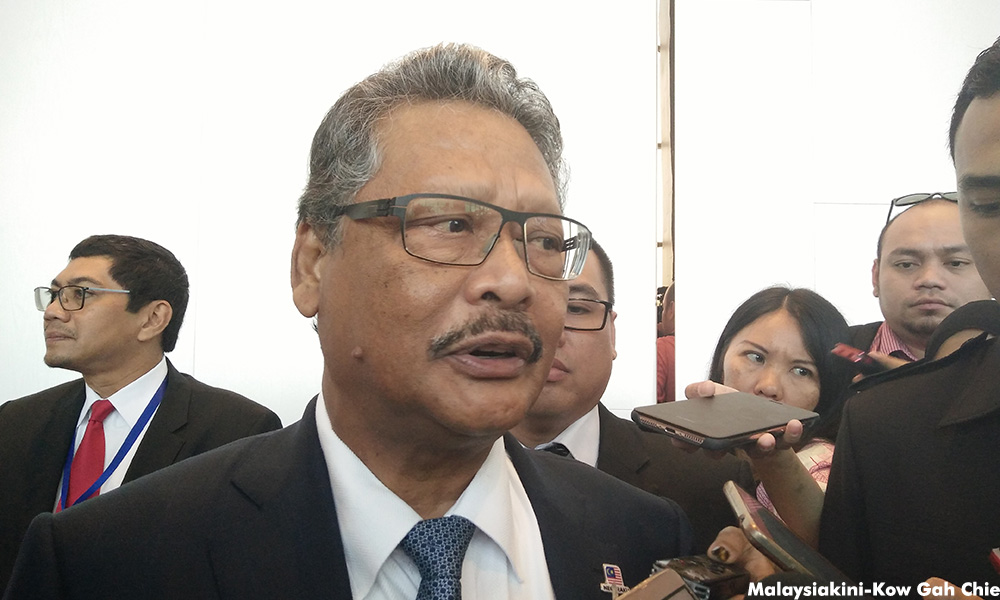 "We are the legal advisers to the government of the day, and at the same time we are the prosecutor of criminal offences as determined by the law."
"We shall continue to ensure the rule of law without fear or favour," he says.
---
9.56am: Petaling Jaya - The swearing in of the new menteri besar of Kedah is postponed.
In a statement, the private secretary to Kedah Sultan Sallehuddin Almarhum Badlishah informs of the postponement, however, no new date is given.
---
Dr M set to be sworn in
9.38am: Jalan Duta, Kuala Lumpur - Members of the press are waiting at Istana Negara for the swearing in of Harapan chairperson Dr Mahathir Mohamad as the seventh prime minister of Malaysia.
The ceremony is expected to take place at 9.30am. However, it is unclear if the swearing in will take place as planned.
The media remains on standby. However, ousted prime minister Najib Abdul Razak is slated to hold a press conference at 11am.
---
Markets closed to observe extra GE holiday
8.55am: Kuala Lumpur - Following chief secretary Ali Hamsa's announcement that May 10 (Thursday) and May 11 (Friday) have been declared additional public holidays for the whole country, Bank Negara said financial institutions and markets are closed accordingly and will reopen on Monday.
---
Investment analyst Moody on impact of Harapan promises
8.30am: Singapore-based Moody's Investors Service says Harapan's win "marks uncharted territory for Malaysia because the country has never witnessed a transition of power away from BN" in history.
Its lead sovereign analyst for Malaysia Anushka Shah is cautious of the new government's financial impact, saying a lack of specifics in the manifesto "lacks details that would allow for a full assessment of their budgetary and macroeconomic impact".
However, the initial assessment is downbeat.
"Some campaign promises, if implemented without any other adjustments, would be credit negative for Malaysia's sovereign.
"These include a proposed abolishment of the GST which, without offsetting measures, would increase Malaysia's reliance on oil-related revenues and, in the near term at least, narrow the government's revenue base.
"Another policy pledge, the reintroduction of fuel subsidies, would also distort market-determined price mechanisms, with effects on both the fiscal position and balance of payments," writes Anushka.
---
Malaysians wake up to new government
9am: Petaling Jaya - After a day of polling fraught with many uncertainties, Pakatan Harapan emerges the winner, claiming 113 parliamentary seats, while its ally Parti Warisan Sabah won eight parliamentary seats - more than enough for a simple majority.
BN, meanwhile, in a shocking tumble from grace, must make do with 79 parliamentary seats, PAS 18, Sabah state party Star one, and independent candidates, three.
---
Harapan six states in the bag for now
9am: Nine state can form state governments after the contesting parties obtained at least a simple majority in the 14th general election (GE14), according to Bernama.
The states are Perlis, Kelantan, Terengganu, Penang, Pahang, Selangor, Negeri Sembilan, Melaka and Johor.
Harapan has captured states on the west coast to form the state government, namely Penang, Selangor, Negeri Sembilan, Melaka and Johor.
The formation of state government in Perak, Kedah and Sabah are seen as hanging as there is no party with a simple majority.
For 60 state seats in Sabah, Barisan Nasional won 29, Harapan (two), DAP (six), Parti Warisan Sabah (21) and Parti SolidarityTanah Airku won two seats.
From the 36 state seats contested in Kedah, Harapan captured 18 seats, PAS won 15 seats and BN (three) while in Perak, Harapan won 29 seats, BN (27) and PAS (three) from an overall of 59 seats.
Harapan needed at least one more state seat to form the state government with a simple majority in Perak and Kedah.
EC deputy chairperson Othman Mahmood says the commission could only announce the number of seats won by parties but could not decide on which party eligible to form the state government.
"It depends on the respective to discuss. We cannot decide who should form the state government," he says.