A study by the digital transparency advocacy group Sinar Project has confirmed that Malaysiakini's live.undi.info website, which published live updates of the 14th general election results, was blocked during polling day.
It said internet service providers TMNet and Maxis had blocked the website for several hours starting on the evening of May 9, using a method known as Domain Name Service (DNS) hijacking.
"(The) collection of test data proving DNS hijacking provided clear evidence of censorship of independent source of election results on two different networks (TMNet and Maxis) during critical period of election results announcements for Malaysian elections.
"(However), this did not affect the eventual delayed official election results which matched the faster updates on the blocked independent results website," Sinar Project said in its report, which was published yesterday.
It said the first signs of censorship were detected at 9.55pm.
A DNS is the equivalent of an address book that directs computers and other connected devices to a requested server, and hijacking the DNS is akin to misdirecting that request to another server.
In this case, Sinar Project said the request was directed to an address that is used to display the government's standard notice which states that a website has been blocked (photo).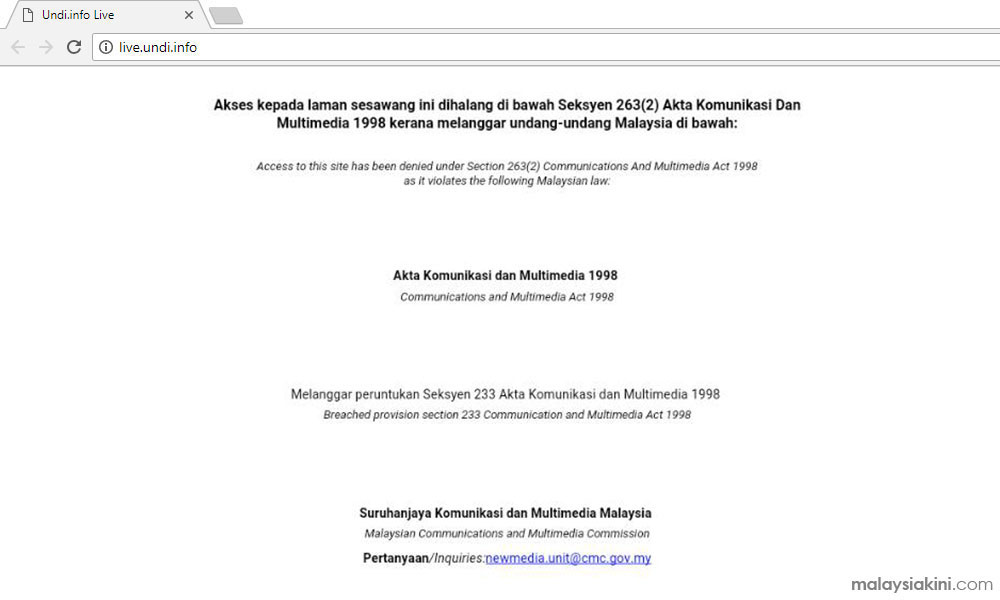 "While there were reports by the public of screenshots of the notice, for the measurement data collected, the tests could only get connection errors from the redirected server […]
"This indicated that there was a possible attempt by (the) caretaker government to censor alternative sources of election results such as those reported by independent news media," it said.
When contacted, both TM and Maxis separately told Malaysiakini that questions regarding national content blocking should be directed to MCMC and they as ISPs are obliged to follow the country's cyberlaws.
Malaysiakini has already contacted the MCMC and is awaiting its response.
'No interference with other sites'
Sinar Project's test was conducted using the Open Observatory for Network Interference (OONI), which is designed to crowdsource evidence of online censorship and publish the results online.
In Sinar Project's case, members of the public could install the OONI Probe mobile app and then click on a link previously publicised by Sinar Project. This prompted the app to test the accessibility of a list of election-related websites.
The tested websites include the Election Commission's website, those of several local and international media outlets, social media sites like Facebook and Twitter, Bersih's website, and blogs and websites run by politicians and political parties.
However, Sinar Project said it did not detect evidence of censorship in the week leading up to the election, nor was there interference with any website apart from live.undi.info.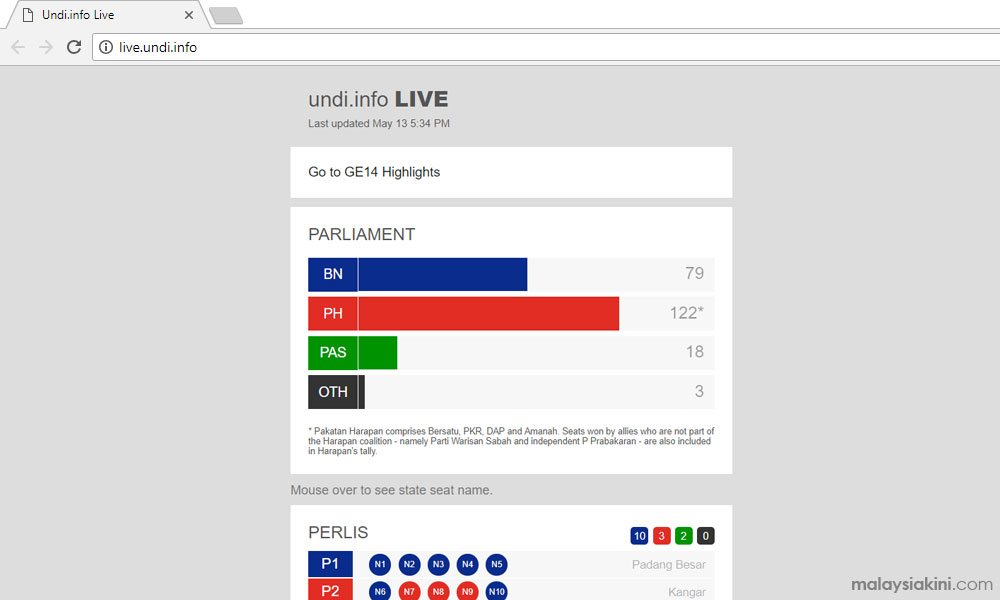 "Sites such as bersih.org, political party websites and official elections page were temporarily inaccessible intermittently on different networks early on the day of polling, but many were due to network timeouts.
"This seems to indicate either heavy traffic to the websites or other network related issues," it added.
Previously, Malaysiakini had reported that the Malaysian Communication and Multimedia Commission (MCMC) had issued an order to block access to live.undi.info.
The website was providing live updates on election results which were compiled from numerous sources, and had over 1.3 million concurrent users at the time.
However, the block did not work as Malaysiakini had issued shortcuts to get around the problem and readership continued to surge.