The Malaysian Communications and Multimedia Commission (MCMC) instructed at least 11 internet service providers (ISPs) to block Malaysiakini's three election result websites on polling night.
This was according to copies of emails from MCMC's Network Media Management Department under its Digital Surveillance Division, as reportedly sighted by online portal Malay Mail.
According to Malay Mail, the emails were sent at 9.13pm on May 9 to ISPs including TM (and its subsidiary Webe), Maxis, Celcom, Digi, YTL, Time, Mykris, Redtone, Aries Telecoms, and Extreme Broadband.
Other companies that received the email also included government IT services firm HeiTech Padu Bhd, data centres AIMS and Hitachi Sunway Information Systems, and network services firm Global Transit Communications Sdn Bhd.
The directive was then reportedly revoked in another email sent at 11.15pm the same night.
The three websites in question were live.malaysiakini.com, live.undi.info and undi.info.
The first two websites provided live updates of the 14th general election results, while the last website is a repository of voting data from the past four general elections.
All three websites are run by Malaysiakini.
A study by the digital transparency advocacy group Sinar Project had previously confirmed that one of the websites, live.undi.info, had been blocked by TMNet and Maxis on polling day.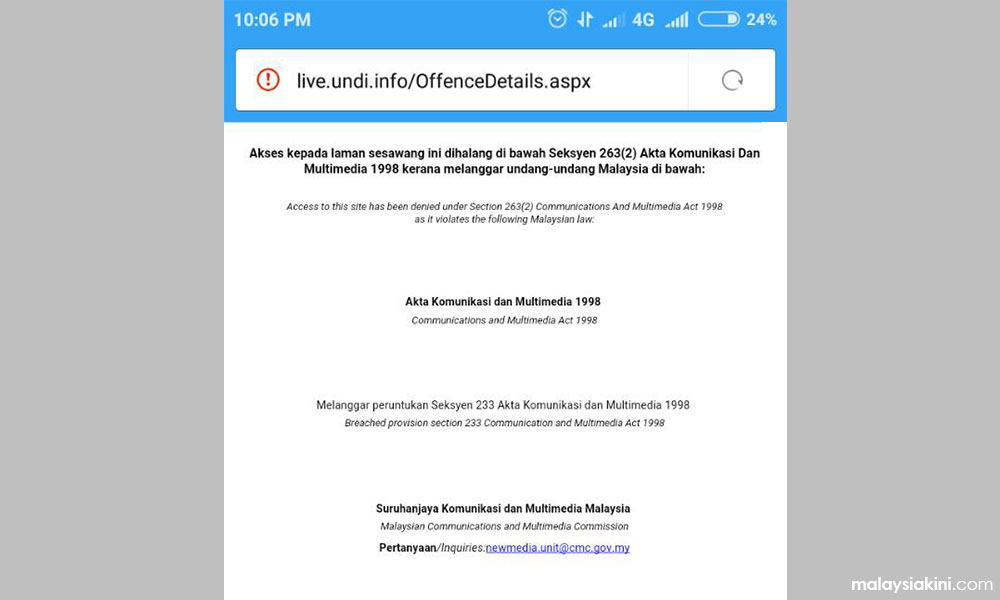 'Improper use of network services'
MCMC yesterday said it had ordered Malaysiakini's "live updates" of the election results on polling night to be blocked out of fear it could affect "national stability, public order and harmony, and economic stability".
This was also stated in a copy of its May 9 confidential request to various ISPs, as reportedly sighted by Malay Mail.
In its request, MCMC had asked for the three websites to be blocked or redirected to the IP address 175.139.142.25 — the address used to host a standard government legal notice that a site has been blocked.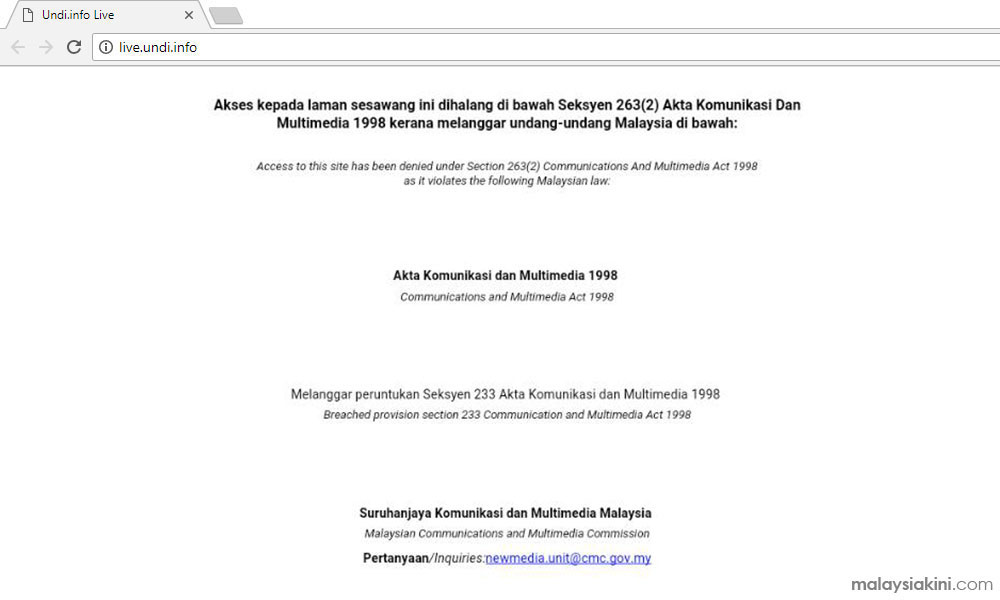 "The commission hereby request you to undertake the actions under Section 263(2) of the Communications and Multimedia Act 1998 with respect to the following URL/web address," said the letter signed by MCMC chief operating officer Datuk Mazlan Ismail, on behalf of its chairman Tan Sri Halim Shafie.
"Specific to this request, due to the nature of the offence that may affect national stability, public order and harmony, and economic stability, you are required to perform the redirection immediately."
Additionally, MCMC stated in its May 9 order that the three sites had allegedly contravened Section 233 of the Communications and Multimedia Act with regards to "improper use of network facilities or network service".
Section 233 deals with "any comment, request, suggestion or other communication which is obscene, indecent, false, menacing or offensive in character with intent to annoy, abuse, threaten or harass another person."
If found guilty, one stands to be liable to a fine not more than RM50,000, or prison not more than one year, or both — and further fine of RM1,000 for every day the offences is continued.
The ISPs were told that failure to comply with MCMC's request to block the three sites would be an offence under Section 242 of the same act.
Section 242 handles compliance to the Act, punishable with fine not exceeding RM100,000, or prison not exceeding two years, or both.