Former prime minister Najib Abdul Razak was today detained by the MACC and is expected to be charged tomorrow with alleged abuse of power.
According to MACC, the Pekan MP was taken into custody at 4.13pm at its headquarters in Putrajaya.
Officers are now recording his statement in regard to 700 cheques linked to the 1MDB affair.
Najib is expected to face several charges under Section 23(1) of the MACC Act 2009 for alleged abuse of power when he was in office.
This pertaining to the RM2.6 billion found in his personal bank account.
Investigators said the money had come from beleaguered sovereign fund 1MDB while Najib has maintained that the amount was a donation from Saudi Arabian sources.
The anti-graft body said the latest round of charges come following a green light from the Attorney-General's Chambers (AGC).
"Najib will be taken to the Kuala Lumpur Sessions Court on Sept 20, 2018, (Thursday), at 3pm to face the charges.
"The MACC will also liaise with the Royal Malaysian Police (PDRM) to record Najib's statement before he is taken to the court tomorrow to facilitate police investigations under the Anti-Money Laundering, Anti-Terrorism Financing and Proceeds of Unlawful Activities Act 2001 (AMLATFPUAA)," said the agency.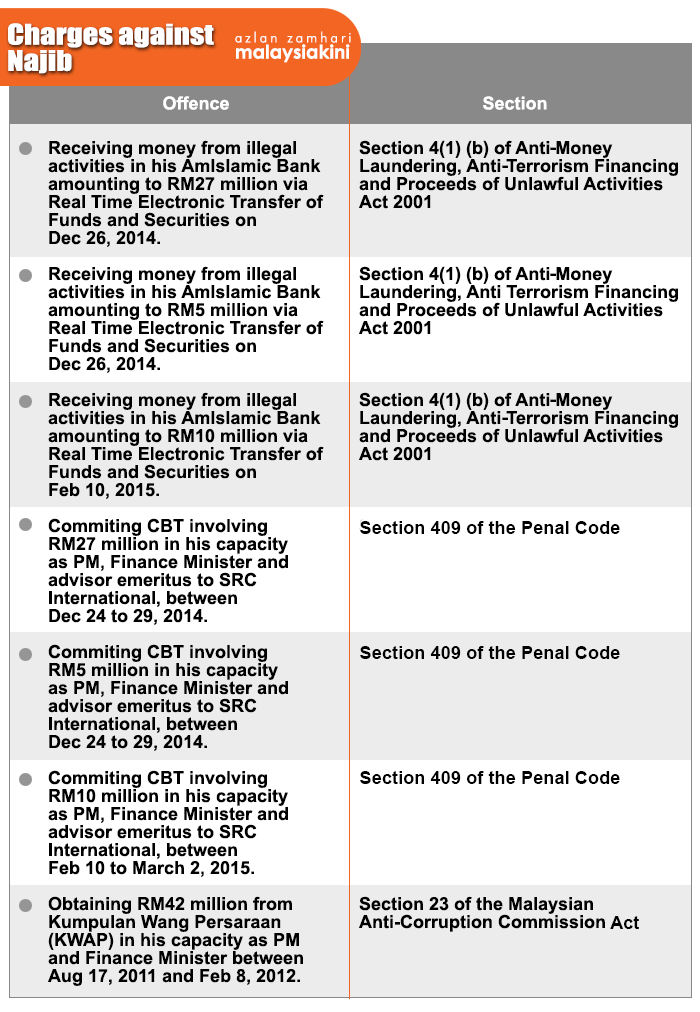 Tomorrow will be Najib's third time in the court to face charges.
Previously, on two different occasions, he had been slapped with a total of seven charges in connection with SRC International Sdn Bhd, a former subsidiary of 1MDB.
The charges related to money-laundering and abuse of power while in office.
Yesterday, it was reported that Najib's wife Rosmah Mansor could also face up to 20 criminal charges soon - most of them related to money laundering.
Last Friday, Najib's lawyer Shafee Abdullah was also slapped with four charges of money laundering involving RM9.5 million he had received from Najib.