Have the police no mercy for an elderly woman who is also the wife of the nation's second prime minister, asked Nooryana Najwa Najib (above) today.
In an Instagram post, the daughter of former prime minister Najib Abdul Razak lamented the police raid earlier today on the house of her grandmother, Rahah Mohammad Noah, at the same time her father was being charged at the Kuala Lumpur Sessions Court.
"We wonder why there are no photos from the raid. It's because nothing was found and (the police) returned empty-handed.
"Should an 87-year-old woman be made to undergo such a bad experience? At this age, she often spends her time praying, especially at a time where her son is being subjected to various tests.
"We are trying very hard to see our grandmother in a healthy condition because we love her very much.
"I understand the police are doing their job as instructed by the powers-that-be but is there not a single drop of mercy for such an elderly woman, the wife of a former prime minister, and a woman who has contributed so much to the country?" asked Nooryana.
She then pointed out that "Malaysia Baru" (the New Malaysia) should not be about politics of vengeance but about political harmony which could unite everyone towards a better future.
Earlier today, Malaysiakini reported that the 14-man strong team from Bukit Aman's Commercial Crime Investigation Department (CCID) and its Amla (Anti-Money Laundering, Anti-Terrorism and Proceeds of Unlawful Activities Act 2001) unit, returned empty-handed from the raid during which they broke through the ceiling of the house as part of their search.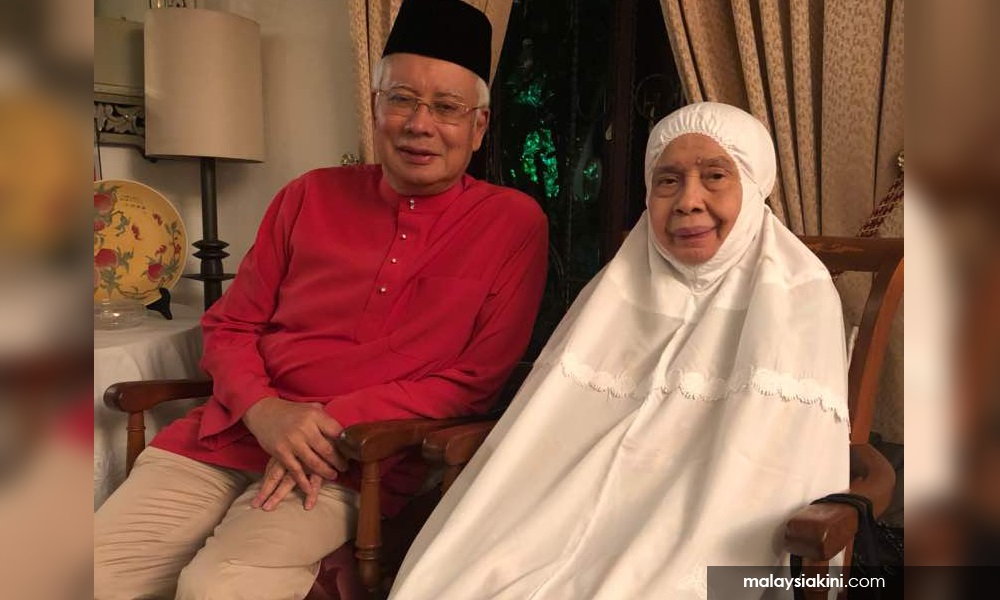 The raid was conducted following a tip-off that Najib had stashed a substantial amount of money, believed to be linked to 1MDB, in his mother's house.
Plethora of charges
Whistleblower website Sarawak Report had last year reported that Najib had paid RM17 million to the Yayasan Rahah Foundation, established by his mother, with money which allegedly originated from 1MDB.
The raid came amid a plethora of charges the authorities have slapped the former premier with in regards to his alleged involvement in the 1MDB scandal.
Najib had this afternoon claimed trial to four charges of abuse of power under the MACC Act 2009 and to 21 charges under Section 4 (1) (a) of the Anti-Money Laundering and Anti-Terrorism Financing Act 2001 (AMLATFA) for receiving, using and transferring illegal proceeds to other entities.
This pertains to the US$681 million (RM2.6 billion) found in his Ambank personal account which the authorities claim came from 1MDB. Najib, however, says the money came from Saudi Arabian sources and has denied any wrongdoing.
Najib had previously been charged with seven counts of money-laundering and abuse of power in regards to RM42 million found in his personal account.
The money is said to be from SRC International, a former subsidiary of 1MDB.