Despite Anwar Ibrahim winning the Port Dickson seat by over 23,000 votes last night, PAS president Abdul Hadi Awang maintains that the relatively low voter turnout was a sign of Pakatan Harapan being punished for not fulfilling its election promises. 
"PAS respects the decision of the people in the Port Dickson by-election that had to be held for the sake of the political interests of a certain person...
"The low percentage of voters is a sign of vote protest towards the Harapan government that has failed to implement its manifesto and shows that the people were boycotting selfish politics," he said in the statement carried in PAS organ HarakahDaily.
Despite a voter turnout of just 58.25 percent, Anwar captured 70 percent of the vote share in yesterday's by-election. 
The de facto Harapan leader secured 31,016 votes – 23,560 more than PAS' Mohd Nazari Mokhtar, and leagues ahead of the five independent candidates.
Former Negeri Sembilan menteri besar Mohd Isa Abdul Samad garnered 4,230 votes, entrepreneur Stevie Chan 337, Lau Seck Yan 214, and Kan Chee Yuen 154. Coming in last was Anwar's former aide, Mohd Saiful Bukhari Azlan, with just 82 votes.
Anwar even garnered a larger majority than that obtained by PKR's Danyal Balagopal Abdullah, who won the seat in the 14th general election by a margin of 17,710 votes.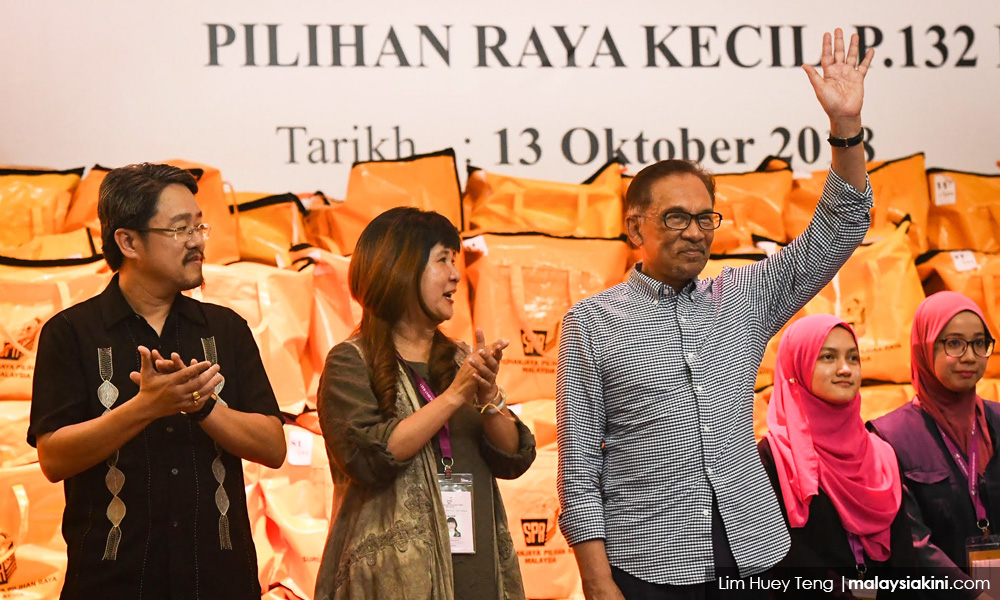 The by-election, the fourth since the May national polls, was triggered after Danyal opted to vacate it to facilitate Anwar's bid to return to active politics and to secure a strong mandate as Prime Minister Dr Mahathir Mohamad's designated successor.
Since wresting federal power in May, the government has had trouble fulfilling several of the pledges made in its manifesto, such as abolishing toll charges.
This has courted flak from the opposition, civil society groups and members of the public.
Recently, Mahathir conceded that the 195-page manifesto, which promises to implement 60 promises over the next five years and 10 in the first 100 days, was proving to be a "big burden" on the new administration.
"We made the manifesto thinking we would not be the government," he has stated during an interview with RTM and Bernama.
Former prime minister Najib Abdul Razak said last night that the Harapan government were aware of the state of the nation's finances before making these promises, and as such, could not use that reason as an excuse on their failure to deliver.