Former prime minister Najib Abdul Razak and former Treasury secretary-general Irwan Serigar Abdullah pleaded not guilty in the Sessions Court in Kuala Lumpur today to six counts of criminal breach of trust (CBT) of RM6,636,065,000 of funds belonging to the government.
Najib, 65, and Irwan, 61, made the plea, after the charges were read out before judge Azman Ahmad.
Najib and Irwan were alleged to have committed all the offences at the Finance Ministry Complex in Putrajaya between Dec 21, 2016 and Dec 18, 2017.
They were charged under Section 409 of the Penal Code, read together with Section 34 of the same code, which provides for a maximum jail term of 20 years and whipping, and liable to fine, if found guilty.
Former Federal Court judge Gopal Sri Ram, who has been appointed as the senior deputy public prosecutor is leading the prosecution team, while Najib is represented by lawyer Muhammad Shafee Abdullah. Lawyers K Kumaraendran and Geethan Ram Vincent is representing Irwan.
Meanwhile, former spy chief Hasanah Abdul Hamid claimed trial to one charge of committing CBT in her capacity as MEIO director involving US$12.1 million belonging to the government.
Malaysiakini reports from the Kuala Lumpur Court Complex live.
---
2.54pm: Thank you for following our live coverage of today's proceedings. Reporting by Hariz Mohd, Mohd Fakhrull Halim, Faisal Asyraf, and Koh Jun Lin. Photography by Lim Huey Teng.
If you like what we do, support independent media by joining our subscription programme for as low as RM0.41 a day. Details here.
Don't forget to follow us on Facebook and Twitter for more news and views that matter.
2.40pm: Najib leaves the court complex, after posting bail.
In his usual calm demeanour, he addresses reporters at the lobby.
"There is nothing in the charges to link my decisions to any personal benefit, nothing the charges that I have benefited from what I have done […]
"What we have done we will prove in court, God willing, that is it was all in the national interest and there is no element of personal benefit to me or Irwan in the matters related today's charges," he said.
Before getting into his vehicle, he shook hands with several of his supporters who had been there since this morning.
Some of the supporters were seen praying for him.
12.02pm: Back in the court room, the prosecution argues that RM300,000 bail for Hasanah is too low, given that the case involves US$12.1 million, and that she is a former MEIO director.
The defence asks for leniency and pity, so that they can have access to Hasanah without having to visit her in prison.
Judge Azman sets bail at RM500,000 with two sureties. Hasanah is required to surrender her passport.
Case mention has been set for 3pm on Nov 29.
The court adjourns.
12pm: Outside the courtroom, Najib's former aide Isham Jalil claims that the government intentionally sent out a late notice for the ex-prime minister's court hearing so that supporters will not be able to organise a gathering in time.
"This was on purpose, only at the last minute was a notice sent, apparently so that it appears that there are not many supporters.
"Many could not make it because they are working today. The government should stop such tactics," Isham tells reporters at the court lobby.
11.50am: Sri Ram asks for Hasanah's bail to be set at RM1 million.
Her lawyers propose a counter offer of RM300,000, which would be paid in full.
11.35am: It is former spy chief Hasanah's turn to enter the dock.
She claims trial to one charge of committing criminal breach of trust in her capacity as MEIO director involving US$12.1 million belonging to the government.
She is accused of committing the crime between April 30 and May 9.
Like Najib and Irwan, she is charged under Section 409 of the Penal Code. Women, under the law, are exempted from caning.
11.30am: The prosecution objects to Shafee's request for three weeks to settle bail, saying it is too long.
After further arguments from Shafee, judge Azman sets that both Najib and Irwan must pay RM500,000 today, and settle the remaining RM500,000 within 10 days.
Shafee asks for a copy of the letter appointing Sri Ram as the prosecutor. This is so the defendants can challenge his appointment.
11.25am: After further argument from Shafee, his co-counsel Geethan says the fact that Irwan was paid for his work is irrelevant to the case.
He says all that mattered was that his client derived no personal benefit from his alleged crimes.
Sessions judge Azman sets bail at RM1 million for each accused, with two sureties.
They are also required to surrender their passports and diplomatic passports if any, as well as refrain from interfering with witnesses.
Shafee asks that Najib is given at least three weeks to settle bail, but assures that his client would make payments as soon as possible.
Kumaraendran, meanwhile, says Irwan can pay RM500,000 today, but will need another 10 days to come up with the balance.
11.10am: Sri Ram submits that the quantum of the bail is not excessive in view of the seriousness of the offence.
As for the second accused, the lead prosecutor points out that Irwan was paid millions for the various posts he held.
Yesterday, it was reported that Irwan had earned close to RM7 million over the past seven years from 2011 until June 2018, from his civil service pay as well directorships in various government-linked companies.
11am: Irwan's lawyer Kumaraendran says his client had been a dedicated civil servant for 20 years and could not afford a large bail.
Hence, a prohibitively large bail would be counterproductive and would only see that his client languishes in jail while waiting for trial, he adds.
Kumaraendran further argues that his client is not a flight risk, and thus the bail should not be high.
In addition, he says, the bail should be further reduced because his client will be surrendering his passport.
Kumaraendran adds that Irwan has given good cooperation to the MACC on ten occasions although no formal notice was served on him, except for yesterday's questioning where a notice was served, further strengthening the case that his client will not abscond.
He proposes a bail of RM500,000.
"That will be sufficient to ensure that he attends court. Any amount above that will be punitive," he submits.
10.35am: Sri Ram asks that court set bail for Najib and Irwan at RM3 million each.
Shafee rebuts by pointing out that Najib has already paid RM4.5 million in bail for his previous SRC International- and 1MDB-related charges, in addition to surrendering his passports.
He reminds the court that the purpose of bail is to secure attendance and is not meant to be punitive or oppressive, and urges the court to make a "global assessment" that accounts for the bail already paid.
Shafee also argues that the prosecution and MACC recognise that Najib is not a flight risk.
Among others, he points out that Najib was already released on police bail yesterday after being briefly shown the charges he will face today, with instructions to attend court at 8.30am today.
Shafee notes that Najib arrived this morning before the appointed time.
Thus, he asks the court to release his client without posting further bail or sureties, subject to him signing an undertaking that he will be subjected to the same conditions as the bail previously imposed.
Shafee stresses that his client has also informed him that the first and second charges are wholly unfounded because the decisions were made together with Irwan to avoid triggering a default, which would have led to disastrous consequences.
"I don't think there can be any allegation of that (personal benefit) in this (six) case(s).
"My client feels that these charges are atrocious and looks forward to facing a good trial," he adds.
Shafee closes his submission reiterating his call for his client to be released under the conditions of the previous bail.
10.10am: The sixth and final charge of criminal breach of trust against Najib and Irwan, involve RM2 billion in government funds. The duo is accused of committing the crime on Dec 18, 2017.
In total, they are accused of committing criminal breach of trust involving RM6.63 billion of government funds.
10.09am: Meanwhile, Zahid and Tajudin leave the court building.
Zahid says he's going to the Parliament.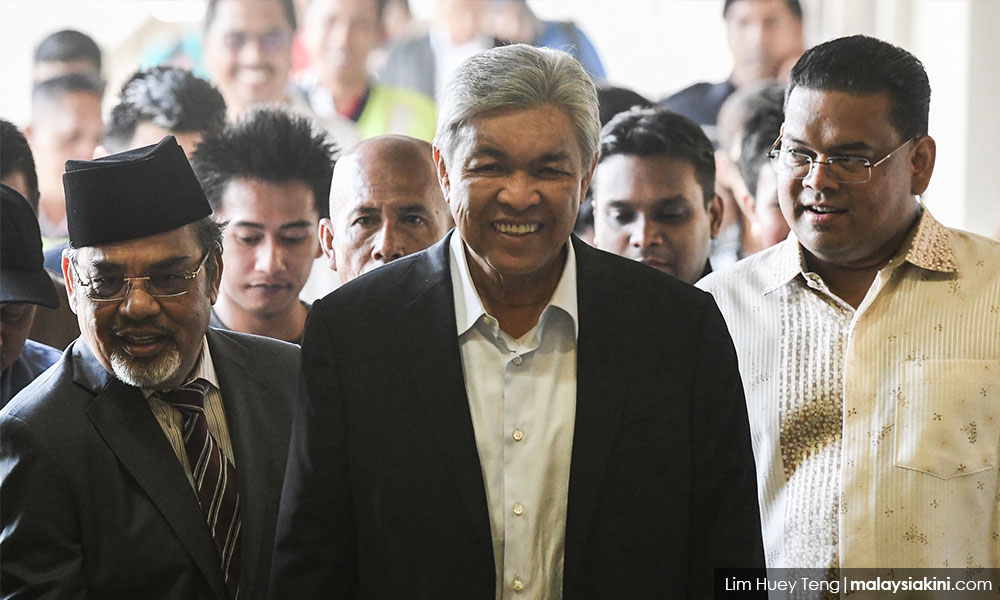 Actress turned Najib's staunch supporter, Ellie Suriati, approaches Zahid at the lobby as he walks toward the car, telling him: "Be strong and fight on."
10.08am: In the fourth charge against Najib and Irwan, they are accused of committing criminal breach of trust involving RM1.3 billion of government subsidy and cash aid funds allocated under Budget 2017.
Sources say that the sum involved was meant for the 1Malaysia People's Aid (BR1M).
They are accused of committing the crime on Aug 10, 2017.
Najib and Irwan's fifth charge is for criminal breach of trust involving 1.95 billion Chinese yuen (RM1.26 billion) of government funds on Aug 23, 2017.
10.06am: The second charge against Najib and Irwan is for committing criminal breach of trust involving RM655 million of government funds, also on Dec 21, 2016.
Sources told Malaysiakini that these were funds from the Suria Strategic Energy Resources (SSER) pipeline projects.
Najib and Irwan's third charge is for criminal breach of trust involving RM220 million of funds for Kuala Lumpur International Airport Bhd (KLIAB) allocated under Budget 2017 for operating expenses.
They are accused of committing the crime on Aug 3, 2017.
10.05am: Court is back in session.
Najib and Irwan are being charged together.
In the first charge, the duo in their respective capacities as finance minister and treasury secretary-general, have committed criminal breach of trust involving RM1.2 billion of government funds on Dec 21, 2016.
They claim trial to the charge.
They are being charged under Section 409 of the Penal Code, which carries with it a jail term of between two to 20 years, caning, and a possible fine.
However, both Najib and Irwan will be spared from being whipped, as the law exempts those above 50 from the punishment except in cases involving rape. Najib is 65, and Irwan is 61.
9.35am: Pasir Salak MP Tajuddin Abdul Rahman arrives alone and is here to offer his moral support to "my friend".
"I am here alone. My ex-boss, my friend. When your friend has a problem, what would you do? I don't know about your culture, but my culture is like that. We value friendship. In any circumstances, we must show our sympathy.
"It's a court case, let the court decide lah. He is not found guilty yet. Sometimes the public likes to prejudge. Public trial... it's not fair. I'm not saying he is wrong or right but give him space," he says.
9.20am: Shafee asks for the court to adjourn for 30 minutes to an hour to study the charges to allow him to advise his client accordingly.
He says he was only provided with a copy of the charge sheet at 8.55am although he has been asking for it since last night.
"The charges were shown to my client Najib at a glance when he was questioned by the MACC yesterday. I'm confused why it can be shown but a copy can't be given (to the defence team)," Shafee says.
Lead prosecutor Gopal Sri Ram does not object.
Sessions Judge Azman Ahmad allows Shafee's request.
The court goes into a 30-minute recess.
9.18am: Court is in session.
9.10am: Zahid and Najib's son Ashman enter the Kuala Lumpur Sessions Court 14 and take their seats at the public gallery.
Ashman is clad in a black suit and looks calm.
9.01am: Umno president Ahmad Zahid Hamidi arrives in a black Toyota Vellfire.
He comes alone, wearing a light blue shirt and a black suit.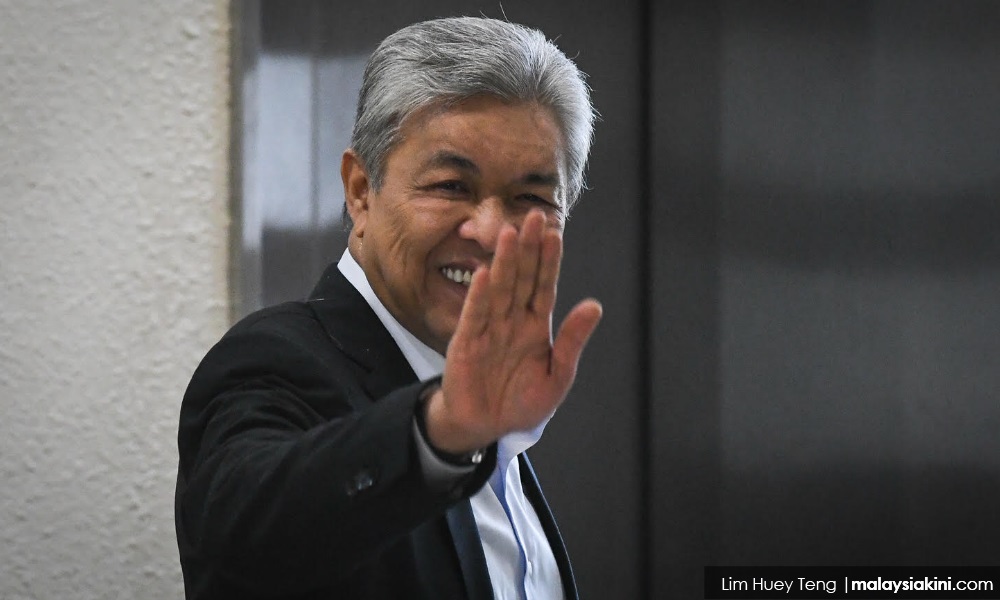 The former deputy prime minister then gives his trademark smile and waves at the reporters.
Asked if he is there to support Najib, Zahid replies: "Of course, I'm here to extend my moral support".
8.37am: Former Malaysian External Intelligence Organisation (MEIO) director-general Hasanah Abdul Hamid is already in the court complex.
Unlike Najib and Irwan who arrived at the main lobby, Hasanah was brought in a few minutes ago through another entrance.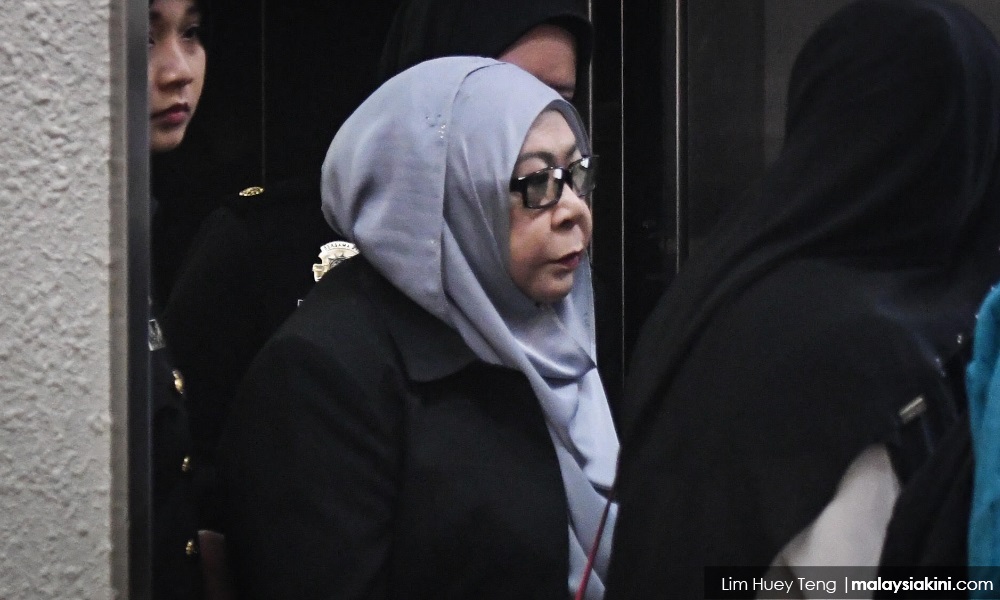 8.20am: Former premier and finance minister Najib Abdul Razak arrives in at the Kuala Lumpur court complex in a black Proton Perdana, minutes after the MACC brought in Irwan.
Dressed in a grey suit, Najib is all smiles as he waves to the media while making his way into the court building.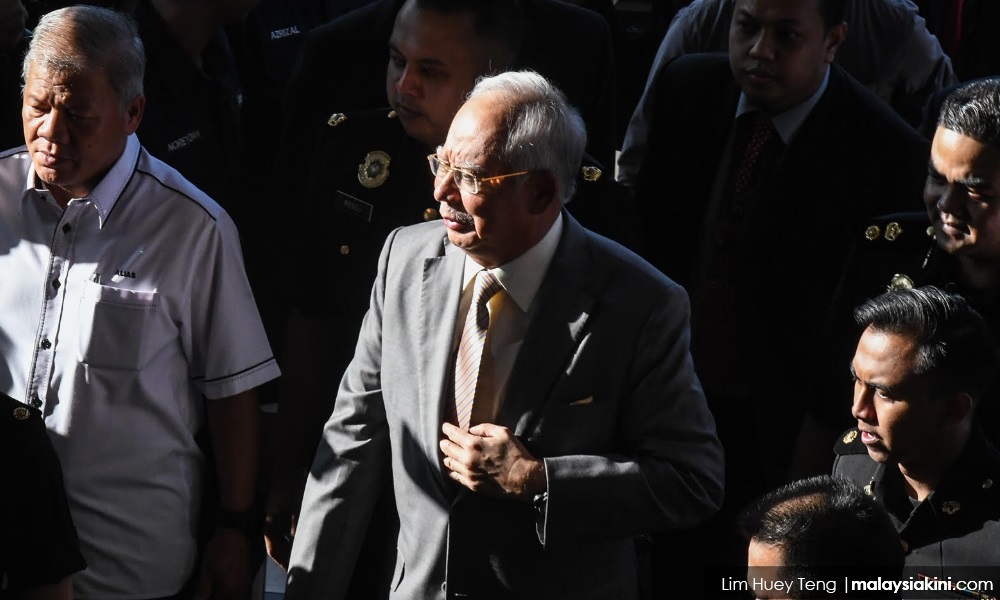 8.15am: Former Treasury secretary-general Irwan Serigar Abdullah arrives, clad in a black suit.
He is brought to court from the MACC lock-up in a black Hyundai Starex van.
Meanwhile, Umno supreme council member Lokman Noor Adam and about 10 supporters are spotted at the court complex lobby.
Earlier, he said in a text message that he did not expect many supporters today as he had blasted the invitation for the solidarity gathering late last night.
7.55am: Najib, Irwan, and Hasanah are expected to be charged in the same Sessions Court.
Meanwhile, unlike two previous occasions where Najib was charged, no supporters have yet been spotted at the court complex.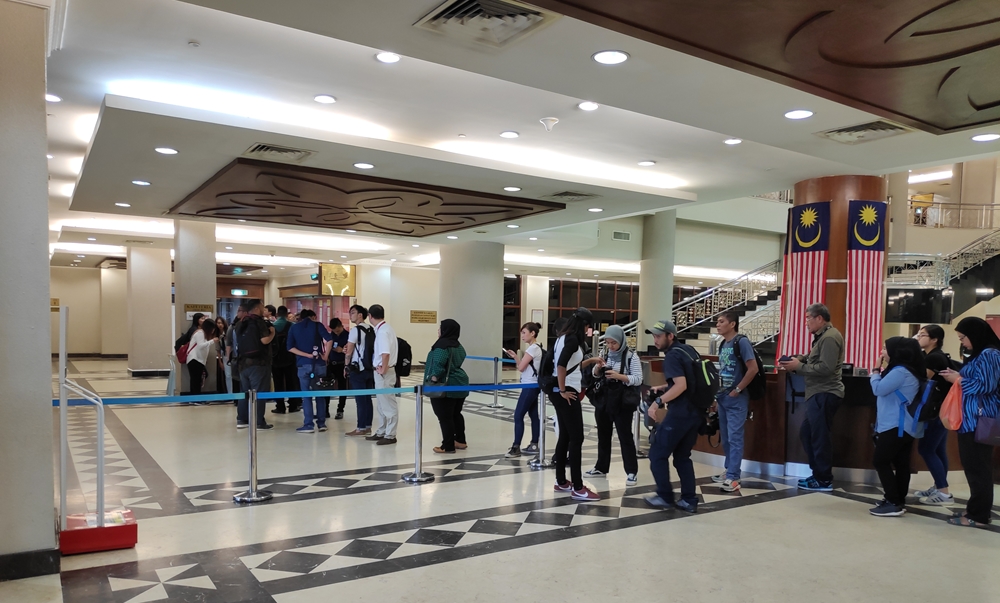 Some 20 police officers are stationed outside the building, while journalists are queuing up to get a seat inside the courtroom.
Najib's leading counsel will be lawyer Muhammad Shafee Abdullah, while Irwan is represented by lead counsel K Kumaraendran, Dev Kumaraendran, Lavinia Kumaraendran, Geethan Ram Vincent and Revin Kumar.
Hasanah's legal team consists of lawyers Shaharudin Ali, Mohd Khairul Azam and Imran Khairi Osman.
7.50am: Today will be Najib's fourth time in court to face charges, after previously being slapped with 32 charges.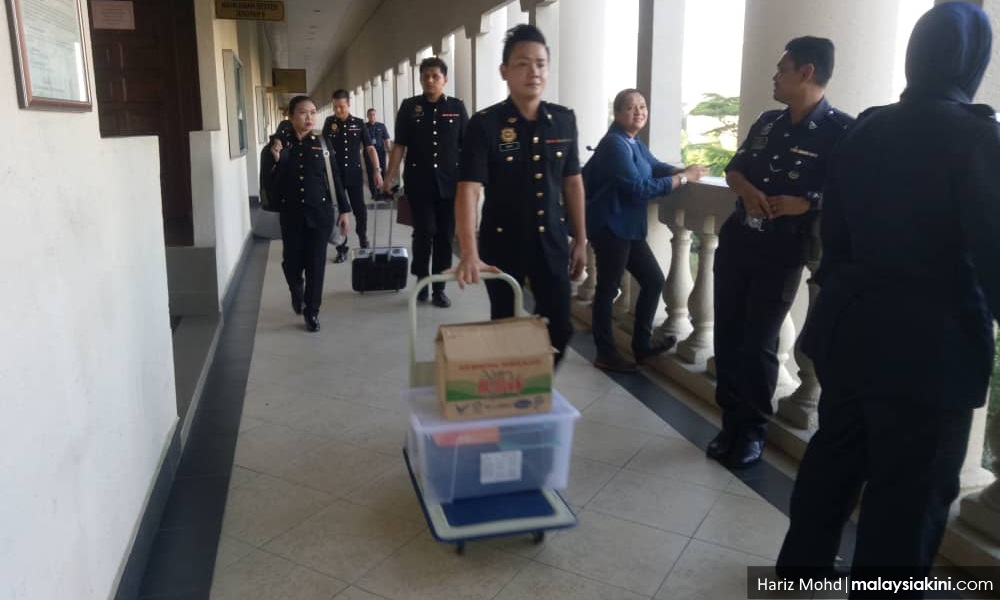 Najib was allowed to spend the night at home this time instead of being detained overnight by the MACC.
Former Treasury secretary-general Irwan Serigar, however, had to spend the night at the MACC lock-up.
The duo's charges today are expected to mainly revolve around 1MDB's dealings with IPIC, particularly a 2017 settlement between the two parties in which the troubled Malaysian sovereign fund paid US$1.2 billion to the Abu Dhabi state-owned company.
This is after IPIC backed out from its 2015 deal to bail out 1MDB, which at the time had struggled to pay back a bank loan.
Investigators reportedly looked into how Najib's former administration entered into the settlement using taxpayer funds without seeking cabinet approval.
Meanwhile, former Malaysian External Intelligence Organisation (MEIO) director Hasanah is expected to be charged today for misappropriation of US$12 million of government funds.
Malaysiakini had previously reported that some intelligence officers attached to the division may have received the US$12 million from a foreign source via a Middle Eastern country ahead of the May 9 general election.
The officers had allegedly abused their authority to facilitate bringing the cash into Malaysia through an airport.