Budget 2019: Finance Minister Lim Guan Eng today unveiled Budget 2019, which is set to retain the cash handout policies but under a new structure.
Lim said under the Cost of Living Aid (BSH), households earning under RM2,000 a month will receive RM1,000 in cash handouts and an additional RM120 for each child under the age of 18, up to four children.
This means households earning less than RM2,000 a month will each receive between RM1,000 to RM1,480.
As for households earning between RM2,001 to RM3,000 a month, they will receive a fixed amount of RM750 while those earning between RM3,001 to RM4,000 a month will get RM500.
The RM120 per child under the age of 18 rule also applies to them. There is no age limit for children who are disabled.
The BR1M payment under the previous BN government was RM1,200 for households earning under RM3,000 a month, while those earning between RM3,001 to RM4,000 were given RM900.
Under BSH, singles will no longer receive cash handouts.
Finance Minister Lim Guan Eng said 4.1 million households will benefit from BSH.
Lim also announced that the government will match up to RM40 monthly for husbands who contribute to the Employees Provident Fund for their wives who are registered with e-Kasih.
In his speech to the Dewan Rakyat, Lim also revealed the government plans to roll out a targeted petrol subsidy.
He said the new mechanism was expected to take effect from the second quarter of next year with an allocation of RM2 billion.
He said the subsidy will be provided to vehicles with engine capacities up to 1,500cc and motorcycles with an engine capacity of 125cc and below.
"The government will provide a RON95 petrol subsidy of 30 sen per litre for up to 100 litres a month for cars and up to 40 litres a month for motorcycles," he said.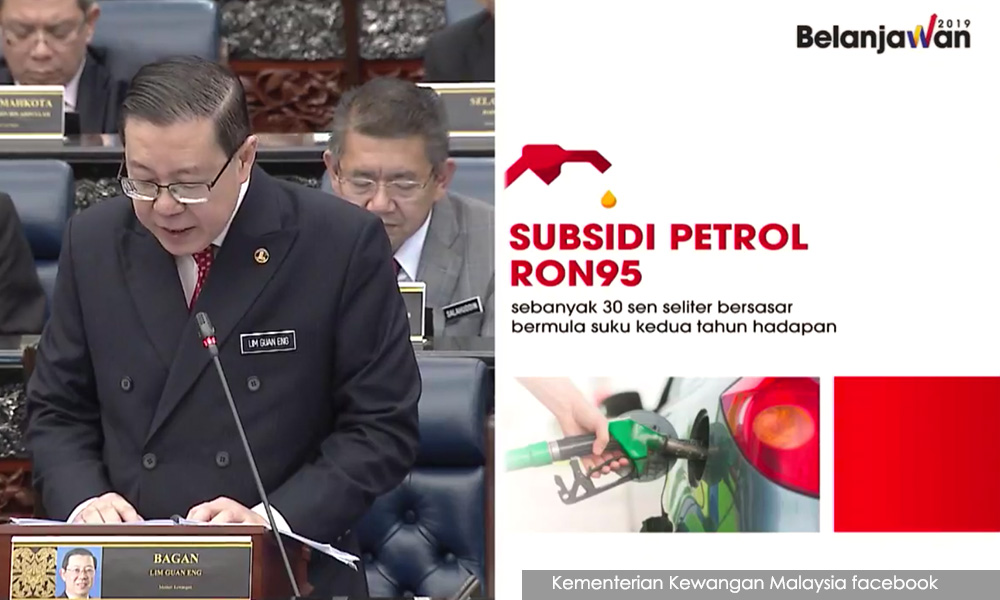 He said the subsidy mechanism was expected to benefit four million car owners and 2.6 million motorcycle owners.
To enhance the efficiency of resource utilisation as well as to curb leakage due to differences in petrol prices and cross-border smuggling, Lim said the government would refloat the price of RON95 petrol in the market based on the automatic price mechanism.
Lim said the government will end its policy of giving the RM20 electricity subsidy for households.
Instead, Lim said the subsidy will now only apply to the poor under in the e-Kasih database but the subsidy amount will be doubled to RM40.
"It will benefit 185,000 accounts. An allocation of RM80 million is being set aside for this purpose," Lim said when tabling Budget 2019 today.
For public transport, Lim announced that beginning 2019, a RM100 pass will be introduced for the unlimited use of rail and RapidKL buses.
There will also be a RM50 pass for unlimited use of RapidKL buses. Lim said this is to encourage public transport usage.