Batu Pahat Umno division chief Puad Zarkashi has urged Utusan Malaysia to apologise to former prime minister Najib Abdul Razak over its editorial accusing the latter of lying about the about the multi-billion ringgit "donation" in his personal bank account.
In a comment piece carried by the paper today, Puad said if the Malay daily fails to do so, then Umno members should boycott it for jumping to conclusions in the matter.
Puad had specifically named Utusan Group executive chairperson Abdul Aziz Sheik Fadzir as being the official voice behind "Awang Selamat", the pen name of the writer behind the daily's editorial.
"What is Aziz's agenda by making Utusan a tool to force Najib to apologise to Umno members over 1MDB? Is Aziz part of the game plan by (Dr) Mahathir Mohamad and Daim (Zainuddin) to further split Umno, post- GE14?
"Aziz has gone to the extreme as even the MACC has not made any charges against Najib regarding the RM2.6 billion allegedly from 1MDB. On what basis then is Aziz accusing Najib of being guilty, and asking for his apology?" Puad wrote.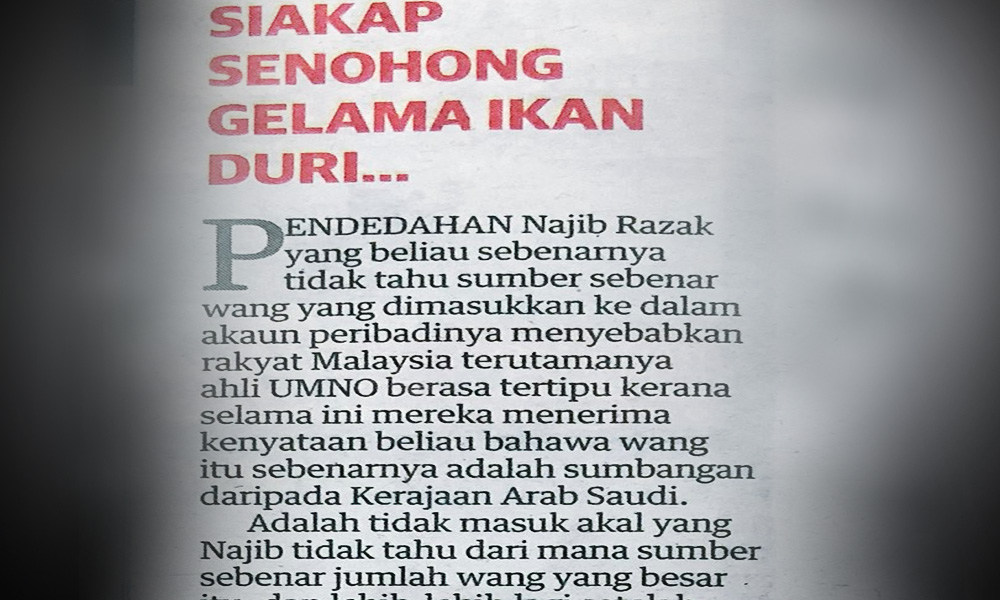 According to Puad, Aziz had even surpassed the courts as none of the 38 charges currently faced by Najib had anything to do with stealing 1MDB money.
"Thus, it is bad for him to label Najib a cheater. Unless he (Aziz) denies that he is 'Awang Selamat'."
The broadside against Najib could be due to the possibility of Aziz himself being subjected to MACC investigations, Puad alleged.
"Aziz is now the same with Pakatan Harapan, which is worried that Najib's popularity will kill the slander that BN's loss in GE14 was due to the 1MDB scandal. Aziz must acknowledge that his act benefits Harapan and confuses Umno members.
"His act of using the 'Awang Selamat' editorial column to attack Najib incidentally happened a day after Najib had a Facebook live session with his supporters at PWTC. That session proved to be successful with the youth, with viewership touching 602,656 thus far," said Puad.
"Aziz should apologise to Najib for jumping to conclusion. If he refuses to do so, then it is better for Umno members to boycott Utusan."
The editorial in the paper's weekend edition had stopped short of calling Najib a thief, citing an old saying that "not all thieves are liars but all liars would always steal".