The government needs more time to verify whether the 44 items of jewellery worth US$14.79 million (RM59.831 million) sought by a Lebanese jewellery firm are among the approximately 12,000 items seized by the police from residences linked to former prime minister Najib Abdul Razak.
This was disclosed to High Court Judicial Commissioner Wong Chee Lin during case management in Kuala Lumpur today.
Beirut-based firm Global Royalty Trading SAL filed the suit on June 26 seeking the return of the 44 pieces of jewellery it delivered to Najib's wife Rosmah Mansor earlier this year.
The items comprised a diamond necklace, earrings, rings, bracelets and a tiara, each costing between US$124,000 and US$925,000.
Senior federal counsel Alice Loke cited Section 56 of the Anti-Money Laundering, Anti-Terrorism Financing and Proceeds of Unlawful Activities Act 2001 (Amla), saying that the police have 12 months to hold the items and obtain an order of forfeiture if there is no prosecution or conviction and if there is no claim made.
Loke, who is representing the police and government, said that Global Royalty can thus file a claim for the items during that period.
However, she noted, "The police need more time to ascertain whether the 44 items are among the approximately 12,000 items seized."
A police officer subsequently affirmed an affidavit for this purpose.
Lawyer David Gurupatham, who is representing Global Royalty, said the court then fixed Feb 11 for further case management.
According to Rosmah's lawyer Rajivan Nambiar, the trial dates of March 4 and 5 next year have been maintained.
In an affidavit filed by Foo Wei Min, who is the head of the special investigation division of Bukit Aman's anti-money laundering team, he said approximately 12,000 items of jewellery were seized by police in May this year under Amla (photo).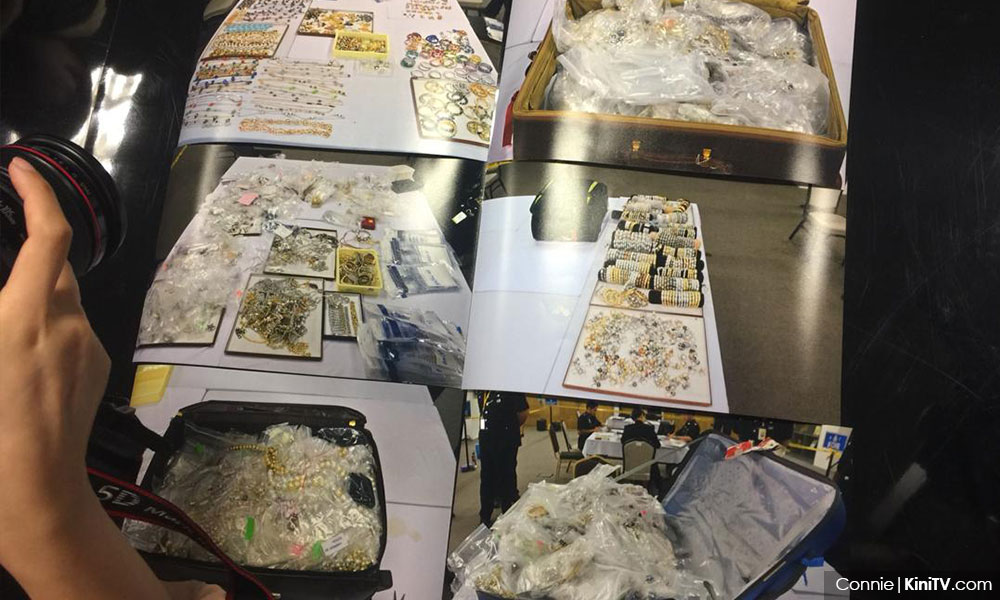 "The police have yet to conclusively determine if the said 44 pieces of jewellery are in the custody of the police and that they  form part of the 12,000 jewellery items seized, as the task of doing so is a complex and protracted one," he said in the affidavit.
"I can only confirm that jewellery were seized by our unit in May 2018.
"As to whether the 44 pieces of jewellery in this suit form part of the jewellery seized, we are not yet in a position to state on oath, as we still have six months until May 2019 to verify (the pieces), with the assistance of an expert adviser," he added, citing section 56 of Amla.
Under section 56 of Amla, a public prosecutor can apply to a judge for an order for property to be forfeited if it comes from the proceeds of unlawful activities. 
However, if no such application is made, the seized item must be released to the person whom it was seized from after 12 months. 
A long-standing customer
In Global Royalty's statement of claim, the wholesale jeweller had claimed that Rosmah was a long-standing customer (photo) and that the firm would send consignments of jewellery to her.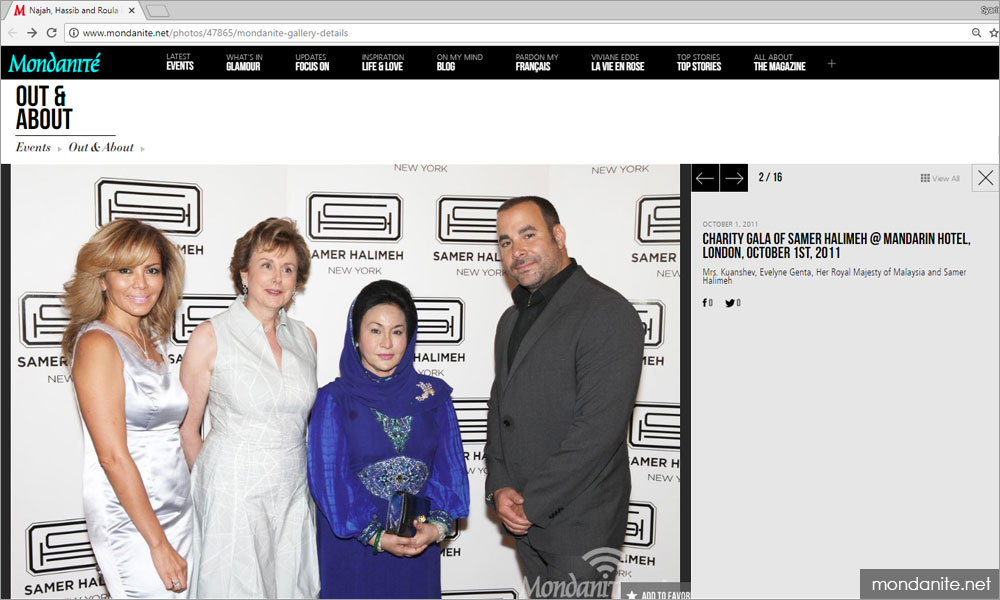 She would then evaluate or purchase the items of her choice, for which she would pay on her own or through a third party.
The firm, which has been supplying jewellery for royalty and the rich and famous from all over the world, claimed that the items not chosen would normally be returned and, in certain situations, Rosmah would borrow jewellery and return them to the firm.
Global Royalty Trading also claimed that Rosmah would receive the jewellery personally or through its personnel/agent in Kuala Lumpur, Singapore or Dubai.
Commercial Crime Investigation Department director Amar Singh reportedly said on June 27 that 12,000 items of jewellery were among those seized by the police.
He added that the total haul was worth RM686.37 million but could fetch RM1 billion.
At the last court session, Rosmah's application to strike out Global Royalty's suit had been dismissed as premature.
Judicial Commissioner Wong had stated that it remained uncertain whether the jewellery was in the possession of the police.
The Attorney-General's Chambers was subsequently ordered to file an affidavit within two weeks to declare whether the 44 items were with the police.
RELATED REPORT
From exclusive gala to RM60m suit: Rosmah's fallout with Lebanese jewellers