Deputy Home Minister Mohd Azis Jamman said the police will take stern action against those responsible for inciting violence at the Sri Maha Mariamman temple in USJ 25 in Subang Jaya, yesterday.
"The police will investigate and take action against the group who entered the temple and caused chaos.
"There is no compromise with those who deliberately tried to threaten the peace and harmony of the country.
"Stern action will be taken against those who caused provocation to the point of destruction of public places and (they) will be brought to justice," Azis said in a statement today.
The police, he said, will not be selective in taking stern action in this matter as their duty is to ensure the laws of the country are abided.
He also thanked the police for their professionalism and maturity in controlling the situation in the wee hours of today, despite provocation from certain "irresponsible" quarters.
Urging everyone not to take matters into their own hands, Azis said any disputes between the temple and the developer should be resolved through open discussions and not through violence.
In the early hours of Tuesday, some 1,000 devotees had gathered at the Sri Maha Mariamman temple in Seafield and torched the wreckages of at least two cars burnt the night before.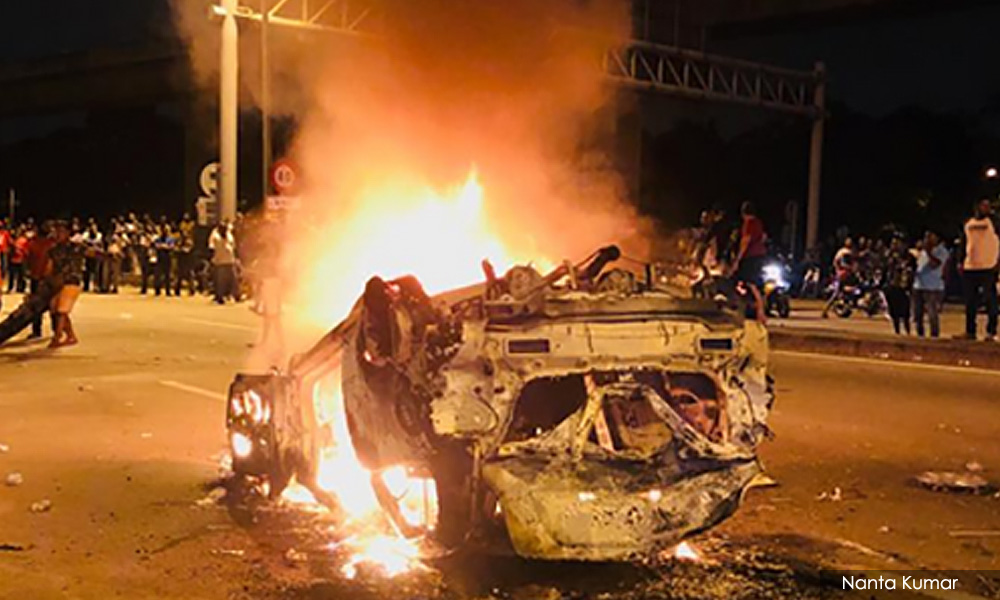 The rioting had begun in the wee hours of Monday, when devotees gathered to protect the temple after rumours spread that it would be demolished.
The Sri Maha Mariamman temple was supposed to have been relocated on Nov 22.
Plans to relocate the temple have been ongoing since 2007, after the land it is located on was purchased by developer One City Development Bhd.
In 2014, a consent judgment was entered into in court, where One City and two rival camps vying for control of the temple agreed to relocate it to a plot of land three kilometres away.
One City had also donated RM1.5 million to the temple as part of the settlement agreement.
However, devotees have continued to resist efforts to relocate the temple, which was built in 1891.
---
RELATED REPORTS
Double the number of police, FRU at temple vicinity tonight - deputy IGP
PM vows tough action against rioters, mastermind
IGP: Water cannons not used to avoid escalating situation
Fuzi: We cannot cordon off a place of worship
One City employees among 19 remanded over Seafield temple incident