The number of people arrested by the police following the commotion at the Sri Maha Mariamman Temple in USJ 25, Subang Jaya, yesterday, has increased to 21, according to Selangor police chief Mazlan Mansor.
Mazlan said the latest arrests involved four men, with two arrested yesterday evening and two earlier today.
The two suspects arrested this morning were in a car in which police found a machete, he told a media conference at the Selangor police contingent headquarters today.
Mazlan also noted that a Subang Jaya Fire and Rescue Department personnel was injured when he was attacked while putting out a fire on a torched vehicle outside the temple ground.
So far, 23 vehicles were torched and a fire engine damaged in the incident, he added.
On the chronology of the incident at the temple since last night , Mazlan said two vehicles were torched near the temple at 10.57pm and then at 1.10am (today) another vehicle was dragged out of the temple area and set ablaze by the road side.
A third vehicle was brought out from the temple area at 1.20am and then torched, he said, adding that a firemen was injured when attacked while dousing the flame.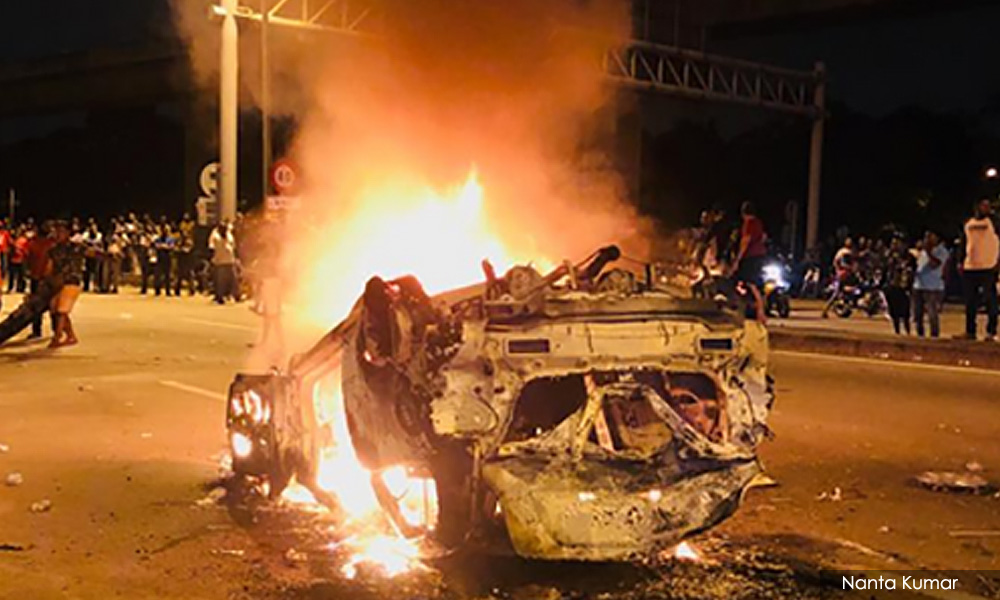 He said at 2am, a few members of the crowd that gathered at One City Mall, about one kilometre from the temple, resorted to vandalism by smashing the glass panels of the building, as well as damaged and torched several vehicles and a motorcycle.
On the incident at One City Mall, Mazlan said no arrest was made yet, but based on information received, police expected to find the individuals responsible soon.
He said police were investigating the cases for various offences, including mischief and rioting.
Mazlan warned all quarters against issuing statements that could be detrimental to public order.
"The situation is still under control. We have our elements, like FRU (Federal Reserve Unit) there, but sometimes, we are deluged with people from the neighbouring areas, that add to the crowd," he added.
On whether the police would close the access road to the temple , Mazlan said he would dicuss the matter with the relevant authorities as it was also used by residents in the area.
He urged those with information on the temple incident to contact the nearest police station or the Selangor police hotline at 012-600999.
- Bernama
---
RELATED REPORTS
Double the number of police, FRU at temple vicinity tonight - deputy IGP
PM vows tough action against rioters, mastermind
IGP: Water cannons not used to avoid escalating situation
Fuzi: We cannot cordon off a place of worship
One City employees among 19 remanded over Seafield temple incident
Seafield riots: Stern action will be taken against provocateurs - Azis